Where Other Accounting SEO Articles Go Wrong
Virtually all of the online articles we've read about creating an amazing SEO campaign for accountants, financial planners, and CPAs are immediately misleading. 
It's not that they are dishonest. They just teach how to work hard instead of smart. 
Many go straight to writing about general accountant SEO blog content. Their suggestions target a national audience. For example, they recommend creating articles on the difference between CPAs and accountants. 
Stop right there. That's not what you need to hear.
Accounting SEO Strategies for Beginners
To succeed in targeting big, competitive keywords, your website probably needs an Ahrefs UR score of 40+. Then you likely need to spend $500+ for a professional SEO writer and $1000+ on a backlinking strategy per article. Otherwise, you are wasting your time.
That's true for beginner sites no matter how great your content and technical SEO chops are. 
It's not that you shouldn't do a blog. We fully stand behind SEO content marketing. It's about doing and optimizing the most cost-effective strategies first. In turn, those strategies also boost your future efforts. 
Of course, the very few good articles on accounting SEO only give you a taste of great advice before pivoting to buying their services. 
This article is different. We're give you a full rundown of expert tips for nailing your local SEO accounting market. Just as important, we give you the right tips for beginner CPA SEO.
First, read about those fundamental, great beginner strategies. Then hopefully you'll want to hear about how our CPA clients rank #1 for a dozen local SEO keywords. Or you may even schedule a free 30-minute consultation about how we can repeat that success for your firm. 
Local SEO for Accountants & CPAs
Sure, there's glory in ranking well on the national or international level for specific keywords. But it's usually not a worthwhile goal unless your firm has mastered Local SEO.
Local SEO is about being the big fish in a little digital pond, not a little fish in the big digital pond.
It's about working smarter, not harder. Why should a Bozeman CPA compete in the digital space with a national firm? 
That process starts with your Google My Business profile. After that, the way to capture local keywords is not with blog articles, but with your Home Page and Landing Pages. Then you have the best foundation for writing successful blog articles. 
Let's talk about both of these first two strategies. 
Google My Business Profile
Also called a Google Business Profile (GBP), Your GMB profile is the foundation of an effective accounting SEO strategy. Not only is it the most cost-effective and time-effective way to generate digital leads, but it also greases the wheels for all future SEO efforts. 
Generally, all location-based searches for CPAs result like this on Google.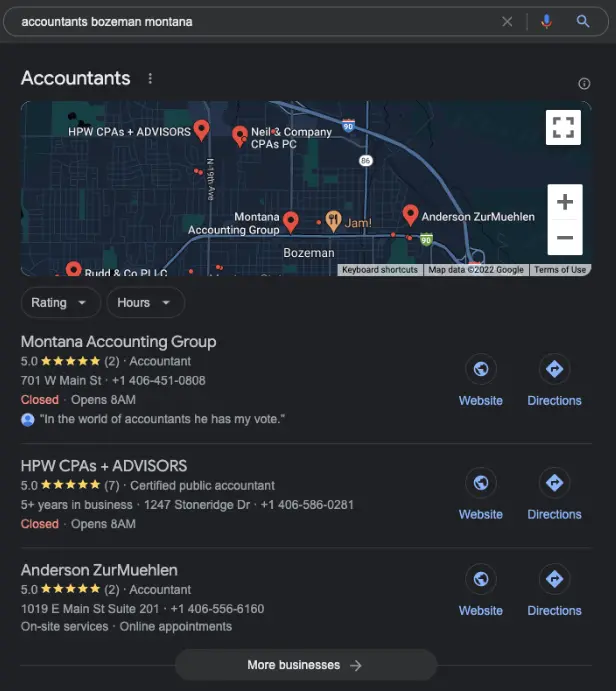 The Top 3 Google My Business Profiles appear before the best ranking websites. The process for ranking well with a website is complicated. But the process for ranking well with your GMB profile is simpler and virtually FREE. 
So how do you get to the coveted Local 3 Pack? There are 2 main steps and several smaller steps. 
Perfect Local Citations

Lots of 5-Star Reviews
There are dozens of websites that are much better at SEO and whose purpose is partly to generate you leads. You want to piggyback off them for four reasons. 
CPA directories give your firm (indirect) first-page search results 

Your overall website authority will improve a little

You may earn referral traffic
It creates local citations for your website
Local citations are signals from websites like Facebook or directories that tell Google your business is legitimate and located in a specific area. 
Creating as many accurate and authoritative local citations as possible is essential to your website appearing on the first page for searches like "accountants near me" or "CPAs in Austin". 
It's also essential to rank well with your Google My Business Profile.
Stick to reputable websites and directories. Otherwise, you may risk penalization. Here's a great checklist to get you started. Bookmark this article and make sure you check off every local citation you can. 
How Many Local Citations Do I Need?
The 25+ listed above is a decent starting point. But you should aim for a bare minimum of 50. The more population dense your area is, the more citations you should collect. 
You can also use this list of top 50 local citation sources in the US. In my opinion, not all of them are worthwhile. Stick with more reputable sites.
Once you covered the foundation above, start creating hyper–local citations on local websites. You can find these with a few different methods. 
Check the websites of local governments, Chambers of Commerce, and local organizations for opportunities. 

If you have SEMrush, you can use the local SEO tools for more ideas. 

Reverse engineer your competitors.
To reverse engineer your competitors, simply google their business name. Choose 5 competitors, and check their citations up to 5 pages of search results. Make a list of all of the possibilities, but prioritize Page 1 and Page 2 results.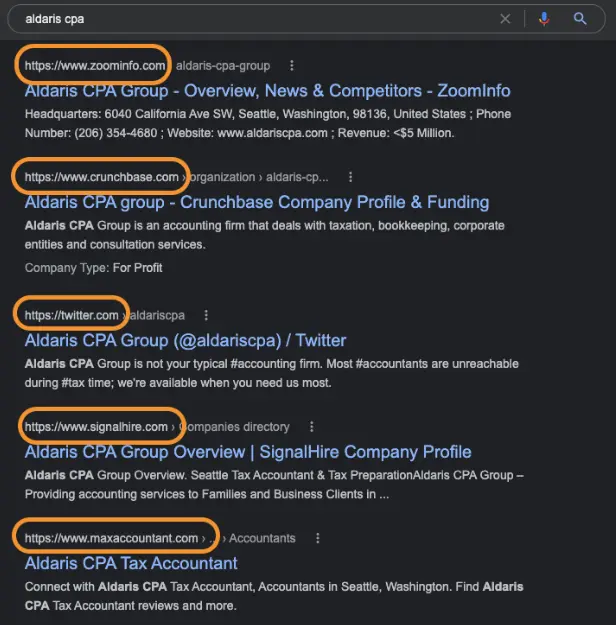 Extra Tips for Creating Local Citations
Be perfectly consistent with your information across every citation (ESSENTIAL)
Add local SEO keywords to your business descriptions
Select as many accurate business categories as the website allows
If you're outside the US, check out this list of top local citation sources by country
Generating 5 Star Reviews
Below we've given some strong tips for collecting highly positive reviews. 
1. Engage Your Entire Sphere of Influence
Remember, past clients aren't the only people who can leave authentic reviews on your GMB profile. Let's say you spend 15 minutes handing out free advice to a neighbor or another parent at your child's school. 
You can ask them to leave a review. You don't need to get paid for the review to be authentic.
Basically, if anyone tells you thank you for any form of professional help, you can safely ask them to return the favor by leaving a 5 star review. 
That said, it's absolutely essential that you reach out to past clients. If possible, do so through text messaging, which will generate more reviews. 
Craft a thoughtful and personal general message that can be tweaked for each person. Otherwise, mass emails work decentlyl. 
Just remember these reviews are worth their weight in gold. The more thoughtful your request, the more thoughtful the reviews will be. 
2. Have Perfect Timing
When it comes to asking present and future clients for a review, it's all a matter of timing. It's best to ask in person during a positive moment or right after they've demonstrated gratitude for your services. 
Don't wait until the experience of working together is a faded memory.
Hopefully you can nudge them to leave a review right there and then. Be aware they may want to wait. In that case, the next tip comes into play. 
3. Eliminate Barriers
Make the process streamlined. Have a link generated that leads straight to your review section. Consider some talking points they may want to hit, and include those as a friendly suggestion to get their imagination flowing.
Optimize these talking points by considering your strengths as a professional.  
4. Explain Why Reviews Are Crucial
Ideally, you'll have the opportunity to explain how much these reviews affect your business. As you now know, strong reviews play a much bigger role than social proof. They are essential to accounting SEO. 
5. Expertly Handle Bad Reviews
If you receive a negative review, the first thing to know is that you can flag inappropriate or fake reviews. Google will remove them. 
But what about if you get an authentic negative review? The key is to view it as an opportunity. Avoid being defensive. Instead, try to win them over. All the way over.
You know what can be even more powerful than a positive review? A negative reviewer that completely changed their mind. It demonstrates a unparalled commitment to client happiness.  
Everyone gets occasional bad reviews. Show potential clients the buck will never stop until everyone is happy. Go the extra mile. Offer more than sincere apologies. Consider discounts, services, resources, and information you can give them. 
Below is an example of a masterful response to a negative Yelp review. Just try and beat that.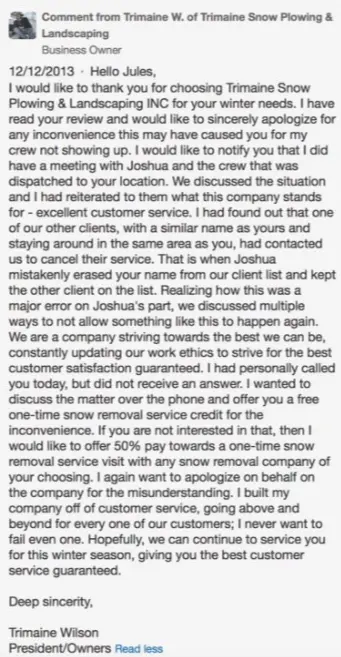 Extra Tips for Optimizing Your GMB
Treat every one of these tips as an essential step. Don't skip a single one. 
Ensure your firm appears on Google Maps (

U.S. businesses get

26% of their views

from Maps-based results)

Verify your listing

Use high-quality photos of your offices and even employees

Be active with the Q&A Section

Post once a week with announcements, blog posts, holiday wishes, etc.

Embed a Google Map of your location on your Homepage or Contact Us page

Respond to

every

customer review
Many of the tasks are one–off, but you may be surprised by the amount of ongoing work necessary to optimize your Google Business Profile. It's well worth the continued effort. 
Think of your Google Business Profile as a small, but powerful website. If you can't manage that, you can't manage a more comprehensive SEO campaign on your website.
Again, your GMB is the most cost-effective strategy for harnessing the power of local accountant SEO, and a successful profile pays dividends on all other SEO efforts. That said, let's talk about capturing local keywords with your Home Page and Landing Pages.

Home Page and Landing Page SEO
The simple truth is that ranking for local SEO accounting keywords with your home page (or your website in general) is a devilishly complicated and often wildly competitive task. 
The average accounting firm has enough resources to learn enough SEO to decently optimize a GMB profile. It's possible you could rank in the Local 3 Pack and generate a nice little stream of quallity leads. 
But accountant SEO for websites is a different beast. To excel, you'll need to learn a whole new skill set that for many is an entire career with a never-ending education process. It will take lots of time, commitment, and not a few expensive errors. 
Here's the good news. Inbound SEO marketing is such a powerful lead generation technique that any decent service provider can help you get a significant ROI. Great companies can blow you away with amazing ROIs. 
It may not happen the first year, and it may require a decent investment upfront. But it will almost definitely pay EXCELLENT dividends if you find a reputable company with a solid track record. 
What's more, Logic Inbound really kills it for accounting firms. For a convincing example, check out the case study below.
Steps to Optimize Your Home Page
Let's say you still want to try your hand at local accounting SEO. We're going to give some of the best, little effort/high payoff tips.  
1. Keyword Research
We could write an eBook on local keyword research. Or we can just point you to one of the best resources online from Ahrefs. Follow that guide to create your top keyword target list. 
You can also use these two toggle checklists for the best SEO keywords for your niche.
Easiest SEO Keywords for Accountants
| | | |
| --- | --- | --- |
| reddit accounting | cpa lawyer | ias 8 |
| staff accountant | fund accountant | cost audit |
| accounting firms near me | investment accounting | ifrs 5 |
| auditor salary | ias 20 | advanced financial accounting |
| senior accountant | forensic auditor | public sector accounting |
| cpa charge | environmental accounting | ias 28 |
| real estate accountant near me | ias 37 | small accounting firms |
| controller accounting | forensic accounting firms | ifrs 4 |
| quickbooks premier | computerized accounting | cpa lawyer salary |
| intermediate accounting | nominal account | accounts receivable forecasting |
| ifrs 17 | ias 36 | ifrs 8 |
| personal accountant | ecommerce accounting | pay someone to do my taxes |
| consolidated financial statements | oil and gas accountant | cost and management accounting |
| accounting specialist | ask an accountant | corporate cpa |
| corporate accounting | contingent assets | departmental accounting |
| advanced accounting | government accountant | accounting for government grants |
| cpa services | ias 1 | statutory accountant |
| cpa vs accountant | corporate accountant | cpa 1040 |
| accounting technician | ipsas | certified accounting technician |
| forensic accountant near me | property accountant | business accounting and taxation |
| accumulated amortization | financial accounting and reporting | cpa tax accountant job description |
| clearing account | freelance accountant | ifrs box |
| junior accountant | cost management accounting | accountant functions |
| real estate tax accountant | ifrs 10 | auditor near me |
| quickbooks 2019 | ias 39 | tax consult |
| accounting consultant | chief accountant | investments in associates |
| imprest account | accounting for startups | international accounting standard 1 |
| fbi forensic accountant | property tax accountant | the accoountant |
| production accountant | closing the books | tax law accounting |
| hire a cpa | | |
Harder SEO Keywords for Accountants
| | | |
| --- | --- | --- |
| cpa near me | business accounting | business tax accountant near me |
| aicpa | certified public accountant near me | cpa tax preparation |
| accounts receivable | cpa taxes | real account |
| accounts payable | ifrs 16 | accounting companies |
| accountants near me | goodwill accounting | local accountants |
| forecasting | cpa tax accountant near me | tax accounting services |
| tax accountant near me | accounting firm near me | certified tax accountant |
| accountant salary | small business cpa | best accounting firms |
| cash flow | tax cpa | accountants in my area |
| certified management accountant | operating lease | cpa eligibility |
| forensic accounting | business accountant | accounting period |
| general ledger | cpa tax | accountant near me for taxes |
| accrual accounting | ifrs accounting | certified bookkeeper |
| tax accountant | small business cpa near me | basic accounting |
| quickbooks online accountant | real estate accounting | consolidation accounting |
| account receivable | lease accounting | accountant responsibilities |
| what is accounting | accrual based accounting | accounting business |
| managerial accounting | capital account | accounting companies near me |
| waveapps | cpa accountant near me | accountant cost |
| bookkeeping services | cloud accounting | find an accountant |
| what does an accountant do | ifrs 15 | crypto tax accountant |
| cpa firms near me | best accountants near me | accounting services for small business |
| cpa firm | personal accountant near me | crypto accountant |
| best cpa near me | ledger account | private accounting |
| cost accounting | reconciliation accounting | cpa services near me |
| quickbooks pro | debits | online accountant |
| tax advisor near me | bookkeeper vs accountant | cpa tax preparer |
| accounting firms | top 10 accounting firms | accountant duties |
| tax consultant | cash account | accumulated depreciation account |
| business accountant near me | joint ventures | management accountant |
| quickbooks enterprise | construction accounting | accounting tax services |
| tax cpa near me | public accounting firms | depreciation in accounting |
| contra account | largest accounting firms | find an accountant near me |
| accrual basis accounting | cpa accountant | international accounting |
| contingent liabilities | best cpa | top 5 accounting firms |
| public accounting | government accounting | cpa business |
| how much does an accountant make | small business tax accountant near me | general accounting |
| account payable | cpa tax accountant | accountant taxation |
| top accounting firms | payroll accounting | hire an accountant |
| quickbooks proadvisor | cost accountant | tax and accounting |
| general ledger accounting | inventory accounting | financial auditing |
| tax audit | financial accountant | divorce financial planner |
| accounting services | cpa cost | top 50 accounting firms |
| accounting profit | best tax preparers near me | ias accounting |
| quickbooks pricing | find a cpa | accountant for hire |
| small business accounting | financial and managerial accounting | impairment of assets |
| cash basis accounting | accounting office | tax return accountant near me |
| small business accountant near me | personal tax accountant near me | accounting advisory services |
| management accounting | accounting help | top accounting firm |
| accruals | financial coaching | managerial accountant |
| iasb | cpa tax preparer near me | sales in accounting |
| capital lease | cpa office | cpa coaching |
| fund accounting | accountant insurance | certified general accountant |
| fasb codification | accrued income | accountant duty |
| accounting services near me | accountant for small business | accountant auditing |
2. Choosing/Changing a URL 
If you want the single best tip for ranking well without putting in much effort, here it is. Get a domain name that includes the language of the best local SEO keywords. That will give you a huge boost. 
Here's an example. You can probably tell just from the design that this website is outdated and poorly optimized. But it ranks #1 for "manhattan cpa" simply because the URL is a direct match.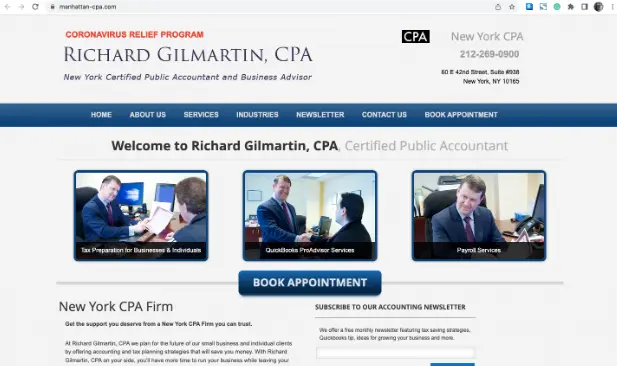 Obviously, "manhattan CPA" is a highly competitive keyword. But Richard Gilmartin dominates the keyword in large part because of his domain name. 
Do a search for available domain names related to your top keywords list. If you already have a website, strongly consider doing a redirect from your old URL to a new URL. 
3. Reverse Engineer a Successful Website
Of course, there is plenty going on behind the scenes for every successful website. But competitors and other accounting firms can offer some great ideas for your Home page, Contact Us page, and About Us page. 
For example, click the toggle below or visit Aldaris CPA Group for great sample home page content. Imitate them by naturally incorporating your keywords.
Example SEOptimized CPA Homepage
Until you have a great Google Business Profile and begin ranking for a few local keywords with your home page and landing pages, it's probably not time to think about accounting SEO blog articles. 
Nail those steps first. Or consider an SEO and Web Marketing agency like Logic Inbound.
Want to find out more about kicking your accounting SEO success into hyperdrive?
The long-term ROI for SEO outperforms PPC for anyone with a decent "SEO for accountants" strategy. If you have an amazing accountant SEO strategy, you will WAY outperform PPC campaigns. 
However, Pay-Per-Click can still be a viable short-term option for some CPAs while working toward SEO success. 
If you want to dip your toe in paid advertising, consider leveraging a Google Ads account connected to your Google My Business account. 
You can easily earn a decent ROI, especially if:
Your location isn't too metropolitan 

You have lots of positive GMB reviews
Case Studies of Successful Accountant SEO Campaigns
We're proud to say that Aldaris CPA Group is both a Logic Inbound client and absolutely dominating local search results. Check out the SEO results for "tax accountant west seattle". 
Aldaris is sitting pretty, right at the very top of the Google search results by ranking #1 in the Local 3 Pack.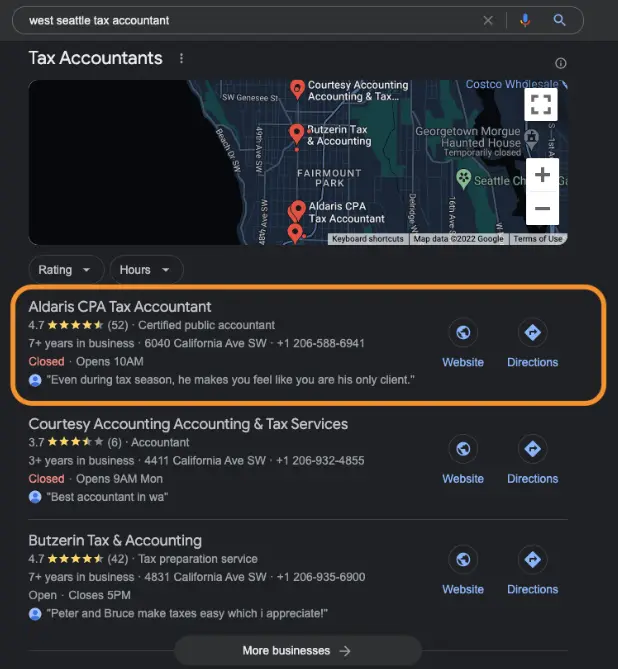 What's more, right below the Local 3 Pack, they rank #1 for the standard search results as well. They even beat Yelp. If it's not clear what that means, Google looks at our client's website with giant cartoon hearts in its eyes.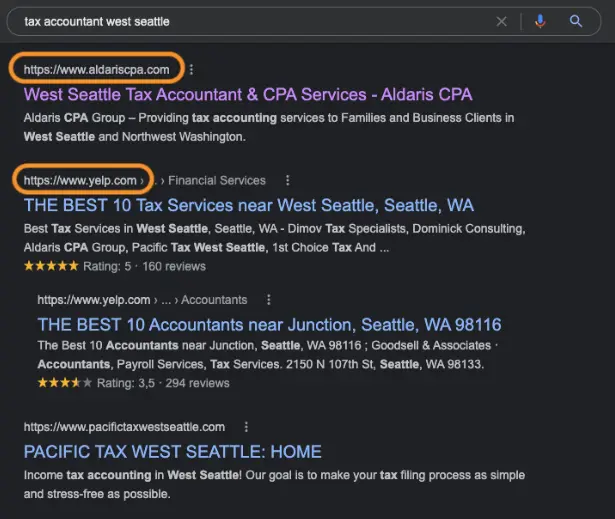 But wait, it gets even better. Aldaris doesn't only dominate the search results for their most important and relevant keyword. They have the top spot for dozens of similar keyphrases. 
That is SEO for accountants at its absolute finest, especially since this is a major metropolitan area.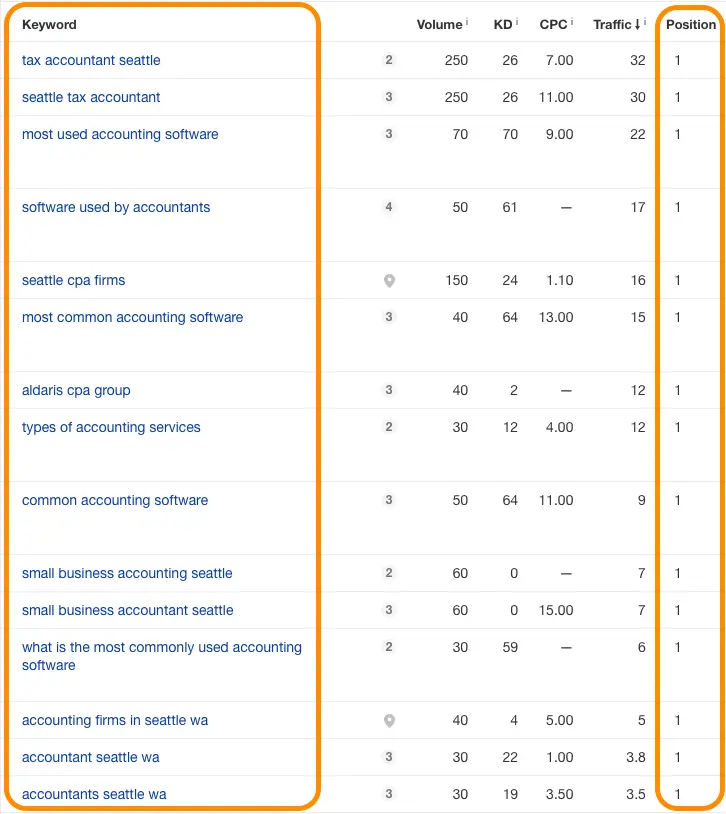 Within the first year of working with us, Aldaris CPA Group achieved these goals:
New leads from organic traffic rose from zero to an average of

seven new inbound leads per week.

Increased gross receipts by 496% using

entirely SEO.
That happened within one year. In the SEO world, that's basically overnight. 
SEO for Accountants – Get More Clients Online for Your Firm
Logic Inbound provides both timeless and proven new client acquisition strategies to drive accounting firm growth locally across the United States.
Rated 5/5 on Google & Clutch by Our Clients
We want to learn about your goals to see if we're a good fit for each other while giving you Fortune 500 Business Insight.