Los Angeles SEO Experts Services
RESULTS ORIENTED SEO COMPANY IN LOS ANGELES
DRIVING 900% RETURNS
ON SEO INVESTMENTS
RANKED NUMBER 1
FOR HIGHLY COMPETITIVE KEYWORDS
Get in touch with our SEO experts.
We'll find what needs attention to grow your website traffic.
Why We Are the Best Los Angeles SEO Company
Here are a few examples of why working with Logic Inbound will benefit your business' online presence:
✅ Our clients are top-notch
We collaborate with ATLAS Workbase, a Seattle-based company offering collaborative workspaces.
We are partnered with incredibly successful larger companies, such as PAC.
✅ Google generates 15,000+ weekly views to our website
✅ Our own website ranks on the first page of Google for more than 300 relevant keywords
Sure, there are many companies that do what we do. However, none of them take the same approach as us, and that makes all the difference. We have mastered an infallible method that guarantees optimal content and visibility on SERPs.  Knowing that we value our approach so much that we also implement it for our own website should provide you with utmost comfort. We are confident in our SEO strategies.  
Logic Inbound's results speak for themselves. Between 2015 and 2016, my gross receipts increased by 496%.
STOP LOSING CUSTOMERS TO YOUR COMPETITION
98% of searchers choose the business that is on page 1 of the search results
Local SEO – Getting Found in Los Angeles
Local SEO is a set of tactics to build presence for a set of searches performed in your locality. For example, "testosterone doctor in los angeles" is a local search term, and you need focused SEO efforts to outrank or even appear for this term.
Why Local SEO Matters
Local traffic is always going to be much more valuable than generic traffic, because 82% of local searchers will call, visit a store, or make a purchase offline.
54% of Americans have substituted the internet and local search for phone books (comScore). And this number is likely to keep increasing as our reliance on search increases.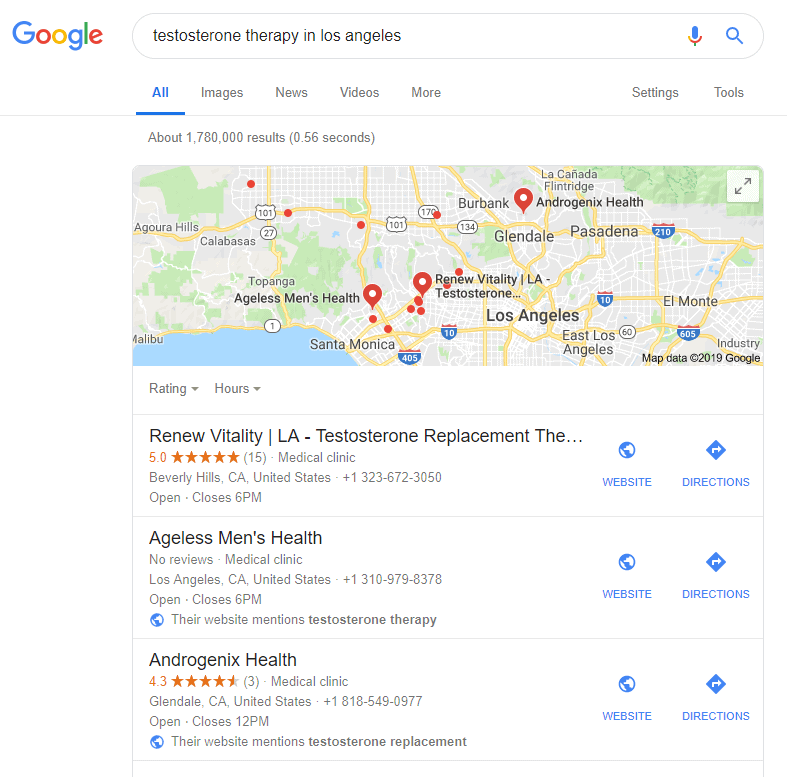 Our Approach as a Los Angeles SEO Agency
The competition among businesses, no matter the service, is highest in big cities. Los Angeles being one of them, it's vital that your LA business is equipped with SEO strategies. SEO involves paying attention to ranking signals. In theory, there are 150 in existence. The problem that arises when people look into SEO for their business is this crushing number of ranking signals. It becomes incredibly overwhelming, which heavily deters people from trying to incorporate SEO at all. They are not sure where or how to even begin the process, so they never do.
That is where Logic Inbound comes into play for Los Angeles SEO. Throw your SEO troubles our way and we will tackle them for you. Our approach addresses the five tactics that we believe are most imperative for improving SEO. We focus on research, site structure, authority, relevance, and content. We factor all five topics into our work and incorporate our findings into SEO strategies that best suit your website.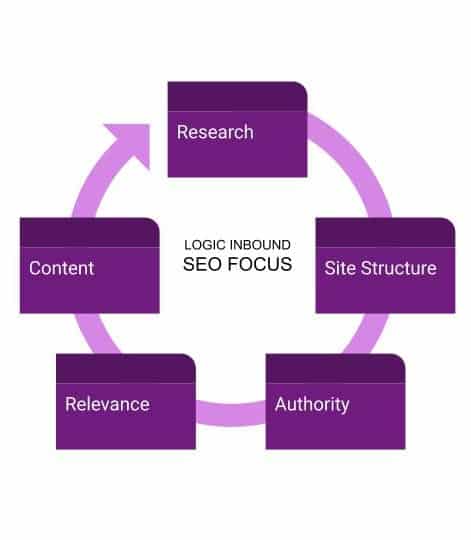 The query that potential clients instinctively search for may not be the same as what you would type into a search engine. The thought processes behind consumers varies from person to person. Referring to the handbag example, if your website refers to your merchandise solely as "handbags," you would definitely miss out on clientele that are looking for your product, just under a different search term. Some people think to search for "shoulder bag" or "clutch purse," when really, all of these terms fall under the same category.
Recall the funnel imagery from above. Since online searches are so individualized and diverse, Logic Inbound seeks to target the very top of the funnel, where the range of search queries is most vast. We want your website to show up as a result for the most ambiguous of searches as well as the more specific. That way, your website reaches a broader audience. By modifying the links and content on your website, we can embed the keywords into your existing content. Doing so helps direct search traffic to your website and your business.
Logic Inbound understands how delicate yet critical the searches are. For that reason, we allocate time and energy into brainstorming all possible keywords. From there, we grasp the range of searches and form a better understanding of your industry's consumers. The miscellaneous array of searches is beneficial because Logic Inbound capitalizes on the disparities. The difference between "LA handbag company" and "handbag brands in Los Angeles" is seemingly minor.
The core element responsible for ranking high on Google is the site structure. Backlinks are advantageous and well-written content is advantageous, but without an optimized site structure, everything else means nothing. All the other factors pertaining to your website could be unparalleled, but if the site structure is not efficient, then you will still receive subpar traffic flow.
Creating a website that is logically designed and appealing to the eyes, as well as informative, makes all the difference. These details affect the user experience. Factors like bounce rates and dwell times provide Google with information relating to your site, too. A well-optimized structure increases the SEO performance of your website.
An optimized site structure enhances your website's SEO. That, in turn, helps Google to recognize your website as a priority and include your site in the search engine results page (SERP). Having a website included early on in the listing is a definite way to achieve search traffic. Let us help your Los Angeles brand become a worldwide commodity.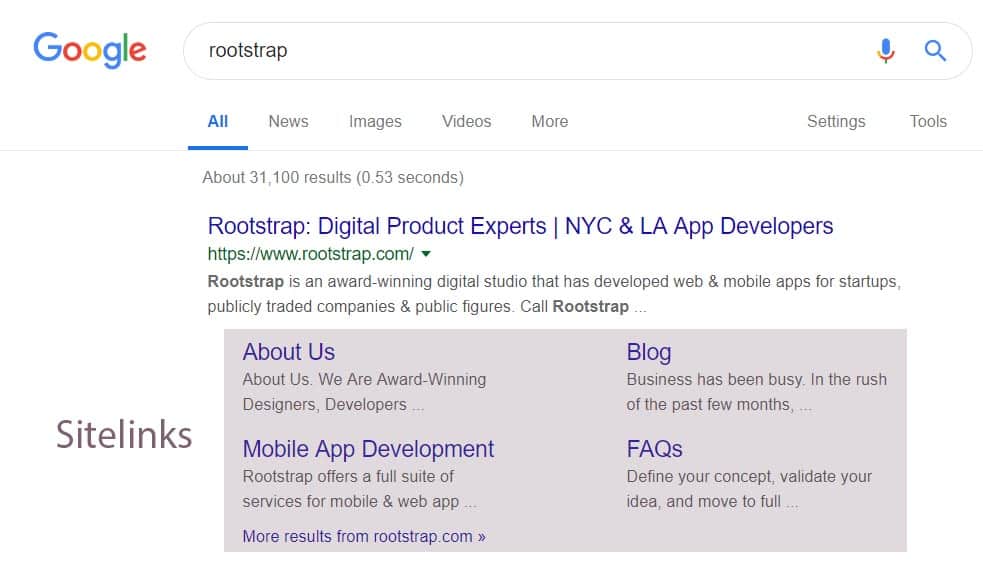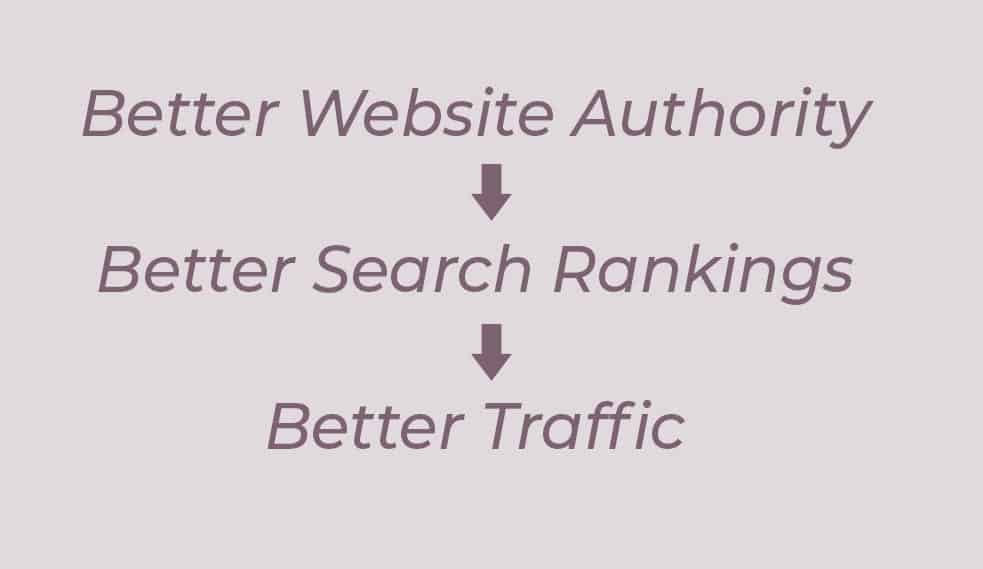 Authority building is essentially all about backlinks which are links that direct you elsewhere. The more backlinks your website contains, the higher your ranking on Google. Authority building goes so far as dealing with individual pages and how they rank, too. Page authority refers to a numerical score that denotes that specific page's standing on SERPs. Domain authority is similar: it refers to how the website as a whole will be ranked by search engines. Logic Inbound is well-versed in the art of authority building. We have infallible tools to implement that will boost your site's SEO performance. We want to get the pages on your website to the point where they are all ranking high.
Google ranks individual pages rather than the website as a whole. Each page is analyzed and the review determines its rank on Google. Its rank is reflected by whether or not it appears on the SERP. When it comes to relevance, our primary goal is making sure your pages contain information that is pertinent to the search queries we are targeting. Content is incredibly important to SEO, which you will hear more about in the next section. We want your page to appear on SERPs for queries related to your business. To make this happen, we pay meticulous attention to search queries and their results. We then compare it to the information on your website and adjust the content so that it appropriately corresponds to the search results.
Content refers to the information shared on your website, but we approach it with the goal of optimizing your website. You want to explain your business and services. We want you to do that, too – just with the bonus of generating search traffic. We will research keywords that are applicable to your content and suggest ways to integrate SEO into your verbiage. By combining our strategic SEO tips and tricks with your website's text, we will empower your LA-based business with everything it needs to out-rank competitors.
Take it from us at Logic Inbound. Not only can we say with total honesty that we are skilled at crafting SEO content, but we have success stories to back up our claims, too. We compiled a page informing social media users how to contact Instagram support. We also wrote a discussion piece – called "Is Shopify safe?" – in which we explore the security features and risks involved in selling items via Shopify. Both of the pages we wrote rank higher on Google than the pages found on the companies' websites.
SEO FAQs
Some commonly asked questions regarding SEO. 
What is SEO?
SEO is an acronym for search engine optimization. Its meaning is very similar to its literal definition. The point of SEO is to optimize results for a given phrase or subject matter when inputted into a search engine. SEO is vital to the success of a business with online presence. There is a plethora of ways to improve visibility and Logic Inbound zeroes in on the most important factors of SEO. 
SEO Agency vs. SEO Consultant
SEO assistance is available from consultants and agencies. Logic Inbound is an SEO agency. While the intention of consultants and agencies is the same, there are more advantages to be had with an agency than with a consultant.
A consultant is one person who specializes in SEO, whereas an agency refers to a group of SEO intellects. There is great advantage in acquiring help from an SEO agency than a single consultant. A consultant is only able to offer one perspective: their own. An agency, on the other hand, has the incomparable ability to look at a business from more than one angle.
A team allows for more, period. More ideas, more imagination, more suggestions, more edits. After all, two is better than one. A team can brainstorm, propose, and collaborate with each other, playing off one another's concepts. This leads to more unique ideas and greater assurance that everything has been thoroughly thought out. A more well-rounded website and business approach stems from an agency. This heightens your resources and promises an optimized website.
SEO Consulting vs. SEO Implementation
Logic Inbound offers two services as an SEO agency: SEO consulting and SEO implementation. While we believe that the two go best hand-in-hand, we realize that not every business is the same. For that reason, we allow our clients to opt out of one and have us focus on the other. Whether you would like to incorporate both services, or stick to just one, is entirely up to you and your business model.
SEO Consulting
Importance of SEO Consulting
SEO consulting must be completed first and foremost. During our consultation with you, we learn all there is to know about your business, from products offered, future direction, and primary goals. We gather a solid understanding of your Los Angeles business. After we make ourselves familiar with the business, we start the SEO process. First, we research relevant keywords. From there, we develop an SEO-compatible site structure, focus on authority building, ensure relevance, and create optimal content. We take our SEO approach and apply it to your business. We make sure to satisfy the five steps described earlier:
Research: compiling lists of keywords
Site Structure: optimizing layout and flow of website
Authority Building: coming up with backlinks
Relevance: calibrating information to maintain consistency
Content: fine-tuning content to contain SEO-friendly language
SEO Implementation
SEO implementation follows the consultation. We are more than willing to integrate our findings into your website for you. We understand that running your own business takes a lot of time and energy. Let us take on the workload associated with putting research to action. We will update your website for you so that you can stay focused on the other responsibilities of owning a business. You will be sure to notice increased traffic flow and a greater number of views to your website. We want your business to start ranking high on Google. Let us help you.
Does More Traffic Mean More Revenue?
Targeted Traffic is the Key
More traffic does not equate to increased revenue for your business. Writing a viral blog post that has no relevance to your business might get you a lot of traffic, but all that traffic will translate to nothing in terms of revenue. 
For increased revenue, you need to generate targeted traffic. Targeted traffic consists of people who are likely to consume your services.