There are countless patients searching online for health information and medical providers. And most of them tend to start their search in the same place: Google.
The medical providers they find near the top of the search results have a huge advantage over the competition.
Ranking highly for a search term provides more than visibility; it imbues your practice with credibility and authority.
Search engine optimization (SEO) is the strategic practice of motivating Google to rank a page on your website higher and ensuring that page ranks for desirable search terms.
Want to talk to us about how we help you grow your practice?
WHAT MAKES US DIFFERENT
The most powerful tactics for SEO must be tailored to your medical practice's unique challenges.
Logic Inbound understands that your practice has its own vision for what it considers to be ideal patients, and leverages that understanding to produce stronger results.
Other SEO agencies represent their processes as impossibly complex, then offer two or three "packages" for you to choose from to deliver one-size-fits-all services.
Logic Inbound chooses to work directly with our clients to craft a service package that is appropriate for their goals and needs. We customize our services to optimize results for healthcare companies of all sizes, from small medical clinics to hospitals.
Talk to us about your healthcare business.
RELEVANCE
THINK OF GOOGLE AS A MATCHING ALGORITHM
Assuming an equal amount of authority as your competitors, the page that best matches a given keyword will rank higher than pages that only match for a partial keyword.
AUTHORITY
QUANTITY + QUALITY OF LINKS TO YOUR SITE
Google trusts thousands of websites to be highly authoritative. When these sites link to you, they share some of that trust and authority.
Discovery
We learn about your business, ideal patients, and competition.
Growth Analysis
We identify growth opportunities.
Keyword Research
Our research identifies how your ideal patient searches for your healthcare product or service (keyword research), and what Google is already favoring in your niche (competitive analysis).
Optimize for Relevance
Website optimization is the process of ensuring that search engines can access all the pages we intend to rank and can clearly and easily identify what each page is about. Essentially, this is the task of making sure each page speaks the same language as Google.
Build Authority
Driving authority to a site from other credible websites on the internet transfers that trust, authority, and traffic in the eyes of Google. We use dozens of link building strategies to get results.
Reporting
Good search engine optimization will produce rapid and clearly defined results. Our weekly and monthly reporting will clearly show progress in your project within a short period of time.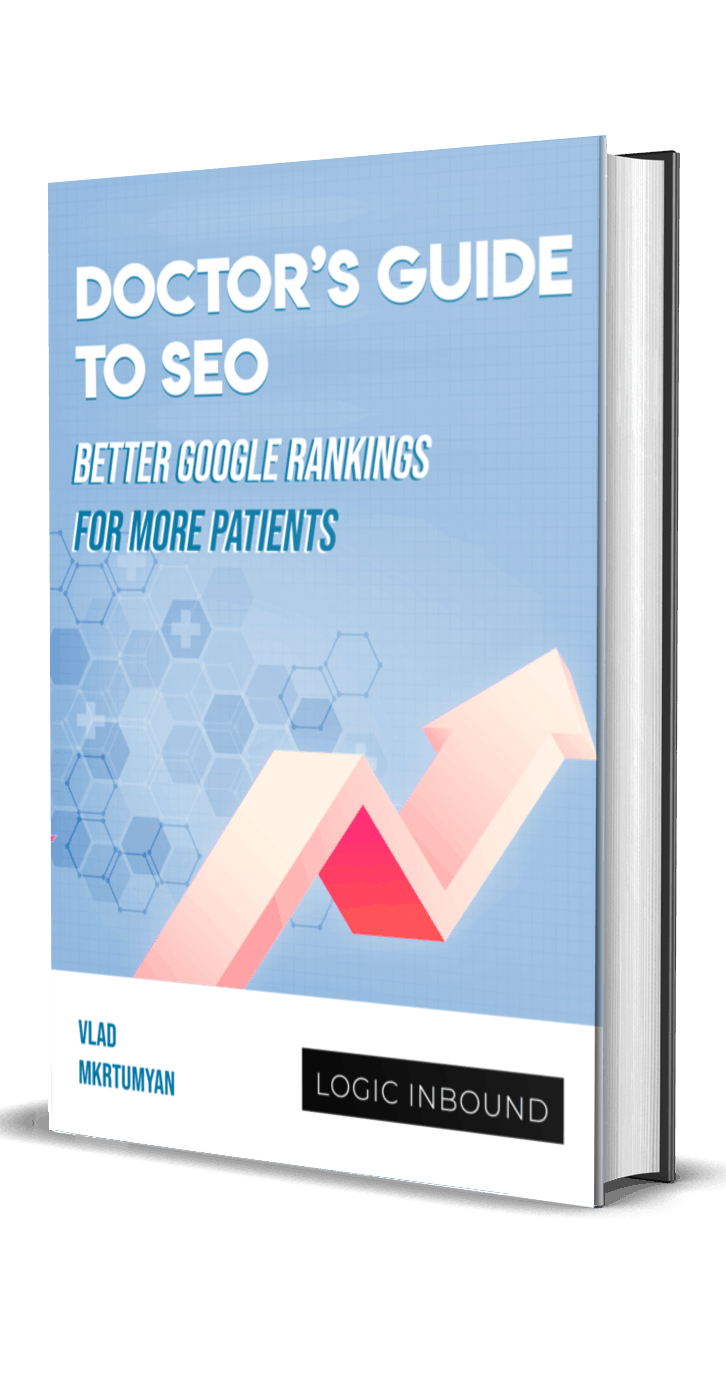 HOW TO SUPERCHARGE YOUR PRACTICE AND GET UP TO 975% MORE PATIENTS
Logic Inbound reveals in this free eBook the same tools, techniques and strategies they used to help one hormone doctor increase her new patient appointments by 1000%.
Here's what this 80-page step-by-step blueprint will teach you:
 Why you should start using Google search optimization to get more patients
 How to get more patient appointments by getting more targeted traffic to your website
 The secret to how your competitors are getting more patients through their website
 A proven search engine optimization (SEO) strategy that gets your practice website more traffic
 How to create content that will increase your reputation and build trust with website visitors (patients)