Katie Aweida, founder of Wonderstruck Event Design has spent the last four years helping hundreds of couples with one of the most memorable, important, and stressful day of their lives, their wedding day. After relying primarily on word of mouth referrals, Katie turned to Logic Inbound to get Wonderstruck Event Design to the first page of Google, driving huge amounts of inbound inquiries from potential clients and taking her business to the next level.
Challenge
After years of throwing money away at paid advertising, nothing had delivered better results than word of mouth referrals, but word of mouth takes a long time to build and Katie was having trouble creating the business she had envisioned when she left her corporate job.
When I first started out I had to learn everything on my own, I didn't know marketing strategies and I used my website mainly as a portfolio, I didn't think it was something that could get me business.
I was living off my savings from my previous career and throwing money into things that didn't work was super stressful. I tried print ads, web ads on online wedding marketplaces, going to open houses and even doing free design work. I wasn't seeing any meaningful ROI.
Funny story, a few years ago I hired a different SEO company that promised everything and delivered nothing. I was so mad when I ended the relationship.
I knew SEO was working for my competition but I didn't know how to make it work for me. I couldn't afford to choose the wrong vendor again, but I didn't know how to pick the right one.
Solution
"After listening to all the research you guys did into my business," said Katie,"my customers and my competition I thought, finally some guys that know what they're talking about. I was so happy when I found Logic Inbound because you didn't try to sell me on things I didn't need. You just got to work on the backend of my website and got me the results I had hoped for."
"The key to executing a successful SEO campaign with small business owners is simple", explains Logic Inbound Marketing Specialist, Hayk. "It's all about being good at what you do and communicating honestly."
"We looked at the search terms potential clients are most likely to search for when looking to hire a wedding planner in the Seattle area," continued Hayk,"we looked at how many searches these keywords were getting, and then we took a look at her competition to see how hard it was going to be to hit the front page. I sent Katie a video walking her through my research and she decided to move forward."
Click Here to Book a Marketing Strategy Session
Results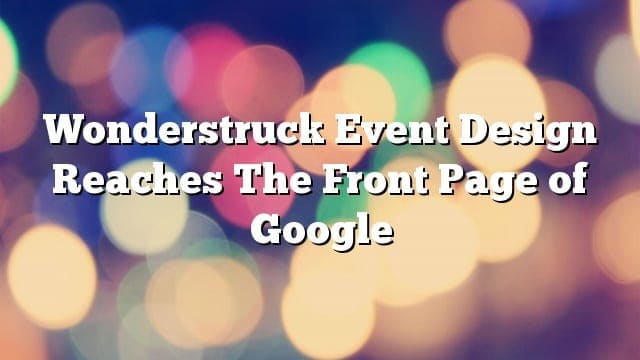 Today a majority of the clients I work with find me online.
I've been able to hire on another wedding planner.
I've moved up into a different bracket of clients who are willing to pay more money to work with us, doubling my average deal size.
When clients see me on the front page of Google for Seattle Wedding Planner they don't think, Wonderstruck must have SEO'd the heck out of their website, they think, wow, Wonderstruck is on page one – they must be worth talking to!
Getting our website on the front page of Google has helped more than anything.