About PAC
PAC Worldwide Corporation has clients around the world that make use of their innovative bubble-mailers, custom-designed specialty packaging and contract packaging services.
PAC's clients range from large retailers to small brands who are in the business of shipping products. These clients include Target, Home Depot, HP, Best Buy and so on.
The Objective
Being the leader in safe and affordable shipping, PAC required a website that reflected the services and products they offer.
PAC already had a website, but it was in need of a redesign. The company wanted the redesigned website to be eye-catching yet extremely functional as a core part of their sales-funnel.
Another technical requirement was that the website should have a way to easily update content, without tinkering too much with the back end.
Logic Inbound's Strategy
Logic Inbound tackled the challenge by creating a redesigned website with the following characteristics:
An easy-to-use layout
Custom product designer
Tools in the CMS to make it easy to add content
The Redesigned Theme
Modern websites need to be aesthetically pleasing and easy to use. Taking both these concerns into account, Logic Inbound created a custom theme using the Divi Framework for WordPress.
Divi is a powerful page builder that allows users to create modern, mobile-responsive templates from scratch, and enhance them through powerful built-in front-end modules.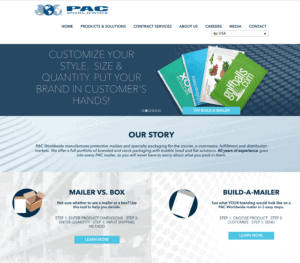 One of the advantages of using the Divi Framework is that it is easy enough to use, and does not require coding skills. So if the PAC team wants to make a trivial change, they won't need to tinker with code.
But Logic Inbound understood that PAC wanted more than just a custom theme, so our team created a set of custom templates for posts, pages, product pages, service pages, landing pages and more.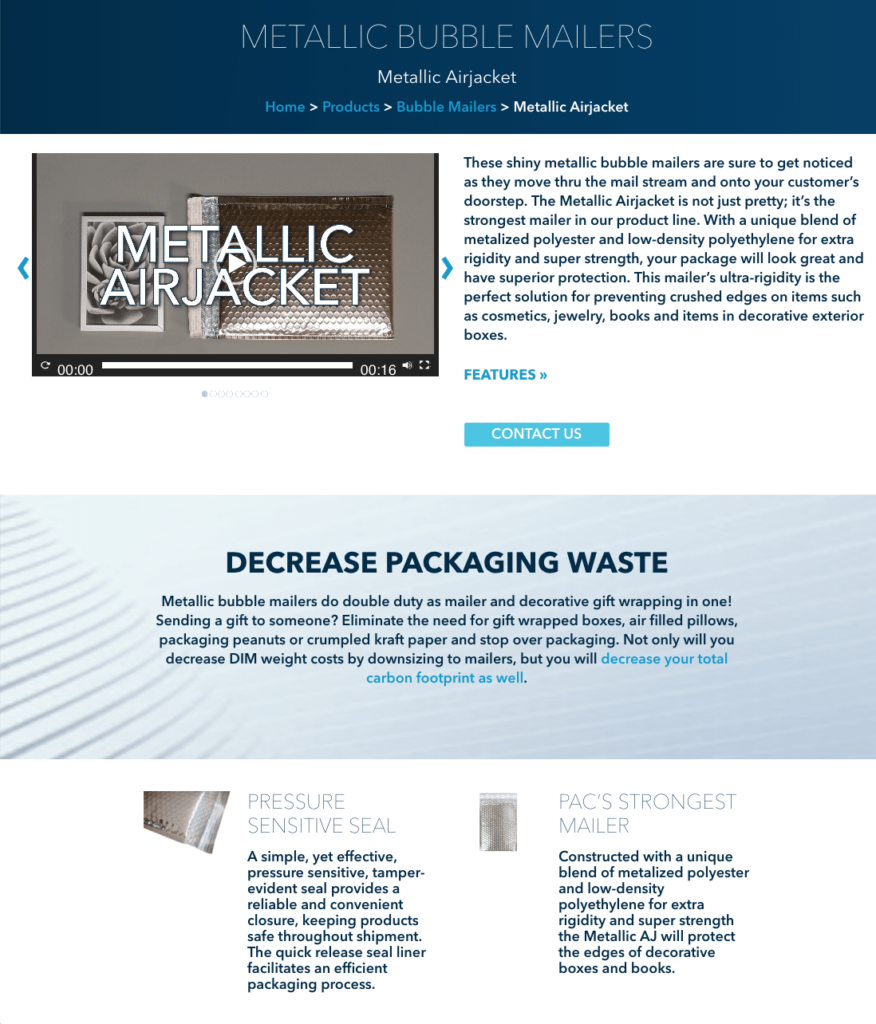 Creating Reusable Page Modules
Logic Inbound decided to go with shortcodes so the PAC team would have common reusable elements for displaying:
List of recent videos
List of recent posts
Social icons
Call-to-action buttons
Content boxes
Videos
With shortcodes, there's no need to fuss around with code. Shortcodes are one of the best features of WordPress and Logic Inbound put them to good use.
Custom Services Landing Page Template
PAC offers an impressive array of packaging services, and to help them showcase these, we designed a landing page template that features video and text, followed by a grid of packaging services they offer.
Each service is accompanied by a 'Select' button, which automatically adds the service to the contact form in case prospective customers are interested in that particular service.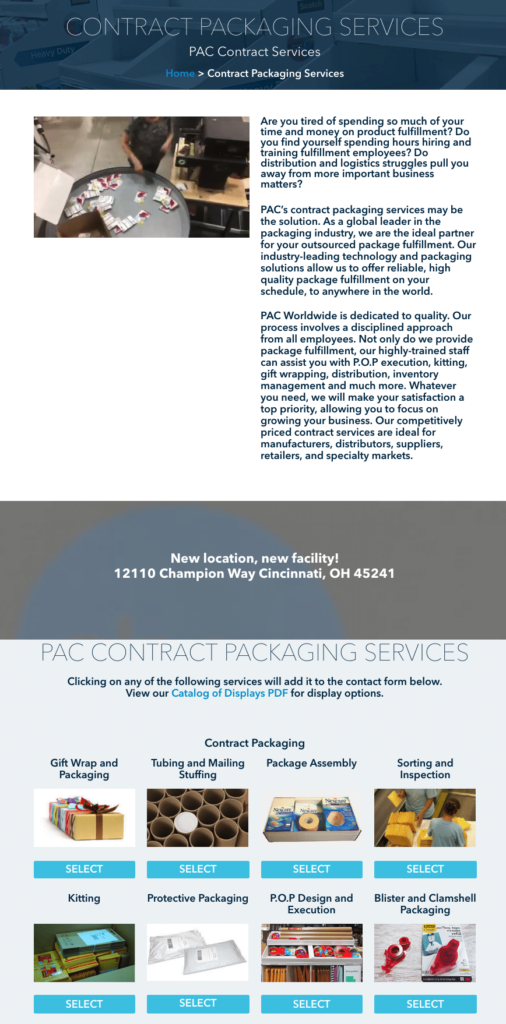 Custom Product Designer Feature
One of PAC's hallmark offerings is custom work, and they needed a website feature that allowed customers to visualize the final product by submitting their own designs to be used on packaging.
To cater to this need, we designed the Build-a-Mailer tool, a simple drag-and-drop editor that lets customers add shapes and text in addition to uploading their own logos.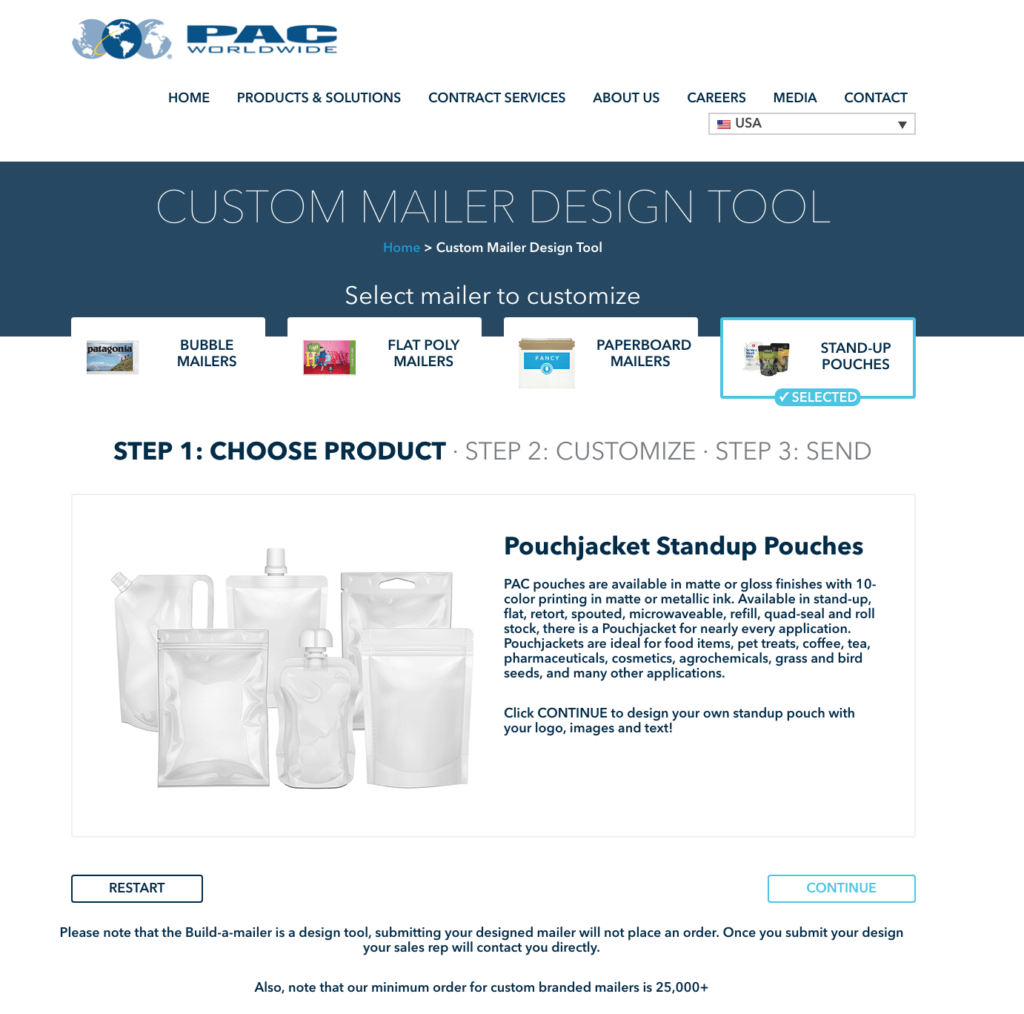 We used a WooCommerce plugin in addition to some custom coding to get this tool up and running.
Putting our WordPress plugin expertise to work, we came up with a solution that would not require custom work down the road, as we took an off-the-shelf WooCommerce plugin and modified it using filters.
Backend Management Tools
PAC wanted a backend that wouldn't require a tech expert to operate, so our goal was to create a backend that would streamline repetitive tasks without being complicated to use.
Hero Images
All PAC pages have a Hero image, but since the company wanted all Hero images to be styled in a particular way, without having a set format.
So we built a feature into the page templates that automatically styles an image without special processing.
Special Press Release Post Type
PAC wanted a different post type for their press releases to accommodate for additional information.
So we created a custom post type which would still have the familiar WordPress post admin interface but with additional custom fields to contain the extra information.
The Result
PAC's redesigned website is a powerful for converting leads into customers. Logic Inbound designed a feature-rich site that's simple to use and does not require experts to handle the backend.
Rather than static service pages, PAC now has dynamic service pages that invite potential customers to visualize the end product and facilitates conversions.