How We Helped a Junk Removal Company Through SEO Optimization: Increased Organic Traffic by 336% and Increased New Users by 354%
SUMMARY
Junk B Gone is a Seattle-based junk removal company that specializes in disposing of unwanted or damaged items and donating those that can still be used. They stand out from their competition because they are committed to recycling as much of the waste that they pick up as possible. 
Having been in business for over 30 years and with 294 5-star Google reviews and a perfect rating on Yelp, it was clear to us that Junk B Gone had a team of dedicated, customer service oriented, and experienced professionals on their side.  So why weren't they getting the number of clients that they were hoping for?
The immediate issues that Logic Inbound identified were a lack of SEO optimization throughout their site, an absence of testimonials or reviews that showcased what they could do, and low-quality content that could be improved. 
By the end of our SEO campaigns, we had completely revitalized Junk B Gone's website. We boosted their organic traffic by 336% from 165 per month to 554 per month and increased their new users to the website by 354% from 268 per month to 948 per month. 
Junk B Gone had a lot of competition in the Seattle area from other junk removal companies, so Logic Inbound knew that we had to do something to help them stand out from the crowd. After comprehensive SEO and technical audits, we were able to make a structured plan to improve their Google rankings and increase their client base. 
Logic Inbound was tasked with performing in-depth keyword and competitor research, creating a full-scale content development and release plan, and identifying technical issues throughout the website that could be hindering site growth. 
We tackled the challenge head-on and immediately got to work on the technical aspects of the website by focusing on improving site speed, removing broken 404 links, and reorganizing and improving the overall site structure to improve bot access to begin the process of securing Junk B Gone's place on Google's first page. 
Logic Inbound kicked off Junk B Gone's SEO campaign with the following:
Performed technical audit to determine technical issues that hindered site growth
Performed keyword research to determine the strength of existing keywords
Utilized analytics to track phone calls and contact form submissions
Performed onsite SEO audit to identify targets for optimization
Performed Ahrefs research for Competitor Analysis
Business Model & Website Review
Campaign setup and launch
To begin our SEO campaign, Logic Inbound fixed all of the technical problems that we had located within the website during our audit. We dramatically improved the loading speed and response time of the website and removed unnecessary and broken links before moving on to the true work of the campaign. 
Our first focus was to showcase all of the stellar reviews that the company had already gained during its long history. We embedded a link to the company's Google reviews, Yelp page, and Google business listing in addition to adding some of the best testimonials to the front page of the website. 
From here, we began implementing our content strategy. We started adding new, useful, and relevant content to the website at least once a week that were SEO and keyword optimized. To this new content, we added optimized photos to rapidly increase the company's Google ranks. 
Then, we approached other bloggers and businesses in related fields, such as home improvement and environmental protection, and encouraged them to provide us with high-quality backlinks that benefited both sides. 
Finally, we emphasized the importance of local web pages and keywords that would directly target the primary audience that Junk B Gone was hoping to get the attention of. At this stage, we implemented an analytics tracker that helped us track the number of calls and form submission conversions that the company was getting.
The results of Logic Inbound's work on this SEO campaign speak for themselves. Within six months of beginning the project, we had secured Junk B Gone's place on the first page of Google, consistently ranking between the 4th to 6th spot. 
Overall, Logic Inbound was able to increase the organic traffic to Junk B Gone's website by 336% and the number of new users to the website by 354% over the course of our campaigns. 
Our work was split into two distinct campaigns. During the first, running from November 2019 to June 2020, we increased the number of calls and form submissions to the website from 1 a month to 110 per month. Additionally, their conversion rate increased from 0.16% to 10.39%. 
During the second campaign, running from October 2021 to May 2022, we improved their call and form submissions by 221% from 43 per month to 95 per month. During the same time period, the conversion rate increased by 147% from 5.92% to 8.73%.
Increase in Organic Traffic to Website After SEO Optimization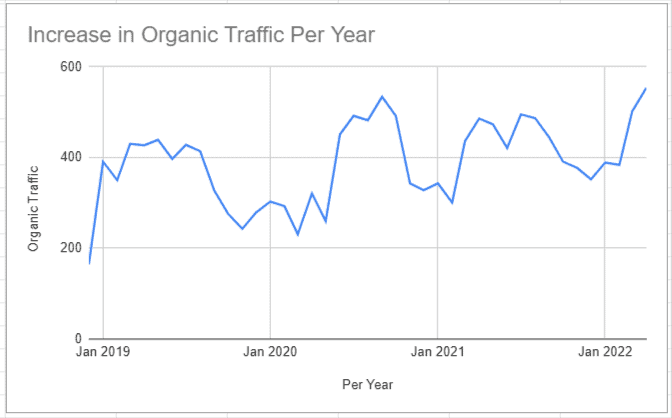 Increase in New Users to Website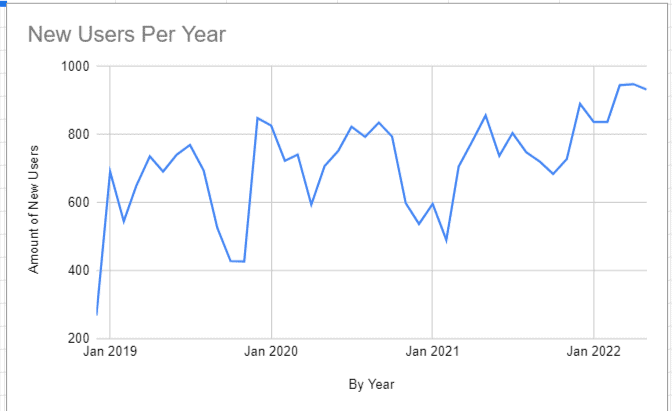 Increase In Phone Calls During 1st SEO Campaign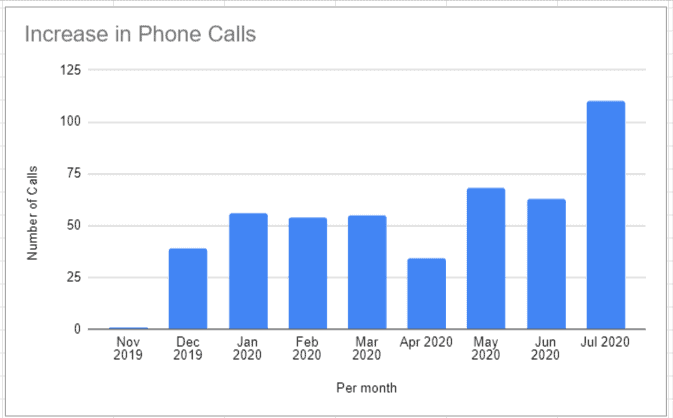 Increase in Phone Calls During 2nd SEO Campaign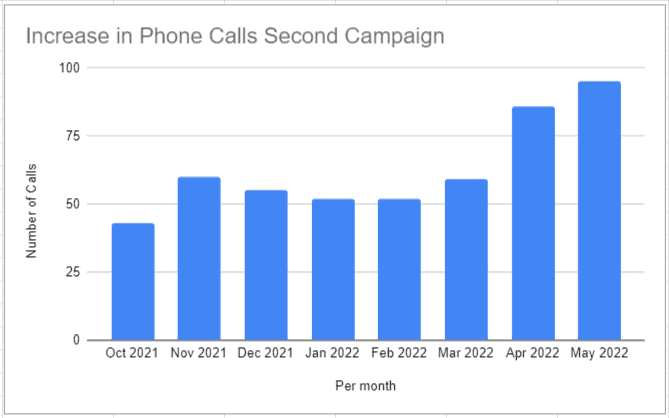 Increase in Conversion Rate During 1st SEO Campaign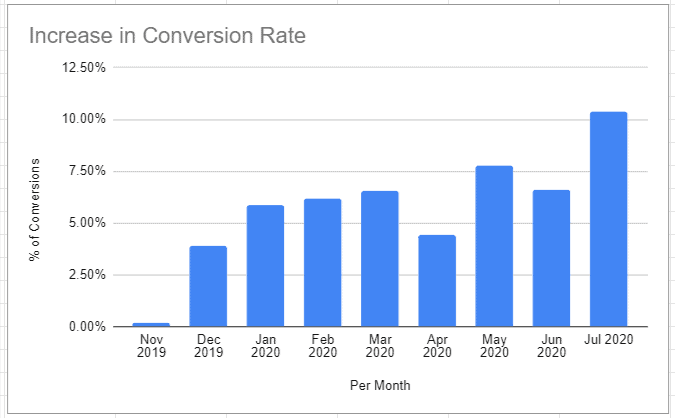 Increase in Conversion Rate During 2nd SEO Campaign