If you haven't read our review of POP, this is where we explain why POP is currently the top on-page optimization tool and why we use it daily.
In this guide, we'll be showing you how to get your on-page signals just right. We'll be using the tool and noting what to keep in mind when planning out a page and applying suggestions.
Account Navigation
The account navigational structure goes like this:
Each project (domain) can contain multiple pages.
Each page in a project can have multiple reports generated.
Each report is basically a compass and roadmap for building the most relevant page Google can expect to see, depending on the target keyword and the competitor pages you've chosen.
Best Practices – Starting Your First Project
Starting from scratch, you'd have to read the guidelines, create a project and then get on with generating a report based on a single keyword you're trying to optimize for.
There are guidelines (Best Practices) that provide a quick overview of what to do, and what common mistakes to avoid. You can always access the Best Practices window by clicking on the blue button with the question mark.
That button is present in almost every window you open within the interface. It's basically always a click away if you need to remind yourself of something you've read in the guidelines. We suggest reading Best Practices as the first thing you do when you open an account.
There's another thorough guide on their website, and instructional videos as well. Added to that, almost every field has an informational icon next to it with a tool-tip providing more info.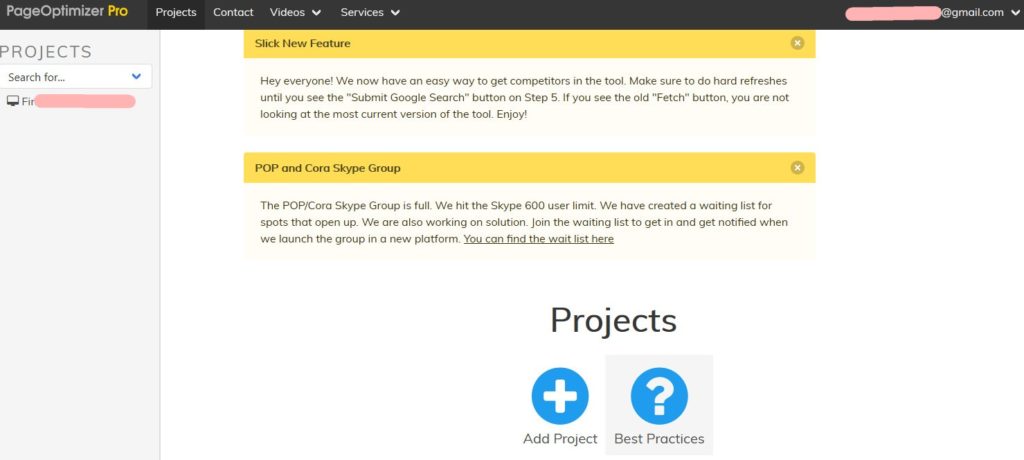 Creating a project is fairly straightforward. Just click "Add Project", give it a name, and input the domain (example.com).
Fair warning: If the domain changes from http:// to https:// mid-project, you have to create a separate project. Luckily, there's no limitation on the number of domains (projects), except in the Trial version.
You can think of each project as a folder on its own. The files inside are individual primary keywords, or "pages" since it's assumed that one page is targeting one primary keyword.
Page Analysis – Adding A Page to A Project
When you click on "create a page", this is what you'll see: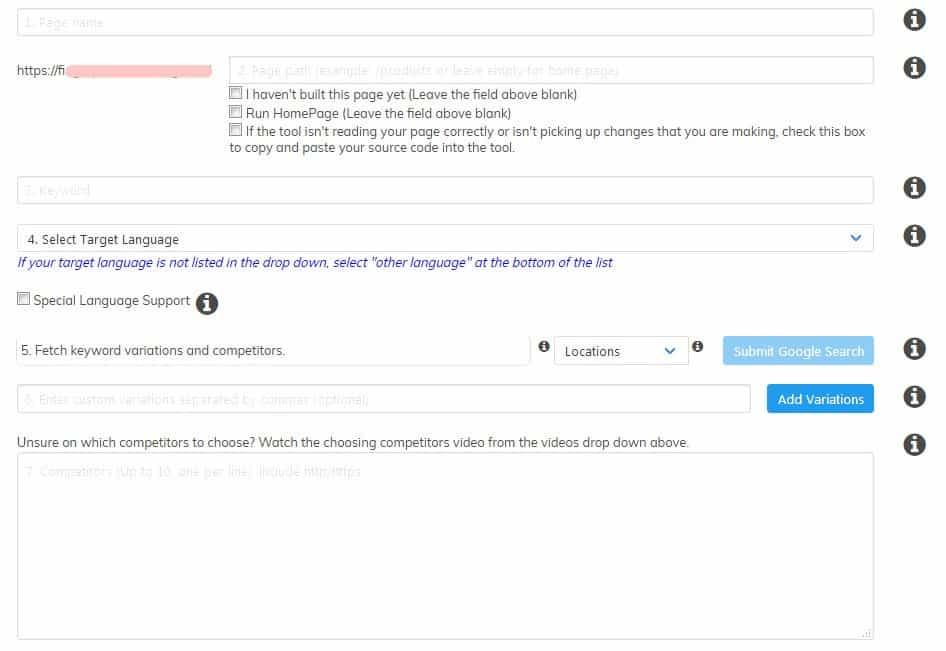 You can run the tool to analyze a live page, tweak your on-page signals, then re-run the report to make sure you are on-target before you submit the page for reindexing.
You can also run a report without even having a live page to optimize!
Just select "I haven't built this page yet", and the report will give you the raw, ideal "signal strength" to shoot for, instead of giving you Increase/Decrease suggestions for an existing page. More on signals later.
The only things you need now are:
The main keyword (primary keyword or "target" keyword) to rank for. This is what you'd type into Google when researching your competition, and it's what POP uses to give you a suggested list of competitors.
A target language (what language does your target audience speak?).
The location of your audience. After this step is done, you can click on "Submit Google Search" to get the list of variations and top 20 competitors.
A list of competitors.
The hardest parts here are choosing the right primary keyword, and picking out suitable competitors. We will focus on these two in-depth, as there are caveats to keep in mind if you don't want to shoot yourself in the foot.
One Primary Keyword to Rule Them All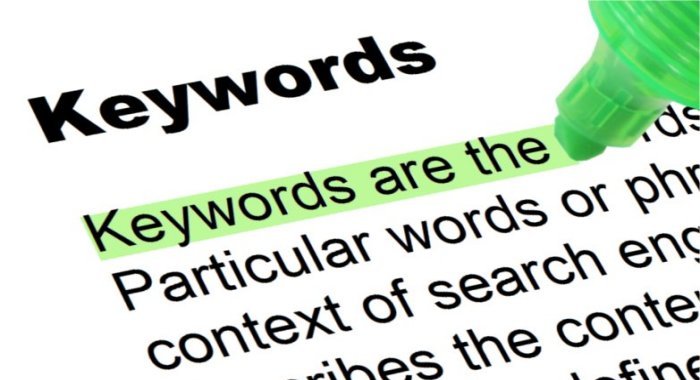 We've mentioned that the goal is to get the page to rank as high as possible for a single keyword. But what if you're not sure what the keyword should be?
The answer, again, lies with your competitors.
The first thing to know is that if you've picked the right top-level Primary keyword, your page will also rank for a lot of its Secondary keywords.
If you begin competitor research with a keyword thinking that it's the right one to target, you'll sometimes be greeted by competitors who don't feature that keyword in the obvious places like URL, Meta Title, H1… And yet they're still ranking for your query. What gives?
There are different scenarios when this might happen:
(1) The keyword has the potential to be a Primary, except…
There might not be much ROI in building quality, optimized pages for it. There's potential, but no one wanted to make a page targeting it, and it simply doesn't belong in any other group (cluster) of keywords where it would be a secondary.
It could be an interesting keyword to target for a supporting article, or you could include it on another topically relevant page within a subheading, and see what happens.
(2) No one found that keyword through research.
Congratulations! You struck gold.
In this case (and the one above), if you can't spot any other variant keyword across the SERP (in Metas and the URL), and see lots of high-DR websites ranking even though they're completely unoptimized for it.
It means Google is having a hard time finding pages specifically optimized for that keyword, so it is displaying the nearest relevant results that are at least backed by authority.
This is not as rare with niche and "untapped" industries/topics.
(3) Most likely: you found a Secondary keyword.
How to know that you've started out with a Secondary?
Look at your competitors and try to find the top level keyword that most of them are targeting. Switch focus to that one and repeat your search to see if the same competitor pages pop up on the SERP (mostly the same). If the answer is "yes" – congrats – the keyword you switched to is the one everyone's targeting – the Primary keyword.
Put your initial target keyword in the Secondary keyword bucket where it belongs. You've now got a new Primary keyword which should also have a higher monthly search volume than any of the secondary ones.
You can use these Secondary keywords in H2 tags if there's an opportunity.
If you're having difficulties with this step (it happens to us as well) you'd be wise to go back and do some more keyword research. Find the right Primary keyword to target. Keyword research is a whole topic on its own – we won't be delving into it now.
Choosing Competitors – Fresh From the SERP
POP is a page analysis tool, as we've mentioned, but you wouldn't be wrong if you called it a competitor analysis tool.
Once you've completed all the above steps, the next step is to pick competitors for POP to analyze and focus on. The core philosophy states that "the secret is hidden in plain sight", as Kyle Roof puts it.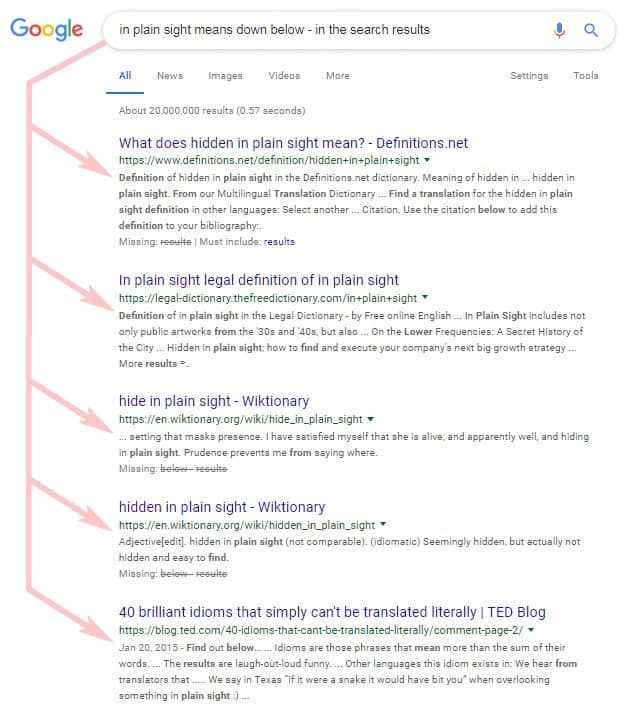 What does this mean?
Google is telling you, via the search results, what types of pages are valued most for a particular query.
When talking about "competitors", we are referring to your competitors in the search engine results for that specific query. Not your next-door local plumber rival, if you're in the plumbing business.
And certainly not entire websites (domains), but specific pages, instead. If the URL of that page on the SERP happens to be a home page, then that specific page is your competitor. Only in this case is the base domain of their website used as a competing page.
Back to Basics – The Caveats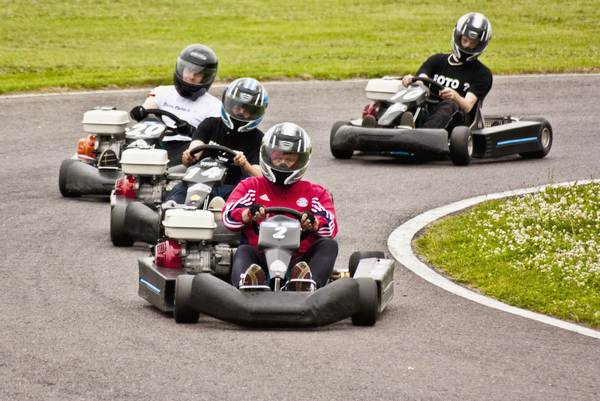 The idea of "competition" is more fluid than fixed, as the SERPs (meaning page rankings) change over time. They can be particularly volatile after major algorithm updates.
The basic concept to keep in mind is that, for any query, the SERP is not only fluid over time, but also in terms of result type uniformity.
Some queries prompt very homogenous result types – say 10/10 first page results are blog posts. Blog posts are of the informational type, and all are internal pages.
Other queries prompt mixed result types. For example, 2 results can be Yelp reviews, one is a Facebook page, 4 are home pages, and let's say the rest are local service pages. For the purpose of picking competitors, you can consider this kind of SERP as an aggregate of multiple SERPs:
The first would be landing pages: home pages & local service pages, in this case.
The second we refer to as "Other": Yelp reviews & Facebook pages, in this case.
The "other" category can be considered a SERP on is own. Yelp and Facebook are ranking high for reasons other than good/relevant on-page signals. If you're reading this guide, there's a 99% chance is that you're not competing with either of them.
General rules
Compare apples to apples:

If you're trying to rank your home page for a keyword, pick other home pages as your competitors.

If you're trying to rank a local service page, ignore the home pages as your competitors, pick other local service pages that outrank you (even if they're on page 2).

Visit your competitors' pages to see if that's the type of page you're trying to build.

Ignore any of the results from the Map pack. Maps are a world of their own.

Ignore ads, of course.

Go backward, and exclude first, then include later.

Most likely exclude these

from your list of competitors:

Thin pages

Directories

Websites that are ranking for reasons other than having well-optimized on-page signals:

Wikipedia and other "wiki's",

.gov and .edu websites,

Facebook, Yelp, YouTube, Amazon…

industry-specific high-DR sites like Avvo, Justia, etc.

Pick competitors who outrank you

If you haven't built the page yet, pick competitors from the first 2 pages of Google.

If you can't find enough competitors, do a separate search with the focus keyword in quotes ("dentist seattle", for example).

Google interprets this query differently, and only shows results that feature that exact match keyword on the page, cutting out a lot of other signals.

Pick out more competitors from these results and combine them with the previous picks (the ones from the regular search, without the quotes).

Note:

If your own page is ranking in positions 1-3 after making the search in quotes, this is a good indicator that you're probably done with on-page optimization and can invest your time/money in something else.
The next step is to verify the competitor URLs, pick your "Focus" competitors (up to 3), and let POP generate the first report for that page.
Reports & Signals
Multiple reports can be generated for the same page as you keep implementing suggestions and tweaking.
Re-running the report on the same page does not overwrite the old report, so you don't have to worry about that. You can also download the reports in a spreadsheet format.
This is what a report looks like in the web interface: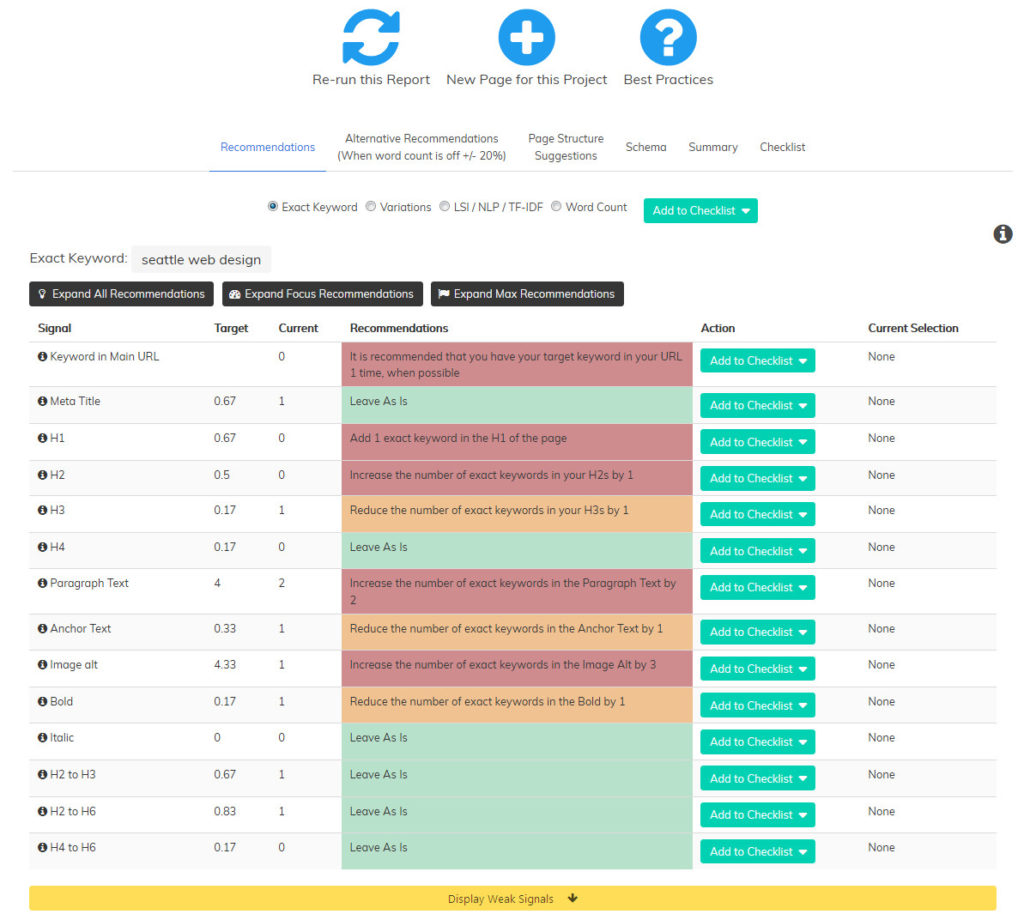 Signals – Known Ranking Factors
The report gives you an overview of what the ideal signal strength is, based on your competitors and focus competitors if you picked any. You will be given separate suggestions for:
Total word count,

Page structure

for each type of subheading tag,

for anchor text,

bold, and italic tags,

images, videos, etc.

Schema, if your competitors feature it,

Signal strength for the exact (primary) keyword,

Signal strength for the variations,

LSI keywords – contextual terms to include.
Most often, a page will be both over- and under-optimized at the same time. You just have to look at the signals individually, which is exactly what the reports provide.
Example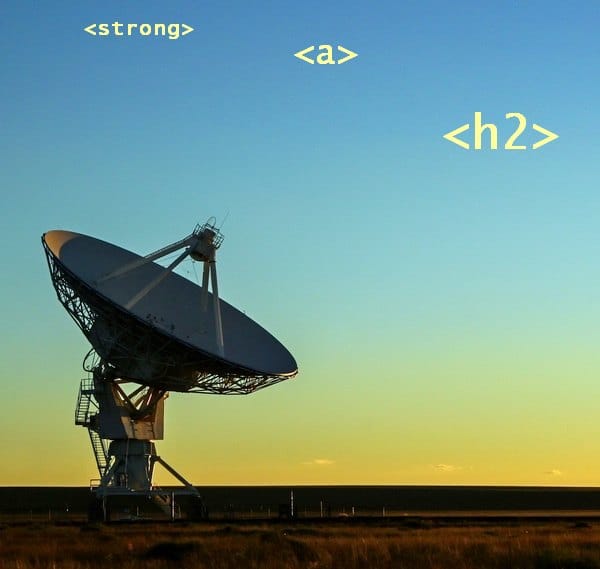 Situation:
You are way over-optimized on word count, but under-optimized in the usage of the main keyword in the body text.
Solution:
Decrease the word count on the page, but also increase the amount of appearances of the main keyword in the body text. As we've said before, be careful with the order in which you apply changes – increase signals first, then decrease later if the page is still not ranking.
In this case, you'd first increase the usage of the main keyword in the body text, and then decrease the total word count on the page.
Note:
Be careful when tweaking signals!
Deleting paragraphs to reduce the word count may also delete any anchored or bolded text and thus reduce those signals as well.
You can also inadvertently decrease the signals for the primary keyword and variations by deleting paragraphs. This means you'd have to increase those signals elsewhere on the page.
Exact (Primary) Keyword vs. Variations
Ideal signal strength is given separately for the Primary keyword, and the variations. POP acquires the variations automatically. These are also sourced from the SERP itself. Here's what a list of variations looks like for the main keyword "seattle web design":

Page Structure
Whether the page is live or still in the staging phase, you will also get suggestions on what you should shoot for in terms of page structure – what should you feature on the page, that your competitors' pages also include: H tags, anchor tags, images, tables, lists, etc.
When we make a page from scratch, we do an initial POP run to get the page structure and expected word count, and only then start outlining the page content.
Everything else in terms of signal strength can be tweaked later with relative ease once the writers have done their part. We find this to be the best way to achieve synergy between SEOs and writers.
Armed with all this report data, you'll be ready to dish out the most relevant page for the query!
Main Takeaways – Things To Remember
Read the best practices and watch the instructional videos.

Learn how to find the top level keyword so you can scoop all of its variations as well.

Don't mix apples and oranges.

Don't try to rank your local services page if 80% of the SERP is populated by home pages. You could try, but we advise against this until you get some practice.

Likewise, don't try to rank your home page for a keyword whose SERP is full of blog posts.

Invest time in learning how to pick the right competitors. Everything else downstream depends on this.

If the page already exists – first follow the recommendations on what signals to increase. Give it some time to stabilize, then follow the "decrease" recommendations if you're still not where you want to be on the SERP.
Achievement unlocked: POP is now your biggest ally.
Happy ranking!