How We Helped an eCommerce Website Increase Their Sales by Increasing Organic Searches by 248% and Reducing Bounce Rates by 93%
Summary for Sophie's Shoppe
Sophie's Shoppe is a gift shop boutique in Chatanooga, TN that offers beautifully curated gift boxes both locally and through an eCommerce shop. In addition to gift boxes, Sophie's Shoppe also offers several other gift shop items such as home decor accent pieces, candles, and succulents. 
Sophie's Shoppe was flourishing in their local community, but they wanted more of an online presence to expand their customer base. Their main concerns were the volatility of available stock levels, a lack of SEO knowledge, and an unengaging website. 
Within 10 months of working with Logic Inbound, we increased their organic search traffic by 248%, saw a 236% increase in new users to their website, and reduced bounce rates on the website by 93%. Combined, this lead to a significant increase in revenue and a greatly expanded customer base. 
The issue that Sophie's Shoppe approached Logic Inbound with was a multi-faceted one. Although they had been creating blog content for their shop in order to drive organic traffic to their website, they weren't seeing the results that they had hoped for. 
Difficulty receiving inventory during the pandemic caused campaign issues and dissuaded potential customers from returning to the website as the items weren't clearly marked as out of stock.
Additionally, the content and copy on their website were lackluster, uninformative, and was not making use of targeted keywords. There was no SEO optimization in their posts or product listings and as a result, Sophie's Shoppe was not ranking on Google searches. The lack of intuitive navigation on the site was also causing potential customers to leave without purchasing anything. 
Logic Inbound was tasked with redesigning the website to remove out-of-stock items and broken links as well as revamping their content to make it more engaging and SEO optimized.
Logic Inbound kicked off Sophie's Shoppe SEO Campaign with the following:
Business Model, Website Review, Keyword Review
Analysis of available products and related sales
Identified key issues that were delaying growth
Keyword Research and Competitor Analysis
Analysis of organic search results
Campaign setup and launch
Sophie's Shoppe had the drive, ambition, and high-quality products that they needed to make their business grow, all they needed was some guidance and marketing knowledge. Logic Inbound brought this to the table. 
First, we took the time to analyze their website, relevant keyword usage, existing blog content and product descriptions, and their top-selling products. This enabled us to see what was working and which keywords were not performing well so that we could replace them with more effective ones. 
After reviewing every aspect of their online presence, Logic Inbound determined that the first step was to remove all of the broken links, backlinks, and sold-out products from the website. We also added a one-click upsell option which improved upsell statistics. 
Then, we focused on updating their existing product descriptions and blog posts to make them more compatible with SEO optimization. By doing this we were able to increase the number of targeted keywords on the Sophie's Shoppe website from 304 to 984. 
We achieved this by incorporating several local keywords as well as increasing the keyword focus to include tourists. We also took advantage of the multiple types of products that they offered and created blog posts and featured ads 
Our goal was to update their existing content to include SEO keywords, relevant headers, and optimized blog titles to rank better on Google, while simultaneously training their writers on how to create SEO content that would help them continue to rank higher in the future.
Logic Inbound rose to the challenge and produced immediate results. By streamlining the user experience and improving the UI of the website we were able to reduce customer frustration while simultaneously increasing sales. 
By cleaning up the website, revitalizing the blog content, and bringing new and exciting products into the spotlight, Logic Inbound was able to reduce bounce rates on the website by 93% from a staggering 38.71% in February 2021 down to 2.35% as of December 2021. 
Our SEO optimization work created a 248% boost in organic traffic searches from 539 per month in March 2021 to 1,335 in December 2021. In addition, it increased the traffic value of those keywords from $33 in Feb 2021 to $106 in December 2021.
Increase in Organic Searches March 2021 to December 2021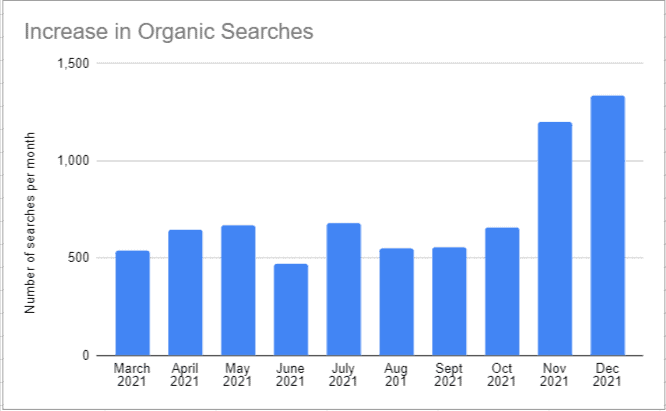 Increase in New Users From March 2021 to December 2021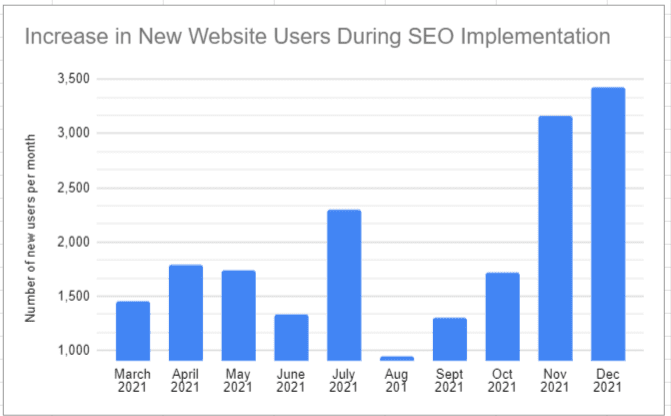 Increase in Number of New Sessions Per Month From March 2021 to December 2021