You may think that the best dentists make the most money. However, that couldn't be further from the truth. In reality, the dentists who spend the most on marketing probably have more patients and more revenue than you. Every practice in the healthcare industry is based on patients, so the one who is able to get the most always comes out ahead. Constantly acquiring new patients is especially important in dentistry because of the intense loyalty in the industry. If patients like their dentist, they will be very unlikely to switch. On top of that, they will refer all of their friends and family members, which could dramatically amplify the return for your relatively small investment.
Dentists need to work smarter, not harder by taking advantage of something called search engine optimization, which is commonly abbreviated as SEO in the digital marketing world. SEO is when you change the appearance of search engine result pages on Google by creating relevant, high quality content.
Your potential patients will begin their journey with a search on Google by typing in keywords that are related to your dental practice. However, they may never find you because 95% of them won't go beyond the first page. Google has become an integral part of their everyday lives and most of them don't even understand how these search results work.
A typical response is to assume that dentists on the first page are somehow better than dentists who aren't. The truth is that these dentists are only making more money than you because they spend more on SEO services. You could be the best dentist in the world, but your practice will fail if you don't hire a dental seo company like Logic Inbound to manipulate search results for you.
SEO is simply a way of answering search queries by giving users exactly what they want. These patients really want dental services, but they don't have a price point in mind. As a dentist, you can simultaneously invest a little bit more money in SEO services and charge significantly higher prices for dental care because your patients who find you on Google won't consider the alternatives on the second, third, fourth, or any following pages.
There is no reason why you should feel guilty for charging higher prices because your patients are essentially willing to pay more for convenience. Most of these additional price increases will also be covered by insurance, so your patients may not even pay attention to their final bill. The real takeaway is that if online advertising didn't work, no one would ever use it and Google wouldn't be a multi-billion dollar company. So why not invest in the future by hiring Logic Inbound? We can take your practice to the next level of success through time tested services that have worked for doctors, whose practices are very similar to those of dentists.
Our SEO experts at Logic Inbound increased Dr. Kate Kass's patients by over 1,000% in 15 months through SEO on Google. We will walk you through the exact tactics and techniques that we used, so that you will be able to get more patients as well. If you ever need help, you can call us at (206) 800-7756.
Dr. Kate Kass ranks on the first page for 20 high intent keywords across a dozen services. This drove 1,700 qualified prospective patients to her website last month. Imagine the potential if over a dozen of your most expensive services ranked for keywords where people were likely to buy.
Disclaimer: Kate Kass may be a doctor, but the SEO strategy for helping dentists rank on Google is very similar. Although the following keywords may not be exactly what your patients are searching for, they will be customized to meet your needs if you decide to pay Logic Inbound for SEO services.

How SEO Marketing for Dentists is So Effective
You could rank on the first page of Google just like Dr. Kate Kass if you implement five SEO techniques. The main advantage for spending your marketing dollars on SEO is intent. By intent, we mean that people are already willing to buy if they are searching for your dental practice. Alternatively, you could spend your entire marketing budget on Facebook advertisements, but then much of your investment would be wasted on people who are not currently interested in dental care. The key is reaching patients with the right message when they are ready to buy. The dentists on the first page who do that are literally raking in millions of dollars from acquiring new patients constantly while you're barely paying off your student loans.
Keyword Research

On Page Optimization

Content

Site Structure

Backlinks
Perform Keyword Research to Find SEO Keywords for Dentists
Keyword research is used to target variations of different searches because not all of your patients will use Google in the same way.Your patients could search for generic terms, symptoms, or even various specific treatments. Regardless of your patients' method for searching on Google, you want to make sure that you are the first dentist who shows up to help them with their problems.
Take a look at a Microsoft Excel report of Dr. Kate Kass's first page keywords: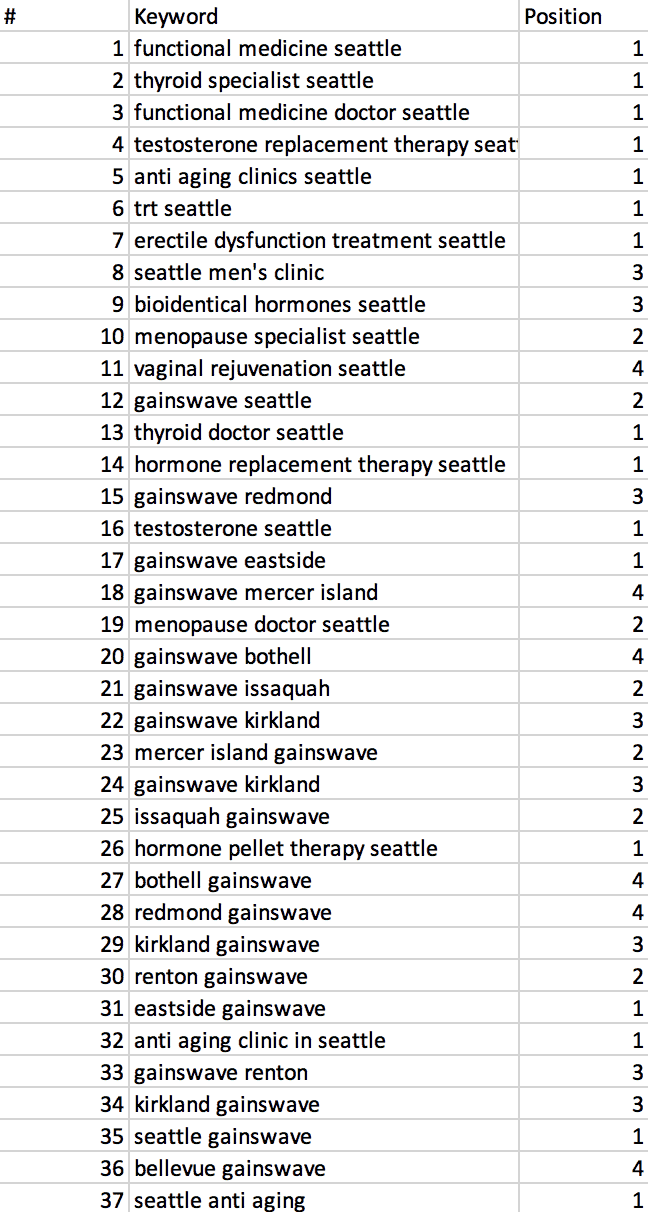 Now picture your practice on the first page of Google for services that are in great demand and are often covered by insurance.
This report could be showing your practice after working with Logic Inbound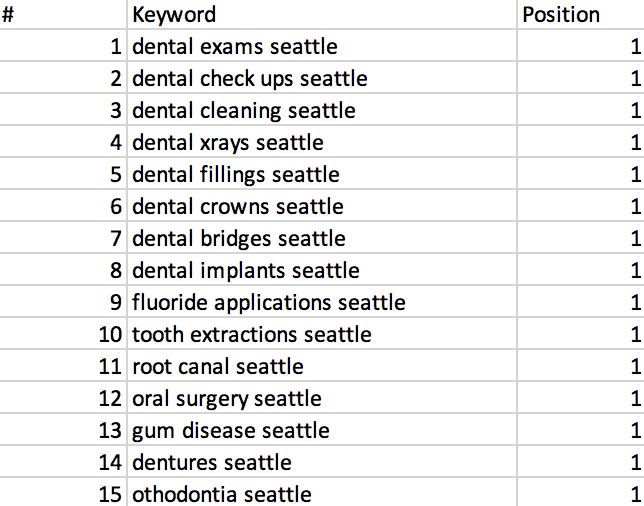 Generic searches for Dr. Kate Kass's practice looked like this: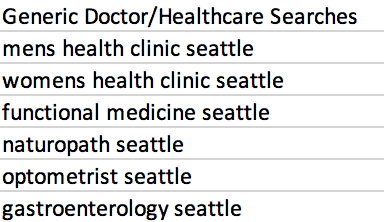 Generic searches for your practice might look more like this: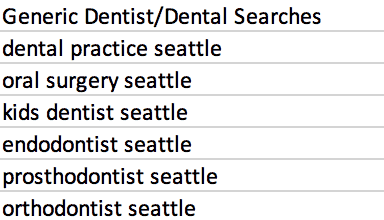 Symptom searches for Dr. Kate Kass looked like this: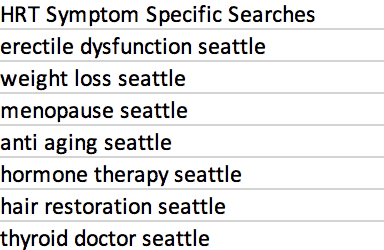 Symptom searches for your practice might look more like this: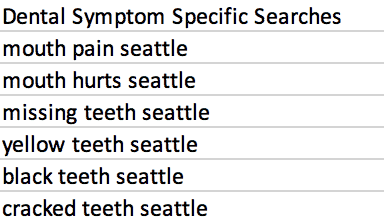 Specific treatment searches for Dr. Kate Kass looked like this:

Specific treatment searches for your practice might look more like this:

On Page Optimization is the Best SEO Trick for Dentists
You will need to create content on a dedicated page for each search that your patients make, so that you can promote your own treatments as the cure to their symptoms. For example, if you search for dentists on Google, the first search engine result page should display pages that have keywords for dentists. Similarly, if you search for orthodontists on Google, the results will be dominated by pages that include keywords for orthodontists. You will almost never see a dentist page ranking for the orthodontist keyword and vice versa. You can perform your own search on Google to confirm this for yourself. This process happens because the pages with more relevant content replace the pages with less relevant content in overall rankings.
This is not a coincidence because dental seo companies like Logic Inbound have inserted these keywords in specific places, like URLs, meta titles, and meta descriptions, on pages to help websites rank higher on Google.  
Google Search Engine Result Page for "dentist seattle" as a keyword: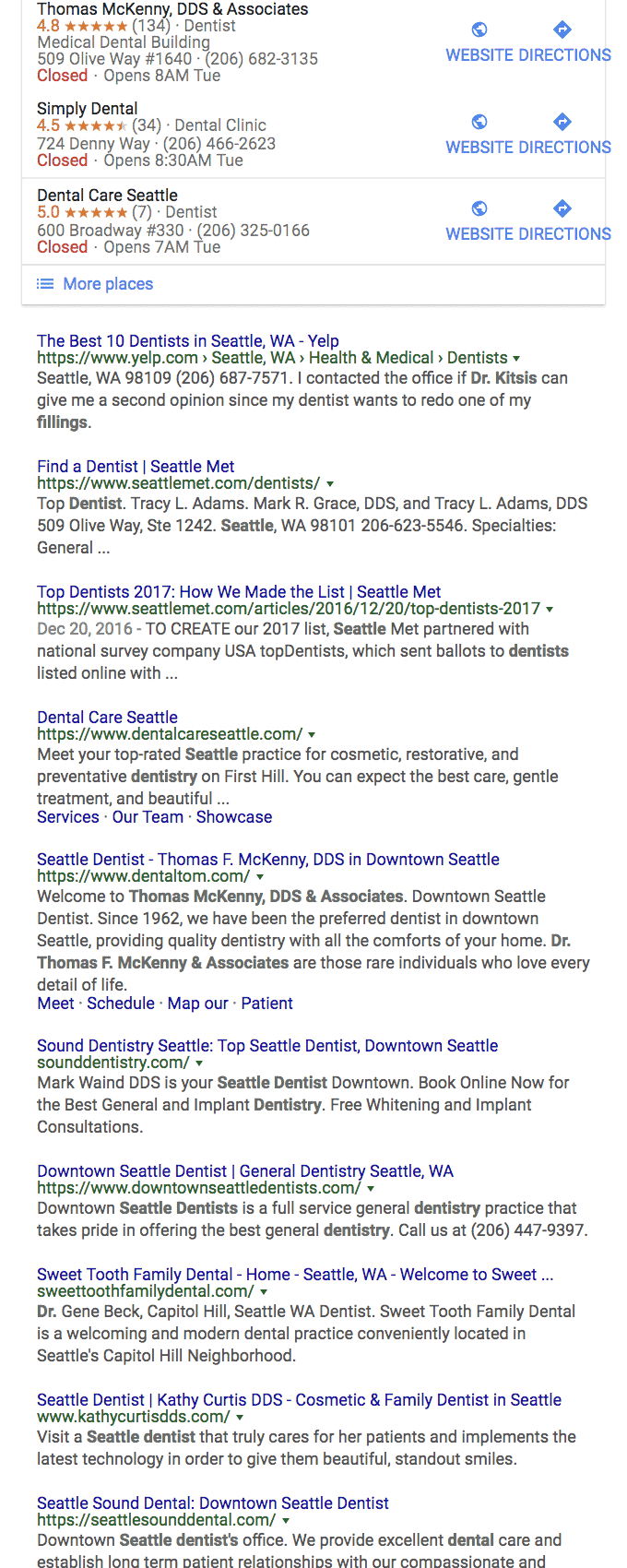 Let's try this again to prove that we aren't just using one specific example. Try searching for "orthodontist seattle" on Google. You'll see that North Seattle Orthodontics has used the keyword they want to rank for, "orthodontist seattle" better than their competition across the URL, Meta Title, and Meta Description.
Google Search Engine Result Page for "orthodontist seattle" as a keyword: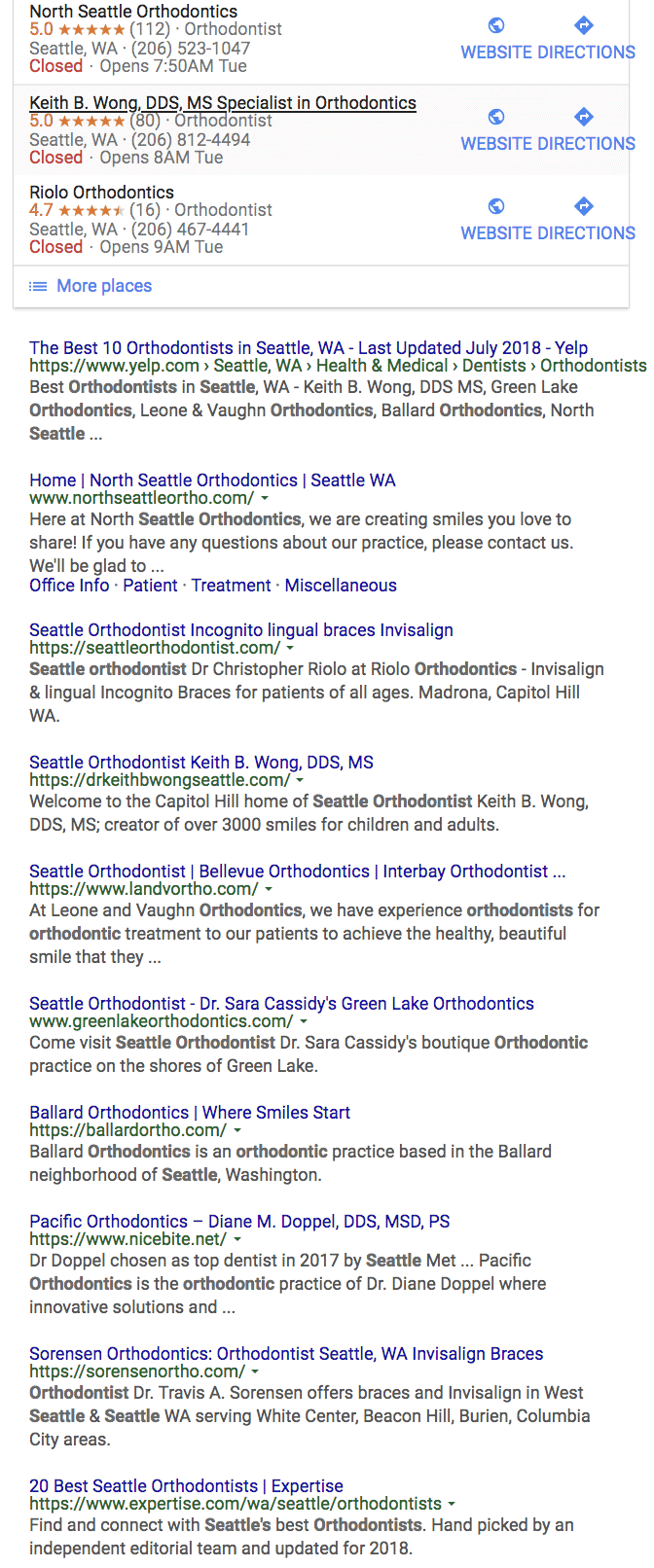 You can implement on page optimization on your own by adding the name of the city, in which your business is located, and the keyword, for which you would like to rank, to the URL of your web page. The meta title for your web page should include the keyword, two variations of the keyword, and the name of your brand. After that, you could write a meta description that starts with the keyword and includes at least two variations of the keyword. Finally, the H1s on your web page should include your keyword embedded in a phrase and your H2s should be variations of that keyword.
Again, you should note that top results are paid advertisements.Yelp is actually a listing website, which makes it much harder to beat in rankings. However, Logic Inbound was able to beat Yelp by employing a variety of SEO strategies.
When we say that Google values relevancy as a major factor in rankings, we mean that the algorithm looks at specific places on your page. You can make your pages as relevant as possible by inserting the keyword that you want to rank for in the URL, meta title, meta description, h1, and h2s on the dedicated page for that keyword:
Say that you perform a search for "dentist seattle." The top search results with the word, "ad," in them are actually advertisements. You will have to use Google AdWords (now called Google Ads) to get instant results like those, but you will have to pay for each click instead of monthly for SEO services. According to WordStream, clicks on Google Ads can cost between $1 to $60 depending on how much competition there is for a particular keyword and the average conversion rate for health & medical services is 3.36%.
Average Cost Per Click on Google AdWords (now called Google Ads) by Industry: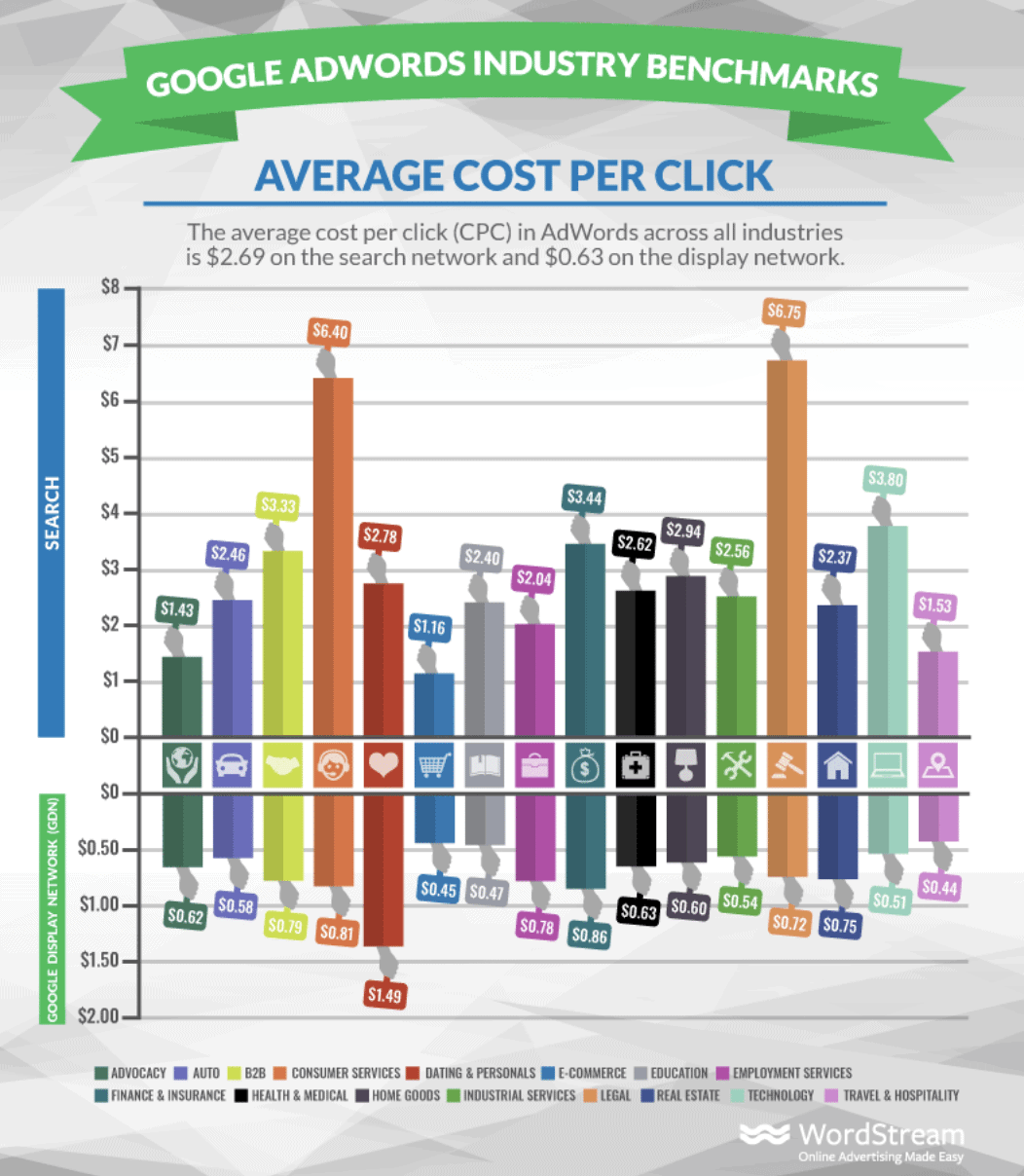 Average Conversion Rate on Google AdWords (now called Google Ads) by Industry: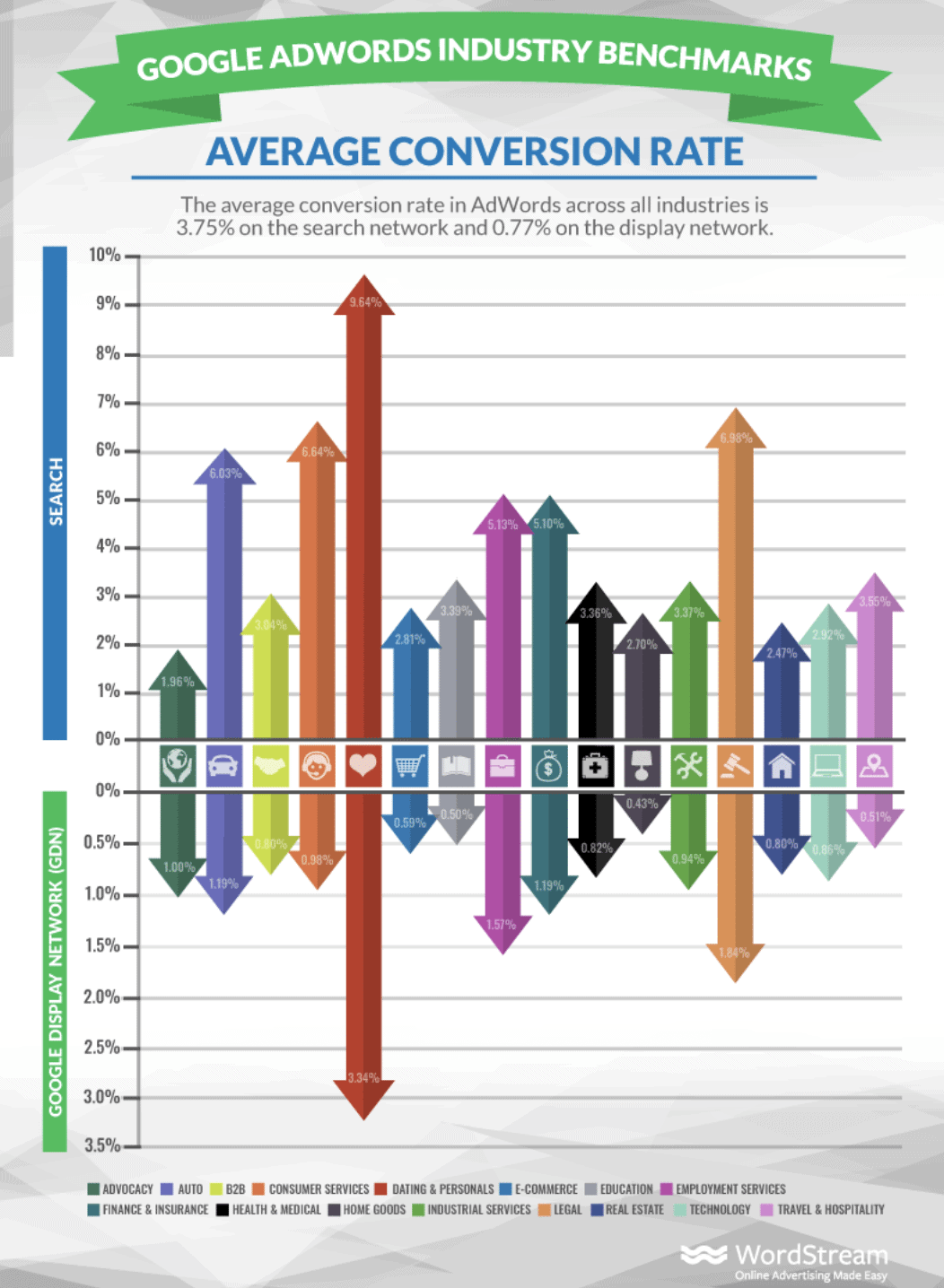 SEO vs. Google Ads Pros & Cons
| | | |
| --- | --- | --- |
| SEO Pros | 1. With SEO, website traffic will continue once you stop paying Logic Inbound. | 1. Logic Inbound bills for SEO services at an easy monthly rate. |
| SEO Cons | 2. It will take awhile for you to see results with SEO. | 2. You won't be able to manage your own SEO campaigns. |
| Google Ads Pros | 1. Your results from Google Ads will be instant. | 1. You will directly pay for every individual sale with Google Ads. |
| Google Ads Cons | 2. Website traffic goes away once you stop paying for Google Ads. | 2. You might spend so much on Google Ads that you actually lose money. |
Dentists Need To Create High Quality Landing Pages
Now that we have covered relevancy, it's time to create a landing page with high quality content for each keyword that you're targeting.
Google's algorithm was built to value one major thing in determining search results for a particular query: relevant, high quality content. If the algorithm didn't focus on relevant, high quality content, then people would stop using it and Google would lose billions of dollars in online advertising revenue to other search engines like Bing. In other words, there is no reason why people would use a search engine if it doesn't help them find the information for which they have been looking.  
However, relevance and quality are measured in terms of degree, so you don't necessarily need to have the most amazing dental content ever to rank on the first page. Google just needs to recognize it as better than the local competition if you want to outrank them.
You may be wondering how Google knows what content is better. It honestly doesn't know for sure since artificial intelligence hasn't become sentient yet. Google determines quality by tracking user engagement metrics from human interactions on pages, such as time spent on site, bounce rate, pages visited, and overall engagement with the site.
The easiest way to drive better user engagements is add more content to your landing page. How much content do you need to add? It depends on the competition, and blend of relevance scores and the strength of your domain and theirs.
To error on the safe side, it's best practice to have more content than any site on the 1st page. Generally this is 2,000 words for dentist landing pages.
You can count the number of each words on every site on the 1st page automatically using our SEO tools.
The next best way to increase user engagement metrics is through structured data. Structured data includes things such as:
Lists

Bullet Points

Tables

Table of Contents

Imbedded YouTube videos

And external citations
Let's take a look at one of North Seattle Orthodontics' landing pages for invisalign since they rank at the tops of the first page of Google for the following keyword:

You'll see that the page has:
717 words

2 embedded videos

2 embedded images

1 Set of bullet points

1 quote

4 outbound citations.
This page has almost every kind of structured data and is designed to keep users on the site for as long as possible.
Good Landing Page Content

On the other hand, you will see how the invisalign landing page for Riolo Orthodontics, has a lower ranking for the following keyword:

This is because it doesn't include this long form content and structured data. Users will be much less likely to spend time on his site because the content is too short. They will also have higher bounce rates, fewer pages visited, and less engagement with his site overall.
Bad Landing Page Content (Found on page 10 of Google for the keyword):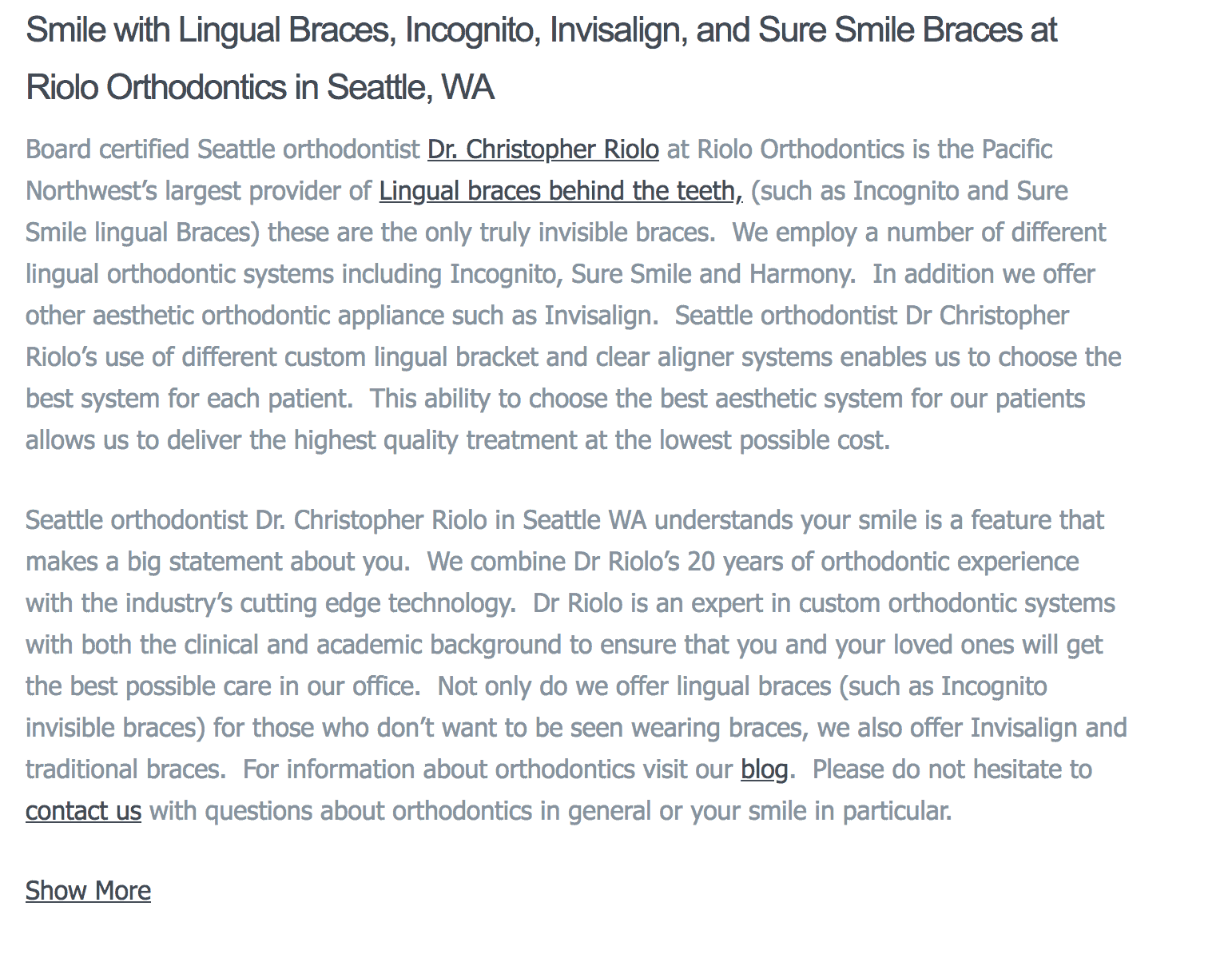 Site Structure is One of Many Actionable SEO Tips for Dentists
Site structure is probably the easiest SEO activity to implement for novices. Simply link to each landing page in the header and footer navigation menus.
This will transfer the power from your homepage to your landing pages, ensure Google is able to find and index your landing pages, tell Google that these are the most important, and relevant pages to your business, and makes it easy for visitors on the homepage to jump to where they want to go
Seattle Oral & Maxillofacial Surgery ranks on the first page of Google for "oral surgeon seattle" and obviously took their site structure seriously as you can see from their amazing header and footer navigations. By this, I am referring to the options that you can click on at the top and bottom of the page.
Good Example Header Navigation:

Good Example of Footer Navigation: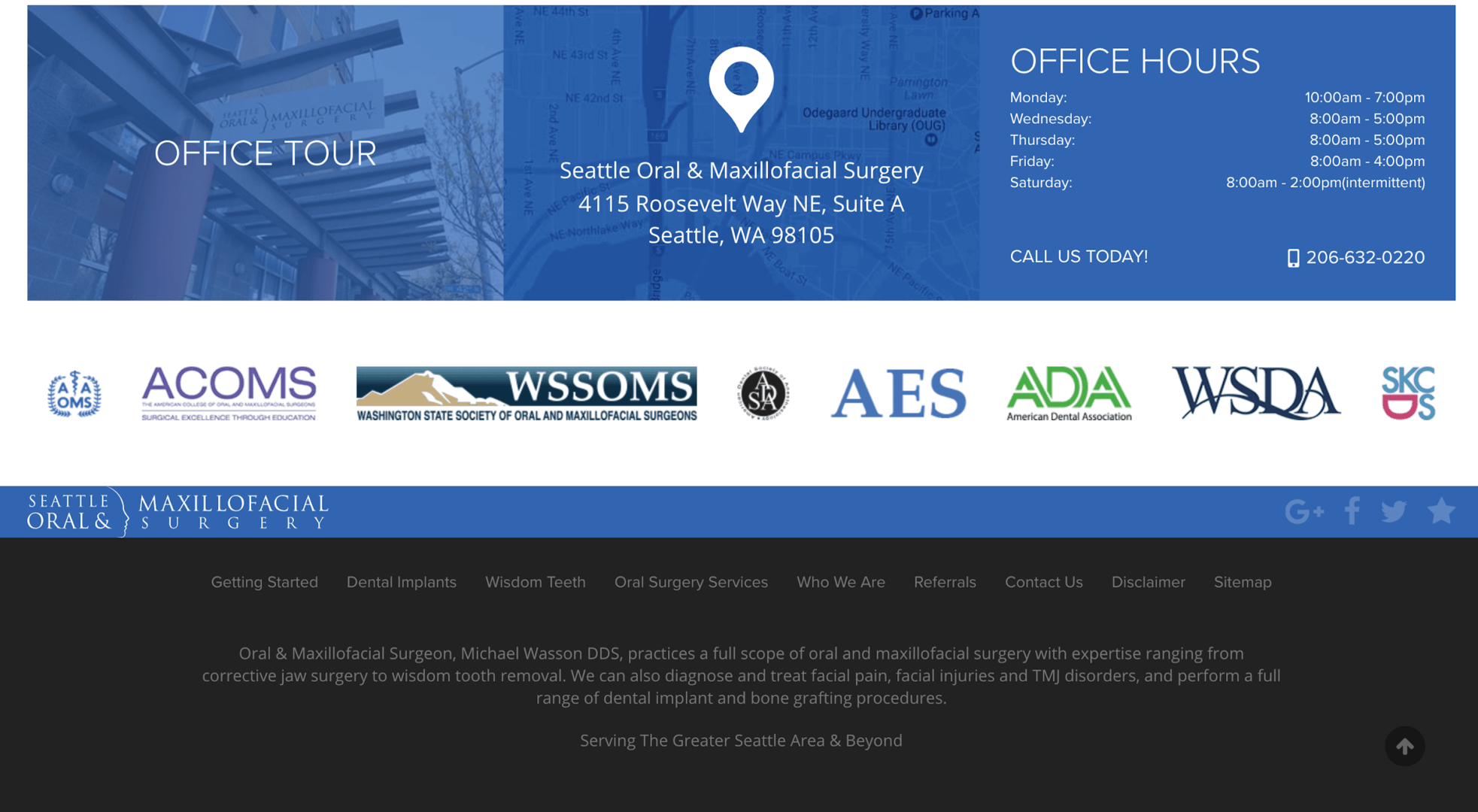 Local SEO for Dentists with Backlinks, Directories, and Outreach
Backlinks are actually least important activity for ranking and you should only use them after you have completed the rest of the activities in this guide. If you build backlinks before your pages are optimized for quality and relevance, then you probably won't be satisfied by the results. You also can't build backlinks to light content that isn't relevant and expect to rank. That is why suggest that you perform keyword research, optimize your pages, and write content first.
Social Backlinks Are an Easy Way to Learn SEO for Dentists
Social backlinks are backlinks from Facebook, Twitter, YouTube, Instagram. You can take advantage of social backlinks by setting up accounts on all of the major social networks and linking back to your website. As you can see from the Facebook page for Dental Care Seattle, which ranks at the top of the first page of Google for "dentist seattle," there are links under additional contact info. We call these social backlinks because they are links on a social media profile that link back to your website.
There are hundreds of social networks you can receive backlinks from. Get creative, think places like YouTube, SoundCloud, and any platform that has a public profile that Google can crawl.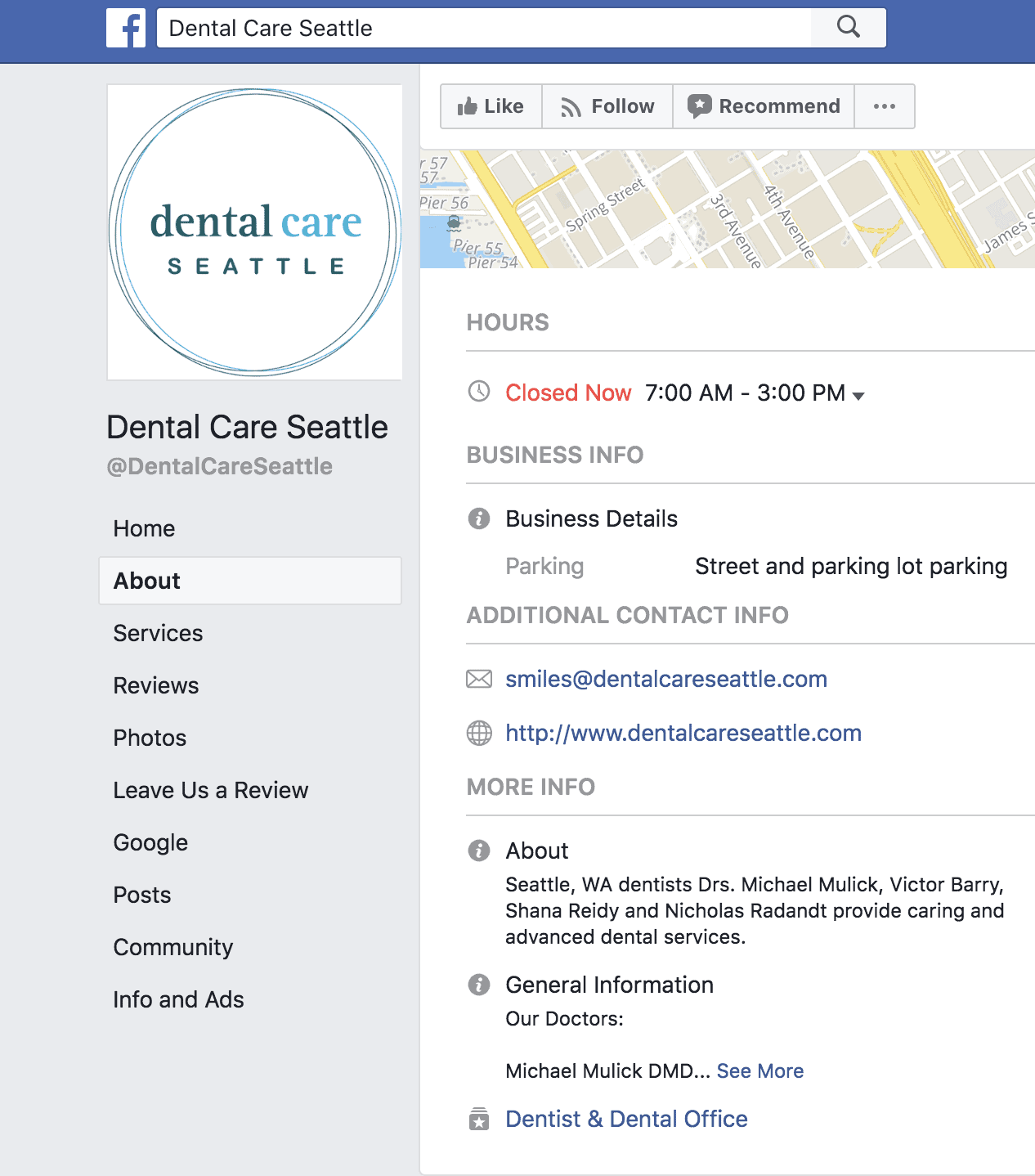 Directory Sites Are a Great SEO Service for Dentists
Social backlinks aren't going to take you all the way to the first page,you also need directory backlinks, which are like online phone books for businesses that can link back to your website.  Yelp, Glassdoor, and niche specific industry sites such as DentistDirectory.com are all examples of directories. You can set up accounts on each of these and link back to your website whenever the directory content is relevant. By relevant, we are referring to how you probably shouldn't link from a page or directory about doctors when you are a dentist and so on.
DentistDirectory.com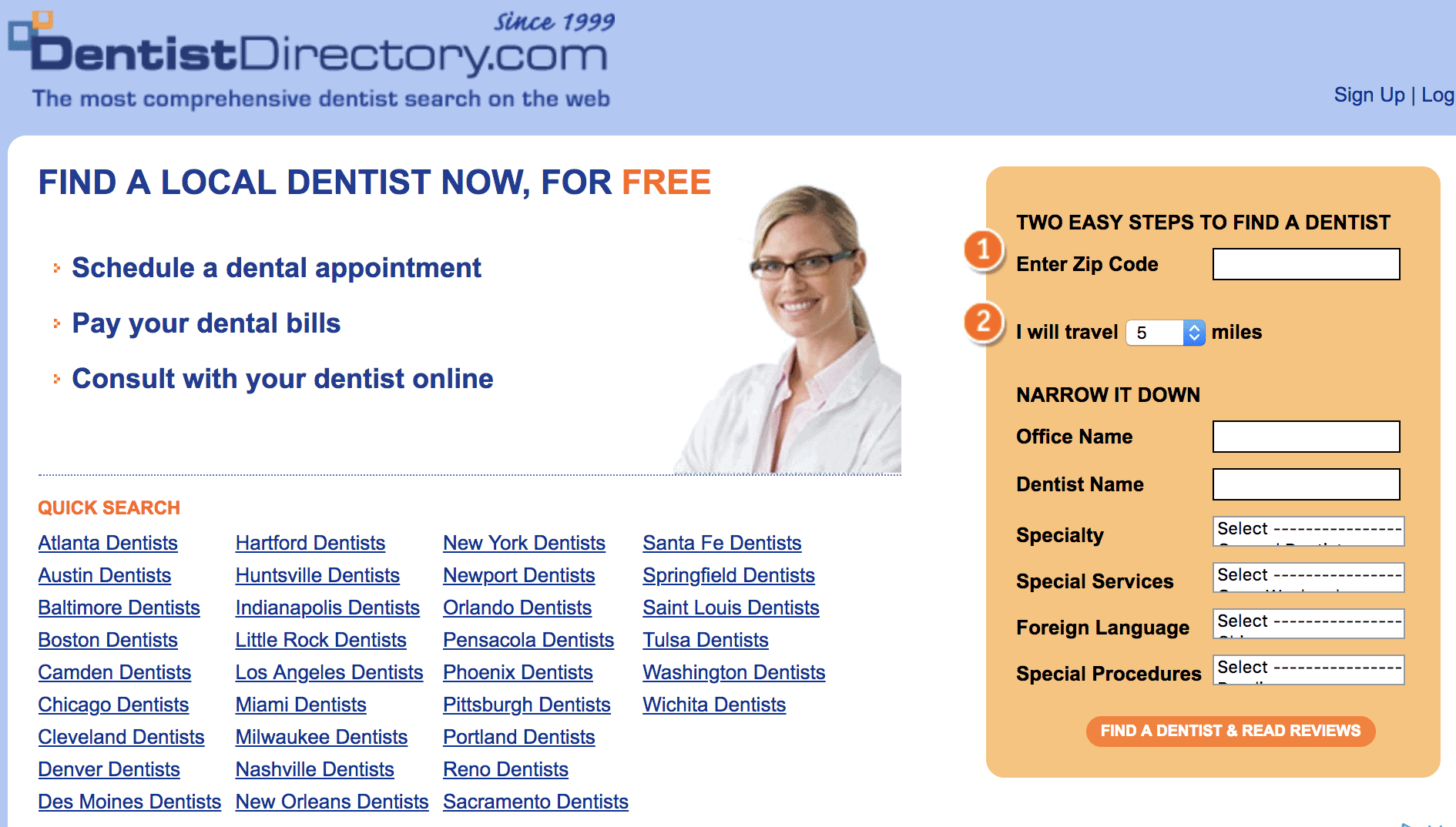 DentalDirectory.com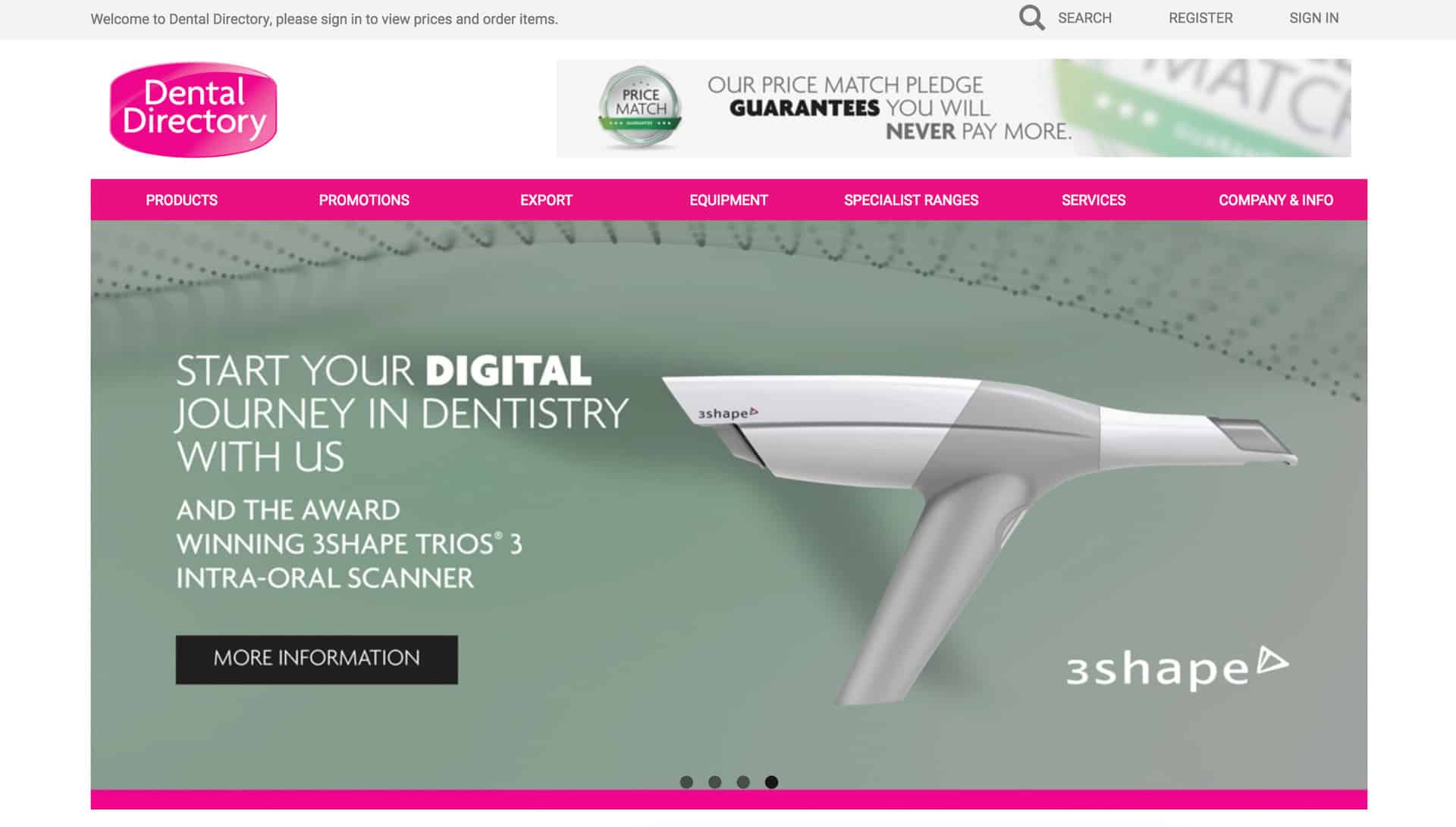 Here is what a typical listing looks like: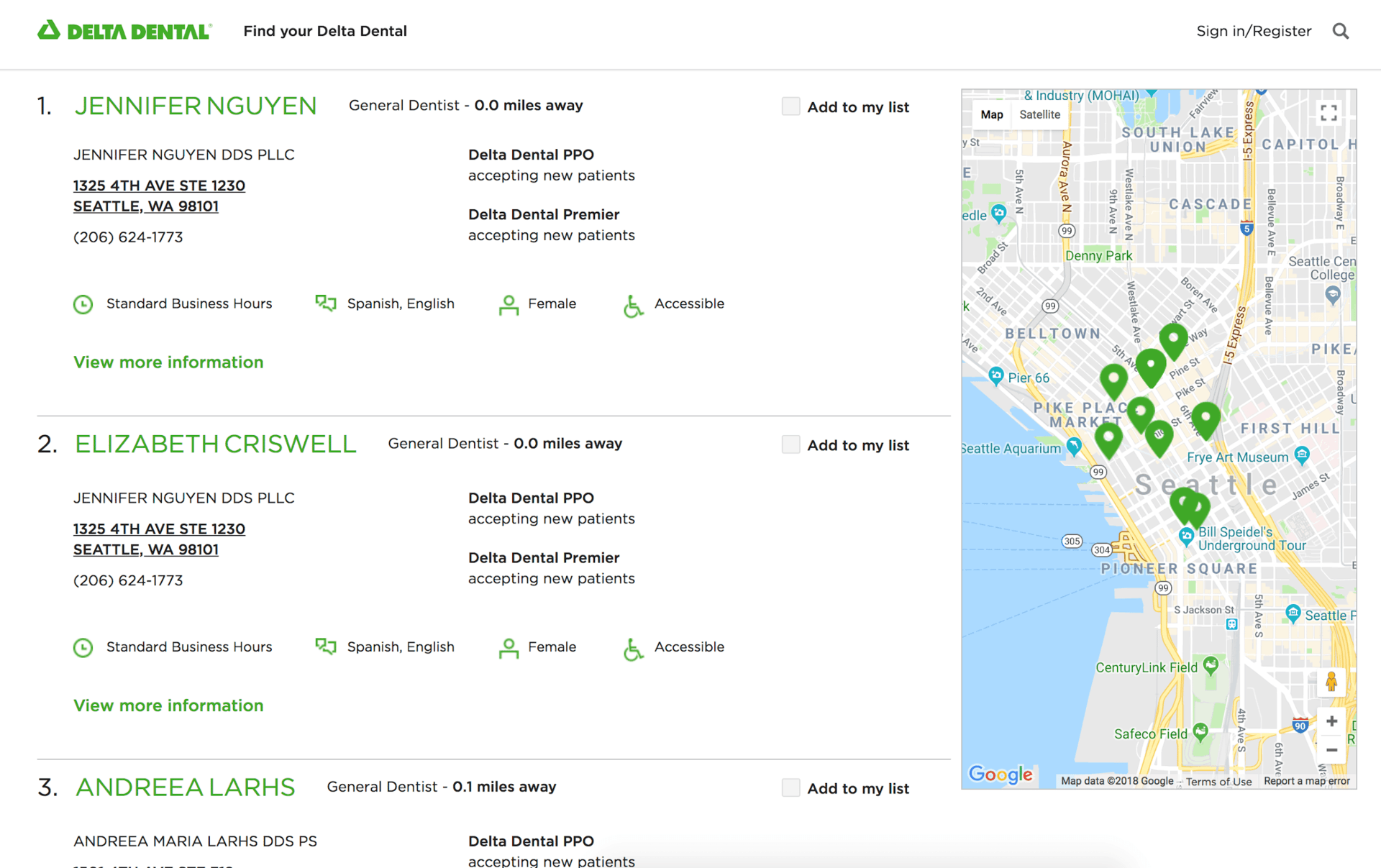 Podcast and PR Outreach is Our Last SEO Tip for Dentists
Our final backlinking strategy is the most difficult and time consuming, but also the most powerful and impactful. It involves creating a list of industry publications that are relevant to dentists, and reaching out them one by one, pitching yourself as an expert and offering to contribute content to their website.
This works because dentist publications always want free, high quality content for their readers, and you're an expert who would love to share your thoughts on a thing or two about dentistry.
Write 1,000 words of high quality content that you are uniquely positioned to write about, and include one or two links back at the landing pages you want to rank.
Here is an example pitch we used for Dr. Kate Kass to create a guest post opportunity:
Hey y'all,
I'm Dr. Kate Kass, a local functional medicine specialist and holistic physician in the Seattle area.
I was reading one of your articles when I noticed you accept guest posts.
I'm reaching out because right now I'm working on some pieces surrounding men's health, hormones, and fitness, and I'd love to write for your site!
My skill set focuses on naturopathy, age management, regenerative medicine, and sexual health. I began my practice in 2014, working out of a shared clinic with other doctors. Today, I have my own growing practice with multiple nurses and am looking for doctors to work under me. This all makes me very confident that I can provide a valuable contribution to your website.
If you still accept guest posts, please let me know – I'd love to put together a draft for your review!
Thanks,
—
Kate Kass – Website
If you've been able to follow this guide and implement the rest of our best practices for dentists, but hit a wall here. Contact us, we've perfected this process at scale and are happy to step in and take over.
Should Dentists Blog for SEO?
We see a lot of dentist and healthcare companies investing into blog content, but you need to understand that blogging does not help with your SEO, nor does it help you create awareness with new patients.
Content on a dentist's blog will not drive qualified prospects, because the keywords blog posts primarily rank for informational searches.
An informational search will not display search results from local businesses, but will display search results from websites all of the country. This means if your blog post does rank for a an informational search, that it's likely the searcher lives in a different city than your dentist practice is located.
A good example of a national search is "how to whiten teeth?"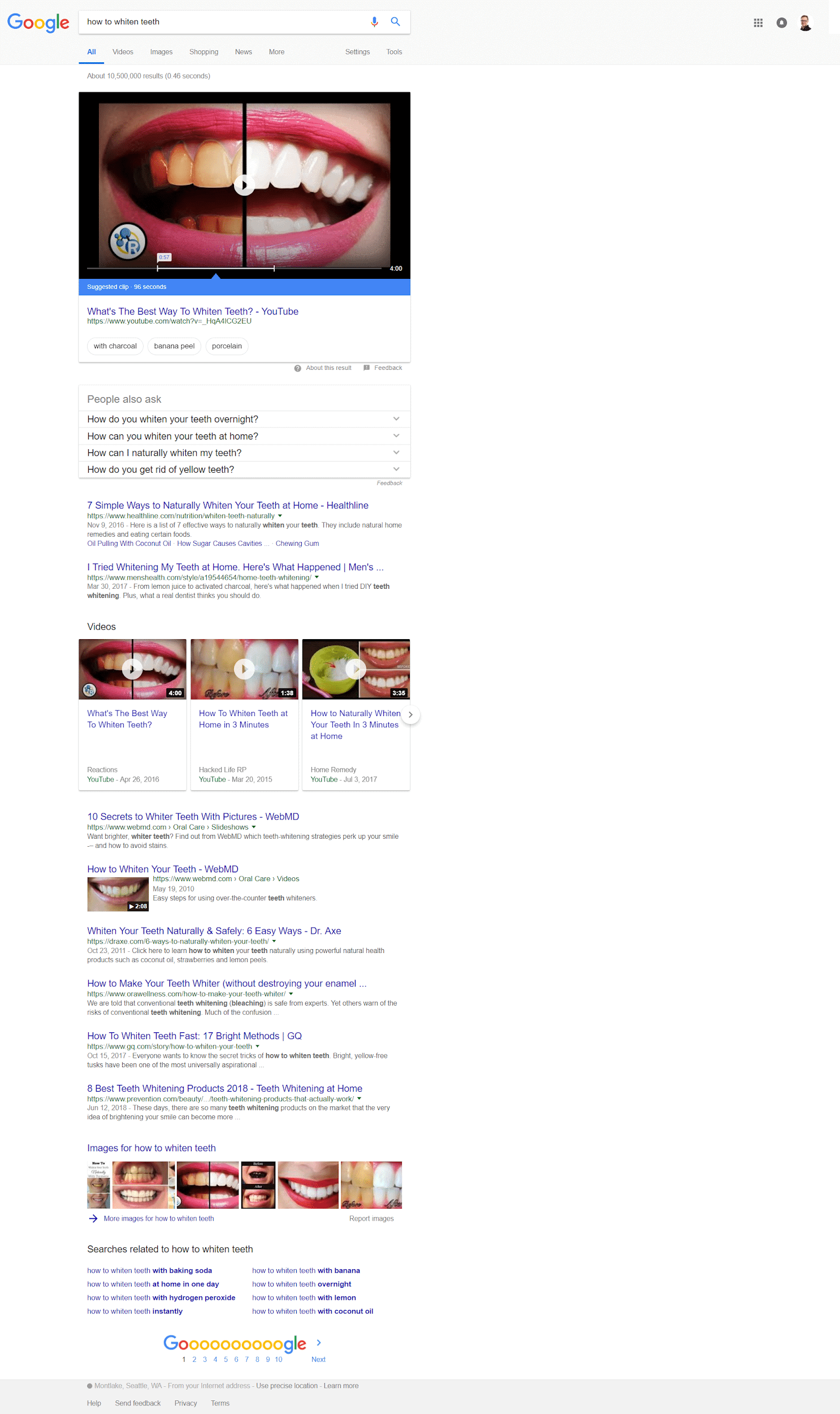 Note that none of the search results are local dentists, it's all websites located across the country. Ranking for these type of informational queries are pointless for driving new patients.
With that said, blog content is great at building trust and credibility with prospects who have found your website via one of your marketing channels.
Here is how to leverage blog content:
Send them information on your blog after they have given you their contact information

Re-target the prospect with informational content on your blog after they have left your website with a Facebook pixel
However, that same investment in content will build 10x the trust and credibility if the content you write is hosted on an industry leading publication's website.
Keep reading to learn how to get your name on the biggest websites in dentistry.
Recap
We speak from experience. This is how we have helped hundreds of local business like your own rank on the first page of Google. If you liked what you read and you would like to learn more, you can contact us directly at sales@logicinbound.com or (206) 800-7756 to get a response within 24 hours.
Quality Content
The content on each of the landing pages you want to rank should be at least 2000 words long

The content should  include at least 5 of the following: lists, bullet points, tables, imbedded YouTube videos etc.

Blog posts help build trust and credibility with existing prospects, not generate new prospects

Focus your efforts on getting your informational content on industry leading publications
Relevance


The URL for each of your web pages should look like this: https://nameofmydentalpractice.com/nameofservice-nameofcity
URL Example:

      2. The meta title for each of your web pages should look like this: name of service | first variation of service | second variation of service | name of dental practice
Meta Title Example:

     3. The meta description for each of your web pages should look like this: name of service…blah…blah…blah…blah…blah…blah first variation of service blah…blah…blah second variation of service blah…blah…blah…blah.   

Backlinks
Create social backlinks

Create directory backlinks

And if that's not enough to rank you, get backlinks from authoritative dentistry publications
If you liked what you read and you would like to learn more, you can contact us directly at sales@logicinbound.com or (206) 800-7756 to get a response within 24 hours.