How We Helped an Artificial Grass Company Through SEO Optimization: Increased Conversions by 658% and Increased New Users by 300%
SUMMARY
Synthetic Turf is a Seattle-based company specializing in installing artificial grass for homeowners and businesses. They've been in business for over 20 years, and they had a solid client base, but they were looking to grow. They were facing major competition in the artificial grass business and they looked to Logic Inbound to help them stand out from the crowd. 
By the time they approached us, they had worked with three other SEO Content Marketing companies and they simply weren't seeing the results that they had hoped for. We performed an in-depth website audit and crafted a unique SEO campaign that we knew would get them the results they had been missing.
In a little over a year, Logic Inbound was able to boost their new users monthly by 300% from 517 in Jan 2020 to 1,552 in May 2021. Additionally, we skyrocketed their monthly conversions by 658% from 38 to 250 per month in the same time period. 
Synthetic Turf approached Logic Inbound with a problem. Although they had worked with other SEO Content Marketing companies before, none of them helped to institute the changes that their website needed. 
They had a functional website, but we knew that we could improve it. Our technical audit discovered thousands of outdated backlinks that weren't driving any kind of traffic to the website. Coupled with slow loading speeds and a lack of content, there wasn't a lot to help create organic traffic. 
After our technical audit, we performed in-depth keyword research and installed Google Analytics and Ahrefs trackers to help us pinpoint what was going on with their content.
Immediately, we identified 3 main issues. The first was that there was no long-form content anywhere on the website, which meant there was nothing for Google to rank. Secondly, they were using several low-value keywords which hindered their growth potential. And, finally, they were missing a few essential local pages that we knew would help drive traffic to their website. 
With all of the issues properly identified, it was time for Logic Inbound to get to work. 
Logic Inbound kicked off Synthetic Turf's SEO campaign with the following:
Performed technical audit to determine technical issues that hindered site growth
Performed keyword research to determine the strength of existing keywords
Utilized analytics to track phone calls and contact form submissions
Performed onsite SEO audit to identify targets for optimization
Performed Ahrefs research for Competitor Analysis
Business Model & Website Review
Campaign setup and launch
Logic Inbound approached the problem from the ground up. First, we took care of all of the technical issues that were limiting the website's growth. Getting rid of outdated backlinks and replacing them with several high-quality and authoritative ones gave the website a significant boost in traffic. 
From there, we ensured that all of the on-page SEO and site tags were updated before we moved on to creating a new content plan from scratch. We emphasized the importance of long-form and local content and helped them to develop a future-forward content strategy that would keep them ranking. 
In the midst of the content overhaul, we also went through their existing content and reworked it so that there were more high-value keywords and so that they were SEO optimized to help them start ranking on Google.   
In a little over a year, Logic Inbound was able to drastically improve Synthetic Turf's Google rankings, traffic to their website, and conversions. By the end of their SEO Campaign, we had them ranking for extremely competitive keywords such as "turf" with 42,000 searches and "artificial grass" with 61,000 searches. 
In addition, we dramatically improved the number of new users that they got to their website monthly by 300%, starting from 517 in Jan 2020 to 1,552 in May 2021. 
Finally, we had a significant impact on their conversions, boosting them by 658% from 38 in Jan 2020 to 250 in May 2021. 
Increase in New Users to Website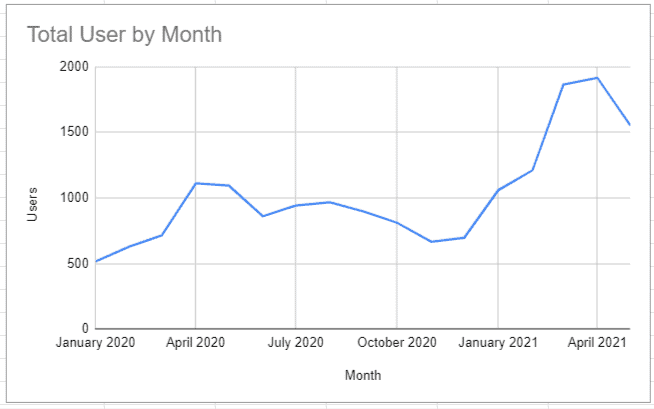 Increase in Conversions by Month