How We Helped an Affiliate Marketing Website Grow Their Subscribers by 216% and Increased Their Organic Searches by 187% In One Year
Summary for Clickbank
ClickBank is an affiliate marking website as well as an e-commerce platform for digital entrepreneurs. Launched in 2000, Clickbank quickly became a top 100 online retailer, and on the wings of that success, they decided to launch a Youtube channel in 2008 to expand what they could offer to their clients, but they weren't seeing substantial growth on their own.
ClickBank approached Logic Inbound for help in February 2021. After working with Logic Inbound for just one year, we were able to exponentially increase their Youtube subscribers by 216% from 37,500 subscribers in February 2021 to 81,200 subscribers as of March 2022. 
Additionally, in less than a year, Logic Inbound was able to completely revitalize and improve the stagnant and outdated SEO on the ClickBank website. This led to a 187% increase in organic traffic to the website from a low of 206,790 organic searches in February 2021 to 387,546 organic searches in January 2022. 
ClickBank came to Logic Inbound with a problem: Their YouTube channel and website blog were slowly growing, and with content production at its max, they didn't know how to break out of their pattern of stagnant growth. 
They had nearly 40,000 Youtube subscribers, and with a growth of about 1,000 subscribers per month, it would've taken them almost a year to reach their goal of more than 50,000 subscribers. This was an untenable situation, and Logic Inbound was challenged with devising a solution that would increase their subscriber count at a much faster pace. 
In addition, ClickBank's website was suffering from a lack of SEO optimization. While the content schedule was solid, the content itself was uninteresting and short-form. Although they had over 500 pages on their website, they only ranked for 8,000 keywords. Comparable websites of their age and size consistently rank for over 30,000 keywords.
The Challenge for Logic Inbound here was to increase the amount of organic traffic that was directed to their website by improving SEO optimization so that ClickBank could increase their subscribers through their blog.
Logic Inbound kicked off ClickBank's SEO Campaign with the following:
Business Model, Website Review, and Youtube Channel review
Identified key issues that were hindering subscriber growth
Analysis of organic and paid marketing campaigns
Keyword Research and Competitor Analysis
Campaign setup and launch
The quality of ClickBank's content wasn't the issue. Instead, Logic Inbound was able to identify that the primary issue that was hindering ClickBank's growth was a lack of SEO optimization within the Youtube platform and the ClickBank website. 
With so much incredible content already created by ClickBank and plenty of new content coming down the pike, Logic Inbound focused on search optimization for YouTube. YouTube processes more than 3 billion searches per month, making it the second-largest search engine in the world. 
Since tens of thousands of those searches are for ClickBank and affiliate marketing topics, Logic Inbound took advantage of that. We guided the titling, tagging, and meta information of new videos as well as employed several optimizations to existing content. 
For the ClickBank website itself, Logic Inbound implemented a strategy to comb through outdated pages that could be revitalized in addition to creating a new content outline to increase SEO optimization across the site. 
Our goal was to update their existing content to include SEO keywords, relevant headers, and optimized blog titles to rank better on Google, and to train their staff on how to create SEO outlines that would help them continue to rank higher in the future.
By focusing on SEO optimization, improving the quality of thumbnails for videos, incentivizing engagement through weekly giveaways, and taking advantage of new Youtube features, Logic Inbound increased ClickBank's existing subscriber count to more than 81,000. 
This was an increase of 216% overall and an increase in monthly subscribers from 1,067/month to 4,333/month. As Logic Inbound's efforts at optimization continued, ClickBank saw an explosion of growth in it's monthly views from 2.7 million in February 2021 to 4.5 million in March 2022. 
With YouTube optimization, ClickBank's YouTube channel became its fastest-growing channel–and it continues to rise.
Numbers for the ClickBank website increased exponentially as well. In less than a year, the amount of organic traffic to the website saw an increase of 187% from 206,790 organic searches in Feb 2021 to 387,546 in Jan 2022.
Increase in Subscribers From Feb 2021 to March 2022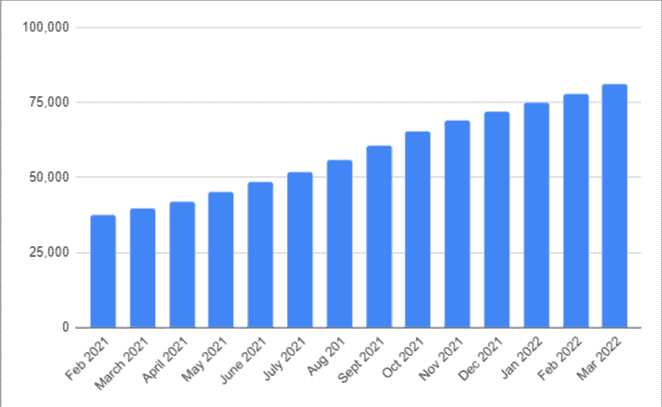 Total Video Views For ClickBank Monthly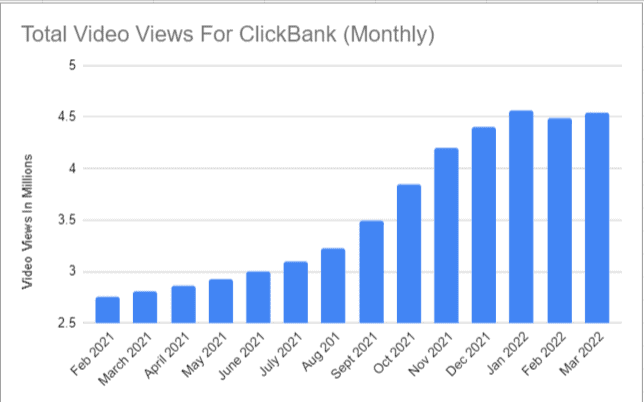 Increase in Organic Traffic for ClickBank Website