Hosted eCommerce platforms such as Wix and Squarespace are becoming popular choices for users who want to open an online business with minimum hassles related to technical development. Both offer a similar set of features and are priced competitively. Choosing between the two is not an easy decision.
Wix has long been considered one of the best online website builders on the market. To cater to the growing market for specialized eCommerce site builders such as Shopify, Wix has extended the functionality of their platform with WixStores.
WixStores lets users with no coding knowledge whatsoever to create beautiful and fully functional eCommerce websites.
Squarespace offers their users the exact same thing – a fully hosted "software-as-a-service" (SaaS) that lets them create eCommerce stores without touching a line of code.
Both of these platforms have significant market share in eCommerce websites. So it's quite evident that users like these products. But which one should you use to create your online business? Which one will fit into your budget requirements?
And which one will prove to be an asset to your business in the longer run? Will it be able to keep up if the requirements for your eCommerce operation grow?
In this article, we'll be taking a deeper look at both these best ecommerce platforms to find answers to those important questions.
Wix vs SquareSpace at a Glance
| | | |
| --- | --- | --- |
| | Wix eCommerce | Squarespace |
| Platform transaction fees | None | None |
| Number of Products | Unlimited | Unlimited |
| Templates | 65 (Free) | 14 (Free) |
| Apps and Plugins | 250+ | None |
| Supported Payment Gateways | Supports major gateways including Stripe and PayPal | Stripe and PayPal only |
| Number of Stores | 700,000+ | 300,000+ |
| Bandwidth Restrictions | None | None |
| Pricing | Starting at $20 per month | Starting at $30 per month |
Wix Themes vs Squarespace Templates
The template of an eCommerce store plays a crucial role in its overall appeal towards customers. The design of the template, if attractive and eye-catching, will instantly put forth a good image for the store. And if the design is intuitive, user-friendly and makes for easy navigation throughout the store, customers will more likely stay on the website and make a purchase.
On the other hand, bad design does nothing good. First of all, it makes a bad impression towards the store's visitors. It doesn't inspire confidence or trust, and can is often a signifier of an unsuccessful or struggling business. Secondly, it makes navigation difficult. If the customer can't use the website, what's the point of having a website?
Even from an SEO perspective, good design is greatly beneficial for your eCommerce site. It reduces the bounce rate and in turn increases your site's SERP rankings. These can oftentimes be a contributing factor to a store's success or failure.
Wix eCommerce Templates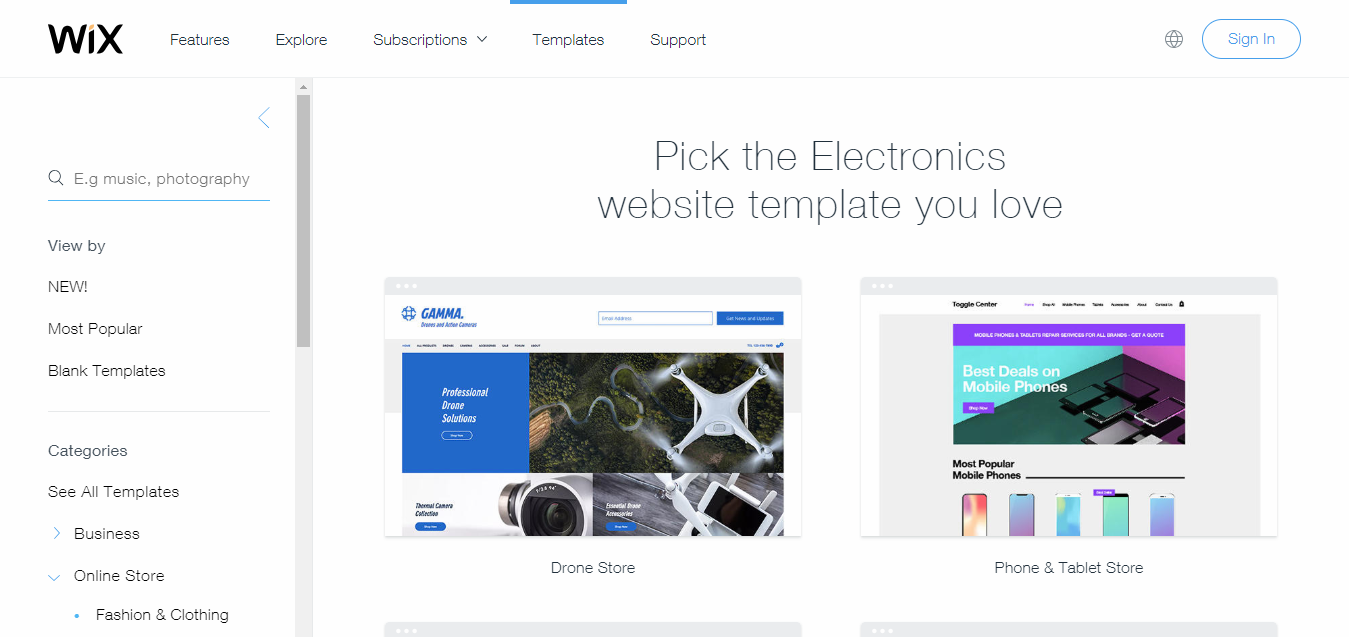 When it comes to templates Wix customers have a huge selection to choose from. There are a total of 510 designs to choose from, but out of these only 65 are made for eCommerce stores. These templates are listed under the "online stores" category and they provide a great variety for users.
Design-wise, any of Wix's templates is hard to fault. They have all been designed with a modern aesthetic and look great out-of-the-box. The template store also allows you to filter the templates based on industry, so you can easily find a template that matches the theme of your business.
What's more, all of these templates are offered without any cost, so you can simply pick anyone you want without worrying about the costs!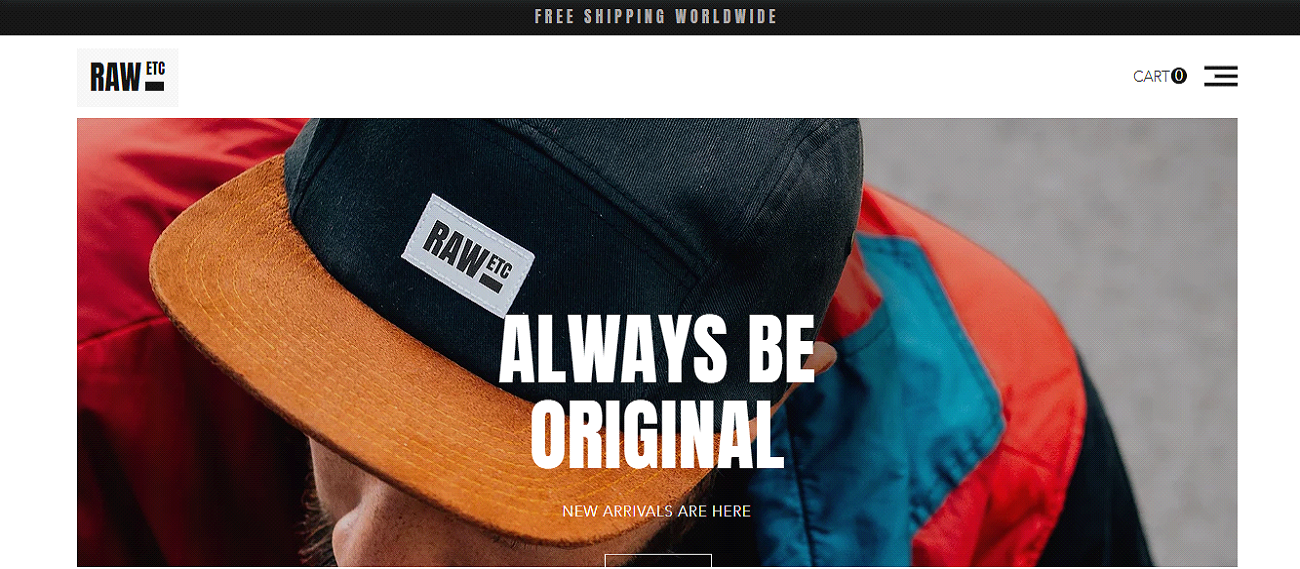 The Cap Hats template from Wix
There is a problem though, and it doesn't have anything to do with templates. Once you pick a template, it will be locked down as the design for your store. If you want to choose a different template, you'll have to build your store again from scratch. This is a huge downside, meaning you have to be extra careful when selecting a template design.
If you want to go for a different look down the road, be prepared to migrate all of your current store's data and content to the new one. Of course, this is not very practical.
Squarespace eCommerce Templates
Squarespace offers a fewer number of templates as compared to Wix. And there are even fewer options available if you want to build an online store. At the time of writing, Squarespace only has 14 templates for eCommerce stores.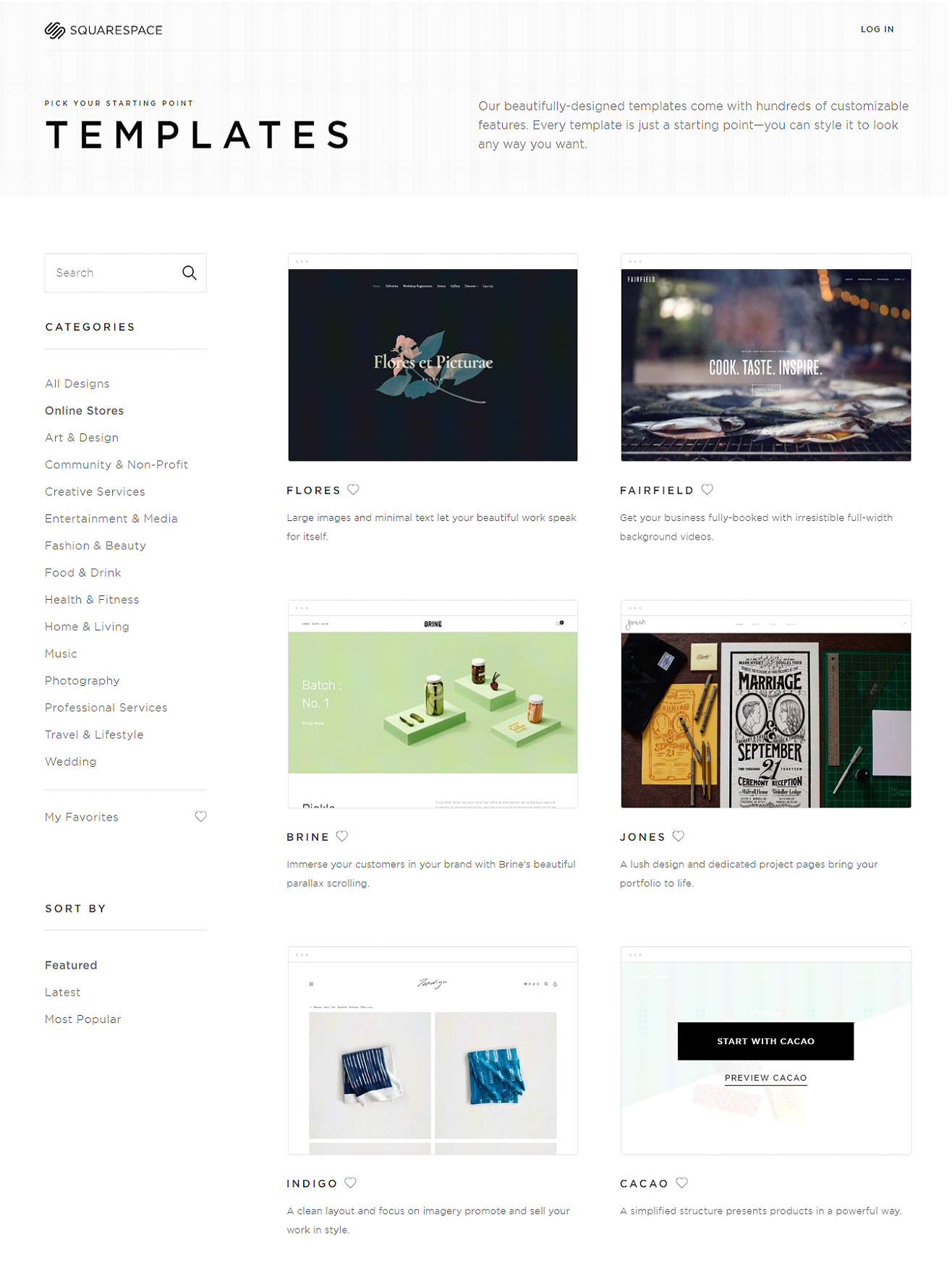 Squarespace's eCommerce template selection is rather limited
The small number of templates definitely means fewer options for users, but there's another issue. From a design perspective, all templates are absolutely top-notch. They sport professional, clean designs that look great on both desktop and mobile devices. The issue is that they all look like they've been designed for individuals, and not businesses.
The templates are too focused on being minimalist, so they will appeal to a small portion of users out there. For example, if you want to build an electronics store, you won't find a suitable template for it on Squarespace.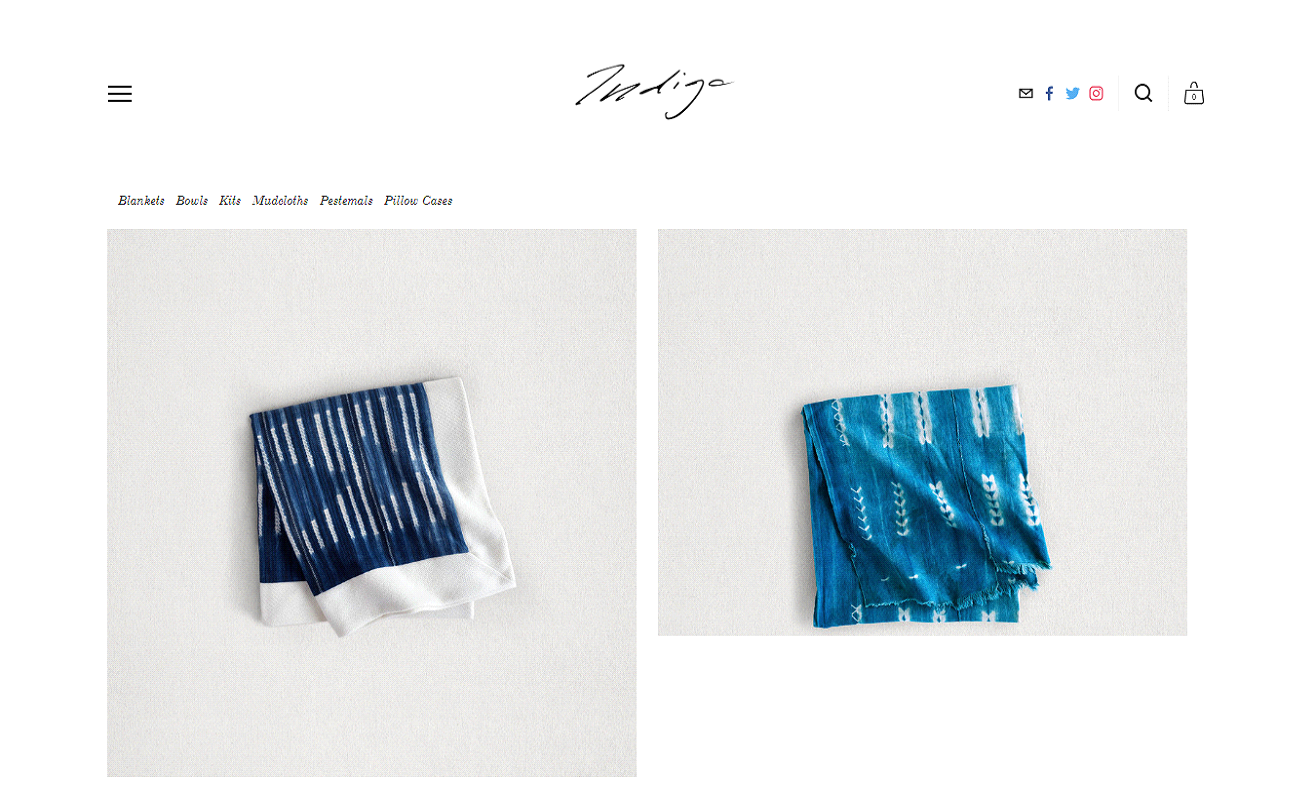 Squarespace's minimalist Indigo eCommerce template
The one area where Squarespace has an edge over Wix is in content migration. If you want to change the design of your online store, simply select a new template and all of your data and content will be carried to the design. Compared to Wix where you have to build a new store from scratch in case of a new template, this is definitely an advantage.
Wix vs Squarespace Customer Support
Responsive and helpful customer support is vital to the smooth operations of any online business. It is especially important for services like Wix and Squarespace whose target audience consists of users with minimum technical knowledge.
Wix Customer Support
Wix offers premium support for all of its pricing plans. This includes phone and email support, but there is a glaring omission: live chat support. What's more, phone and email support are available only during specific hours (Monday through Friday from 5am to 5pm PST), so you won't be able to reach them outside of the specified timings.

Wix has a powerful automated support system in place
The omission of live chat support is also concerning, since it means you won't have quick expert help when you need it. Wix does have extremely helpful documentation and walk-through videos for all of its features, but sometimes you just need to talk to an expert if you're in a bit of a hurry.
Squarespace Customer Support
Squarespace offers online support for all of its pricing plans. This includes live chat support with an expert and email support. Live chat support is only available during specific timings (Monday through Friday from 4am to 8pm), but they're extremely easy to reach within these timings. Answers to queries are fairly prompt and useful.

Email support on the other hand is available 24 hours a day, 7 days a week. And response times to most emails are well under an hour, so you'll be able to get fairly quick resolutions to your questions.
Wix vs Squarespace Pricing
Wix and Squarespace are website builders that can have eCommerce applications. As such, eCommerce functionality is not included by default on all of their plans. For the purposes of this article, we'll be mentioning the subscription plans which include an online store builder.
Wix eCommerce Pricing
Wix offers 2 plans to users who want to build an eCommerce site:
eCommerce: $20 per month
VIP: $30 per month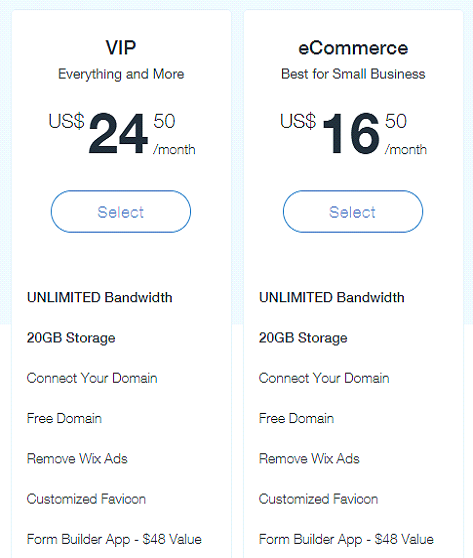 All of these plans include online support but VIP customers get access to Wix's "VIP Team", which they claim will provide a professional review of your website.
| | | | |
| --- | --- | --- | --- |
| Wix Pricing Plan | Cost per month | Cost per month (1-year subscription) | Cost per month (2-year subscription) |
| eCommerce | $20 | $16.5 | $15 |
| VIP | $30 | $24.5 | $23 |
This pricing also includes access to all of Wix's premium templates. What's more, users can save up to 25% per month if they choose to go with annual billing.
Squarespace eCommerce Pricing
Squarespace offers 2 plans for eCommerce customers:
Basic: $30 per month
Advanced: $46 per month
Both these plans include access to Squarespace's 24/7 online support. The service also offers discounted pricing if the customer opts for annual billing:
| | | |
| --- | --- | --- |
| Squarespace Pricing Plan | Cost per month | Cost per month (1-year subscription) |
| Basic | $30 | $26 |
| Advanced | $46 | $40 |
As is the case with Wix, Squarespace offers customers access to all of its premium website templates.
Transaction Fees
Popular eCommerce store builders like Shopify deduct a transaction fee for each sale. Fortunately, Wix and Squarespace do not deduct any fees for transactions carried out through their platforms.
Instead, users will be paying the regular card rates which are determined by their chosen payment processor. Stripe, a popular payment processor for Wix and Squarespace, charges 2.9% (of total sale + shipping charges) + $0.3 for each transaction.
Popularity
The popularity of any SaaS product is important. The more popular a product is, the more likely it is to keep getting regular updates and developer support. The technology business is highly competitive and unpopular products have a tendency to "die out" if they're not successful.

Wix and Squarespace enjoy equal amounts of interest in Google searches
The popularity of the eCommerce should be a factor for users who're looking to open an online store. If the product stops receiving updates or gets shut down, the user's eCommerce business will be in serious jeopardy.
Wix eCommerce Popularity
Wix has been around for ages. The company has made a name for offering anyone with no coding skills whatsoever to make great-looking websites. What's more, all of Wix's features can be availed for free, as long you're willing to put up with Wix advertising on your website.
To start with the big numbers, Wix surpassed the 100-million-registered-users mark last year, and it's still showing signs of impressive growth. But remember that Wix can be used for absolutely free, so this huge user base shouldn't be so surprising.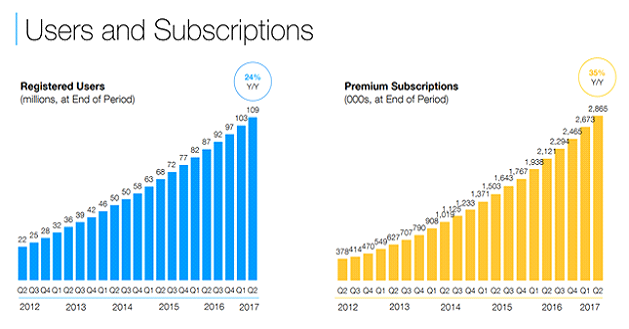 But users seem to be pleased with Wix as a paid subscription as well. The company reported having more than 2.8 million premium subscribers in 2017. To put that into perspective, in 2012, the company only had 378,000 paying customers. That makes for an almost 800% increase in paying customers over 5 years.
Keep in mind that those numbers are for the Wix platform, and not just for Wix eCommerce. Digging deeper into those numbers reveals that there are currently more than 700,000 sites using Wix eCommerce, which is still quite impressive.
Squarespace eCommerce Popularity
Squarespace as a platform has impressive usage statistics of its own. The platform is being used on more than 430,000 eCommerce websites. The only worrying thing to consider is that according to BuiltWith, Wix eCommerce (Wix Stores) is one of the top platforms Squarespace customers migrate to.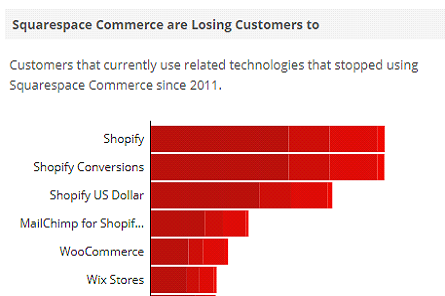 Regardless of this, we would still maintain that you can easily build a website on Squarespace without worrying that the company will shut down its business. According to Google search trends, the platform enjoys an equal amount of interest from users as Wix.
Apps, Widgets and Plugins
Apps and plugins for a platform can come in handy when the user wants to have functionality beyond that offered by the platform's core feature set. This is an essential thing to consider if you want to grow the store's functionality as the business attracts more customers and the need for advanced business processes arises.
Choosing a platform that has a lackluster number of plugins means you will be limited to its core functionality.
Wix eCommerce Apps
The Wix App Store hosts more than 250 apps, out of which dozens are dedicated to its online stores. The selection of apps is quite impressive and what's more, you can use any of the apps on your Wix eCommerce website.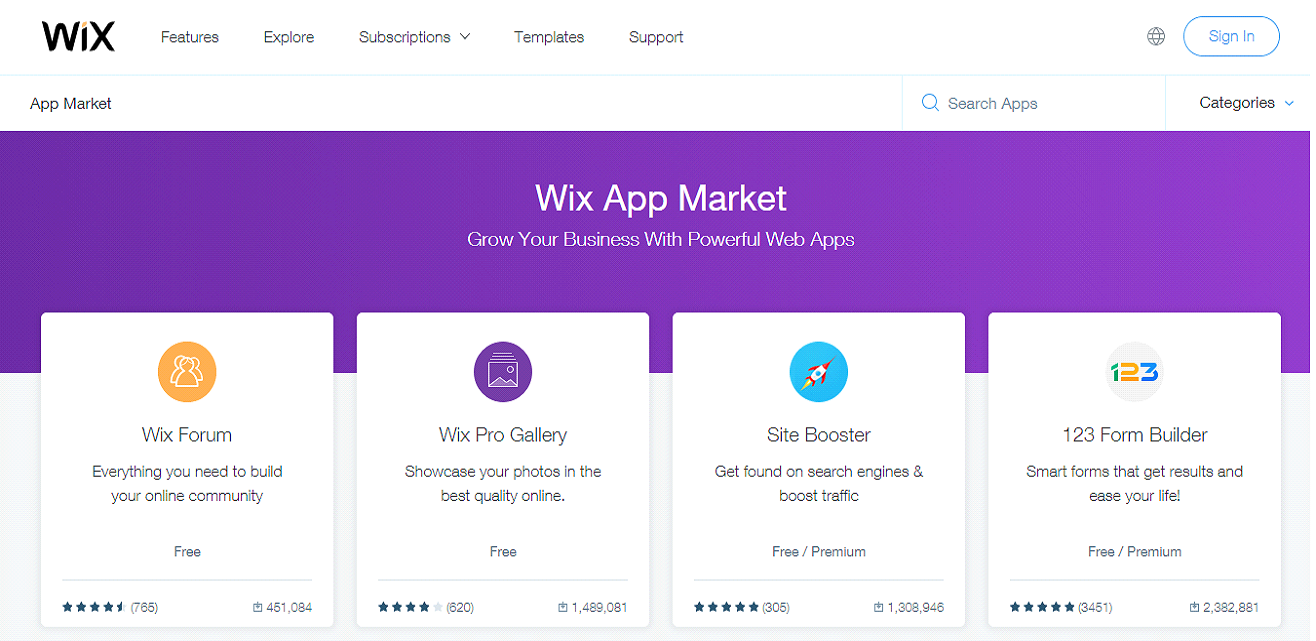 The App Store itself is very well-designed and makes browsing through apps an effortless affair. All of the apps can be installed with just 1 click which means there's no hassle of downloading, installing and activating them.
The eCommerce-focused apps are quite diverse in the functionality they offer. For example, you can use these apps to add the following functions to your eCommerce site:
Traffic analytics
Live chat support
Appointment scheduling system
Most of the apps are available for free, but some are offered with a free/fremium pricing model where the user has to pay for locked features.
Squarespace eCommerce Apps
Unfortunately, with Squarespace you're limited to the functionality offered out of the box because there is no official plugin store. If you really want additional functionality for your Squarespace eCommerce website, you'll have to look into doing custom integrations. Of course, this really isn't an option for non-developers.
If you do manage to get a custom plugin integrated into your Squarespace website, official support won't be able to help you with further issues unless you remove the custom integrations.
There are some companies that offer plug-and-play integrations with Squarespace. These aren't complex integrations however, and mostly serve to enhance the visual aspect of your website. Here's a list of some of these companies:
If you decide to use third-party plugins, make sure that the developers offer after-sales support for them.
Features
The features that come bundled with an eCommerce platform contribute to its ease of use. A feature-rich platform will have a lesser need for extended functionality through plugins and apps.
Plugins and apps can often cause unforeseen disruptions in websites, causing them to slow down or in extreme cases stop working as a whole.
Marketing and Analytics
Effective marketing and traffic analysis is crucial to any online business's success. Without marketing efforts, the website will fail to attract a reasonable amount of visitors. Traffic analytics are also important as they give crucial insights (device, location, age group) into the users who're visiting your website.
Wix does not have any notable marketing features of its own. Instead, users are expected to pick and choose marketing apps that will suit their needs from the App Store. Most of these apps have been developed by Wix and are thus officially supported.
Because Squarespace doesn't have an official app store, it bundles a lot of analytics functionality with its core feature set. The platform provides customer insights through traffic analytics, and email marketing through MailChimp integration.
Dropshipping
Wix eCommerce gives users the ability to bulk upload products from a CSV file. But that's about as far as it'll go when it comes to supporting a dropshipping business. There is no way to synchronize your inventory with the fulfillment company, for example.
It's the same story with Squarespace, with no dropshipping features or modules available. However, if you're managing your dropshipping business manually, Squarespace does come with native support for ShipStation integration, so keeping track of orders and shipping them becomes easier.
Point of Sale (POS) Support
If you want to sell your online store's products at a physical location, you're going to need a point of sale system. It isn't absolutely necessary, of course, but it helps by automatically generating invoices and updating inventory levels as you generate sales offline.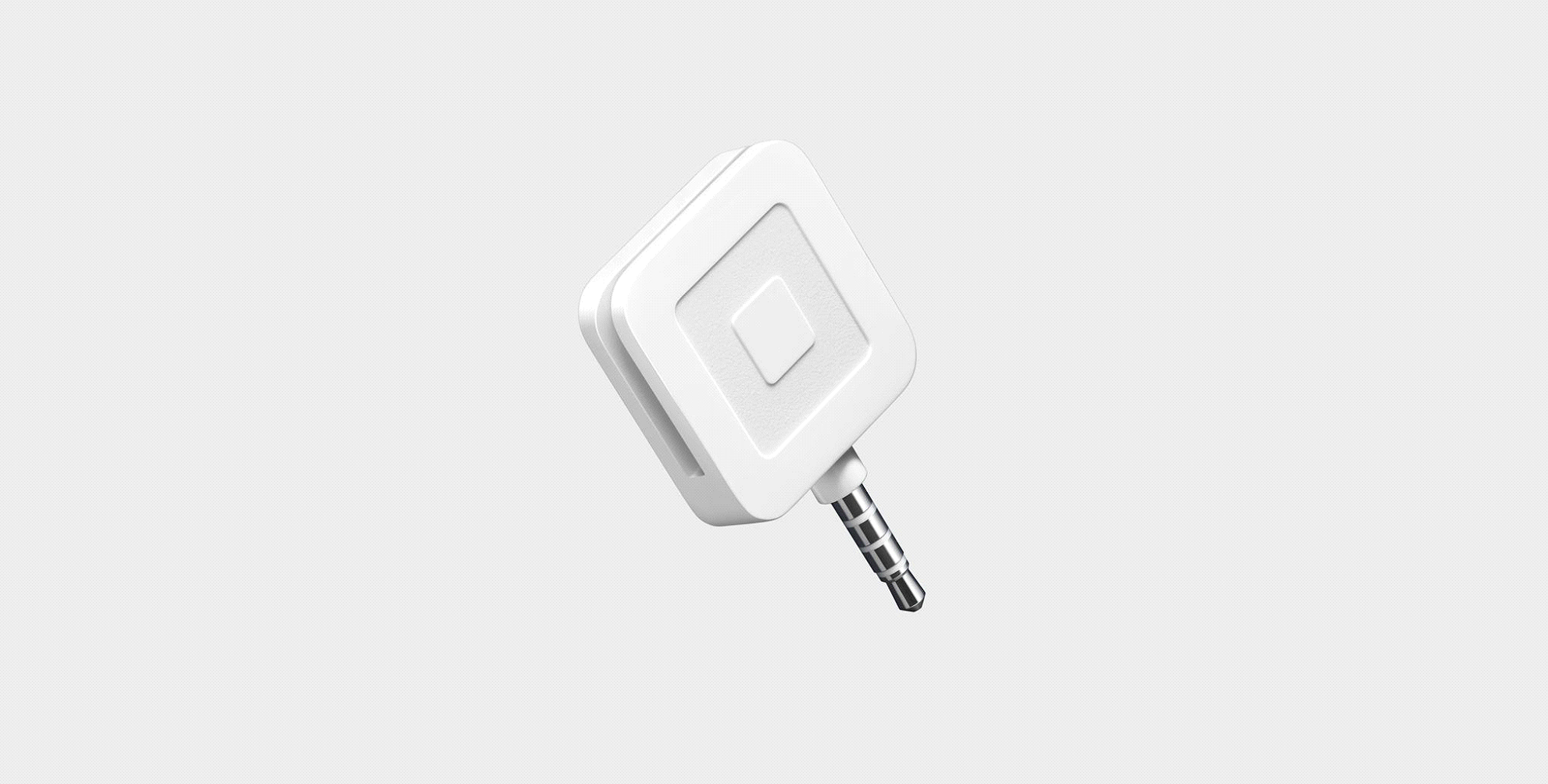 Using the Square magstripe card reader, you can start a POS operation for your Wix eCommerce site
Wix offers POS support through Square integration. All you need to do is sign up with Square, ask them to mail you a magstripe credit card reader and setup Square as a payment method in your Wix settings. And that's about it. The magstripe reader can be plugged into any smartphone or tablet to read credit cards.
What's more, whenever you make a sale through your Square POS, your Wix inventory levels will be automatically updated to reflect that sale. It isn't the most comprehensive POS solution out there but it certainly gets basics right.
Currently, there is no official support for point of sale systems from Squarespace.
Blogging
Adding a blog to your website is a great way of increasing customer engagement. A blog should have content that reflects your company's values and provides genuinely interesting insights to your target audiences.

Wix packages blogging within its set of features and allows users to setup beautiful blogs within a matter of minutes. The blogging interface is also extremely simple and easy to use.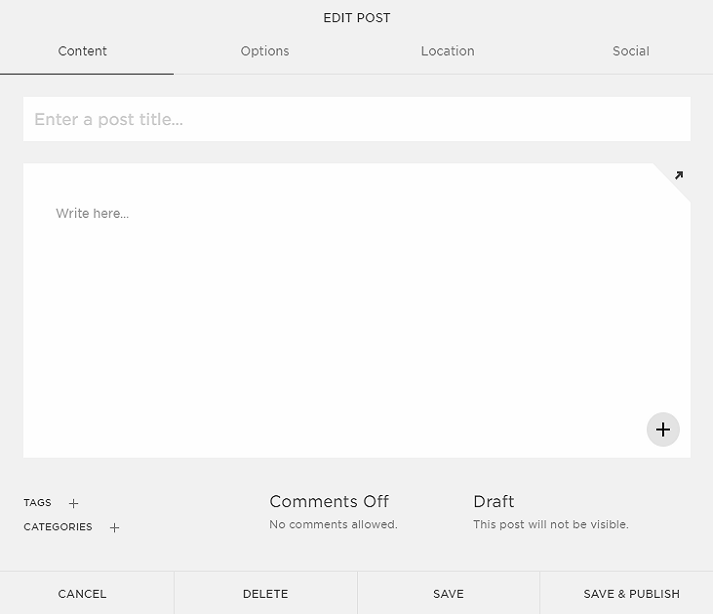 Squarespace offers a lot of features in its blogging module
Squarespace allows users to setup an unlimited amount of blogs on their website. The blog dashboard is extremely easy to use and allows users to add grouped content through tagging and categories. Users can also enable or disable comments on posts on an individual basis.
Supported Payment Gateways
Payment gateway support is an important factor to consider when choosing between these platforms. They're packaged solutions, so you need to know if your payment processor of choice is supported. If it isn't, you won't be able to collect online payments.
Major payment gateways supported by Wix:
Stripe
Paypal
Square
2Checkout
Braintree
Payment gateways supported by Squarespace:
Which is easier to use Wix or Squarespace?
Wix and Squarespace are aimed at non-developers. They have been built to provide the easiest way of setting up a website. But how do these platforms fare in real usage? Specifically, how easy are they to use for setting up an eCommerce website?
Wix Website Editor
Wix bills their website editing tool as being the easiest in the world. That is quite a claim, and in practice, it really does seem that way. The editor's interface is very well-designed and there are a great number of tools at hand. However, the great number of customization options here doesn't hamper user-friendliness in any manner.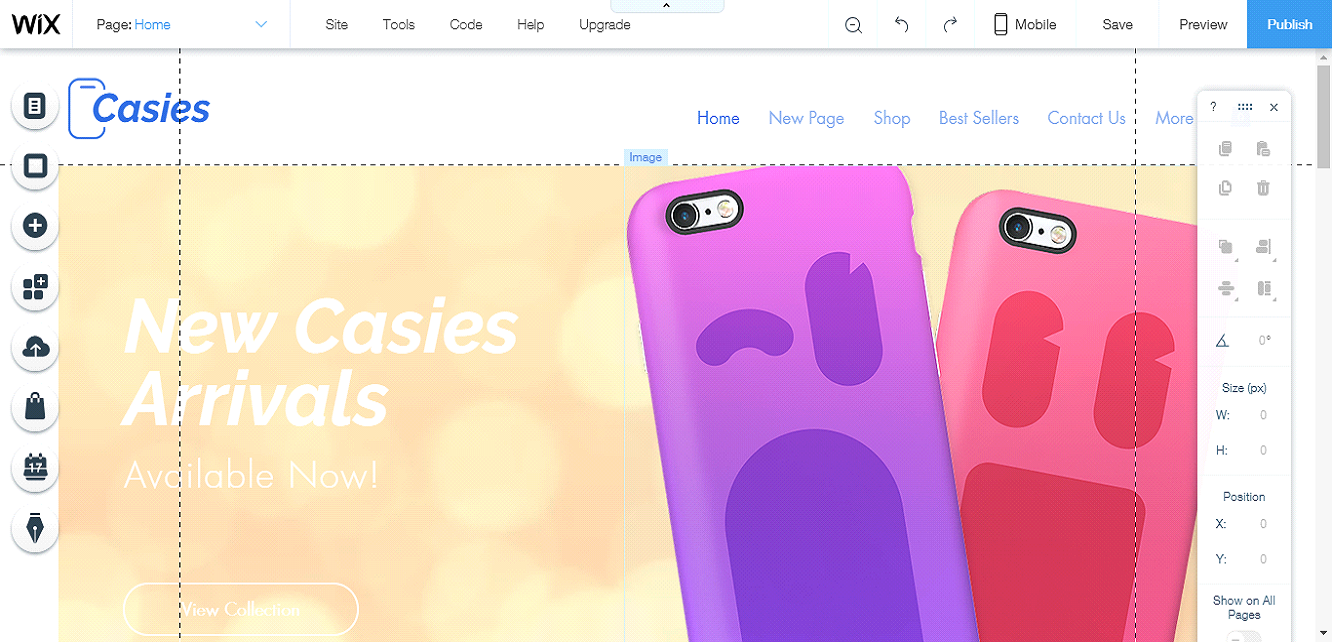 The website editor is quite powerful and gives users full control over how they want the website to look. But all of this is done strictly through drag-and-drop – there is not a line of code to deal with in sight.
Squarespace Website Editor
The Squarespace website editor has a very minimalist interface that is very user-friendly. Getting to grips with the tools doesn't take long and there are many customization options available.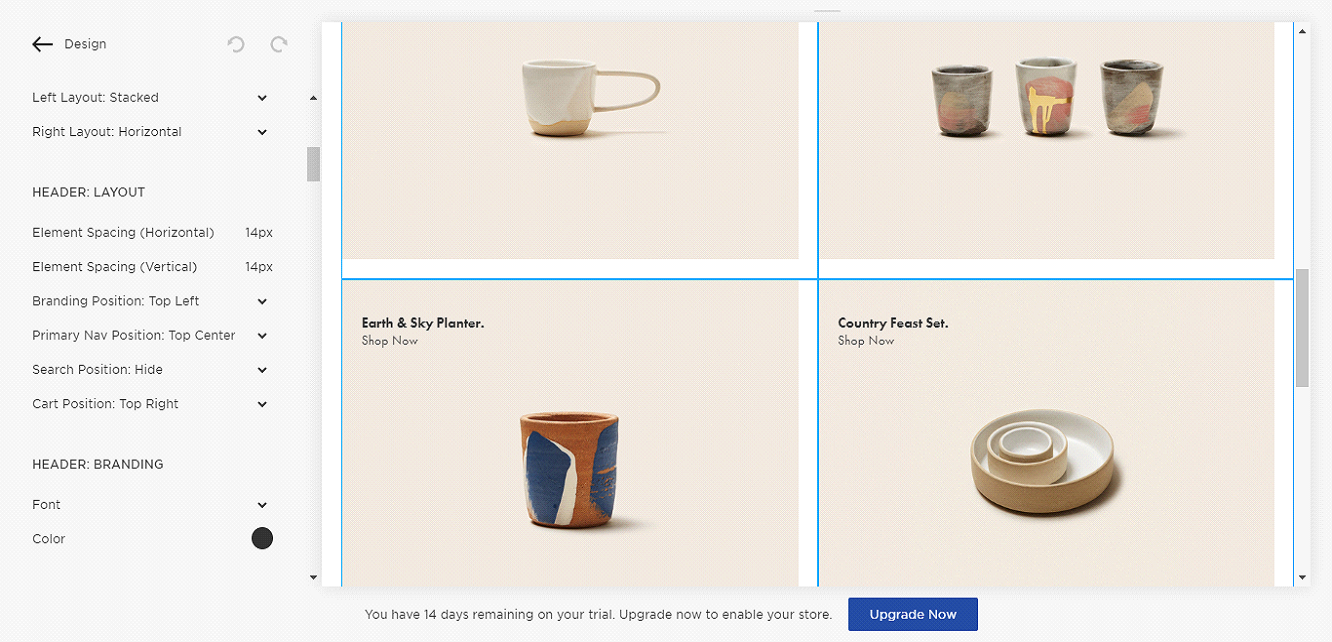 The one gripe we have is that we couldn't find an undo button at the first glance. It's not that the editor isn't capable of undoing changes but it would be convenient to have an undo button that is within reach without too many navigation jumps in between.
Wix eCommerce Dashboard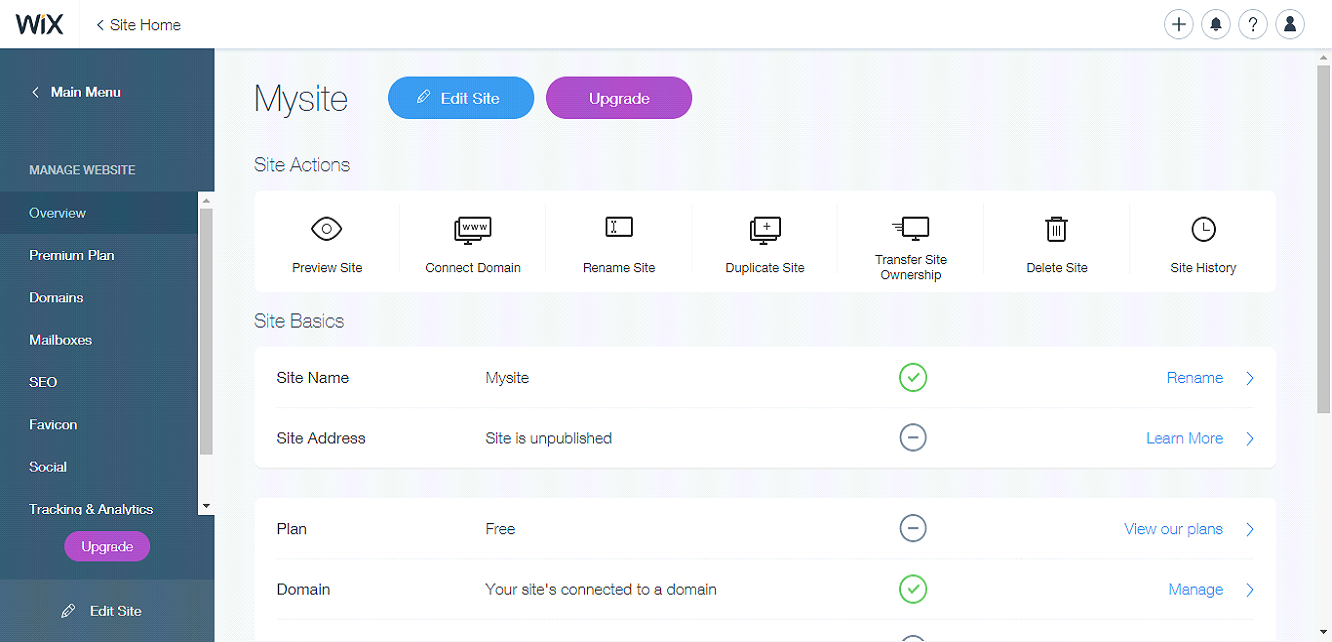 The Wix dashboard is well-designed and gives easy access to most site settings and functions. However, to access eCommerce functions you'll have to go to the site editor and navigate to the "Store Manager" section.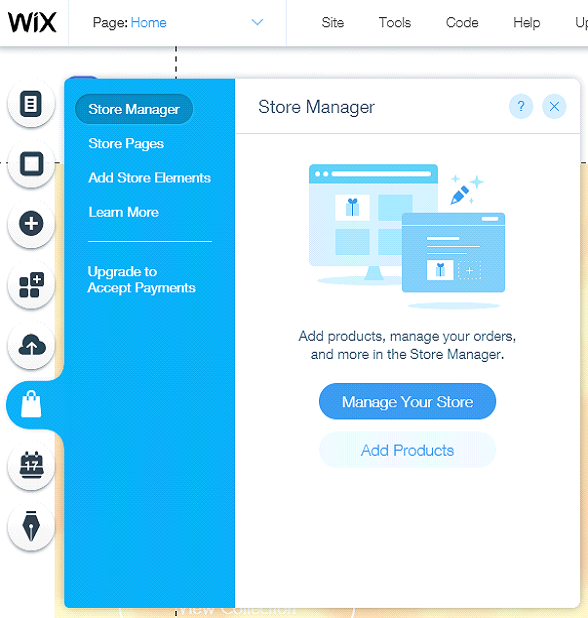 Once you're really in the eCommerce dashboard, you're presented with a very intuitive and well-designed interface that provides easy access to common tasks. We did not experience any browser crashes or glitches when using the site's powerful web tools.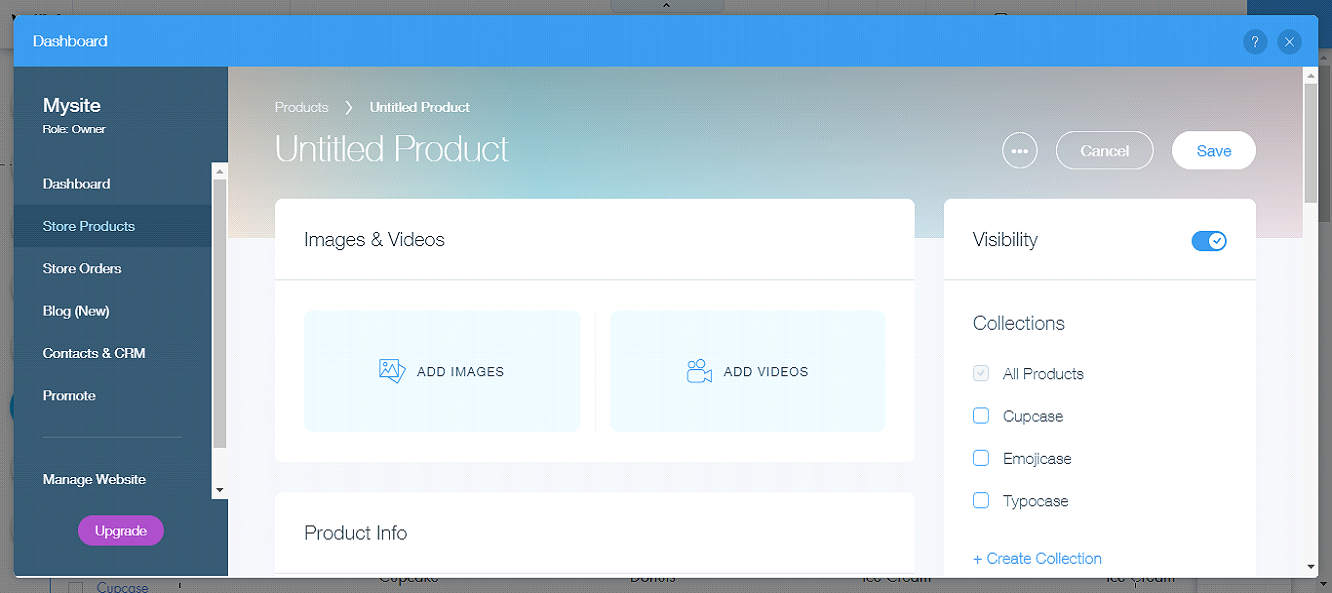 Squarespace eCommerce Dashboard
Most store functions for a Squarespace eCommerce site can be accessed through the website editor. Common tasks such as adding products are done fairly easily by simply navigating to the inventory tab and clicking on "Add Product".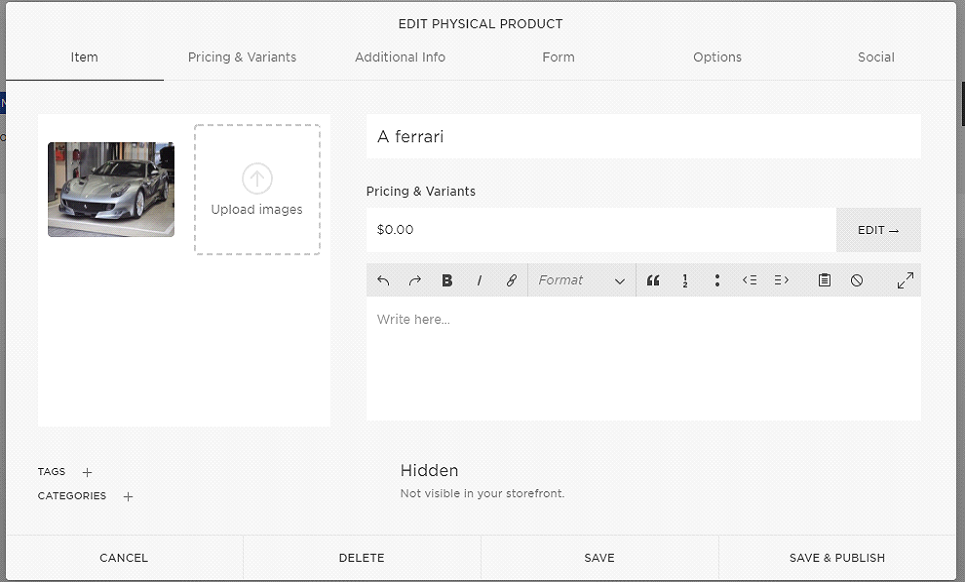 The surprisingly powerful analytics feature can be accessed by navigating to "Analytics".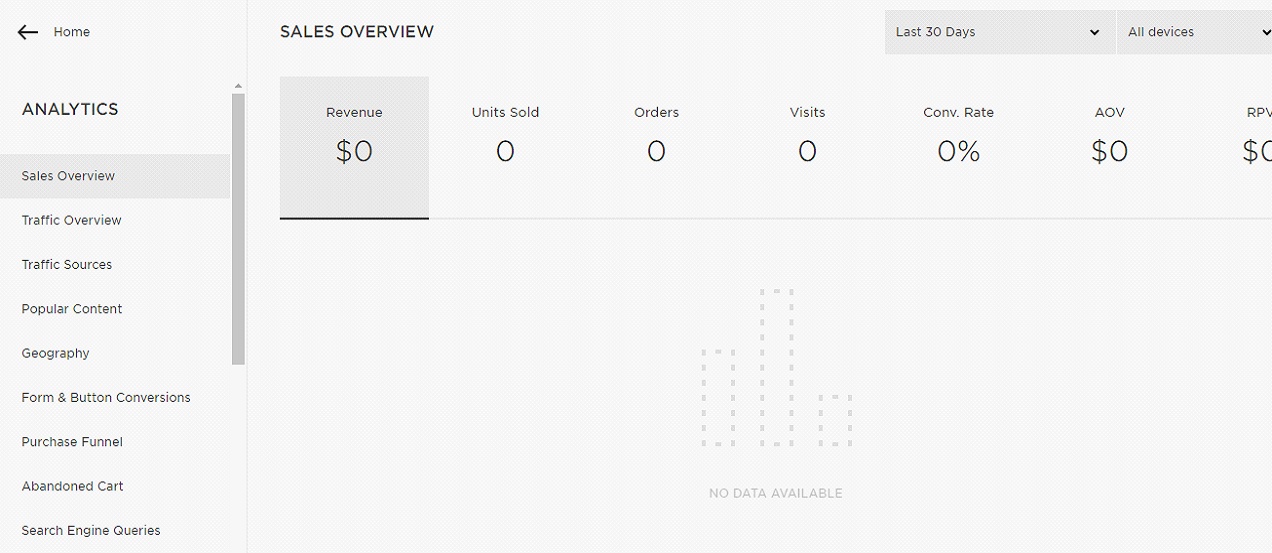 Throughout the user interface, information is presented in a clear and concise manner. The interface looks "highly polished" and is simple and easy to use. The links take you exactly where you expect them to and there are no unexpected surprises or glitches.
Wix vs Squarespace – Choosing the Right eCommerce Platform
Choosing between Wix and Squarespace's eCommerce offerings is not an easy decision. Both are extremely easy to use and can be easily handled by computer novices. There are no bandwidth limits, no inventory limits and no transaction fees for either of these platforms.
To help you make the decision, we've boiled down our findings into a couple of pros and cons lists for each platform. Analyze these pros and cons and see which suits your business requirements the most and you'll know which platform to choose.
Wix Pros and Cons
| | |
| --- | --- |
| Pros | Cons |
| Easy to use, intuitive site builder and dashboard | No live support |
| Wide selection of professionally designed templates, all completely free | Website template cannot be 'switched' to another design |
| Lots of apps and plugins for extended functionality | |
| Point of sale support | |
| Significant savings on annual billing options | |
Squarespace Pros and Cons
| | |
| --- | --- |
| Pros | Cons |
| Easy to use, intuitive site builder and dashboard | Small selection of eCommerce templates with little variance in design |
| Powerful analytics suite built-in | No official plugins – you're limited to the platform's features |
| Users can switch template designs anytime without worrying about migrating content | No point of sale support |
| Responsive live chat support | Payment methods limited to Stripe and PayPal |
Wix eCommerce: The Better eCommerce Platform
We consider Wix to be the superior platform for eCommerce simply because it offers a much larger selection of professionally designed templates, and because of its large selection of functionality-extending apps. These are the platform's main differentiators against Squarespace, but in eCommerce they are crucially important. What's more, Wix is also much cheaper and users can make additional savings by opting for yearly billing.
If you would like to try Wix eCommerce (Wix Stores), click here.