"If you do build a great experience, customers tell each other about that. Word of mouth is very powerful."
– Jeff Bezos (Founder of Amazon.com)
E-commerce entrepreneurs can never take customers for granted as a single design mistake can kill their sales and hurt conversions. Rather they have to develop a seamless experience and make potential customers feel at home as soon as they begin their journey of exploring the web portal.
Positive experiences will convert customers into permanent clients and they can become promoters of your business. According to a survey by Marketingcharts, customer reviews are the first factor based on which potential customers judge the authenticity of a new e-commerce store.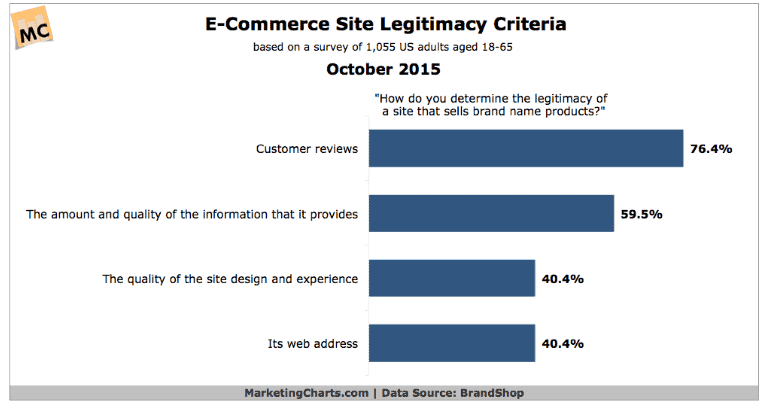 Positive reviews and ratings will help you in increasing awareness for your online store and acquiring new prospects for boosting sales conversions. But creating a high-converting and responsive e-commerce design is a bit complex.
In order to make a great first impression on visitors, digital brands have to build a web presence which is an ideal blend of functionality and visual appeal. Moreover, your design should also have the X factor that encourages leads to browse further and make a purchase.
Building an e-commerce portal which is well-designed and can guide your potential customers to the product they want to close the deal can be daunting but not impossible. There are a plethora of articles already written on factors to be considered while designing e-commerce websites.
Let's look at online store designing from a different perspective and identify nine key design errors that can kill your conversions. Also, we will figure out ways with which you can create a roadmapping strategy to avoid these mistakes and transform your web portal into a selling machine.
Clumsy Navigation With Way Too Many Options & A Messed Up Landing Page
Keep your e-commerce web portal as clear as possible with easy navigation to help users move through in a hassle-free manner. They should be able to search for products in as few clicks as possible. Also, the navigation design should be intuitive with a clear grouping of all the items into noticeable categories.
Providing visitors with too many options can also be harmful to your website as it can irritate and they might leave the page without even browsing further. This becomes even more significant when designing the landing page for your online store. It should have a minimalistic design and high-end images to grab more quality leads and increase the chance of maximizing conversions.
Not Leveraging Advanced Tech Tools To Develop A High-Converting E-commerce Store
Advanced technologies such as Machine Learning (ML), Artificial Intelligence (AI), Big Data, etc. can be used to build an intuitive online portal for your e-commerce business. There are different tools such as AI-driven bots to provide customers with prompt solutions to their queries in order to enhance their shopping spree. Also, you can integrate ML and data analytics to make these bots capable of giving personalized recommendations to your customers.
Personalization of the website in accordance with specific requirements of customers' can help you to attract quality leads. Moreover, you can use a CRM tool with which it becomes easier to nurture and retain these leads and guiding them to conversions.
A Layout Which Isn't Responsive/Mobile-Friendly
As per data provided by Statista, the total number of mobile users is anticipated to reach 4.78 billion by 2020. Not having a mobile-friendly design can become a cause to drive prospects away. Optimize your e-commerce portal to make it responsive and functional on multiple platforms and screen sizes.
Google has also started penalizing sites which aren't built to cater to the millions of mobile users. Mobile-friendly layouts have become an integral tool for better SEO and hence an unresponsive e-commerce store can hurt your conversion rates.
Excessive Loading Time That Tests Users' Patience
As per Brian Massey who is the founder for Conversion Sciences and author for Your Customer Creation Equation, "Over-developed websites are slow to load. This directly impacts conversion rates. No matter how cute the treatment, if your home page requires a "Loading" message, you're probably in trouble."
Your e-commerce portal can easily turn into a weapon to drive leads away if the pages take forever to load. According to a Microsoft Corp. study, nowadays humans attention span has become shorter than that of a goldfish due to the digitalization of their daily lives.
Earlier people used to be patient when surfing the internet but now they want quick results. Therefore, it's extremely essential to stay away from building a dead slow web portal for your business. Google also has a tendency to index websites optimized for speed easily and rank them higher.
Integrating Average Product Descriptions With Unappealing Images
Product descriptions that are confusing have a major impact on customers who are at the verge of making a purchase. Using ambiguous words and jargons can drive them away. Also, it's important to enrich your online store with visually attractive images of your offerings. Pictures can easily impress prospects and encourage them to try the product once.
Moreover, you can also incorporate informational and interesting videos to explain the key features of your products. It will help you to tempt end users and add quality leads to the sales pipeline with the motive of increasing sales.
Average content with low-resolution pictures can be two major turn-offs for your targeted audience. Also, make sure to optimize images so that users can view them properly irrespective of which device they are using.
Tedious & Lengthy Process For Registration As Well As Checkout
Imagine if a prospect is almost done with ordering but abandon the shopping cart just before making the payment. Or, someone is genuinely interested to join your community but get annoyed with numerous questions you have asked in your website form or signup section. What could be the reason for this last minute calls?
Visitors won't leave your e-commerce portal if the process of registration and checkout will be simple and hassle-free. Build a seamless form and make your signup process easy. Also, provide them with an option to check out as guests without any pressure of creating an account.
Try to minimize the number of clicks visitors need to perform for making an order. Avoid integrating multiple stages as it can be quite frustrating. Include several options for making payment and specify each and everything about your return policy. Seamless registration and checkout sections can impress potential buyers and they will definitely think of buying your products or services.
Unavailability Of Social Proof To Back Up Your Expertise & Skills
Humans tend to get influenced by social proof and in this case, testimonials can justify the credibility of your e-commerce business. Integrate customer testimonials and ratings into your online store for enhancing your image and grabbing more leads.
Moreover, social proof can also impact the SEO ranking of your site and allow search engines to index it easily for capturing the place among a few of the top portals. You can leverage an email marketing campaign with which it will become easier to thank customers personally and motivate them for writing reviews probably with the help of offering a reward or coupon.
Forgetting To Integrate With Social Media Platforms
Social media platforms are extremely popular among users and you can use them for promoting your e-commerce business. Present your products and services on your social pages adorned with high-quality content and attractive visuals. Also, put a link to the product page of your web portal in the end.
You can place social buttons on the product page of your online store to let customers share their experience with your brand for influencing the purchasing decisions of their peers. It will help you in grabbing the attention of a global audience and enhance the reach of your venture.
Having A Careless Attitude Towards Updating Your E-commerce Store & Fix Common Issues
Make sure that your online portal is free from mistakes such as spelling or grammatical errors, auto play videos, too many pop-ups, and broken links or images. Keep checking your website at regular intervals of time and rectify silly errors.
Set up Google Analytics and keep an eye on the performance of your web portal. Also, you can evaluate your competitors' web presence and make better efforts to highlight your USP. Moreover, your e-commerce site should always be updated and well-maintained in order to cope up with the latest design trends and stay fresh always.
It's a smart decision to play with aesthetics and make your e-commerce web design more attractive. But don't forget to consider the fundamental design rules with which you can create a robust digital identity for maximizing sales and conversions.
Before jumping to design your web presence do your homework and make sure to come up with a well-thought plan to prevent you from committing common mistakes and mesmerize visitors with its beautiful layout and intuitive interface.