Shopify is one of the best ecommerce platforms for creating professional and beautiful online stores. It has a fairly advanced feature set but the basics are simple enough for nearly anyone to understand. Its ease of use certainly has been a contributing factor to its impressive popularity. Currently, there are nearly 600,000 Shopify-powered online stores on the internet today.
But as easy and intuitive it can be to use, the fact remains that some people will still require expert help in figuring it out. And it doesn't have to be novice users who need help. Experienced users may also have questions about the more advanced features of the platform (such as custom reports), and for times like these it's very important to have access to reliable, responsive and helpful customer support.
Online Shopify Customer Support
Shopify offers round-the-clock online support for all of its price plans. Shopify's support personnel can be contacted via the following ways:
Live chat support

Email support

Phone support

Twitter
24/7 access to customer support should definitely be considered a favorable aspect of the Shopify platform.
Similar products such as Wix and Squarespace only offer customer support during specific hours.
Shopify Live Chat Support
Live chat support is perhaps the most convenient way of getting in touch with Shopify's support 'gurus'. Live chat comes with some advantages as well. Firstly, from experience, the wait times for Shopify's live chat support are virtually non-existent.
Secondly, Shopify's live chat personnel are extremely helpful. They tend to answer questions about everything regarding the Shopify platform, rather than just the technical aspect of it. If you're having trouble understanding instructions, they'll usually supplement the instructions with a screenshot to help.
How to Contact Shopify Live Chat Support
To get in touch with Shopify live chat support, follow the steps listed below:
Visit the

Shopify Support

page. To help reduce load on their online support services, Shopify will first attempt to redirect you to its documentation by asking you what you need help with.

       2. Instead of typing in a query, just press the 'Get Help' button. Since there's no answer to an empty query, Shopify will take you directly to its online support options.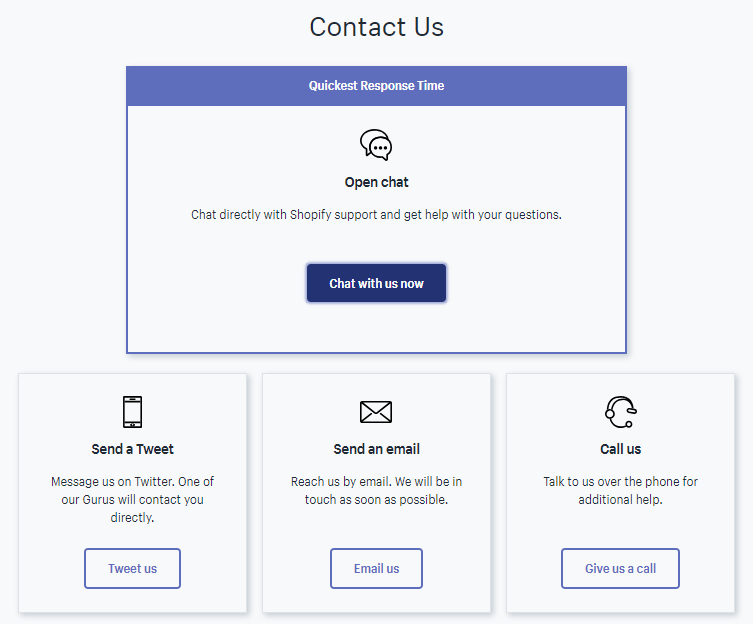 3.  Listed in the content box named 'Quickest Response Time' is the link to Shopify's live chat support. Simply click on the 'Chat with us now' button. Please note that you'll need to have a registered Shopify store in order to proceed.
4. The page will scroll down and you will be presented with two text input boxes. Please type in your Shopify store's address, and a message (optional) and finally click on "Chat with us".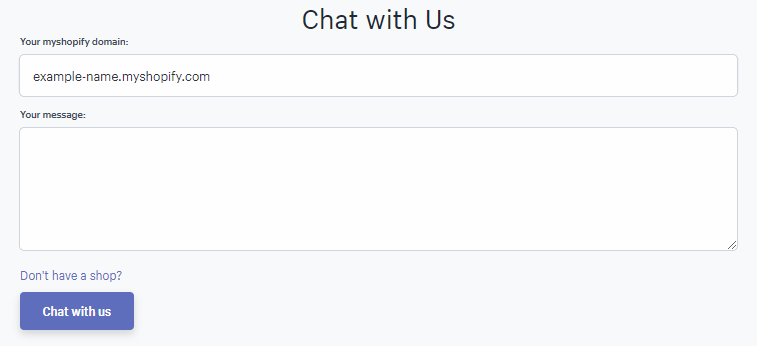 5. And that's it! Hopefully, you'll be the first in queue to get assistance from Shopify's live chat.
Shopify Email Support
If you don't have the time required to live chat with Shopify's support engineers, you can also consider emailing them. Response times are not as quick as live chat, and you can generally expect a reply within a couple of hours of sending the support request.
How to Contact Shopify Support through Email
Getting in touch with Shopify through email requires the same set of steps taken for reaching live chat support (as discussed above). However, once you reach the 'Contact Us' section, click on the 'Email Us' button.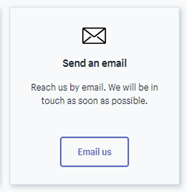 Once you've clicked on the 'Email Us' button, the page will serve a form that needs to be filled.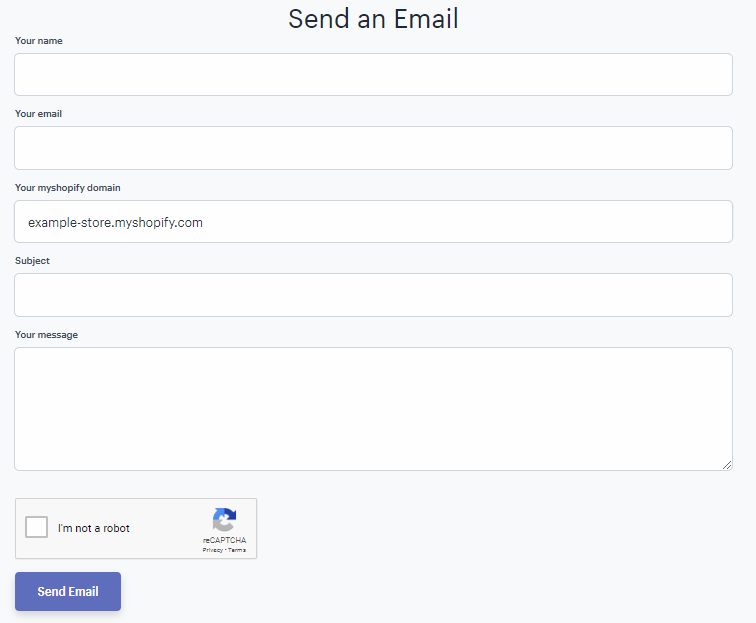 After filling the form, simply click on 'Send Email', which will send your message to Shopify's support engineers.
Shopify Phone Support

Phone support remains one of the best ways to engage in a discussion about a query or an issue. It is quite similar to live chat support in the sense that you're engaging in conversation with a real person, but sometimes the only way to best explain a problem is through spoken words.
Shopify operates a 24/7 online phone support service for its platforms. There are dedicated phone numbers for different regions of the world, and our experience with Shopify's phone support team has been generally quite positive. Response times are fairly quick and we never had to wait an unreasonably long amount of time to get in touch with a support rep.
| | |
| --- | --- |
| Region | Shopify Support Phone Number |
| North America | 1-888-746-7439 |
| United Kingdom | 0800-808-5233 |
| Australia | 03-8400-4750 |
| New Zealand | 07-788-6026 |
| India | 000-800-100-5786 |
| Malaysia | 1800-80-6678 |
| Singapore | 800-181-1121 |
| Indonesia | 007-803-651-0008 |
Contact Shopify Phone Support for Free
If your country isn't listed in the table above, you can still reach Shopify's phone support. What's more, you can do it absolutely free.
Gmail allows users to make free calls to any US phone number, and the same applies for Shopify's US support number as well. Simply login to your Gmail account and click on the phone icon located on the bottom-left corner of the screen.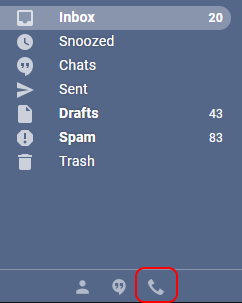 Select United States from the country menu and put in Shopify's US support number (888-746-7439) to place a call.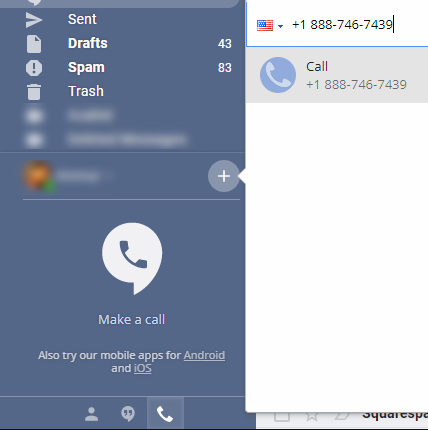 Third-Party Shopify Support
Shopify support is great at helping you with most technical issues you might encounter using their platform. But as good as the support is, Shopify will not help you create a great eCommerce store.
A huge number of eCommerce businesses struggle to be profitable – and not just due to technical issues. There are other important factors that make an online store profitable. Those can be:
The amount of traffic it receives

Its product lineup

The quality of the website itself (design, images and text)

Optimization for search rankings
To help with setting up a great eCommerce store that has the potential to be profitable, you'll need to get in touch with a Shopify development agency.
Logic Inbound – Specialized Shopify Support Services
Setting up a small level Shopify store is quite an easy process. The platform was made for ease-of-use so that users with zero coding skills could set up their own online store. However, the goal with any online business is to make sales. And without website traffic, there aren't going to be any sales.
Shopify support can help you get your store up and running, but after that you'll have to figure out a way to make it profitable.
Logic Inbound, an official Shopify Partner, offers specialized Shopify support services that can help you build a profitable eCommerce store. We leverage our extensive experience in SEO services to drive qualified traffic to your store reliably. Other marketing agencies will often bombard you with information about the countless tactics that can be used to optimize your Shopify store. However, we use only a few tried-and-tested methods that have long-term benefits with regards to your store's revenue.
The only sustainable way of getting reliable sales each month is by optimizing your online store so that it gets organic traffic from search engines. Facebook advertising can also be somewhat effective in getting users to your website, but it is prohibitively expensive and there is a lot of hit-and-miss involved with the advertising efforts as well.
| | | |
| --- | --- | --- |
| Services | Logic Inbound | Shopify Support |
| SEO optimization for reliable, qualified traffic | ✔ | ✘ |
| Complete development and setup of Shopify site | ✔ | ✘ |
| Migration of existing site to Shopify | ✔ | ✘ |
As a case study, Logic Inbound started a Shopify store of its own that sold knives (Hobanco.com). By putting expert SEO practices to use, Logic Inbound was able to drive 4000 visitors each month to Hobanco.

Traffic stats for Hobanco.com, a Logic Inbound eCommerce case study
Thanks to first-hand experience, Logic Inbound is fully equipped for making any Shopify store profitable.
How Logic Inbound Places You Ahead of Competitors
Logic Inbound leverages the power of SEO to drive sales through qualified traffic to an eCommerce site. SEO is a vast domain, and there lots of ways to approach it. SEO consultants will often list down a hundred different ways by which your Google ranking can become favorable. However, we have experimented and narrowed down crucial search engine ranking factors:
Important SEO Ranking Factors
Research

Site Structure

Authority

Relevance

Content
Research
Whatever products you might have on your online store, there's bound to be someone searching for them at any given time. Google processes 40,000 searches every second, many of which include users searching for products similar to those you have on your eCommerce site.
Your most relevant search terms aren't always going to be obvious. That is why Logic Inbound conducts thorough research on the search terms people are using to find products similar to yours. Our goal is to find relevant users who have the potential of becoming paying customers on your website. The traffic we drive to a website is organic and profitable.
Site Structure
In a process called indexing, Google goes through (crawls) each website to learn about it. There are certain factors that make a website better at performing at this stage. A good site structures makes it easier for Google to know what your website is really about. Good site structure will also bring forward the keywords your website is targeting.
A website with good site structure has meticulous upkeep on its metadata, inbound and outbound links and most importantly, content. Each page of a website should have links to other pages, a meta description and relevant content.
Authority
A new website will hold little-to-no authority for Google. To be considered an authority, a website should have high quality links from other websites. Links from a high-authority website will lead to accelerated authority growth for your website.
Logic Inbound implemented this tactic to gain authority at an accelerated pace as well. Thanks to links from established websites such as Moz, Logic Inbound now gets nearly 60,000 organic search visitors each month. We can use the same methods and strategies to help your eCommerce store gain authority, which is definitely needed for good search engine rankings.
Relevance
Google recognizes a website by its indexed keywords. Ranking for the right keywords is important, but it's also quite challenging. Targeting highly-competitive keywords in particular can be costly in terms of both time and money.
At Logic Inbound, we build a website's relevance by targeting highly-competitive keywords, but also keywords that are relevant but not as competitive. This helps us achieve reliable results as the keyword strategy is multi-faceted, with benefits from low competition but relevant keywords aiding in ranking for high competition keywords.
Content
Logic Inbound went from 10 organic visitors per month to nearly 60,000 visitors by devising the right content strategy. Content is often overlooked by marketers in the pursuit of easy traffic through either costly advertising or shady link building practices.
We make a high quality content strategy for each client, targeting topics that people are searching for in high volumes. All of this is done through data and research and there's no guess work involved.
Logic Inbound Enables Profitability for Your Shopify Business
Shopify is a great platform for building eCommerce websites, but it doesn't mean you'll be able to create a profitable website. For that you need a strategy for getting traffic.
At Logic Inbound, we specialize in ranking websites through our tried-and-tested approach to SEO. Our knowledge and experience in SEO coupled with expert Shopify development makes us fully equipped at creating a profitable Shopify store for you.