For a long time, my agency never really had a clear answer to "What the ideal length for a blog post should be?". If you do research online you'll see multiple different answers. Some of the sources even contradict each other. Other sources represent outdated information which still happens to rank on Google. After years of SEO work, I found a SIMPLE way to predict how long our blog posts need to be.
Why does it matter anyway? Well, according to multiple pieces of research, longer content wins over short content on average. But, with that being said it doesn't necessarily mean that you have to write a long, meaty content just to answer "How to install windows 10?". You need to end it with a few simple steps. That's it!
You need to look at how users are interacting and what length will exactly get them what they wanted.
In short, an ideal word count should be around 1800-2000 words. The length of a blog post depends on how you are going to answer your users. If they are looking for a long piece of information, you may need to write more than 4000 words. And if they are looking for a short answer, you can write a short (maybe 700+ words) response post designed to directly answer the problem along with a little bit of explanation.
TYPE OF BLOG POSTS
Before we move ahead to find how you can sort out the best length for your blog, let's discuss the main types of blog posts that will help you get the solutions for your users.
Response Posts:
When your user searches up like "how to take a screenshot on the laptop", he is not expecting to spend a lot of his time reading through a 5000-word long ESSAY. He needs a solution and just wants to move on. Maybe he doesn't click on any URL if he gets the right information at snippets or just clicks the first URL that pops up and that's it. It is around 1000 words long and is intended to provide a quick solution.
Staple Post:
This is where your users need a little bit more information along with their problems. Meaning you may need to go the extra mile to cover all the related questions user may have. And by "Related", I mean RELATED! You may write something about 2500 words targeting the user's queries.
Like for writing for something like "why car heats up", you may give a direct answer to the problem. Now users may be thinking "how do you fix a car that overheats?" or "How long can a car overheat before damage" or "How to prevent overheating", etc. It may seem like a hectic task for him to search again and again for his questions. Here, you need to cover such subtopics within your blog posts to provide users what they want.
Pillar Post:
Sometimes, the user is not looking for a direct solution but he is researching through the web to get a detailed answer for his search. Maybe, you see searches like "Digital Marketing" or "What is Global Warming and what causes it?". This is where a user is not interested in a one-line answer but he will preferably go for detailed, meaty, juicy content covering every aspect of the topic. You may have to write more than 4000 words, explaining the topic in detail and including every detail to make it a definitive guide of that topic.
Facts and Data about the length of Blog Posts:
According to the study conducted by Brian, founder of Backlinko, he noticed the ideal word count had dropped a little bit, and "the average word count of a Google first page result was 1,890 words."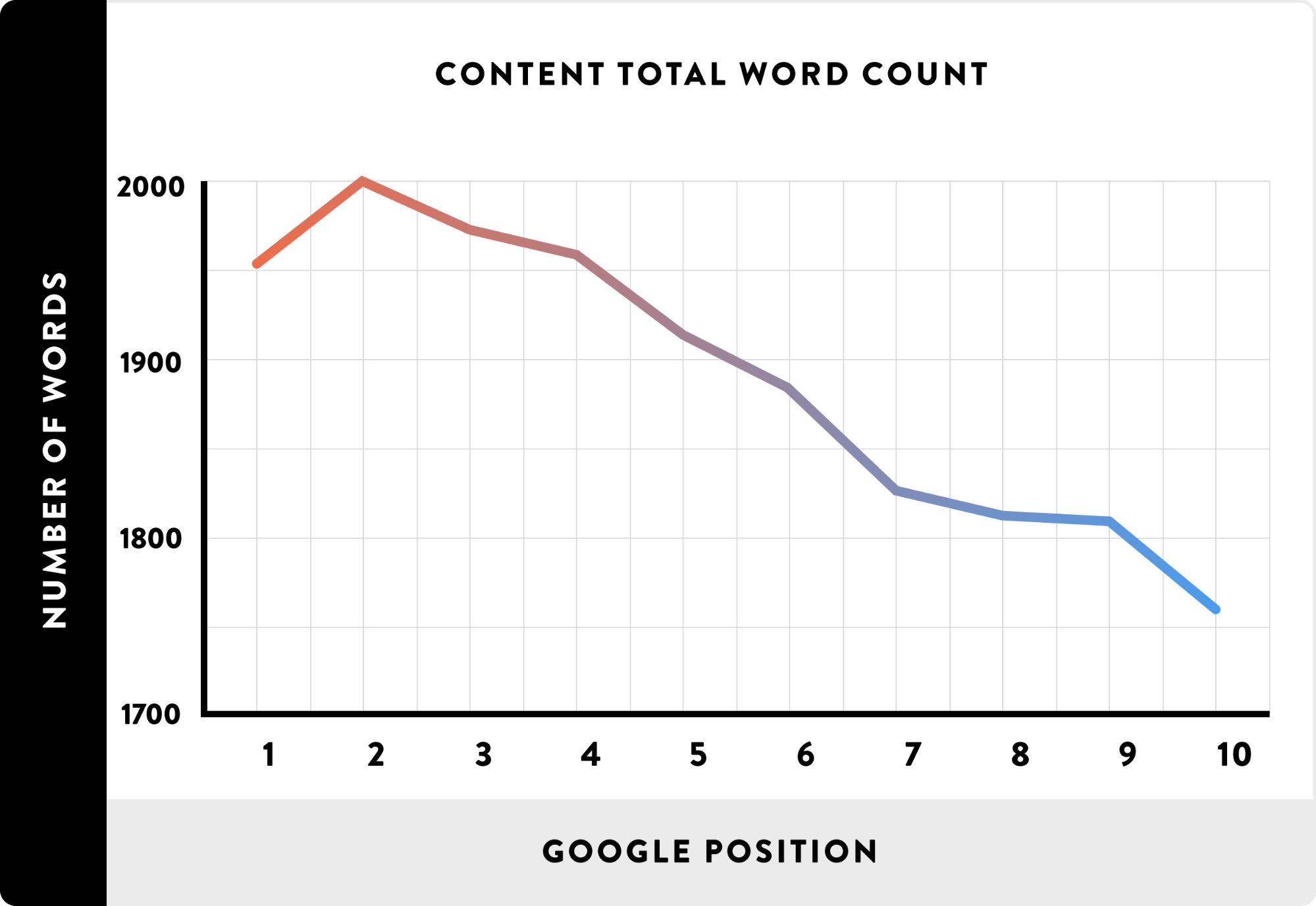 But according to Snap Agency, content receiving most social shares was over 2,500 words on average throughout 2016.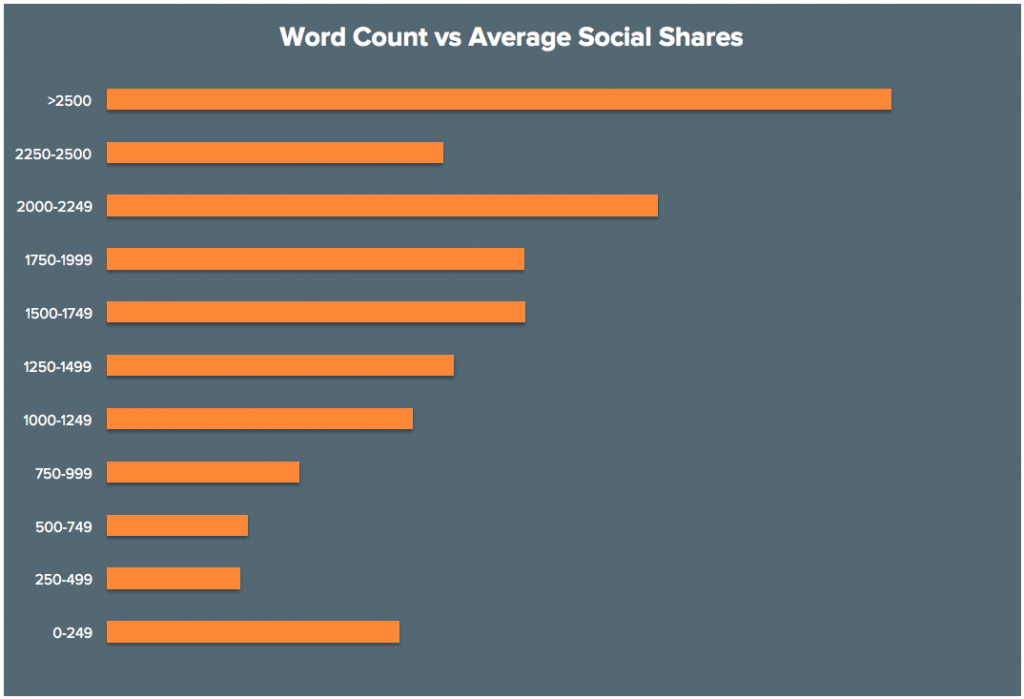 So, it's really at the mercy of the type of content and writer to figure out the length of the blog.
How To Know Length For Your Blog Post?
So, now you have a very good insight into your subconscious about optimal blog post length. Now, it's time to learn how you can go about finding the exact required length for your next blog.
To save your time, I created this simple tool that will automatically check your competitors and suggest the ideal word count. Simply enter your keyword in this form to find out how long your blog post or landing page should be.
At this time,  you should be having detailed insights about the length of your targeted blog to rank for number 1 in SERPs.
The most interesting thing we found is that the target word was different depending on which keyword we were targeting. With more competitive keywords I usually write more content. For example, our article on "volusion vs Shopify" is over 2300 words, but it's going to need about 5000 words total to really compete for page 1 on that keyword. With "easier" keywords you still need a "baseline" of content to help Google interpret your web page, but you might rank well with as little as 300 words.
Bonus Point: The "baseline" at my agency is 2000 words. We have a blog post that just broke into page 1 of Google for "Wix vs Shopify" which is about 2100 words long.
Answering "How many words should a blog post be" using Ahrefs?
Now, let's try to find an optimal length for our targeted blog using a powerful tool, Ahrefs. For this,
Make sure you're looking at data for the same country you wish to rank on Google. This example is focused on the USA, Google.com
Scroll down to the SERPs overview section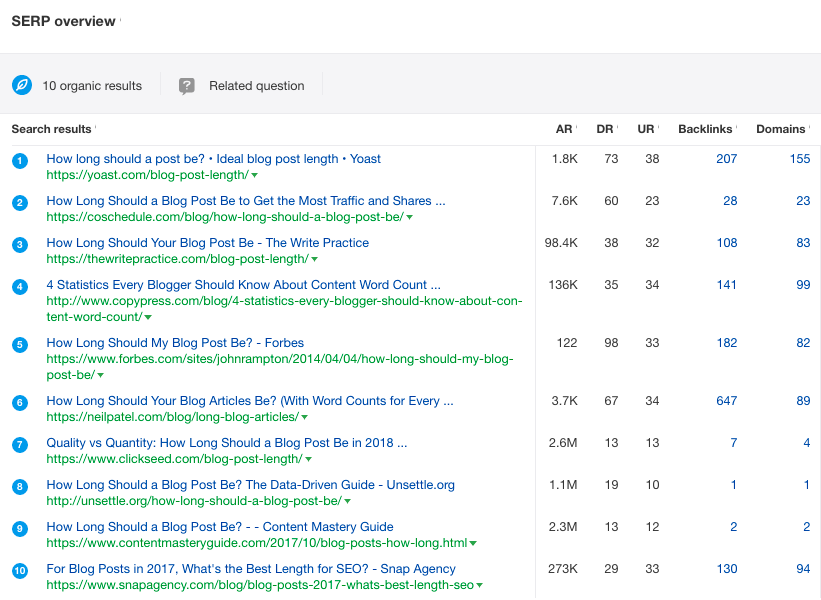 Identify the results on these pages with the lowest DR, (Domain Rating)
In this example, we see "clickseed.com". But why do we look at results with the LOWEST DR?
Answer: The lowest DR website is ranking very well (on page 1) despite having LOW authority. This means that if we can beat the relevance (content quality and length) of this result, then we should be able to rank as long as our DR is at least as good as this competitor. Aside: Relevance and Authority Google ranks pages for two factors mainly: Relevance and Authority. I'm not going to go into detail here but here's a quick overview in context:
Relevance explains how closely a search result answers the user's search query. A page about "how to write a blog" is less relevant than a page about "how long should your blog post be" in the context of someone searching "how long should a blog post be"
Authority correlates closely to Ahrefs Domain Rating (DR), which measures how "powerful" a page or website is based on the quality and quantity of links to the entire domain. In general, content published on more powerful websites ranks faster and better.
Determine the word count of the lowest DR page
Copy the "body" content from the low DR competitors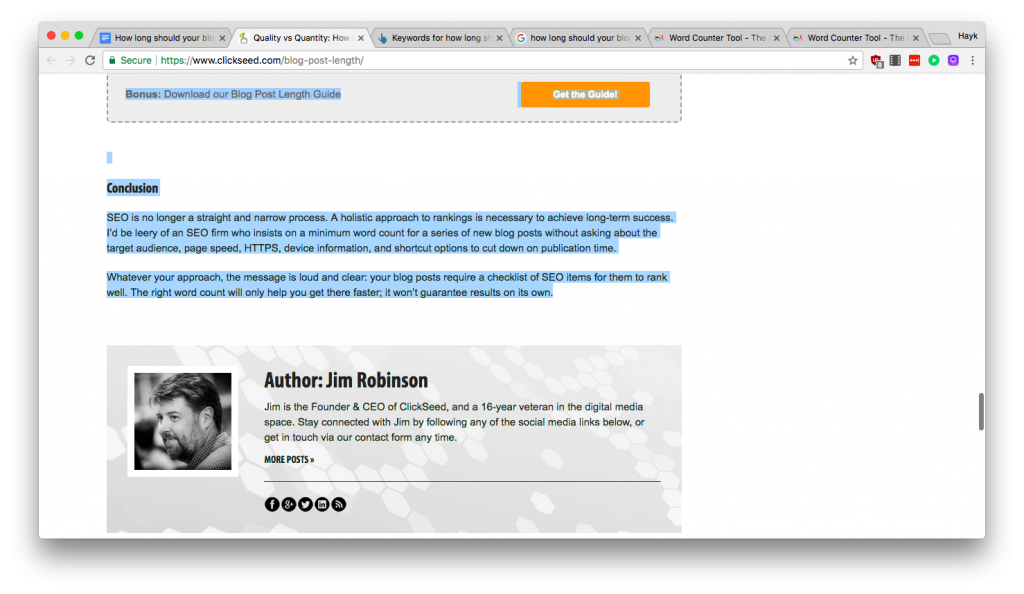 Paste the "body" content into this website https://wordcounttools.com/
This article is 1243 words long. Lastly, calculate the result
How long should your blog post be?
Your blog post should be 500 words longer than the most relevant, and least authoritative competitor who ranks on the first page of Google. For longer competitors of 4000 words or more, you should target 1000 more words to make your article longer than the next competitor. For our example, in order to rank on the first page for "how long should a blog post be" this blog post should be about 1800 words long.
How can you add more information to a blog post to make it useful without wasting your reader's time?
Over time, I talked about how you can make subtopics and target more keywords within blogs to make them meatier and up to standards. Things you can take ideas from are
Google Autocomplete
YouTube search
"People also ask for" column in Google SERPs
Related keywords at the end of the search results in Google
Or you can carry deep research using BuzzSumo or AnswerThePublic, etc.
Using Ahrefs, again, you can get a good list of keyword ideas to strike in your blog that users are actually searching on the web already. Here it is!
Step 1: Open ahrefs keyword explorer
Step 2: Enter your main keyword into the tool and press enter
Step 3: Look at the "all ideas" section to show every possible keyword suggestion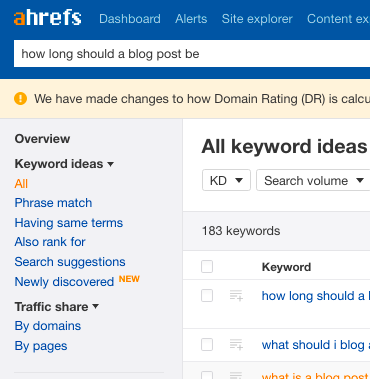 Step 4: Use the "include" filter to narrow down the results to keywords that actually relate to your topic and main keyword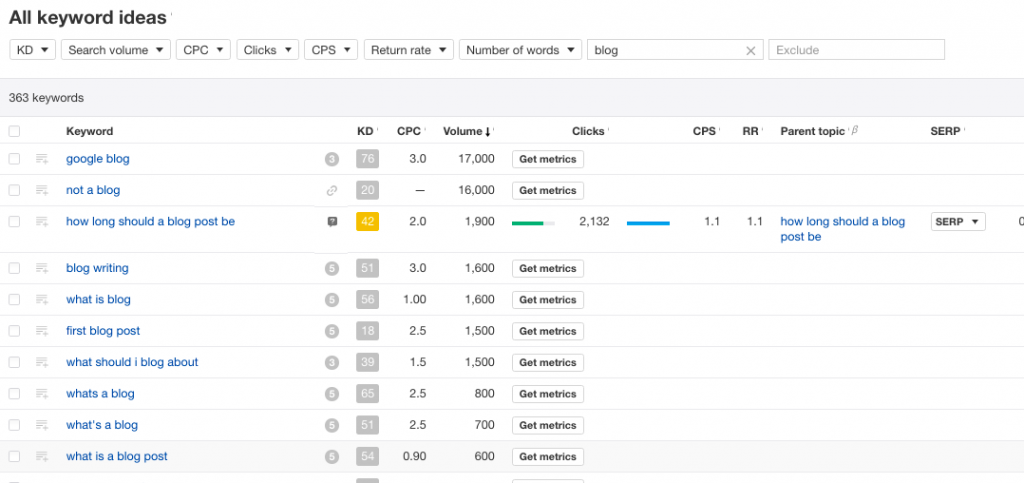 Step 5: (optional) Use the "number of words" filter to narrow down to more relevant keywords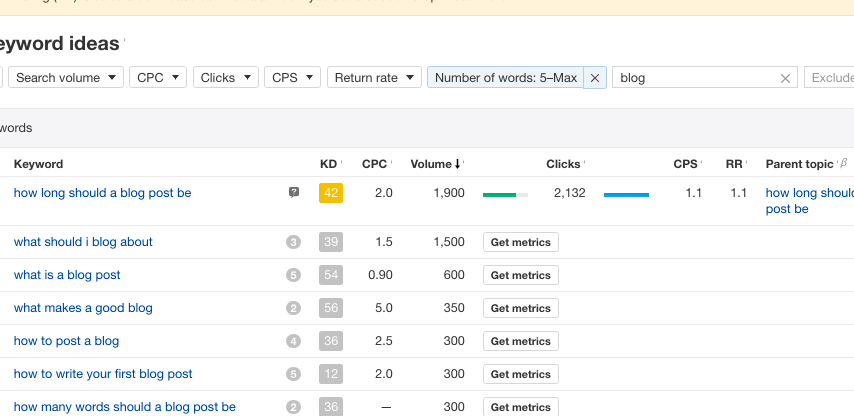 Step 6: Copy down a list of the relevant keywords with the most search volume
In this example, here are some alright keywords for additional sections. Log as many as seem relevant for your blog post. If they're "too similar" to justify a new section, then you can use them as keyword variations inside a meta description or other areas.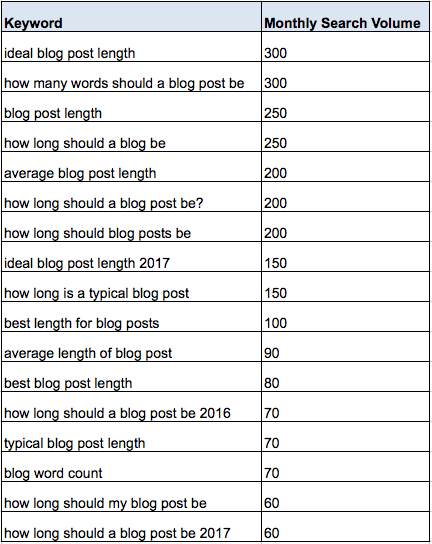 Personally, I like to choose variations that are "conceptually" distinct but still related. For example:
Ideal blog post length
How many words should a blog post be
Average blog post length
How long should a blog post be 2018 or 2019 or 2021 etc?
Blog post length
So how long does your blog post need to be?
"2500 words" is the easy "no research" answer. It's safe to say that 99% of the time, there will be a competitor on the first page of Google with low DR who has a blog post with less than 2500 words. If you type quickly, and you don't have Ahrefs or any keyword tools available to you, then just write 2500-3000 words all the time and keep it simple.
If you have more questions about content marketing or blogging, feel free to contact me via email using hayk@logicinbound.com. Currently, I am the COO of Logic Inbound. Our digital marketing agency specializes in search engine optimization and content marketing. We are actively looking to work on SEO for eCommerce websites.