Shopify is a great eCommerce platform that lets anyone – with no technical knowledge whatsoever – create a beautiful, professional and advanced online store. The entry-level pricing is affordable, the user interface is incredibly simple and easy to use, and all the while Shopify takes care of all the daunting technical stuff like web hosting and domain management.
With Shopify, users simply pay a monthly fee and they get to use what is arguably, the most intuitive eCommerce platform out there. By using Shopify, users get access to industry-standard and fully-secured checkouts, order fulfillment via Shopify Shipping and detailed sales reports.
Shopify comes with a set of solid features which covers most of the basics related to eCommerce. However, for users who want a bit more functionality and features, the platform allows the use of third-party add-ons (or 'apps', as Shopify calls them). In this article we will be talking about these add-ons – where you can find them – and the functionality they enable for users of the Shopify platform.   
The Shopify App Store
The Shopify App Store is the official marketplace for the platform's apps. Shopify has been growing tremendously in popularity over the years, and the App Store is a reflection of this.
While competing platforms such as BigCommerce have around 500 third-party add-ons available, the Shopify App Store hosts more than 2000 of these. This huge number goes to show that users of the platform can basically do anything they want (in eCommerce terms) with their Shopify store.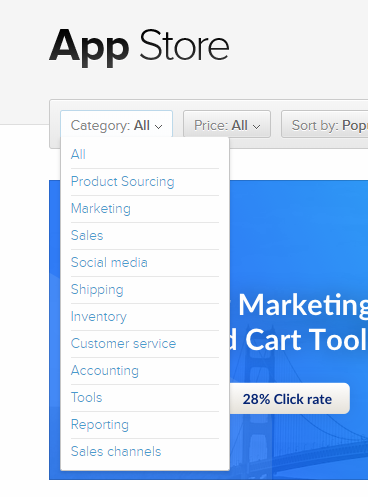 As you can see in the image above, there is quite a variety of apps available. Shopify have left no stone unturned in their quest for making the platform as versatile as possible.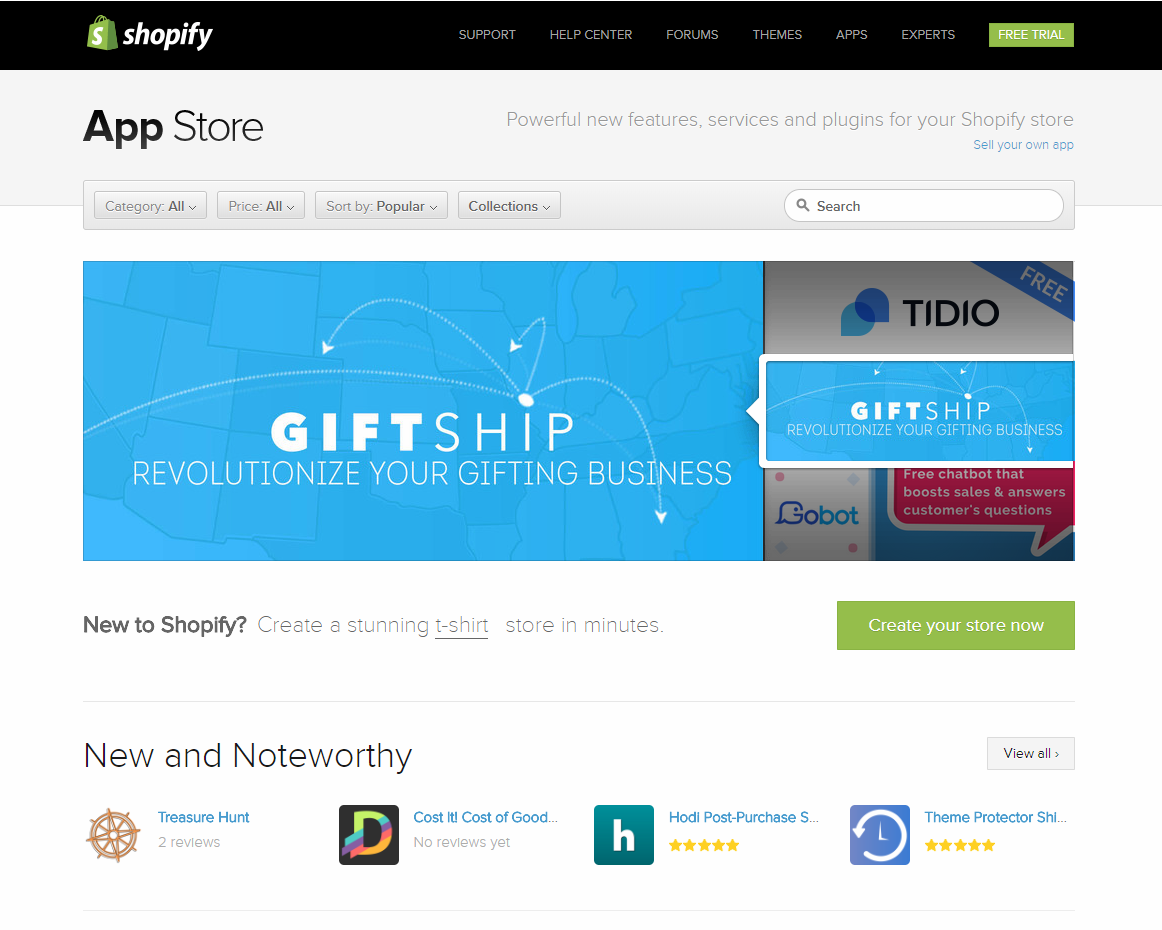 On another note, we were also impressed by the design and layout of the Shopify App Store. It's unlike any other eCommerce add-on marketplace we've ever seen, with a user interface that's actually quite similar to a smartphone app store.
Users can find exactly what they're looking for thanks to the convenient search box. To explore apps in various different categories, there's a powerful filtering system in place as well. Users who're unsure of what kind of apps they should be installing can take help from the 'Collections' filter, which has the following options:
Launch your shop

Grow your business

Made by Shopify

Shopify POS apps

Kit skills

Japanese Apps

German Apps

French Apps
Shopify App Store Review
The Shopify App Store offers quite a large selection of apps, all touting the ability to make the platform better in some way. However, users who're interested in the platform because of its app ecosystem must realize that there a significant number of paid apps as well.
| | |
| --- | --- |
| Total apps available | 2481 |
| Number of Shopify app developers | 1393 |
| Paid apps | 1622 (65%) |
| Free apps | 859 (35%) |
Premium Shopify Apps
A majority of the apps (65%) available on the App Store are paid-for. Pricing for these apps can vary quite a bit, with the average app costing $24. Magento – a Shopify competitor – also has a thriving app ecosystem. However, Magento users only have to make a one-time payment to acquire an app license.
Paid-for Shopify apps on the hand have a subscription-based pricing model. That means that the upfront costs aren't usually as high when compared to similar Magento apps. Also, this gives users the opportunity to test an app and see if it actually performs according to their expectations. Should the user find that an app is not fulfilling the desired purpose, the subscription can simply be terminated.
Best Free Shopify Apps
The selection of free Shopify apps is definitely smaller. However, despite being in the minority, free apps are still more popular than Shopify's paid apps. For example last year, free Shopify apps got 63,801 user reviews, whereas there were 38,952 reviews for paid apps.
How Many Apps on The Shopify App Store
| | |
| --- | --- |
| Platform | Number of Apps |
| Shopify | 2481 |
| BigCommerce | 550 |
| Magento Community Edition | 3300+ |
| Wix | 250+ |
| Squarespace | None |
| WooCommerce | 297 |
Must Have Shopify Apps
For users who have a fresh new store, here are 10 essential Shopify apps that will allow their store to operate at a better level while also boosting sales and increasing customer satisfaction. We consider these apps as absolutely necessary for any new store.
MailChimp
Price: Free – Custom for larger businesses

MailChimp is one of the most popular (and best) email marketing tools for small-to-medium businesses. If you're getting traffic on your Shopify store, it only makes sense that you'd want the users to become repeat visitors on your store.
Email marketing still works quite well to increase a store's overall sales. What's more, the MailChimp app for Shopify is free to use. The free version of the app allows users to send 12,000 emails to 2000 subscribers each month, making it perfect for small businesses.
Edit Order
Price: Free – $19/month

The Edit Order app for Shopify does exactly what its name implies – it allows you to edit the details of an order that has already been placed. This functionality is missing in the default Shopify feature set, but it's absolutely vital for some businesses.
For example, some small businesses might want to offer negotiable pricing on their products. Using Edit Order, businesses can simply change the price of the order after it has been placed, according to the rate they've negotiated with the customer.  
Order Printer
Price: Free

Every eCommerce business out there has a basic requirement of printing receipts, invoices and packing labels. Quite surprisingly, this functionality is missing in Shopify, and that is why the Order Printer app is absolutely essential for any new store.
The app allows users to customize the layout and design of the printable documents, and there's even an option for bulk-printing to save time.
Tidio Live Chat
Price: Free – $15/month
Having great customer support is absolutely necessary for an online business to be successful. Traditionally, customers have had to contact support via email or phone. However, today's customers prefer to text chat with a support rep to save time and to multitask.
The Tidio app integrates a live chat module into a Shopify store with just a click of a button. Simply install it and you're ready to go. For smaller businesses, this app is basically free as it allows store owners to assign up to 3 support operators with the $0/month plan.
Product Reviews
Price: Free

Product Reviews is an app that makes up for a glaring omission in Shopify's default feature set – product reviews. Yes, Shopify does not have a built-in product reviews feature. However, that does not diminish its importance in the slightest.
Product reviews allow your customers to engage with your store, and positive reviews encourage other visitors to make purchases as well. There really is no reason you shouldn't install this app – it's essential.
Free Shipping Bar
Price: Free

Almost every online store has some form of free shipping offer in place. The reasoning is simple – it's another thing that encourages visitors to make a purchase. The Free Shipping Bar app allows you to place a well-designed free shipping bar on your Shopify store.
The app shows contextual messages as well. For example, if your store has a policy for free shipping for orders over $50, the bar will display "$4 away from free shipping!" for visitors who have spent $46. Of course, this encourages visitors to make additional purchases, which means additional profits for the store.
Facebook Chat
Price: Free

Facebook Chat is an app that allows your store to have a Facebook Messenger based live chat system. While we have already mentioned live chat integration (Tidio), Facebook Chat has some unique benefits that Tidio cannot offer.
When a customer starts a conversation on Facebook Chat, you get their messages on your Messenger app. And, the customer can continue the conversation via Messenger app as well. This is simply a more convenient option when it comes to live chat, since customers do not have to be bound to the store live chat app in order to communicate with you.
Best Shopify Apps 2018
Now that we have covered the essential apps that every Shopify store should have, let's look at some of the best Shopify apps that can be used to make your store better, and, more profitable.
Plug In SEO
Price: Free – $20/month

So you finally have your shiny new Shopify store, and it's looking great and ready to serve customers. But, where do you get customers from? Advertising seems like a reasonable approach – you place ads on Facebook and/or Google to send potential customers to your website. This is easy enough, but in the longer run can be prohibitively expensive. The practical option is to drive traffic to your website through search engine optimization (SEO).
Put simply, SEO is one of the best ways to boost your sales by increasing the incoming traffic of your online store. The Plugin In SEO app is vital if you want to leverage the power of SEO to increase sales on your website.
When the app is first installed, it will audit your website for any shortcomings that might negatively affect your search rankings.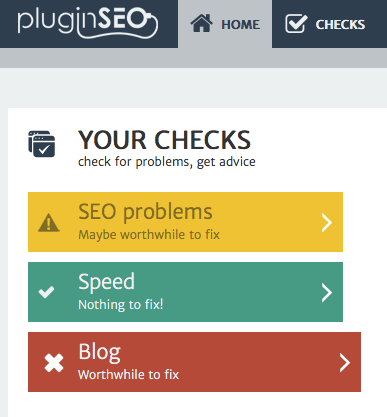 If problems are found, you can simply click on them and the app will present some suggested fixes. Plug in SEO is one of the most popular apps on the Shopify App Store, so users are clearly benefiting from it.
SEO Image Optimizer
Price: Free

Google Images is the world's second most-popular search engine today. Moz reports that around 26% of total searches are in fact, done on Google Images. For perspective, just 3.7% are done on Youtube and only 0.69% on Facebook. Google Images then, has serious potential from an SEO perspective.
The SEO Image Optimizer app allows you to optimize the images on your Shopify store for improved Google Images search rankings. The app is really simple to use – just choose the default alt-text template and your images will have optimized alt-text tags from there onwards.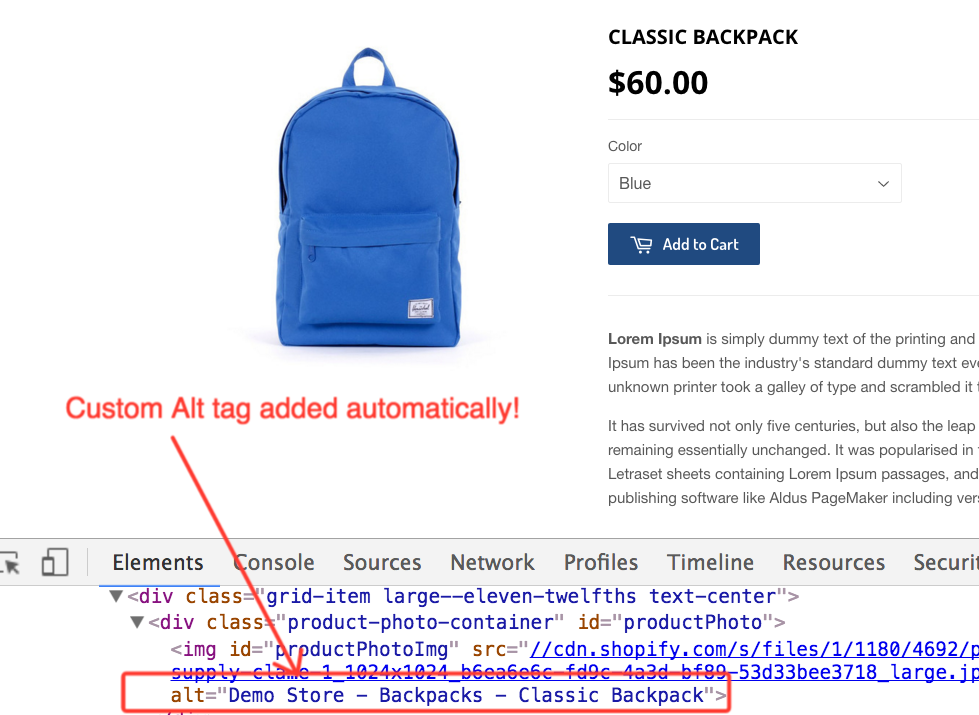 This makes it easier for Google Images to recognize the products you're selling. As a result, users can easily find your store when searching for images those products.
Checkout Boost
Price: From $20/month

One of the biggest challenges that online stores face is convincing customers to press that checkout buttons. Cart abandonment is a real issue, with almost 68% of carts being simply abandoned after customers have already added items to them. Checkout Boost is an app that incentivizes customers to complete their purchase through special exit-intent offers.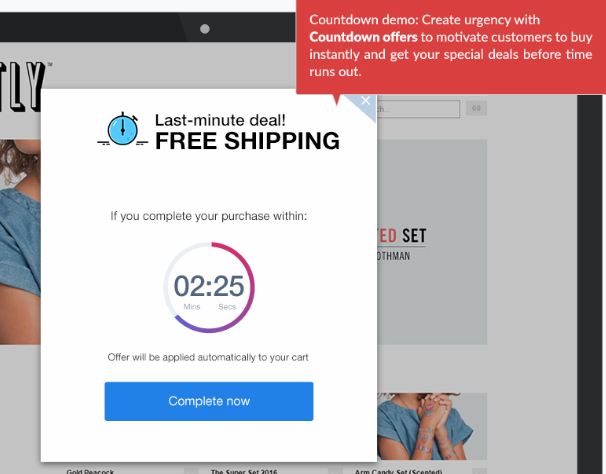 Boost Apps, the creators of Checkout Boost, say that this app can increase conversion rate by 25% or more. That alone should be enough to convince you to install this app. The offers are fully customizable, so you can offer whatever is feasible to your customers to entice them to checkout and complete the purchase.
Bundle Upsell
Price: $47/month

Do you want your store to generate more profits? Well, for that you should increase the average order value through a method called upselling. Upselling is a process in which a business creates opportunities for customers to purchase related products, to ultimately get a larger sale. If you've ever shopped on Amazon you might have come across the 'related items' bundles which offer a small discount over the same items purchased individually.
The Bundle Upsell app allows you to do exactly this – create bundle offers to entice customers to purchase additional items. Bundle offers can be customized for each product, so you have something unique to offer for every product.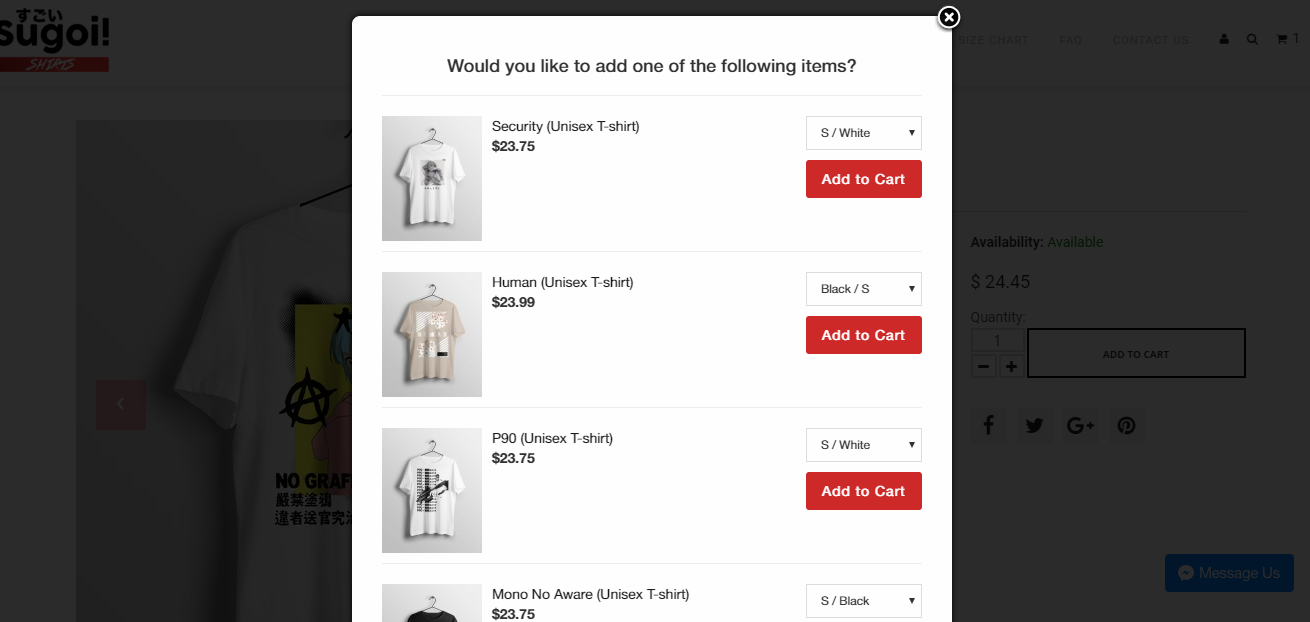 For example, if a customer adds a pair of jeans to their cart, your store could suggest a matching shirt and a discount if the two items are purchased together. For the customer, this creates a better shopping experience and it gets you more sales.
If you need more convincing, just know that Amazon reports as much as 35% of its revenue being generated through upselling and cross-selling.
Omnisend

Price: Free up to 15,000 emails, paid plans start from $16/month
For marketers who are looking to graduate from simple email marketing to omnichannel marketing, 
Omnisend
 has everything you need. It has rich features for ecommerce: marketing automation, smart segmentation, precise targeting, and many more.
Omnisend offers full integration with ecommerce platforms and several channels: Facebook Messenger, email, SMS, web push notifications, WhatsApp, and many more. This means that it gathers data on your customer's shopping behavior, interests, and engagement. Pre-created automation workflows will let you set up complex automated operations in a matter of minutes.
They have a free plan for up to 15,000 emails per month. Standard plan starts only from $16 per month.
Wishlist Plus
Price: Free – $29.99/month

Having a wish list on your online store can boost sales by 19.3%. The reason behind this is quite simple – it lets customers save items they can't quite purchase, for consideration at a later time. Just think of all the missed sales opportunities if the customer forgets about all the products they like on your store.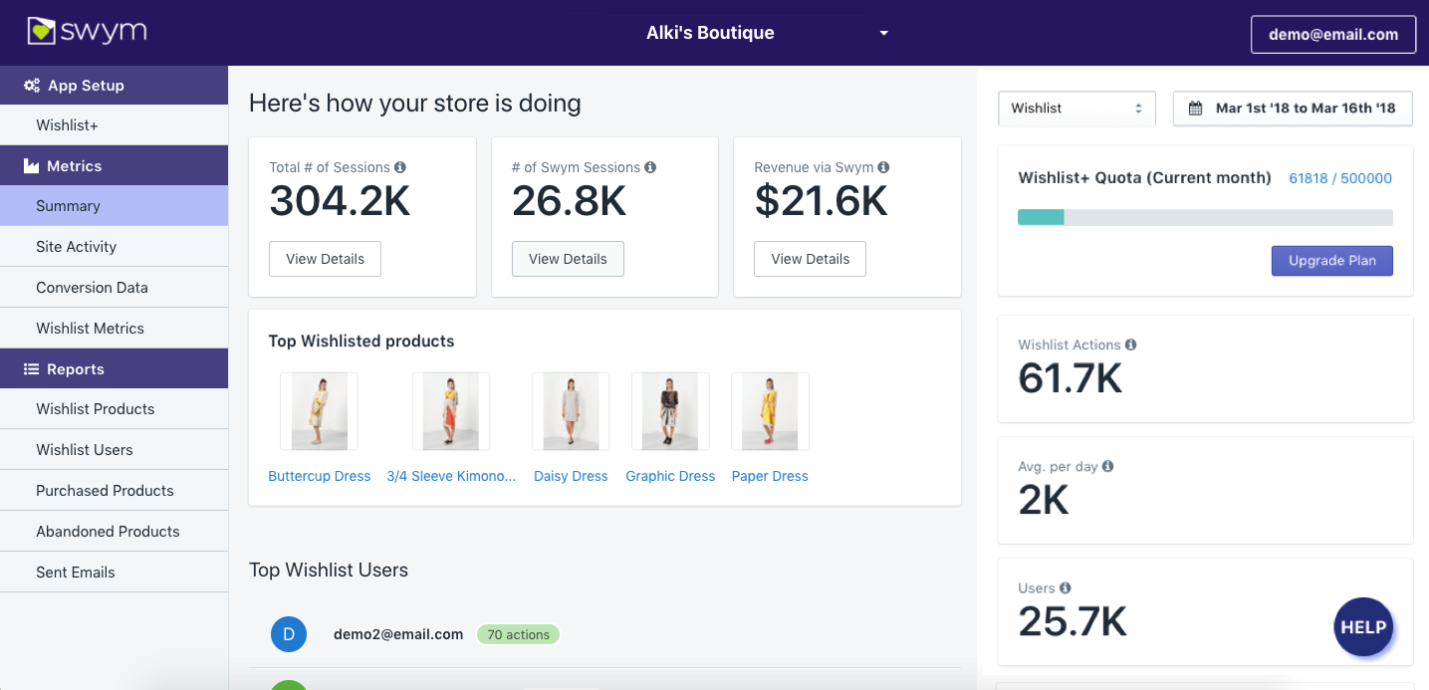 Wishlist Plus makes it incredibly easy to add a wish list feature on your Shopify store. Other than that, store owners also get access to a wish list dashboard which gives insights into the items that were wish-listed the most amount of times, along with other useful information.
Trust Hero
Price: Free

Many online shoppers will simply abandon their purchase due to concerns regarding payment security. To alleviate any concerns regarding security, you can display your security credentials on the checkout page.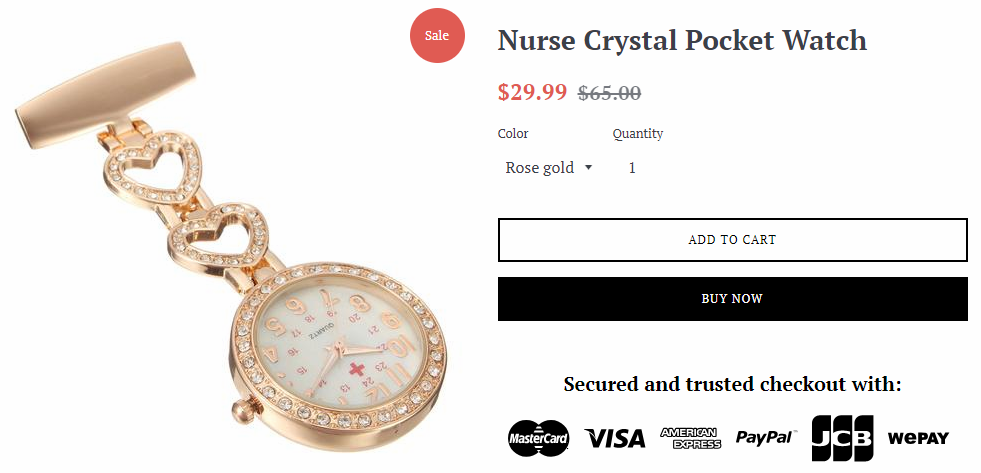 Trust Hero is an app that places a 'Trust Panel' which is displayed on each of your product listings, below the 'Buy Now' and 'Add to Cart' buttons. Also, be sure to offer multiple payment methods to provide users the flexibility of paying with whatever method is more convenient to them.
Oberlo (Best Shopify Dropshipping App)
Price: Free – $79.90/month

With Oberlo, you can set up a fully operational eCommerce business within a day. The Oberlo app allows you to add products from its catalog to your own store. Once a customer places an order, it is automatically relayed to Oberlo who is then responsible for packaging and shipping the ordered goods.
This takes a majority of the operational hassles out of the business, allowing you to focus on marketing the store. This model of eCommerce is called dropshipping, but due to its popularity there is stiff competition. If you have good marketing skills, selling through Shopify + Oberlo can be highly profitable.
Shopify Apps Conclusion
The combination of excellent store development tools and large number of Shopify apps makes Shopify one of the best eCommerce platforms available today. Its competitors might be able to match it in technology and features, but none of these enjoys better than Shopify app support.
Newer users of the platform should perform a deep analysis of the feature requirements, and see if there any apps to fulfill those requirements. Also note that having multiple paid Shopify apps can quickly drive up the monthly running costs of a Shopify store, and care should be taken not to add unnecessary apps as they can also cause your store to slow down.
We also recommend that newer businesses avail services of a digital marketing agency that specializes in eCommerce marketing and development. A qualified agency can often figure out the best route to take when it comes to marketing and app expenditures, saving you money in the long run while generating better profits as well.