Shopify t-shirt fulfillment, also known as print-on-demand (POD), is one of the most exciting strategies for selling on Shopify today. Brands like Iconic are using the print-on-demand business model to generate hundreds of thousands of dollars each month.
Why Shopify T-Shirt Fulfillment is a Great Store Strategy
1. No Inventory Costs
As a store owner, there is zero upfront cost to purchase inventory. This is fantastic because you don't know what t-shirt designs are going to sell before they sell. 
With no requirements for keeping an inventory, you're able to:
Save space
Save time
Avoid the hassle of packing and shipping items
2. Iterate Quickly
Up until a couple of years ago, if you wanted to design a t-shirt you had to invest hundreds or even thousands of dollars for dozens of shirts in a variety of sizes. This made it expensive to iterate on designs that resonate with your customers.
Shopify t-shirt fulfillment apps allow you to design hundreds of unique t-shirts, allowing you to test which designs resonate most with your target audience. Instead of guessing, create dozens of variations and test.
3. No Cash Flow Challenges
In the old days before POD, there was a large delay between your payment to the supplier, receiving the product, and selling to your customer.
Even if your t-shirt was a smashing success, this delay hurt your ability to re-invest back into your business to increase inventory and double down on marketing and other things you need to do to grow your business. 
Shopify t-shirt fulfillment smooths out and accelerates your cash flow. While you still have expenses such as Shopify's monthly fee and the monthly fee of the POD app, it's a significantly smaller cost than carrying inventory.
How Does Shopify T-Shirt Fulfillment Work?
For the most part, Shopify t-shirt fulfillment apps all work the same way, with minor nuances and variations.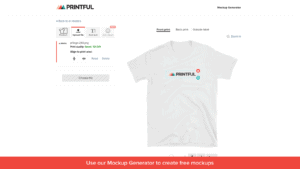 After integrating an app and building out some designs, your POD app will sync the designs to your store. When a customer purchases a t-shirt, the order is sent directly to the POD supplier where they print and ship the shirt to your customer.
All of this happens automatically behind the scenes without any manual order processing. Thus, you're able to focus on higher value responsibilities like marketing to increase traffic, improve conversion rate, increasing average order size, and raising customer lifetime value.
The Best Shopify T-Shirt Fulfillment Apps in 2018
1. Printful
Printful has the most reviews out of any POD on the Shopify App Store for good reason: Printful is also the most comprehensive solution. Besides all of the normal features and functionality you can expect from a t-shirt fulfillment service, you get access to a marketplace of designers and photographers.
Additionally, due to their massive scale, Printful has fulfillment centers in multiple locations across the US and Europe, including California and North Carolina. This reduces shipping times to less than 3 days on average.
Printify boasts over 20,000 stores and shines due to their wide selection of print-on-demand products. Besides carrying dozens of different types of t-shirts, they allow you to print designs on hoodies, kids clothing, baby clothing, iPhone cases, laptop sleeves, mugs, posts, and wall decals.
| Printify Price Plan | Free | Premium | Enterprise |
| --- | --- | --- | --- |
| Monthly price | $0 | $29 | Custom pricing |
| Max stores allowed | 3 | 10 | Unlimited |
| Number of product designs | Unlimited | Unlimited | Unlimited |
| 24/7 merchant support | ✔ | ✔ | ✔ |
| Integration with Shopify | ✔ | ✔ | ✔ |
Teelaunch has the least reviews of the print-on-demand product apps we're reviewing, but don't let that stop you from testing them.  Over 32,000 business owners have deployed their app, which is more than Printify, and store owners are creating more than 1,500 products every minute of every day.
Teelaunch has more competitive margins, so you make more money on each sale. This allows you to spend more on marketing, and invest more back into your business to grow faster.
Here is a quick breakdown of margins across a few of Teelaunch's products:
| | | | | |
| --- | --- | --- | --- | --- |
| Teelaunch Product | Your Price | MSRP | Profit | Profit Margin |
| T-Shirt | $8.50 | $24 | $15.50 | 65% |
| Poster 24'' x 36'' | $16 | $36 | $20 | 56% |
| Poster 18'' x 24'' | $12 | $28 | $16 | 57% |
| Hoodies | $18.50 | $44 | $25.50 | 58% |
| Phone Cases | $11 | $35 | $24 | 69% |
| Mug 11oz | $3.50 | $13 | $9.50 | 73% |
| Tumbler | $15 | $30 | $15 | 50% |
So Which is the Best Shopify T-Shirt Fulfillment Drop Shipping Company?
You're not going to go wrong with any of these apps, so it simply comes down to preference:
What margins do you need?

What level of quality do you want?

What types of products do you want to brand?
Your best bet is to do research into each of these subjects. It shouldn't take more than a few hours and will prevent any need to migrate to another solution in the future.
Want to accelerate your e-commerce revenue? Logic Inbound is an e-commerce growth marketing agency that has generated millions of dollars for startups to multinational manufacturing organizations. Fill out our discovery form and find out what we can do for your business.