Written by Katherine Crayon, copywriter reporting on tech news and all aspects of the web design industry. Anyone looking for more inspirational posts, tips and advice or simply the latest industry news, meet her in person on G+ and Twitter.
It's difficult for small businesses to compete against well-established players in their field. It takes time and extra efforts in order to gain enough resources, manpower, and products in order to make your brand more recognizable and noticeable. However, a small business website can help you improve your positions in the playing field. As soon as you decide to build a business website, you can grow your chances to make a positive first impression on your audience and grow your customer base.
Most business owners do not have a clear idea about the things they need to implement into their online business models for the maximum efficiency of their brands. We want to help you air out any misconceptions with an explicit website features list. Use it to smoothen your transition from brick-and-mortar to digital.
To whom will this business website features list come in handy? Whether you own a small family business or work for a multinational company, you need to create a user-friendly business website that will provide web users with the necessary data in the easy-to-comprehend style. A good website is not only the written data that you share on its pages. This is an all-in-one set of graphics, flashy logos, and stunning pictures that create a memorable presentation of your business venture.
The world has become highly-digitalized, with everything being connected online. If you do not want your business to be left without a piece of cake simply because people cannot find you on the web, then start thinking about the launch of a good online space that can represent your business properly.
Stop wondering about the features that need to be present on your web page. Take a look at the essential business website features list in order to be all set.
Start Off Right
In order to build an elaborate small business website, you need to have sufficient knowledge of HTML 5.0 and Flash. Luckily, today you can create a functional, catching, and dynamic web project without too much learning curve being involved. There are plenty of pre-made web themes at your disposal. So, you can pick any ready-made design that matches your personal expectations or small business needs ideally.
While looking for the best ready-made solution to build your site, make sure that its design and structure meet your personal expectations. Also, make sure that your web theme includes a functional first page to promote and showcase your projects. There needs to be a contact page that reveals necessary contact details to let customers reach you through the most optimal channels.
If your company sells any kind of products or services, then it's a must-have to add a shopping cart to your site. If you give preference to clean and minimalist layout, then tiny texts will hardly contribute to the refined presentation of your content. Vice versa, these will make your data look illegible on smaller screen sizes.
Your small business website needs to be built with a focus on usability and ease-of-use. Avoid using flashy intros and background music. Minimize all factors that can distract or irritate your customers.
Own a Domain Name
Make your website look more professional than other projects in your business niche. To achieve this, make room in your budget in order to purchase a custom domain name. Some hosting providers offer to pick a domain name for free. However, once you decide to select a premium option for your venture, you can adjust it in the way that's quick and easy to remember, as well as associate with your brand.
Also, choosing a hosting provider, opt for the highly scalable ones. Understand the needs of your business before you make the final decision. Depending on the size of your online project and the CMS that you use as its foundation, you can work with such popular hosting providers as:
Here is what they offer:
Hosting provider
Features
Price
Bluehost

Free domain

Free SSL

1-click WordPress install

24/7 support

Starting at $2.95/month

HostGator

Web hosting

Website builder

Domains

VPS

Dedicated hosting

Starting at $2.75/month

SiteGround

Website Building

Website Transfer

Managed Services for WordPress Users

Domain names

Starting at $3.95/month

Dreamhost

Shared/WordPress/VPS/Dedicated/Cloud hosting

Website builder

Custom control panel

24/7 expert support

Starting at $2.59/month

WestHost

Shared Hosting

Email Hosting

Web hosting

Website Builder

Free domain name

Unlimited bandwidth

Starting at $2/month
Make a Clear Statement about Your Vision
All efforts to build a strong and reliable business website will be worth nothing unless your website has a clear goal. If you lack one, then it's just a waste of your time, money, and efforts that won't receive any benefits in return. Still, do not stuff your website with thousands of words to express the sentiment behind your company.
Not every visitor is ready to read long pieces of text. Highlight the most important options and make sure are clearly visible. Bring special emphasis on the products and services that will bring the greatest value to your customers.
Choose the Right Web Platform for Your Site
Choosing the right CMS for your business website provides more options to boost the performance and functionality of your venture in the future. A good CMS allows business owners to build sites and upload them with your content easily, without looking for extra help. Additionally, this lets you manage your small business website from anywhere in the world.
The choice of CMS is impressively rich. Ever since Google announced the Mobile-First Index in 2016, it became ultimately important to make your site fully responsive. Your business website needs to rearrange itself when viewed on different devices. Apart from that, this is a smart move to build your site with the mobile-first paradigm. Focus on essentials as you create your content. Mind usability and ease of your site's navigation.
Choose the Right Theme
The appearance of your website plays a major role in attracting the right customers. So, the choice of the right pre-designed web solutions needs to be on the top of your business website needs. A good-looking and functional web theme can make your venture look more trustworthy and professional.
When you decide to build a small business website with a theme, choose a premium web design that is created with the latest web technologies and innovations in mind. Do not opt for free themes. They are not as secure as those web designs that cost money. Additionally, a free website will hardly make your web page look unique (just imagine how many other businesses may use the same design for their online projects).
Create Informative and Usable Pages
When you decide to launch a business website, you need to mind that it should be more than just a one-page online project. In order to present your project efficiently and gain customer loyalty, your business site needs to be well-structured and information-rich, thus providing web users with quick access to any piece of data they may be searching for.
When we are talking about the proper structure of your site, we suggest is to include pages like:
Home
About
Services
Order
Product
Portfolio
Blog
Contacts
1. Homepage
This is the first place that a person will reach once he sees your site's URL in search results. Based on the way you design and structure the main page of your business website, we can judge about the impression that people will have about your venture. We all know that first impression highly matters. It takes only a few seconds in order for a person to realize if he enjoys your site and the content that it features.

A perfect homepage design should tell your visitors who you are and what kind of services or products your offer. It needs to engage the users by means of impressive visual content and trustworthy elements (like a carousel with user testimonials or a showcase of your team members pictures).
Just like any other page of your site, your homepage needs to be well-structured, quick-to-scan, and easy-to-navigate. It needs to provide everyone with a clear idea of what you can do for them and what kind of assistance people can find on your website.
In order to create a functional and engaging homepage design, consider using headlines that serve as powerful attention triggers. These are essential elements that will catch the user's attention quickly.
In addition, it's important to use keywords in headlines and other pieces of your site's content. It's important to make your site findable in search engines. You will be able to achieve better results by means of the properly-selected keywords and keyword phrases.
While working on your homepage design, do not try to sell right away. It's likely that people know little to nothing at all about you and your brand. Instead, use calls-to-action that will engage your visitors and invite them to the further investigation of your data.
2. About
This is an important and essential element of any business website that targets to gain customer loyalty. Adding About page to your site gives you a chance to reveal the history of your brand and tell users more about what you do. By means of a well-written About text, you can make a clear statement about the features that make your business better than competitors.
About page is one of the most often visited elements of business sites. This is where you create a personal connection with your audience. Your text may contain information about the idea that stands behind your brand, the team that worked on the creation and promotion of your venture, as well as the main mission statement. As a person reads the About text of your site, they will get a deeper insight about your business practices and philosophy.
Do not forget to put a call-to-action at the end of your page. It can invite users to take a closer look at your products and services.
3. Products Page
This page should provide your audience with a clear explanation of your business. Some of the major elements that need to be present on the page include details about various aspects of your products, pictures, and product description. Depending on what kind of solutions you sell, you can provide a list of services that can help people choose one option over another.
If needed, a product page may contain additional links to let users check out more detailed information product features and the way they can use them. In other words, this page needs to work like a directory featuring all data that are needed to help a user complete orders successfully.
4. Order Page
As soon as a person decides what kind of solution they'd like to order from you, they will be taken to the order page. The layout is of utmost importance since this is the place where conversion takes place. Customers need to feel comfortable and relaxed here.
It's important to make the order completion process easy and comfortable.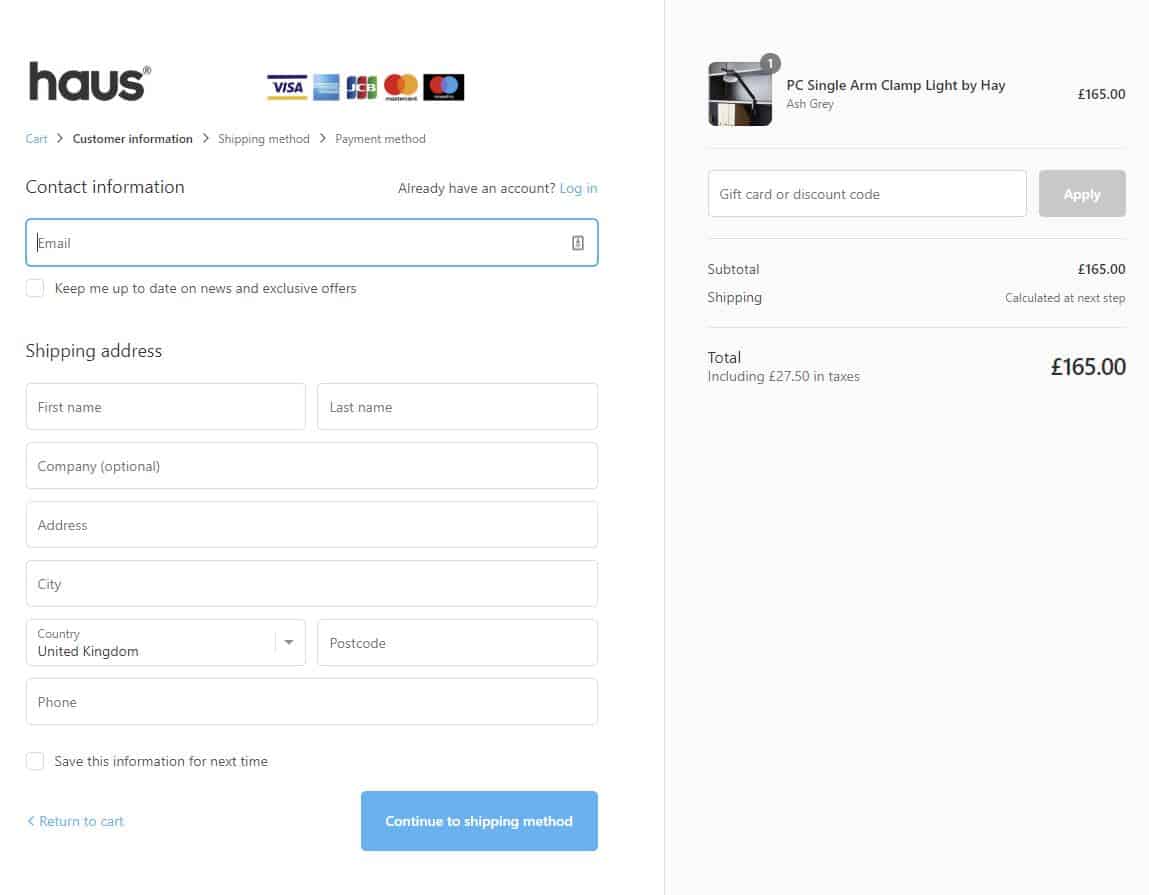 There should be nothing that can irritate a user to distract their attention. The pro tip is keeping order clean and working. The process of order placement needs to be as simple as possible. There needs to be a choice of several payment methods so that a customer can pick the most suitable ones.
5. Portfolio
People enjoy visual content more than written texts. They also enjoy browsing portfolio pages since those can better reveal your offers and present your company from a different side. It's crucial to add a portfolio page to your site if you are looking for extra ways of your business promotion. Even if your company sells services (not physical products), do not shy away from posting images of the things that you have on offer. A catching presentation of photos of your company services can attract more customers to try your deals.
Pictures say a thousand words. They can help you establish a better connection with your buyers and communicate your business ideas more efficiently. So, do not waste your customers' impression about your brand, include only high-resolution images that will look engaging on the screens of all dimensions.
6. Blog
Whatever kind of an online project you run, enhancing it with a blog page is a smart move. An integrated blog can help you keep your readers informed about the latest news and innovations in your business niche. Also, this is a great tool to establish better relationships with your customers and promote your venture on the web.
Thus, adding blogging functionality to your business site you can kill two birds with one stone. It can help you drive more organic traffic to your website and grow the community of loyal fans. In order to make your blog work for your benefit, update it with useful pieces of data regularly.
What topics would you like to highlight on your blog? Try to answer all basic questions about your business and the problems that it solves. Talk to your customers through content. Experiment with different forms of data presentation. And never miss the chance to track user engagement stats with your content.
7. FAQ
There are a lot of common questions that new and potential customers will ask about your company and the solutions that you provide. Adding an FAQ page to your small business website, you can save your time answering those questions and provide web users with a friendly environment to find all needed pieces of information.
An FAQ section will educate your audience and save you from getting loads of similar inquiries through email or phone. Provide clear and polite answers to the simplest questions that you think may come to your readers' mind. Speak honestly, in an easy-to-understand way.
8. Client Stories
Adding a block with user testimonials to your site is one of the best and generally-accepted ways to grow credibility and reliability of your business. Revealing customer reviews on the testimonials page gives you the chance to show how awesome you are and what are the major reasons that make people deal with your brand.
People use to trust testimonials that were written by fellow customers more than polished marketing texts. By means of testimonials, you can enhance your reputation, trust, and credibility, thus making your brand totally open to the web community.
You can display user testimonials with photos and contact details (ask for the reviewers' permission first). This will add more credibility to your brand. Keep them short and relevant. If your brand values its customers and provides quality services, then you will have a lot to share on your site.
9. Privacy
Over the last couple of years, privacy has become a major concern for web users. The release of updated GDPR policy gave an additional push for the majority of brands to become more honest and transparent. People need to be sure that all pieces of information they consume and share with you is safe and protected. Your privacy page will tell them that.
Also, tell your visitors how and in what ways the information they share with you will be used. In case any kind of legal issues, a well-written privacy page will defend you and your venture.
10. Contact
Make it easy and effortless for your customers to get in touch with you. Even though you have posted contact details on the homepage of your site, make sure that you add a dedicated page with contact details. Make it easy for your customers to come across your phone number, email address, social media links, and the current address of your office.
Whenever a person has a question or a business offer for you, they do not need to rack their brains regarding the ways to get in touch with you. Additionally, update your contact page with a working contact form. Many users will prefer to drop you a couple of lines of text instead of making phone calls, so your contact form will be in demand among your visitors.
Developing your site's structure is one of the most essentials tips on the website features list. Before you make your web resource accessible o the web, make sure that all the aforementioned elements are featured on your site. Also, pay special attention to the ease of your site's navigation, clutter-free pages, and high-quality content that is relevant to your business and audience.
Mind Brand Identity
When you start developing your small business website, keep your brand identity consistent. All elements that are available on your web page need to be designed and developed according to your corporate image, including brand colors, fonts, logo design, etc. You need to keep all this consistent throughout the pages of your site and all existing print materials. It's easier to achieve your goals when your web design and brand building work together.
Meet Your Customers' Expectations
It's likely that people will have certain expectations when they land on your web page. For example, they may be looking for tutorials on how to use your products or services. Also, they may expect to find use cases or step-by-step guides on how to use specific technologies. So, provide them with the data they are searching for.
How can you learn about your customers' expectation? Easily! Run polls in social media or on your site, track user behavior stats, see what posts/pages are of the biggest interest to them, and keep on updating your site with the data based on this knowledge.
Use Up-to-Date Technologies
There is no need to have any special design or technical knowledge in order to run your small business website. We have unlimited access to a range of innovative tools and solutions in the web design field. Using outdated technologies will affect the customers' perception of your brand badly. So, if you are not planning to deal with antiques, it's better to update your website in the way that it looks relevant and fresh.
Final Words
A successful business project is easier to create if you implement the right online strategy and launch a good business website. Hope you find the aforementioned business website features list useful. Create an informative and usable online project, communicate with your audience, and present your offers in a comprehensive style. It's time to start making changes that will pay off in the long run.