The answer is simple: Shopify is a comprehensive ecommerce solution that allows you to set up an online store to sell digital and / or physical goods. Some key capabilities include an order management system, easy customization of storefront, order tracking and advanced reporting.
Perhaps the best aspect of the Shopify platform is that it does not require you to have a degree in technical wizardry to use it. It's built with ease of use in mind, so that even tech novices can have a professional ecommerce store.
What is Shopify and How Does It Work
Shopify is a web application, meaning it works from inside a browser like Chromo or Safari. You don't have to install anything locally onto your computer – simply go to the Shopify website, sign up for a free 14-day trial and you'll get access to the platform's various tools and features.

Being a web-based eCommerce platform, Shopify works with all operating systems (MacOS, Windows, Linux and so on). To run Shopify, all you need is access to a web browser and an active internet connection.
What is Shopify Used For
With Shopify, users get the flexibility of selling both online and at a physical location. Online, they can sell the usual physical goods (such as electronics) and digital media (such as eBooks) as well.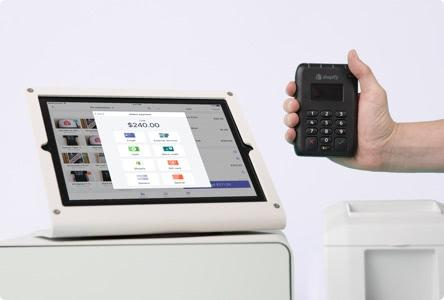 To sell at a physical location, users must avail what's called the Shopify Retail Pack to used in conjunction with Shopify POS, which includes everything needed to start a point-of-sale operation.
How Much is Shopify Per Month
Shopify lets anyone test their platform with the 14-day trial offer. After the trial expires, users are expected to sign up for a paid subscription plan. Hence, using Shopify incurs a monthly fee for its users, and the amount charged depends on the chosen Shopify price plan.
There are currently 5 subscription plans to choose from:
| | | | |
| --- | --- | --- | --- |
| Shopify Pricing Plans | Monthly Billing ($/month) | Annual Billing ($/month) | Biennial Billing ($/month) |
| Shopify Lite | $9 | $8 | $7 |
| Basic Shopify | $29 | $26 | $23 |
| Shopify | $79 | $71 | $63 |
| Advanced Shopify | $299 | $266 | $239 |
| Shopify Plus | Variable pricing | Variable pricing | Variable Pricing |
Some other costs to bear in mind are Shopify's transaction fees, and online payment fees (credit card charges). The transaction fees are charged for each sale you make, and the amount charged depends on the price plan you've chosen.
| | | | |
| --- | --- | --- | --- |
| | Basic Shopify | Shopify | Advanced Shopify |
| Shopify Transaction Fees (per sale) | 2.0% | 1.0% | 0.5% |
Users who choose to use Shopify Payments as their online payment gateway will not be charged with any transaction fees. However, they will still have to bear the online payment fees (credit card charges). These vary according to the chosen payment gateway. Let's compare credit card rates for PayPal and Shopify Payments.
Credit Card Processor
Shopify Payments
PayPal
Monthly Fees

None

$30

Credit Card Rates

2.9% + $0.30 (Shopify Lite and Basic Shopify)

2.6% + $0.30 (Shopify)

2.4% + $0.30 (Advanced Shopify)

$2.9% + $0.30
As you can see, not only is there no monthly cost for using Shopify Payments, but its rates are also lower for the 'Shopify' and 'Advanced Shopify' plans.
What is Shopify Lite (Shopify on Facebook)
Shopify Lite represents the most affordable way of entering the platform's ecosystem, in a rather limited way. That's because this $9-per-month plan does not give access to store building tools. Rather, it's meant to give users the ability to sell goods through social media, in person, or on an existing website.
Using Shopify Lite, users can showcase and sell products via a Facebook Page's Shop section. For users who own a website, Lite provides an embeddable widget that can facilitate product sales. The widget contains a product image, price, and a 'Buy Now' button.
Uses who want to sell at a physical location, but want the sales to be digitally recorded can use Lite in conjunction with Shopify POS to streamline the whole process. Using the POS service's card reader, users can also accept online payments while selling at a physical location.
What is Shopify Plus
To cater to larger businesses and high-volume merchants, Shopify offers the enterprise-grade Plus plan. Pricing details of the Plus plan are scarce, with no mention of how much it costs on the official website. What is known is that pricing for Plus is negotiable, and varies from one customer to the other. That said, Shopify charges a minimum of $2000/month for this plan, no questions asked.

With Shopify Plus, businesses get the following high performance features:
99.99% uptime

Unlimited bandwidth and transactions

Capacity for 4 million hits per second

More than 2000 apps

Up to 10,000 checkouts per minute

Level 1 PCI DSS compliant
The above-mentioned features sound very promising, but we can't help but wonder if they really are exclusive to the Plus plan. In our opinion, the real power of Plus lies in its ability to integrate with an organization's internal businesses. For example, Shopify Plus can be integrated with almost every CRM and ERP out there, thanks to the platform's Restful API. And it must be noted that access to the API is restricted for users of 'lower' plans.
Accepting Online Payments in Shopify
Shopify provides two main options for accepting online payments: through Shopify Payments or a third-party payment provider. If Shopify Payments does not work in your country, the good news is that the service integrates with over 100 payment gateways around the world.
Within third-party payment providers, there are direct providers and external providers. With a direct provider, your customers will be able to complete the purchase directly on your store. If you're using an external provider, your customers will be redirected to a third-party checkout page that is hosted outside of your online store.
Here is a list of direct and external providers.
What is Shopify Payments
To facilitate its users in collecting online payments, Shopify provides its very own credit card processor – Shopify Payments. By using this payment method, users don't have to go through the hassle of connecting a third-party payment gateway (such as PayPal).
Shopify Payments saves time due to its instant setup and also offers lower credit card rates (as low as 2.4%) on all transactions.
What Does Shopify Cost Initially
Shopify is a hosted eCommerce solution, which means you don't have to worry about buying web hosting and a domain name, as you would with traditional tools like WooCommerce. Hence, initial costs for a Shopify are quite easy to predict.
The set up cost of a Shopify store will usually consist of:
The platform fees (The price plan you choose)

Cost of theme (Paid themes cost $140 – $180)

Cost of apps (A lot of variance in pricing)
The platform fees are pretty self-explanatory, but it's the cost of the store theme and apps that makes things interesting. You see, the Shopify Store offers free themes as well as paid themes. Which one you go for is totally up to you, but for beginners we always recommend free because obviously, it keeps the initial costs low.
Costs related to the apps will vary of course, but we always recommend users to look for free apps that can fulfill their requirements.
What is Shopify POS
For online sellers who'd like to start selling from a physical location, or brick and mortar businesses that want an easy-to-use store management system, Shopify offers its fully integrated point-of-sale system.

A point of sale system usually consists of a backend software system that is connected to customer-facing hardware such as a cash register, card reader and a barcode scanner. The Shopify POS is similar, only that its hardware is connected to a Shopify store.
Using Shopify POS is extremely beneficial for anyone who wants to sell goods online as well as at a physical location. For one, the bar code scanner ensures that every product sold at the physical store is captured in the inventory as well, so stock levels are automatically up to date, at all times.
A brick and mortar business on the other hand – one which doesn't even have a website – can also make use of Shopify's order and product management features. Users just have to order Shopify's retail kit ($749), and pay a monthly fee ($49) to use the POS features. One thing to note is that the POS monthly fee is charged on top of your regular Shopify subscription plan fees.
For users who don't want an online store, we recommend pairing the Lite plan with a Shopify POS system for a cost-effective and professional store management system.
Do I need to be a designer to customize my Shopify store?
While it's never a bad thing to have some basic knowledge of design, you don't necessarily need it to customize a Shopify store. Each Shopify store has a theme/template attached to it. The theme is responsible for providing the design for any store, but you're responsible for choosing a theme that will suit your website.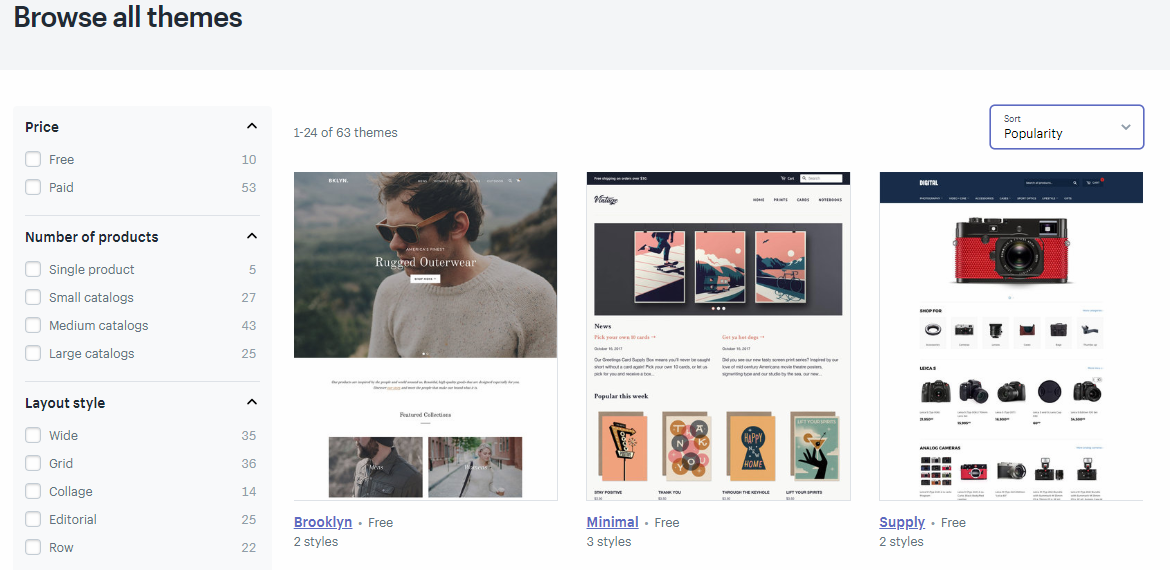 Shopify themes are available from the official store, and there are a range of free and paid options available. There are only 10 free themes available, but they're meticulously well-designed and professional. They are not in any way, inferior to the paid themes.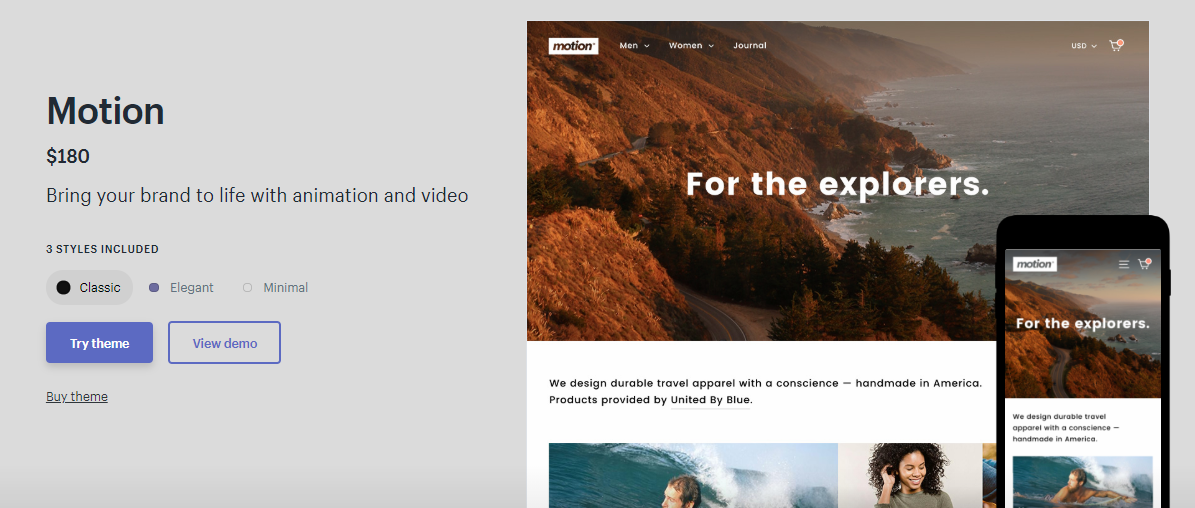 The paid themes start at $140 and go all the way up to $180, which makes them quite expensive. Also, the paid themes are not made by Shopify (unlike the free themes), but by third-party developers. As such, Shopify does not officially support the paid themes available on its store.
Once you have chosen a theme for your store, you can customize it even further using the theme customizer tool. This allows you to change the various color accents, header image, footer, among other website sections. The customizer is extremely easy to use – even novice users will be able to quickly get to grips with it.
What are Shopify Apps?
Shopify comes with some great eCommerce features, but it doesn't have every feature imaginable. If it did, it would just become bloated and slow. Instead, Shopify's functionality can be extended through the use of apps / add-ons / plugins.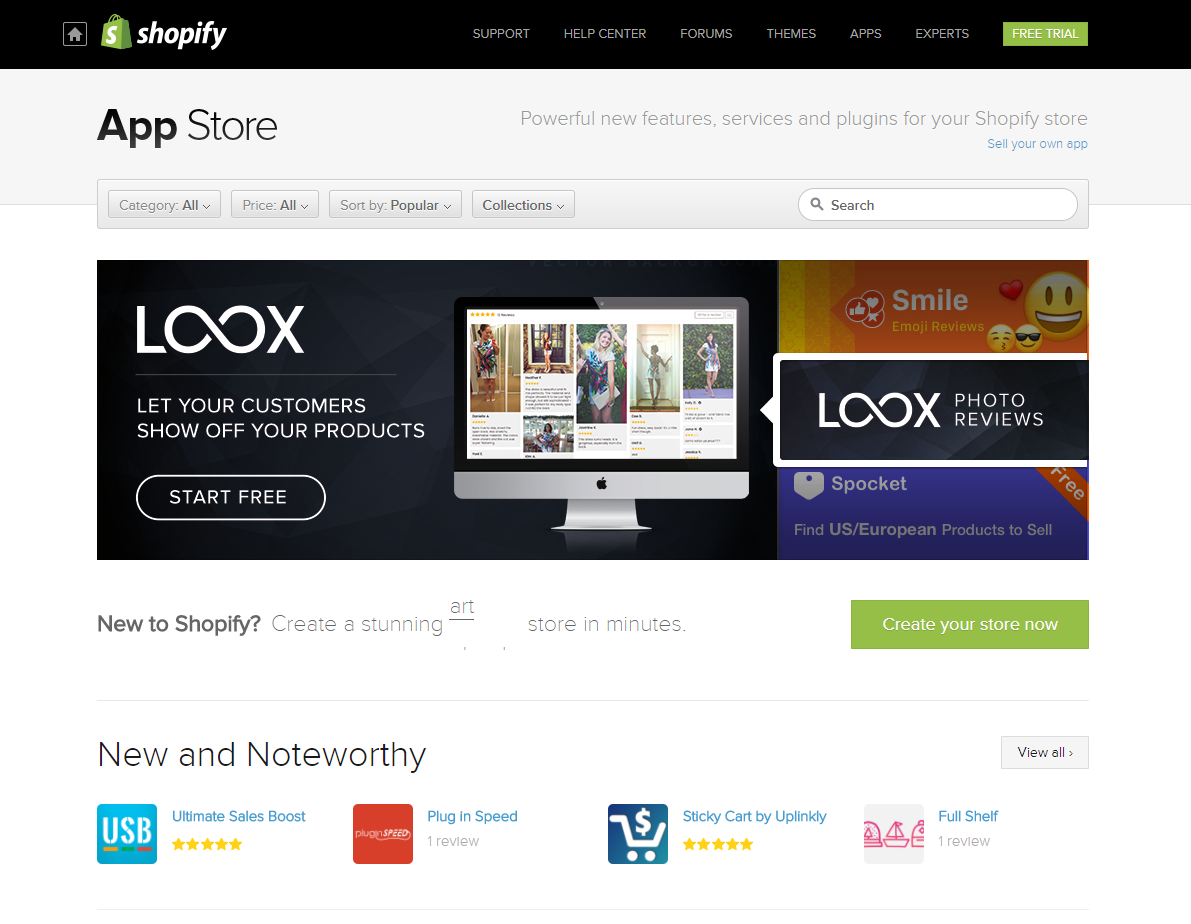 An important aspect of any modern eCommerce solution is its third-party developer support, and Shopify scores impressive in this regard. The App Store – the hub for Shopify apps – hosts more than 2,000 apps made by more than 1,000 developers. Needless to say, plugin support for the platform is exceptional, and makes it a leader in hosted eCommerce solutions.
The apps provide, in some cases, impressively advanced functionality. With the help of these apps, anyone can setup a professional and modern online store.
Note: Shopify apps should not be confused with the platform's mobile apps. In the current context, we are referring to plugins/add-ons as apps.
Top Shopify Apps
We recommend the following apps as being essential to any Shopify store:
How Many Shopify Stores Are There
Shopify is one of the most popular eCommerce platforms, with more than 500,000 sites using it. And these are active sites, who've so far generated over $50B in revenue.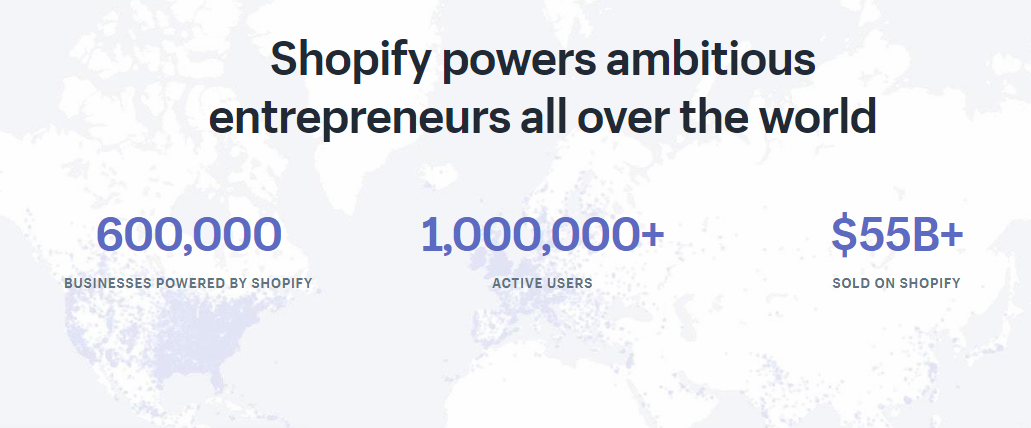 The great thing about Shopify is that its usage is on an upward trajectory. If we do a quick search for it on Google Trends, we see that search interest for the term 'Shopify' has increased steadily over the years.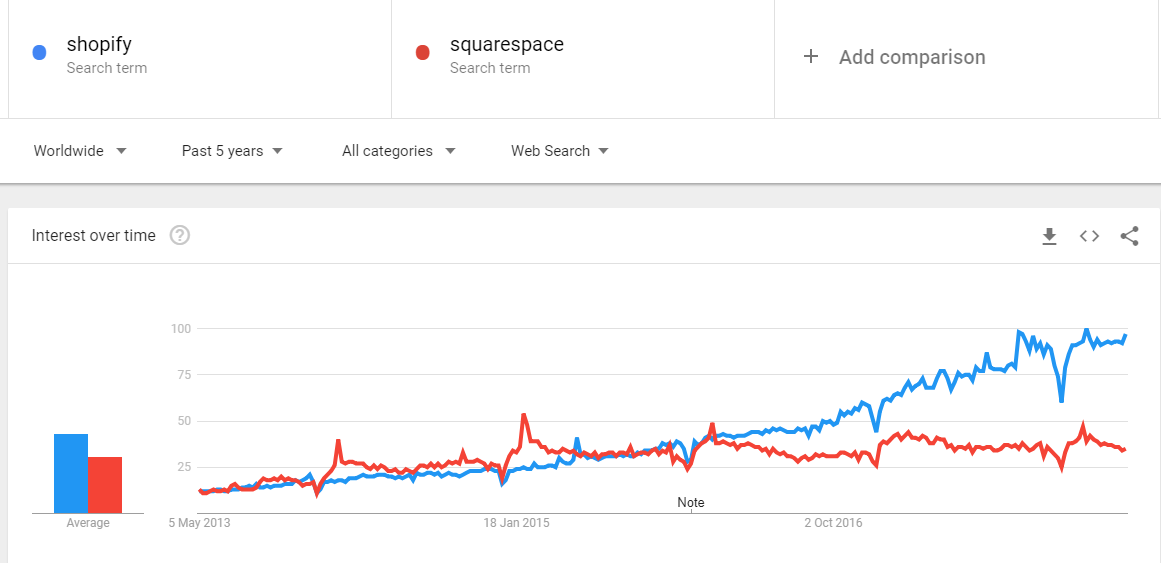 The rising popularity of the platform also makes it 'safe' and 'reliable'. If you're going to invest in a platform for your business, you need the assurance that it will be in business for a long time. Thanks to Shopify's popularity and success, we can easily recommend it.
What are the websites that use Shopify?
Thanks to the platform's flexibility to cater to any eCommerce requirements, Shopify now has an impressive roster of companies that use it to sell goods online:
Is Shopify Good Value?
Shopify has catered to every budget segment with its price plans. Budding sellers can make use of its extremely affordable $9/month Lite plan to start selling online, or at a physical location. For users who want to create a professional online store, the $29/month represents an affordable way to do so.
Whether Shopify is good value really only depends on your budgetary constraints. If you go the traditional route, and hire a developer to build an online store for you, it can easily end up costing hundreds, if not thousands of dollars.
With Shopify, the initial costs are definitely on the lower end. What's more, you get exactly what you pay for, which is oftentimes a risk if you hire a developer. All things considered, Shopify is an affordable way to sell online. Even against competitors (such as BigCommerce), it stands out due to its thriving add-on ecosystem and excellent online support.
Looking for ecommerce options other than Shopify? Check out our ecommerce platform comparison!