One of the things that everyone loved about the internet when it first came into being is email. These days, it remains one of the most effective and cheapest marketing tools for businesses regardless of size or years of existence.
While there are numerous email marketing strategies and providers out there, Constant Contact and MailChimp are two of the most popular among smart business owners of today.
Are you about to try your hands on email marketing for the first time or you're simply not at all that happy with your current provider? Then read on. Below are 3 questions that may be on your mind – the answers to each one can help you determine whether it's Constant Contact or MailChimp that you should sign up with.
Which Provider Can I Try For Free?
For a business owner like you, it's always a smart move to check out the many different features – and limitations, too – of an email marketing tool just to see whether it's the right one for your digital marketing campaign and budget. Fortunately enough, both Constant Contact and MailChimp offer free trial, but only one of them actually offers it for a lifetime!

Signing up with Constant Contact's free trial allows you explore all of the well-known company's various campaign types and tools that you can use for your very own advantage. You can even test the effectiveness of campaigns that you have created by sending them to 100 of your contacts.
Unfortunately, the free trial comes to an end after 60 days. But fret not because you will still have access to the various test campaigns you have created, as well as the contacts you have entered. And also, you will still be able to see reports and even work on your drafts.
However, sending them out is no longer possible . . . that is until you are willing to opt for a paid subscription. Once you have paid, Constant Contact gets your email marketing up and running once again.

On the other hand, MailChimp offers free trial that actually doesn't end at all, which means you can take advantage of the various tools available on the said email marketing provider for life and at no cost!
However, there's a catch: you are limited to only 2,000 subscribers and up to 12,000 emails every month. But if your business is just starting up or a small one, then such provision that comes with free use of MailChimp for the rest of your life is more than enough.
So what happens if one day in the future your business suddenly booms big time which calls for staying in touch with more subscribers and sending out more emails? Then you have to go for a paid account.
Building a customer mailing list for your e-commerce business on Shopify? Take a look at our analysis of Shopify Flow.
How much do they cost to upgrade?
As earlier mentioned, you need to shell out money if you want more features to come with your MailChimp account, but the truth is you don't really have to pay a lot just to enjoy additional perks that can work to the advantage of your venture. Actually, automated email marketing is way cheaper than direct mail, TV and radio ads, and other forms of advertising. For as little as $10 per month, your free MailChimp account can be converted into a more feature-packed plan.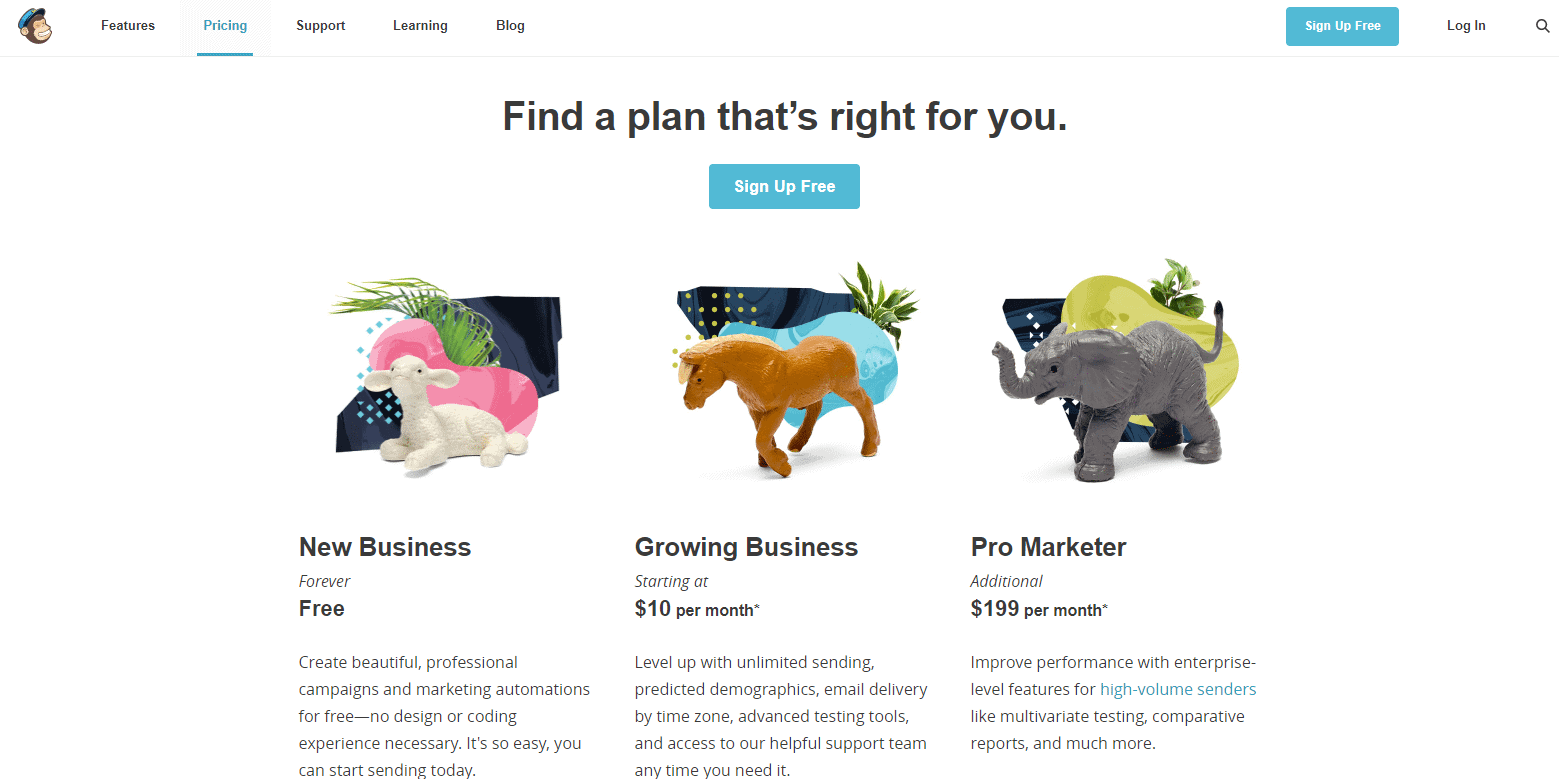 But just as expected, that $10 a month won't give you everything you need – it will only cover additional 500 subscribers. So what would happen if you had more subscribers? Well, MailChimp will may automatically upgrade your account, of course with added charge. If your numbers of subscribers keep growing, you may be surprised when you get your bill if you are not monitoring it.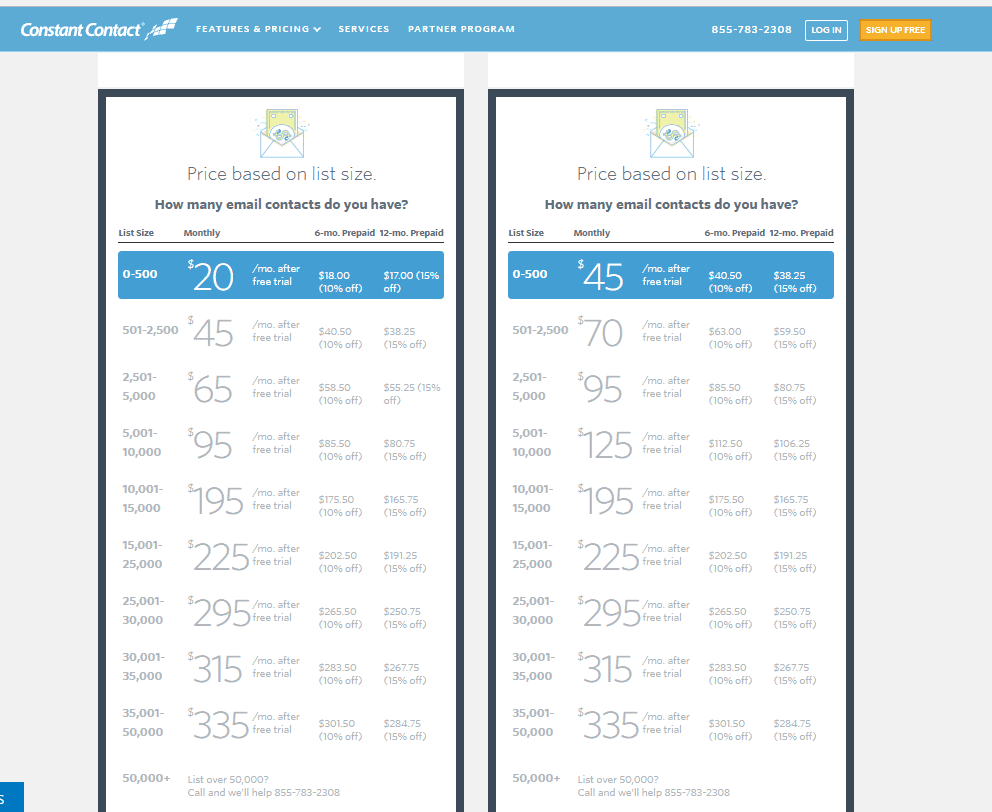 The cheapest plan Constant Contact offers is $20 a month – that's double the rate of the basic account that MailChimp offers. While that's definitely more expensive, there are some perks to enjoy for shelling out a little more cash on a paid Constant Contact subscription.
What are the pros and cons of upgrading to a paid account?
Speaking of picking up the phone, that's one of the biggest benefits that comes with opting for Constant Contact — there is someone you can contact if you need help. In fact, a customer service representative will actually call you after signing up with Constant Contact to see if you require assistance in setting things up.
If you don't feel like speaking, then you can simply send Constant Contact an email, or have a chat with a rep. or you may wait for the email to reach you in case you miss the company's initial call.
Support on a 24/7 basis is something that MailChimp doesn't offer at all. You can access videos and other information on the company's website, but you are otherwise on your own.
This doesn't mean, however, that opening a paid account on MailChimp is a terrible idea. Actually, one of the things that business owners love about MailChimp is it offers something that Constant Contact doesn't have: trouble-free A/B testing in which you may check which of your two campaigns will perform better.
And by the way, this A/B testing that MailChimp offers is available across the board — you can take advantage of it even with the free plan. Other email marketing providers will actually charge you for using such tool.
Although Constant Contact also offers a variety of mobile apps that allows you to manage your email marketing tactics even when you're not in front of your computer, MailChimp actually offers more — 7 of them, to be exact. While you may not need all of these mobile apps, it gives you utmost peace of mind to know they're there should you need them.
Wrap-up
Which email marketing service provider should you choose? Because both Constant Contact and MailChimp come with their own respective set of pros and cons, picking the right one can be a very challenging task. Here's a terrific idea: why not sign up for both for free and see for yourself which one suits your particular business needs?   For additional help be sure to check out schools for marketing or enlist the aid of a professional digital marketing company who can advise you on the best strategy for your business.
ABOUT THE AUTHOR
Chris Foerster is a digital marketer with nearly a decade of experience helping businesses improve their online visibility.  In his spare time, he enjoys playing guitar, writing on his blog My News Tips or gawking over classic cars.