The Shopify platform represents one of the easiest ways of creating a professional ecommerce website. Its simplicity combined with its powerful ecommerce features have made it popular, with more than 600,000 online stores using Shopify across the globe. Easy as it may be, to get the best out of Shopify you will need help from experts from time to time, and that's where Shopify Partners and Experts come in.
Now you may have chosen Shopify because you thought you'd never have to hire expert help. That is a fair point, but in practice, running an online store does require expert help at some point.
Don't get us wrong, setting up a Shopify website is incredibly easy. The backend dashboard is intuitively designed and makes adding products a breeze, even for novice users. And no matter where you are in the interface, the handy search bar will always be there to help you out in case you get stuck.
Why then, do Shopify Partners and Experts exist?
What is Shopify Partners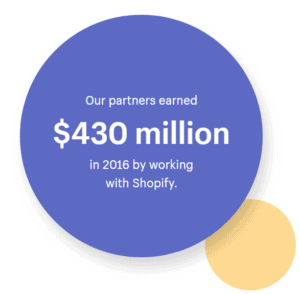 Source: shopify.com
Most of that has to do with the nature of ecommerce itself. The technical complexities of setting up a traditional online store were a significant problem, but with Shopify they're mostly mitigated. No, the real issue lies with how challenging it can be to make an ecommerce venture successful.
And these challenges come in different forms: marketing, design, maintenance, search engine optimization and so on. And this is exactly why Shopify introduced the Shopify Partners and Experts initiative – to help make your ecommerce business successful.
In this article we'll be talking all about Shopify Partners and Experts – where to find them, how to connect with the right ones, and how to ensure the success of your business relationship with them.
How does the Shopify Partners Program Work?
The Shopify Partner Program provides you with the opportunity of earning money in multiple ways, by working with the platform. Here's how you can earn money by 'partnering' with Shopify:
Shopify Revenue Share
Shopify Affiliate Link
Shopify Revenue Share
First off, there's a revenue-sharing program in which you get 20% of the money that Shopify earns from clients you referred to the service. Basically, what you have to do is to get a client and convince them to use Shopify for their ecommerce needs.
After approval, you'll have to build a development store for the client to be considered for the revenue-sharing program. This is important, because if you don't build the development store, you will not be eligible for revenue sharing.
Shopify Affiliate Link
The second way of earning money with Shopify is to refer an online user using an affiliate link. Anyone can sign up for the Shopify Partner Program and get their own affiliate link. This link can be advertised on your blog, website, or just about anywhere on the internet.
If a user clicks on the link and signs up for a paid Shopify subscription plan, you'll get twice the amount of money they pay (the subscription fee) for the first month. So for example, if the user signs up for Basic Shopify ($29/mo), you'll earn $58 in total, which will be paid in installments of $29 over two months.
| | | |
| --- | --- | --- |
| Shopify Plan | Monthly Fee (Without discounts) | Partner Affiliate income |
| Basic Shopify | $29 | $58 |
| Shopify | $79 | $158 |
| Advanced Shopify | $299 | $598 |
Even if the user does not sign up for a paid subscription plan, and instead opts for the 14-day free trial, you'll still earn if they decide to upgrade to a paid subscription plan in the future.
Shopify Partner Program Eligibility
Bear in mind that in order to remain a Shopify Partner, you're required to do one of the following activities every 12 months (after your development store referral):
Development store referral

Affiliate link referral

Upgrade or refer an existing merchant to Shopify Plus
Failure to complete one of the above activities will result in the discontinuation of revenue-share payments.
What are Shopify Partners and Experts?
Shopify Partners are individuals or firms who have entered into an agreement with Shopify.
However, Shopify Experts are different, and should have a proven track record of making Shopify stores successful. In fact, in order to be considered for a Shopify Expert, you need to show examples of 5 successful Shopify stores which you helped build.
Shopify Experts are divided into different categories, based on their proven expertise and track record with clients:
Setup Experts

Designers

Developers

Marketers

Photographers
Shopify has made sure to categorize according the critical areas which can help a store become successful.
Let's take a deeper look at these categories, the kind of experts you'll find in them and how to pick the right ones.
Shopify Setup Experts – Get Help in Setting up Your Shopify Store
Setting up a Shopify store is simple enough, but experts can help you get the most out of it. For example, if you're migrating from an existing platform, the expert will be able to help you with product and media imports.
For some people, setting up a professional store using Shopify could be daunting, but experts have already done so they know what you'll need to have a successful store that attracts visitors. Apps play a major role in a store's functionality, and the expert will already know which ones will cater to your requirements best.
Hiring and working with a Shopify expert is simple, but be sure to have a set of requirements ready so they know what you expect. Mostly, a Shopify setup expert will build you store from scratch, populate it with products and media, install some apps and that will be it. The benefit to you is that there will be no unforeseen fees to worry about.
However, you need to keep in mind that launching a Shopify store from scratch can be quite time-intensive, and with Shopify setup experts starting at ~$65/hr, you can expect to spend thousands of dollars.
Shopify Design Experts
Shopify offers professional and beautiful-looking templates to all of its users. Even the free templates are very good, and will suffice for most small businesses. However, some store owners  want to have a Shopify site that looks great and unique. For this, you'll need the help of a Shopify design expert.
The good thing about Shopify is that it lets you deeply customize a template, or create a new one using its Liquid templating language. But not every designer will be able to use Liquid, and that is why having a Shopify design expert is so important.
Expect to pay a Shopify Designer thousands of dollars if you're looking for a completely new template.  But since this is a one-time cost, it's not a bad investment.
Always communicate the following requirements to the Shopify Designer beforehand:
Brand-focused design and color palette

The design should be SEO-friendly (responsive, optimized for mobile devices)

Intuitive navigation and user interface
Shopify Developers
Normally, a Shopify Setup Expert can handle most store-related tasks for you. However, if you need something developed especially for your store – functionality that isn't available in the App Store – you'll need the help of a Shopify Developer. A common scenario in which you might need the help of a Developer is if you're trying to implement a POS system for your online store.
Shopify POS makes it easy to have a fully integrated POS system with your online store, but even then it's not as straight-forward as you might imagine, especially if you're planning on integrating retail hardware.
Cost estimates for development work are unpredictable, and will depend entirely on the nature of the functionality you desire. If it's about a simple tracking code insertion, you can expect to spend less than $100. However, integration of an ERP to your store will easily set you back tens of thousands of dollars.
Shopify Marketers
The thing with marketing an ecommerce store is that, there are simply too many ways to do it. And yet, there are only a few ways that actually work. It's not uncommon to see Shopify stores with beautiful designs and expert setup that have absolutely no traffic. And marketing isn't just about getting traffic to your store – it's about getting the right kind of traffic.
This is exactly what Shopify marketing experts are for. They differentiate themselves from traditional online marketers in their ecommerce experience – a strategy that works for a content website will not necessarily work for an online store.
Our standard recommendation when it comes to Shopify marketing, and ecommerce in general, is Logic Inbound. Our digital marketing agency in Seattle has a proven track record of executing successful marketing strategies for a variety of businesses, ecommerce sites included. And just to prove a point, Logic Inbound launched its own Shopify store, Hobanco.com, which grew to attract more than 6000 visitors a month in a short span of time. Check out the Hobanco case study here.
Before hiring a Shopify marketer, make sure that they specialize in the following:
Search engine optimization

Content marketing

Google Shopping ads

Facebook ads

Product page optimization / testing
Shopify Photographers
This one might not seem important to new merchants, but high quality product images are hugely important in convincing visitors and building trust with them. The thing is, high quality product images are only possible if you have the right camera equipment, as well as a good photography studio. Of course, the chances of a merchant having these are minimal, and that's why Shopify Photographers should be considered for the purpose of getting high quality images of your product lineup.
Shopify Photographers will usually work and charge you on a per-project basis, with the prices varying depending on the amount of products you want photos of. The complexity of the shots will also vary, as photos of a rice cooker will be straightforward whereas photography for clothing items might warrant the need for models and elaborate lighting equipment.
Picking the Right Shopify Expert
Now that you know the value that Shopify Experts can provide to you and your ecommerce business, it's time to look at some of the factors you should consider before hiring one:
Portfolio
Always ask the prospective Expert to show you examples of their previous work. For Setup Experts and Developers, you might need to check out the complexity of the stores they've worked on, and if they're on a similar level to the kind of work you're expecting. If you find that the sites they have worked are relatively simple, simply continue your search.
For designers, check to see if their previous work shows a varied style. Most designers follow a single approach to design, so while they might be good at it, it might not be the right style for your requirements.
For marketers, always ask for success stories of their previous clients. Good marketers will have case studies ready for potential clients, with different case studies for different niches.
When it comes to Photographers, check their portfolio to see the kind of work they've done. Product photography can be surprisingly varied in nature, and it's generally a good idea to hire a Photographer who has worked with products similar to yours.
Communication
Talented as a Shopify Expert may be, if they cannot communicate effectively with you, it's probably going to be a bad experience for both parties. In order to communicate the specific vision you have, you need to be able to communicate fluently and without any language barriers.
A good Shopify Expert should 'read' into your requirements, and should be able to 'get' your business. Check out testimonials from previous clients (available on the respective Expert's Shopify page) to see if there were any problems.
Conclusion
Shopify is one of the best and easiest ecommerce platforms to build your online store on. But ease-of-use does not guarantee success, and that is why you might need help from a Shopify Partner / Expert to get things going.
Logic Inbound is a full service digital marketing agency, with a focus on ecommerce. We would love to help you take your business to the next level, or if you're just starting out, get its first customers through our proven marketing strategies. Feel free to contact us for a free analysis!