What is Printful?
Printful is the leading Print on Demand (POD) t-shirt fulfillment company, perfect for drop shipping. They carry a wide range of products such as shirts, posters, and canvas. You design, market and sell the product, and they ship it out from their warehouses directly to your customer.
The rise of print on demand services combined with e-commerce platforms like Shopify has lowered the bar to become an entrepreneur and made it easier for artists to monetize their passions.
Custom T Shirts Made Easy
Starting a clothing company five years ago meant that you needed to pre-order hundreds of dollars worth of inventory and deal with small-time printers. Then you had hundreds of units of products cluttering your house and you drove to the post office all the time to fulfill orders yourself.
Using Printful, you can design some products and launch a beautiful looking Shopify store with less than one day and fifty dollars. Printful takes care of everything starting from the minute you have your customers money until the day the customer receives their order.
Not to say you need Shopify, it's just our preference. Printful also has an API and integrations with Amazon, Etsy, WooCommerce, BigCommerce, Big Cartel and a few others.
We've had the opportunity to work with many clients leveraging a wide range of print on demand apps across a variety of platforms and our favorite combo is Shopify + Printful.
Why use Printful?
There are quite a few reasons why you should use Printful:
Affordable startup costs
Easy to use mockup generator
Fast deliveries (1-2 weeks, competitors take 2-3 weeks)
Quick and easy setup
Friendly customer support
No Minimum Orders
No minimum order means it's incredibly inexpensive to test and iterate on designs. If you're doing your own design work, the total costs come outs to Shopify's $29/month subscription fee.
Printful Is Free
Printful is free unless you're selling products.
Printful Mockup Generator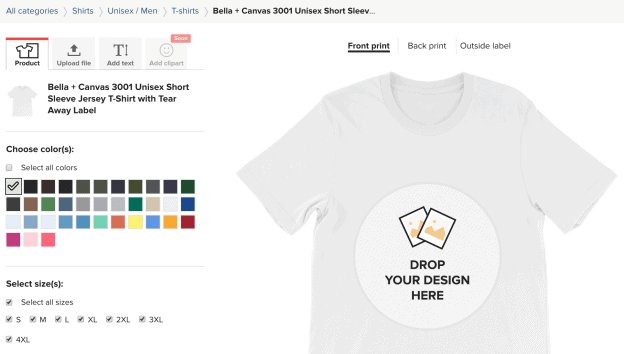 Printful's mock-up generator saves you hours and dollars by automatically generating product photos with your design products. For anyone who has done it the old way with Photoshop, they know how much this is a complete lifesaver. This allows you to avoid hours of tedious and unfulfilling Photoshop work.
Quick Setup
The deployment into Shopify is quick and painless. So is selecting your products, importing your designs, and launching the products to your storefront.
Printful Customer Support
Every time we've reached out to support on behalf of a client they've been very responsive with quick resolutions.
Printful By The Numbers
38,000 Google searches per month (per Ahrefs.com)
Printful Customer & User Reviews
We also thought it was important to share insights from e-commerce entrepreneurs leveraging Printful to make money. Another blog review you might see while Googling around today for research is Arsha Jones over at Brand Build Sell, where she has some pretty scathing complaints about Printful.
That post was written several years ago, and Printful has come a long way in scaling their business to accommodate the insane growth in the industry. Products can change quickly, so we reached out to entrepreneur Matthew Donovan to ask him about his experience with Printful.
"After 10 years of building websites for local businesses, I fired my boss and went full-time entrepreneur. I've used Printful on several websites so far, and it's a stellar service," Matthew said.
"For example, my site Petrol Prints is completely automated because of how many tasks Printful takes care of for you. It still makes sales on its own every month and the only time I ever need to step in at all is for support issues, which Printful also makes very quick and easy."
Matthew said that his research into competing print-on-demand fulfillment services showed that while Printful costs a little more, the quality is far and away superior. In fact, he personally owns and uses products from Printful.
Printful Pros and Cons
| Pros | Cons |
| --- | --- |
| High quality fabric products | Product mock up images could be better |
| Easy to edit products through mockup generator | Creating different products using the same design is a hassle |
| Easy integration with Shopify | |
| Huge list of ecommerce platform integrations | |
| Helpful customer support | |
| Quick delivery (1-2 weeks) | |
Review Conclusion
Printful is an effective print-on-demand solution for anyone looking to start an e-commerce business. It makes it easy to get a business up and running by cutting out the tedious and time-consuming parts, leaving you to take care of the marketing and strategy elements. The robust features, support system, and higher product quality justify the marginally higher cost. Overall, Printful is a strong choice.
Need to build your e-commerce business? Having trouble with organic search visibility or converting visitors into customers? Logic Inbound is an SEO and web design marketing agency with e-commerce expertise that can help drive real sales with unmatched ROI. Fill out our discovery form and find out what we can do for your business.