Volusion and Shopify are two of the biggest names in e-commerce, offering a robust "software as a service" (SaaS) package which allows anyone with minimum technical knowledge to create full-fledged online stores.
A quick glance of at Volusion vs Shopify reveals that both of these services function in a similar manner – they're web-based ecommerce platforms designed for ease-of-use so you don't have to hire any web developers or designers.
But when looked at closely, both of these tools differ greatly in crucial areas such as features, payment gateway support, third-party integrations and pricing.
Getting your head around the differences in Volusion vs Shopify can be confusing so we decided to provide a comprehensive ecommerce platform comparison in the areas that matter to online merchants.
Volusion vs Shopify – Is Shopify Better than Volusion?
| | | |
| --- | --- | --- |
| | Shopify | Volusion |
| Transaction fee | Up to 2% of each sale (Exempted by using Shopify Payments) | None |
| Number of Products | Unlimited | Unlimited with Premium Plan Only |
| Themes | 62 (10 Free) | 47 (11 Free) |
| Apps and Plugins | 2000+ | 72 |
| Supported Payment Gateways | 70+ | Less than 40 |
| Number of Stores | 500,000+ | 185,000+ |
| Active Users | 1,000,000+ | 40,000+ |
| Bandwidth Restrictions | None | 35GB for top-tier plan ($7/GB fee for going over the limit) |
| Pricing | Starting at $29 (excl. Lite plan)* | Starting at $15 |
*The Shopify Lite plan is excluded as it is does not include store-building tools.
Shopify vs Volusion Templates
Design has always been an important component of a website. But it's now more important than ever. Not only does good design instill confidence and trust in customers, it also helps your online business's search engine optimization (SEO) strategy. Websites with bad mobile design have been especially penalized by Google in recent years.
Both Shopify and Volusion realize the importance of good design, and offer a pretty extensive catalog of professional-looking templates. Fortunately, all of these templates have also been designed with mobile users in mind so they look great regardless of the device on which they're being accessed.
Let's take a look at some key differences between the templates offered by the two platforms.
Free Templates – Which Platform has Better Free Themes?
Shopify and Volusion offer a small selection of free templates for sellers on a budget. Volusion's selection is only slightly ahead in this area with 11 free themes as opposed to Shopify's 10.
However, it should be noted that Shopify offers its templates in 2 or 3 distinct versions so the user has some design options while keeping the template's structure.
The quality of the free templates offered by both platforms is certainly up to par, with modern and professional design elements giving them a fresh look. The themes also vary greatly in appearance so there's a fair bit of choice even for users on a budget.
Paid Templates – Does Premium Come with Quality?
Volusion has almost caught up with Shopify's selection of 51 premium templates by offering 48 of their own. Shopify's paid templates start at $140 while Volusion has a fixed $180 price for any of its premium templates.
Generally speaking, the premium templates offered by both these platforms feel similar in quality and cover a wide range of industries. That said however, finding the right template to suit your business is much, much easier on Shopify's theme marketplace thanks to the extensive filtering options.
There are no template filters on Volusion's template marketplace, but the service does allow consultation with its live chat experts on which template will best fit your business. We still prefer Shopify's filtering system as it's just more convenient.
Which has Better Customer Support Volusion or Shopify?
Shopify and Volusion both market their platforms being easy to setup and use even for users with minimal technical knowledge. However, getting to grips with the interface can still prove to be a challenge for some users and they're very likely going to need some help from customer support.
Volusion vs Shopify Customer Support
Online support is available on all plans by both of these services. However, Volusion offers phone support starting from the $35 'Plus' plan and up while Shopify's phone support is available on its cheaper $29 'Basic' plan and up.
Here's something to consider in Volusion vs Shopify: while contacting Volusion customer support, we found that live chat support was generally unresponsive to queries even after 20 minutes. Shopify's live chat on the other hand responded within a minute and the 'guru' (support expert) was extremely helpful, going as far as to provide screenshot examples to simple questions.
One aspect of Volusion customer support really stands out – its phone support and call scheduling. Accessing Volusion's phone support is extremely easy by clicking the "Get Help" link located at the top-right corner of the Volusion dashboard. From there you can choose to schedule a call with customer support by using the service's intuitive scheduling interface.
Is Volusion More Affordable Than Shopify?
Shopify and Volusion both offer tiered pricing plans that suit a variety of budget requirement options. Investing in either of these services will be a long term commitment due to the nature of online businesses. Switching services down the road poses a severe risk to your business due to the cost and time involved as well as the potential hit your website will take when it comes to search engine rankings.
Shopify Pricing
Shopify currently offers the following 5 subscription plans:
Lite:

$9 per month

Basic Shopify:

$29 per month

Shopify:

$79 per month

Advanced Shopify:

$299 per month
Shopify Plus: For high-volume merchants. Prices vary according to requirements and reportedly hover around $2000 per month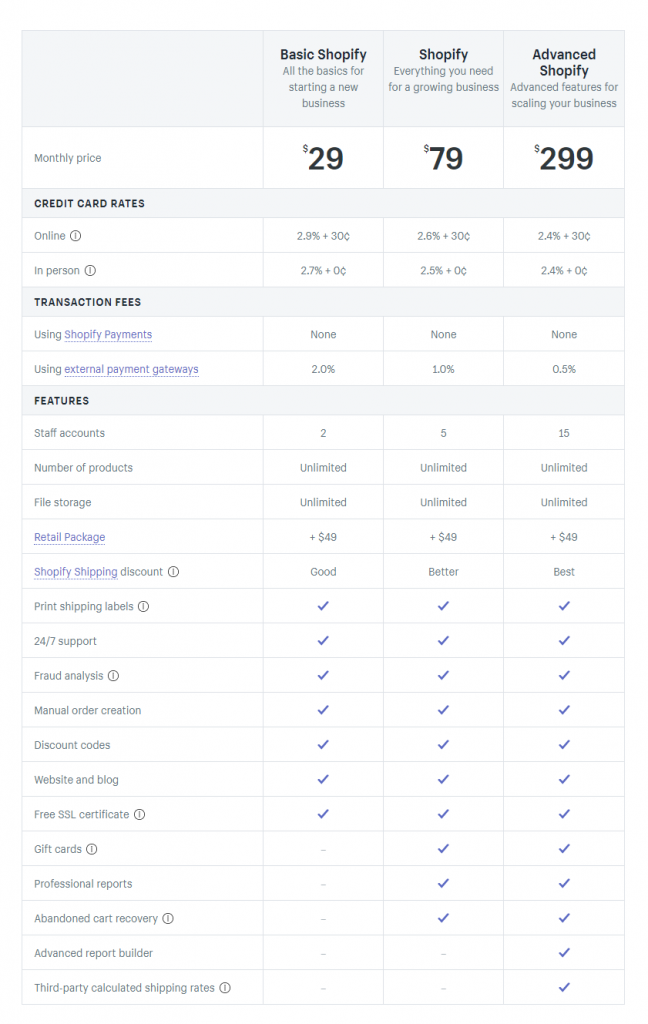 The Shopify Lite plan isn't listed in the table pictured above. That's because this plan doesn't really allow you to use the platform to create an online store. What it provides is the ability to use Shopify's powerful backend features to sell products on your own website, app or Facebook page.
Volusion Pricing
Volusion currently offers the following 4 subscription plans:
Volusion Mini:

$15 per month

Volusion Plus:

$35 per month

Volusion Pro:

$75 per month

Volusion Premium: $135 per month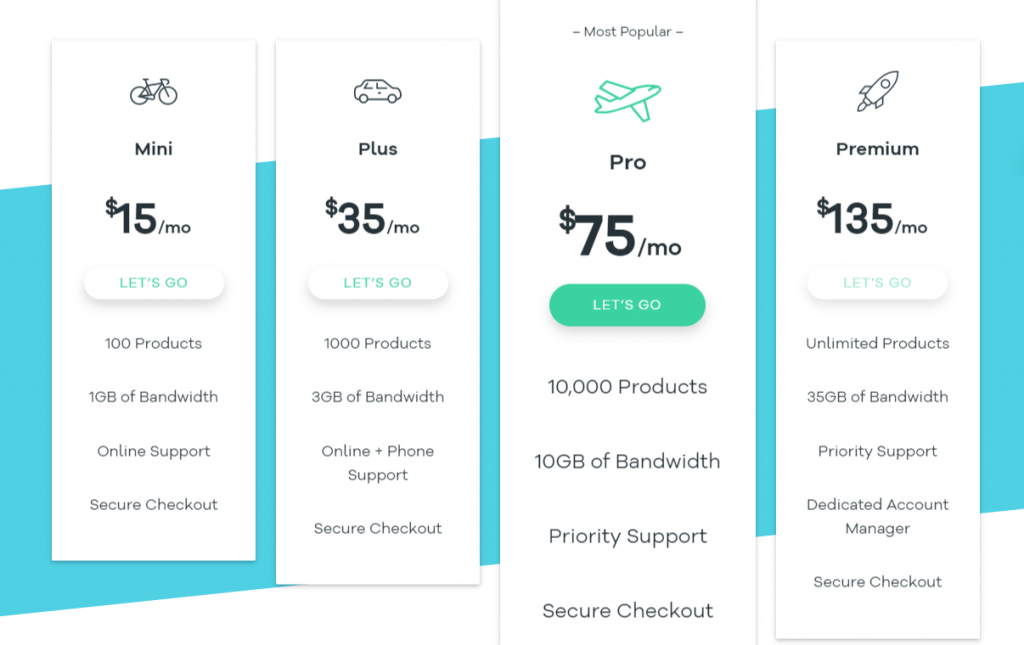 While comparing Volusion vs Shopify on pricing, it seems that Shopify has Volusion beat when it comes to entry-level pricing. However, dig deeper and you'll find that Volusion offers you access to the whole suite of store building tools with its $15-per-month Mini plan.
This plan is ideal for testing and to check out market response to the online store or for people who're simply on a very limited budget. To get access to Shopify's store-building tools you'll have to pay nearly twice as much.
Volusion Bandwidth Restrictions
An important point to note here is that there are bandwidth restrictions in each of Volusion's subscription plans, while there are none even for Shopify's entry-level plan. If your online store is likely to get a huge amount of traffic Volusion's bandwidth restrictions could prove to be troublesome.
While comparing Volusion vs Shopify, this really stood out to us as it means budget users are going to be unduly restricted.
To put this into perspective, here's how bandwidth is consumed for a typical online store and why these restrictions cannot be overlooked:
The typical visitor is likely to access your home page and open a 3 to 4 product pages

A high quality home page 'banner' image will be within 250-400kb in size. The home page will also contain products with images around 75-100kb in size

Assuming there are at least 4 of such images, and some body text as well, the typical

home page visit

will consume up to 1000kbs.

A product page visit will yield 3 to 4 images that have a 100kb size each. Taking into account body text and other website resources a

product page visit

will consume up to 1000kbs as well

Assuming the visitor opens the homepage (1000kb) and then 4 product pages (4 x 1000kbs), this will consume around 5000kbs

Each customer will take 5000kbs of your bandwidth in a single visit

The most basic of Volusion plans allows 1000,000kbs of bandwidth a month, which amounts to 200 typical visits to your websites including those where

no purchases

are made

The most expensive Volusion plan ($135/month) allows 35,000,000kbs (35GB) of bandwidth, and that accounts for 7000 typical visits to your website
Judging by the use case above, it's obvious that Volusion's bandwidth cap will become a severe limitation for merchants with large customer audiences.
Volusion vs Shopify Transaction Fees

Volusion makes a point of advertising their service as being completely free of any sort of transaction fees.
If you're considering Volusion vs Shopify, this could be a huge point in favor of the former.
That's because most online store builders including Shopify charge you a small fee for each transaction.
Shopify Transaction Fees – An Unforeseen Overhead
The cheapest Shopify pricing package will deduct 2% of each sale as transaction fees. The percentage of deduction drops as you opt for more expensive pricing plans, at 0.5% for Advanced Shopify ($299/month).
| | | | |
| --- | --- | --- | --- |
| | Basic Shopify | Shopify | Advanced Shopify |
| Shopify Transaction Fees | 2.0% | 1.0% | 0.5% |
Shopify does give its customer a way of avoiding transactions fees and that is by using its own payment processing system called Shopify Payments.
This option isn't however as it's only available to merchants operating from United States, Canada, the United Kingdom, Ireland, Australia, New Zealand, Singapore and Puerto Rico.
Popularity
The popularity of any product speaks volumes of its appeal to the end user. If people are using a product, there must be something that it gets very right.
But that popularity should be backed by a history as well. There are many cases in which popular products or services simply fade away after the initial hype has died (Twitter's video-sharing app Vine is a prime example).
The Important Figures
Number of stores using Volusion vs Shopify
Both Shopify and Volusion have a long history as online store building platforms. But Shopify definitely has the edge as it's proven to be far more popular, with more than half a million stores in the world. Volusion's numbers in this regard are less impressive, with around 185,000 stores.
Active Users
Shopify reports having more than 1 million active users, significantly more than those reported by Volusion with just 40,000 users.
Shopify Revenue vs Volusion Revenue
Shopify's large customer base is generating impressive revenue. The company reports that their platform is behind $46 billion in sales, far more than Volusion's $28 billion.
Even though Shopify is the younger company, it has managed to accelerate its product development to meet the demands of store owners. Volusion hasn't been as quick to adapt to market trends and that is one of the reasons it is now lagging behind despite being the older company.
Which is why, considering Volusion vs Shopify in terms of popularity produces a clear winner: Shopify.
Shopify Apps vs Volusion Marketplace
Third-party integrations such as apps, widgets and plugins play an important role in extending the functionality of your online store beyond the base platform tools. This factor cannot be overlooked by store owners who want lots of additional functionality to support complex business processes.
A common phenomenon in the tech industry is that the most popular products and services get the most amount of support from third-party developers. The reason for this is simple – the more popular a service is, the more buyers there are for apps and plugins.
As discussed in the previous section, the popularity of Shopify far outstrips that enjoyed by Volusion. And the number of apps and plugins available in the Shopify App Store reflect this. There are more than 2000 Shopify apps available, all which are meant to extend the functionality of the platform. Volusion's Marketplace on the other hand hosts only 72 apps.
What's more, there are hundreds of free apps available on the Shopify App Store but only around 10 on Volusion's Marketplace. The bottom line is that if you see your company growing in the future and requiring additional functionality or third-party integration, there's a greater chance that Shopify's rich app ecosystem will accommodate it.
Volusion vs Shopify Apps
A visit to the Shopify App Store makes a clear impression of it being a central part of the business. It has a lot of useful apps all purpose-made to take your online store to the next level. There's a curated selection of apps at the top and the rest of the apps are listed categorically in a very well-designed interface.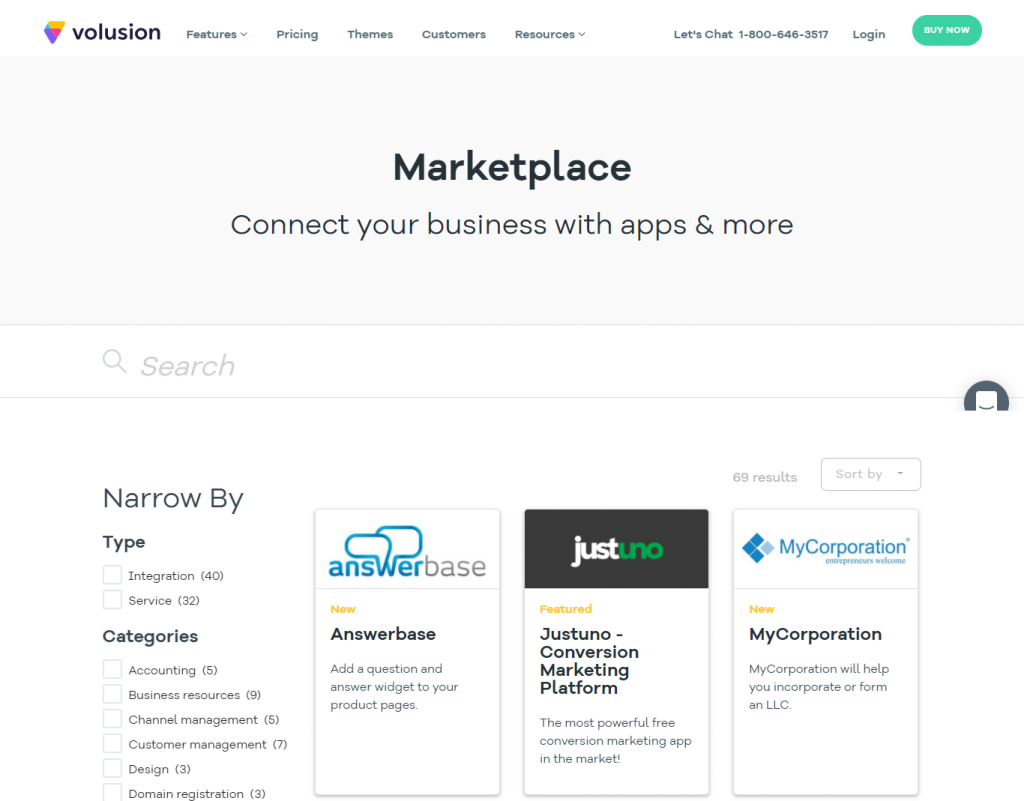 The Volusion Marketplace looks fine but not nearly as well-designed or well put-together as the Shopify App Store. The selection of apps is obviously limited, but they're laid out in an extremely prosaic manner that gives the impression that the Marketplace is more of an after-thought than a real part of the Volusion platform.
Which has Better Ecommerce Features Volusion or Shopify
Both Shopify and Volusion provide their users with a comprehensive toolkit to create a fully-fledged online store. But that's not the end of it. To save customers the trouble of finding and implementing third-party solutions, both these services provide value-added features that are useful in taking your online business to the next level.
Marketing Features
An important process after the creation of an online store is its marketing. Without any strategic marketing, traffic flow to the store will be at a minimum and it'll take a long while to grow. Low traffic automatically means lesser sales, and that's not really in any business's best interests.
Volusion Marketing Tools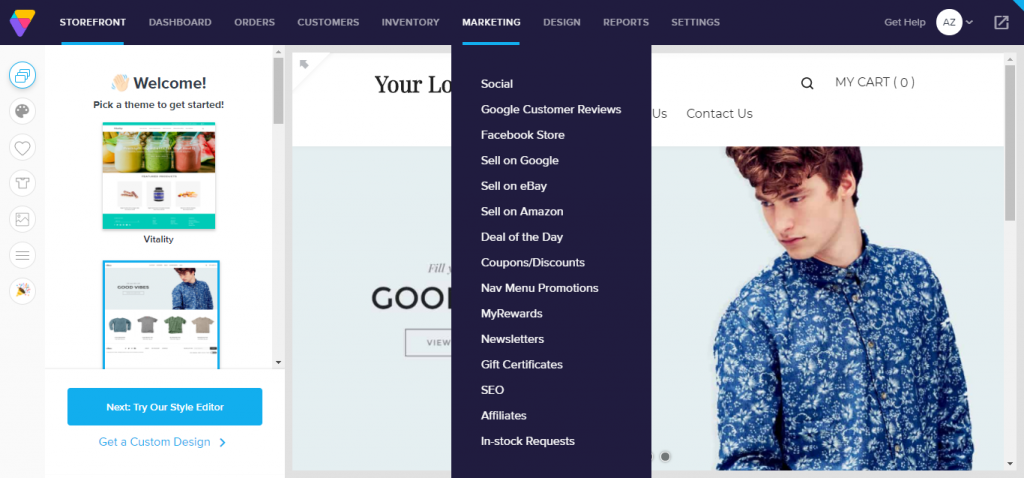 Volusion features an impressive roster of basic built-in marketing tools
Volusion provides some promising marketing features within its set of tools. These include a tool that allows for the creation of affiliate programs for your online business, a customer relationship management (CRM) tool and an email marketing tool that allows you to send newsletters to your email list.
These features are a great place to start but that's as far as they'll go. The affiliate marketing tool works well but the CRM tool is not fully realized and doesn't support email providers that require SSL integration (Gmail, for example), which is a huge let-down.
As discussed earlier, the Volusion Marketplace has a limited number of apps. The basic nature of the Volusion marketing toolkit will mean that most users will turn to the Marketplace, which might not yield the best results due to its small selection of apps and plugins.
Shopify Marketing Tools
Shopify doesn't have any built-in marketing tools, but that's where you can leverage the huge selection of apps and plugins available for the platform.
Volusion vs Shopify Dropshipping
Many online sellers are interested in dropshipping as it doesn't involve a lot of capital and the hassle of keeping inventory in a storage facility. Instead, the store's orders are redirected to a supplier who will then take over and deliver the ordered goods to the customer.
Thanks to Shopify's expansive marketplace, there are a lot of options for sellers wanting to open a dropshipping business. With Volusion, the choices are a bit limited as there are only two dropshipping apps to choose from.
Point of Sale Support
Point of sale support is available for both Shopify and Volusion. However, Shopify treats this as an important feature of the overall system whereas with Volusion, this is more of an extension of the platform. This is clearly reflected in the way both of these platforms handle this feature.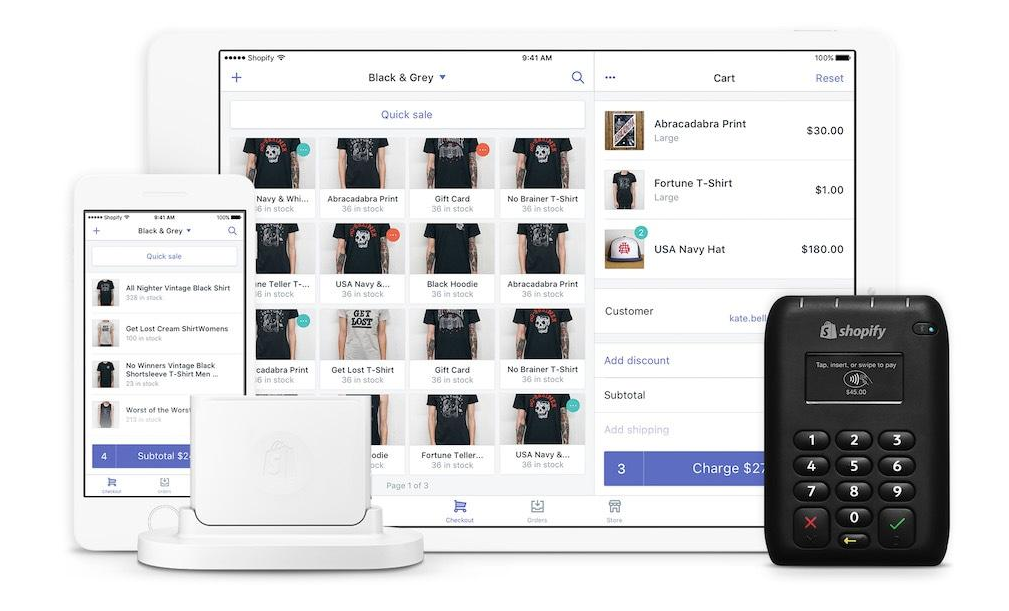 Shopify offers its own point of sale hardware (Source: Shopify.com)
Shopify allows you to purchase the complete set of hardware that's required for operating a typical point of sale system. This includes a barcade scanner, receipt printer, a till and a label printer. And since you're buying the hardware directly from Shopify, it's fully supported by the platform and is thus easy to integrate. All of the transactions carried out on the point of sale system are synced with your store's database so that inventory and sales data is accurate and up to date.
With Volusion, implementing a point of sale system is more complicated. You'll have to buy the appropriate hardware from a third-party and because it's not officially supported by the platform, spend quite some time integrating it into your Volusion-powered store.
Blogging
Content-marketing is a great way of generating traffic to any website. The same holds true for online stores as well as regular blog posts are a great way to get attention on social media networks (via content sharing) and this can ultimately lead to an increase in sales.
When comparing Volusion vs Shopify, definitely take into account whether or not you're getting the content management capabilities that you need.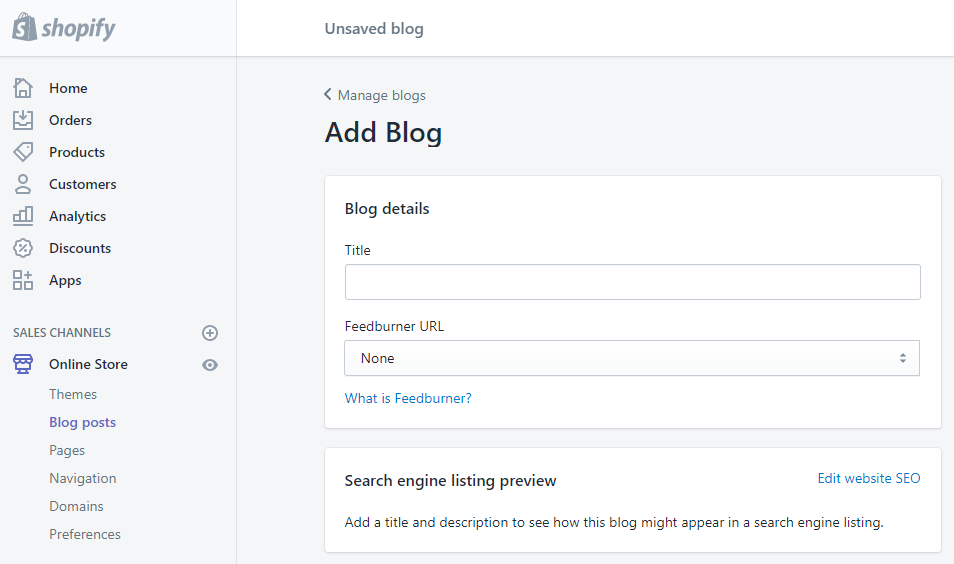 Adding a blog to your online store in Shopify is very easy
Shopify offers its users the ability to build a blog from within the system. The blogging system in place here isn't anything complex and is even missing some basic features such as content tagging. But it's still a great place to start and a great way to test if content marketing will benefit your online store.
Volusion does not offer a blog feature, and this is a huge oversight. Its users have to resort to other blogging solutions such as WordPress and then attach them to a subdomain or a completely different section of the website. This has clear drawbacks. Firstly, this can be a complex process that is far beyond the technical grasp of the average store owner. Secondly, the blog is very likely not going to have a design that is consistent with that of the Volusion store.
Ease of Use – Is Shopify Easy to Use or Volusion?
Live Editor in Volusion vs Shopify
A live editor is a web tool that allows users to customize a website and see the changes in real time. They're built for ease of use and convenience and are mostly targeted at the average user.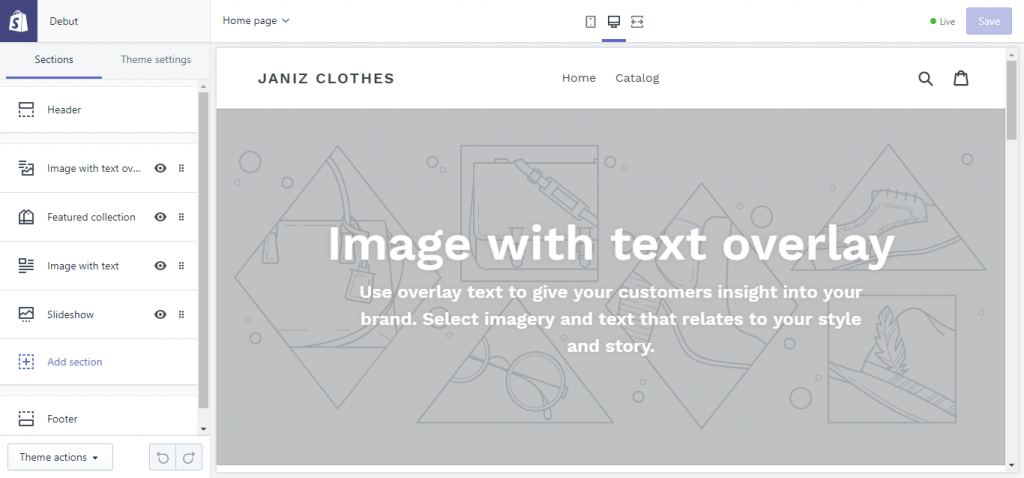 The Shopify live editor features a slick interface
Shopify and Volusion both include a live editor which lets you customize the look and feel of your online store. In practical use we found the Shopify live editor to be more intuitive to use as it has a clutter-free and easy-to-use interface.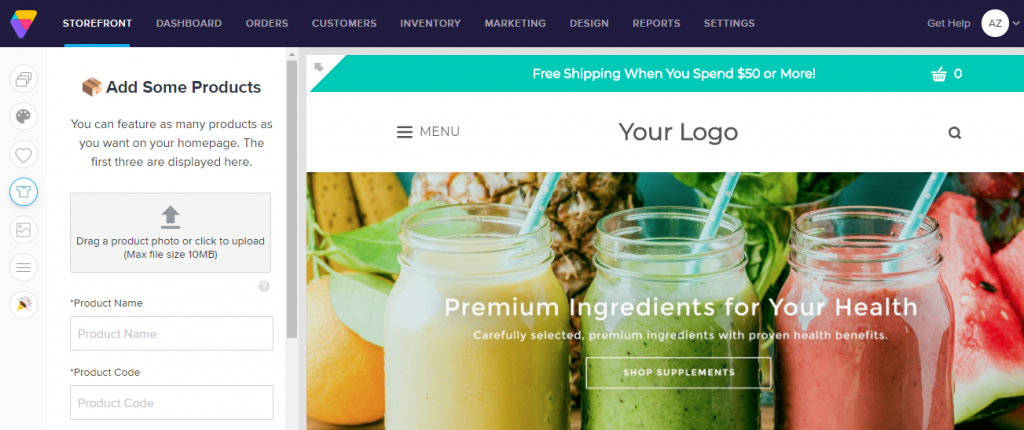 Volusion allows users to add products through its live editor
Volusion's live editor features a lot of icons that need to be clicked in order access the different customization options available. Icons obviously save a lot of screen real estate but they're not very descriptive and we had a hard time figuring out what they stood for the first time we used the Volusion live editor.
Dashboard
The dashboard is the central part of a web service where most of its features can be accessed. Shopify and Volusion have distinct but very well laid out dashboards and their user-friendliness will ultimately depend on the user.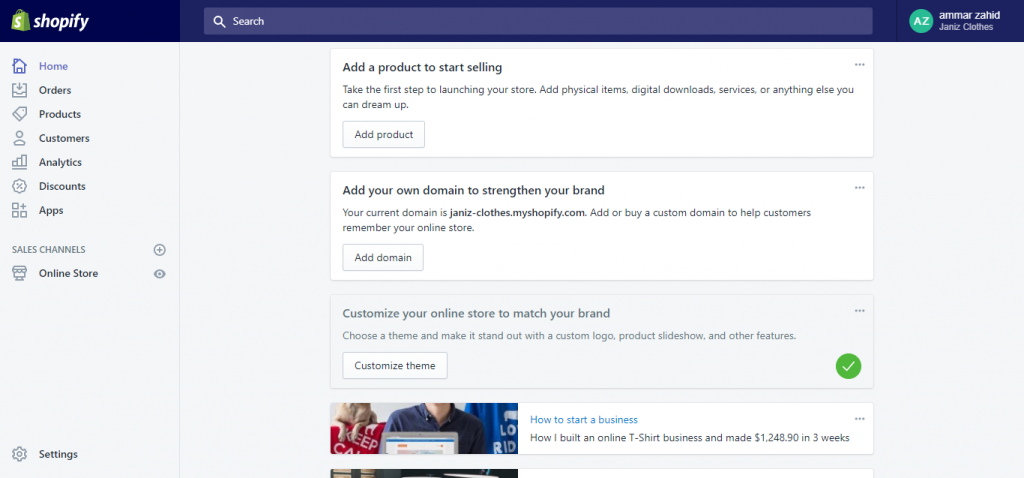 In general, Shopify's interface looks to be better designed for readability and makes good use of screen real estate. The menu system is easy to follow and most users won't face any confusion regarding to the different options available.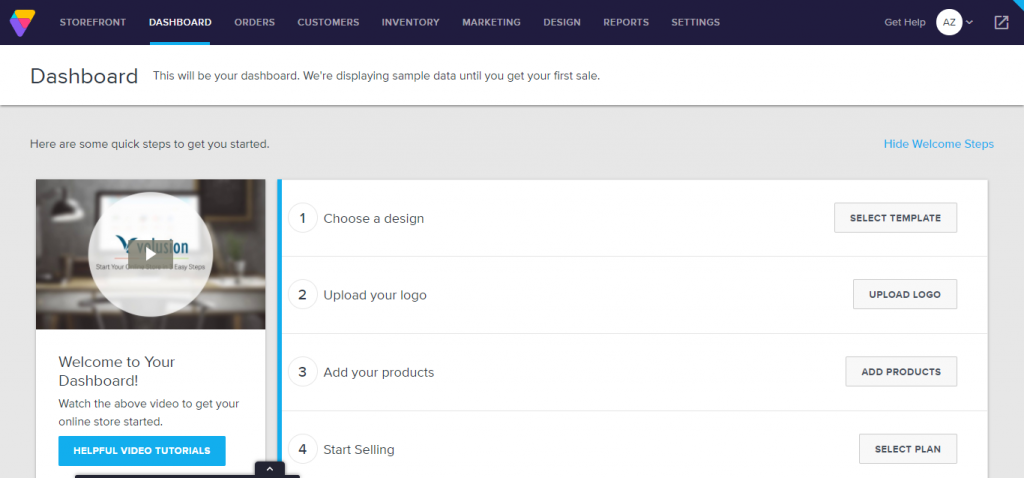 Volusion's interface also features modern design and is relatively easy to use. Comparing Volusion vs Shopify in terms of usability, there might be some extra clicks to accomplish the same tasks but it's generally not an issue. What we don't like is how big all of the interface elements are. This is great for readability but it also means you will have to scroll a lot to get where you want.
Volusion vs Shopify – The Key Points You Should Know
Before we decide on which platform is better, let's take a look at some of the important pros and cons of these platforms.
Shopify Pros and Cons
| | |
| --- | --- |
| Pros | Cons |
| Easy to use and well-designed user interface | Phone support can be tricky to reach |
| Huge number of apps and plugins | As much as 2% transaction fee on each sale |
| Modern and responsive templates (even the free ones) | Relies on apps and plugins for some basic functionality (product reviews, for example) |
| Easy point of sale system integration | |
| Live chat support is easy to reach and helpful | |
Volusion Pros and Cons
| | |
| --- | --- |
| Pros | Cons |
| Well-designed user interface | Live chat support is unresponsive during off-peak hours |
| Useful marketing tools included out of the box | Point of sale system is tricky and requires expert help |
| Entry-level plan is affordable and gives access to most platform features | Website editor lacks some customization options |
| Good selection of free and paid templates | Bandwidth restrictions on every subscription tier |
| Intuitive support call scheduling system | |
Why We Think Shopify is Better Than Volusion
As you might have guessed, Shopify offers a superior package when it comes to comprehensive e-commerce solutions. It's been around for a long time and enjoys huge popularity within online merchants.
Shopify's easy to use and intuitive user interface means that even novice computer users can get a web store up and running without any major hassles. The app store is chock-full of useful apps and plugins that extend the functionality of the platform so that it can accommodate even the needs of serious online businesses.
What's more, the entry-level pricing plans are relatively affordable and offer most of the features of the platform. Shopify makes it easy for anyone to build a robust e-commerce store.

The Case for Volusion
There's no denying the fact that Volusion lags behind Shopify considerably as being a complete e-commerce solution. Shopify is better designed and has a rich ecosystem of apps and plugins. But there are some people out there who're simply not looking for that sort of sophistication. They just want a simple e-commerce solution that will let them sell products from a website.
These are most likely to be people who have budget constraints and the $15-a-month Volusion Mini plan is perfect in this regard. It offers all of the capabilities of the Volusion platform but at a price that undercuts the cheapest Shopify plan (excluding the Shopify Lite plan, since it's severely limited) by almost 50 percent.