Confused about Wix vs Shopify? We take an in-depth look into the features, pricing and more of these popular store builders, to find out which one will work best for your needs.
Wix and Shopify are extremely popular ecommerce products that are used to create online stores. With the ecommerce industry showing no signs of slowing in terms of growth, there's a lot of opportunity for smaller niche stores.
If you're looking to launch an ecommerce business, we highly recommend looking at both Wix and Shopify as they're the right tools for the job. There are a few key differences between these products however.
What we like:
- A true ecommerce platform
- Easy to use
- Beautiful design and themes
- Competitive pricing
- 24/7 customer support
- Huge plugin library
Shopify was built from the ground up to be an ecommerce platform. All of its features and functions are meant to help you create a professional online store.
Wix on the other hand is a website building tool. It's just that the service has decided to offer ecommerce functionality as part of the package. It's a website builder first, and an ecommerce platform second.
And in this round of ecommerce platforms comparison, the fight is on between Wix vs Shopify! Both are regular guests on top lists and boast their own strengths and features. But which one is the best choice for your particular online store? Read our review and see for yourself!
Wix and Shopify Overview
| | | |
| --- | --- | --- |
| | Wix Stores | Shopify |
| Themes (on official marketplace) | 500+ | 100+ |
| Apps and Plugins (on official marketplace) | 250+ | 2500+ |
| Popularity (stores using platform) | More than 2 million | 600,000+ |
| Bandwidth Restrictions | None | None |
| Pricing | Starting at $7 per month | Starting at $9 per month |
Wix vs Shopify Pricing – Which One is More Expensive
Obviously, when you're starting your own business or expanding an existing one to the vast realms of the online marketplace, you're going to want to be very careful of your budget. Luckily, both Wix and Shopify offer a free trial period of 14 days, and neither of them will make you pay any kind of setup fee for your first online store.
After your fourteen days of the free trial are spent and gone, though, you will have a choice to make. So let's see how each of these platforms handles their pricing plans.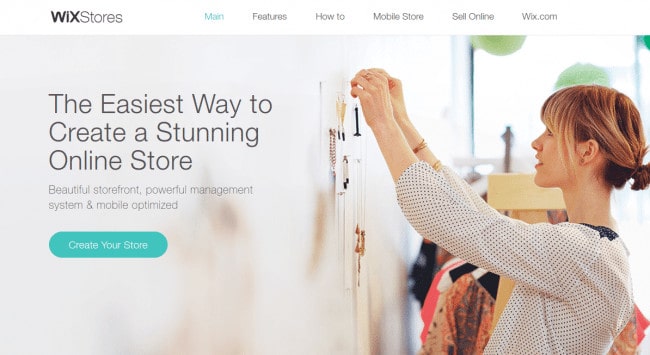 Both of them are based on monthly subscription fees, and Wix has the additional option of a yearly plan. This carries the handy perk of decreased pricing, but be careful: a yearly plan means that you will be stuck with one version of the platform for a fairly long time, and you will be unable to make any upgrades or downgrades along the way, should you need them.
Wix Pricing vs Shopify Pricing
Wix Ecommerce price plans:
Business Basic – $23 per month
Business Unlimited – $27 per month
Business VIP – $49 per month
To get started on Wix, you have to choose either Wix ecommerce at $17 per month, or Wix VIP at $25 per month. On the other hand, Basic Shopify costs $29 per month, which might seem too expensive at first, but you also have the Shopify Lite at the price of $9 per month.
Shopify Ecommerce price plans:
Shopify Lite – $9 per month
Basic Shopify – $29 per month
Shopify – $79 per month
Advanced Shopify – $299 per month
We can put Shopify Basic and Wix ecommerce side-by-side here: since both offer unlimited products and charge no transaction fees, Shopify is a somewhat better deal because it has more templates to choose from when designing your store.
Transaction fees
Neither platform will ask you to pay any bandwidth charges, and no transaction fees are ever charged by Wix or Shopify themselves.
However, there are transaction fees for external payment gateways (for example, PayPal), and there are also the credit card processing fees to keep in mind. Considering that, you will probably be able to find a better deal at Shopify, since you will have 70 choices at your fingertips.
Is Shopify or Wix Easier to Set Up and Use?
Web services like Shopify and Wix are made for the masses, hence it is important that even a layman can use them without too much difficulty. And we have to say, both platforms are quite easy to use. It would be too good to be true if you could just use them without any guidance whatsoever, but a few YouTube tutorials are all you need.
Shopify vs Wix Dashboard
The Shopify dashboard features a clean and modern look with a sidebar that has links to all the major features of the platform. There's also a handy search feature which can help you find what you're looking for.
We have used competing ecommerce platforms such as BigCommerce, Volusion and of course Wix, but did not find search functionality with the same 'intelligence'. For example, if you type 'blog' into Shopify's search bar, you'll be shown all the functions related to that term.

It's quite obvious to see that this interface has been designed with ease of use as a priority.
If you've ever worked with WordPress, Shopify won't pose too much of a difficulty. Navigation through out the interface is easy and you won't have to click around too much to get where you want.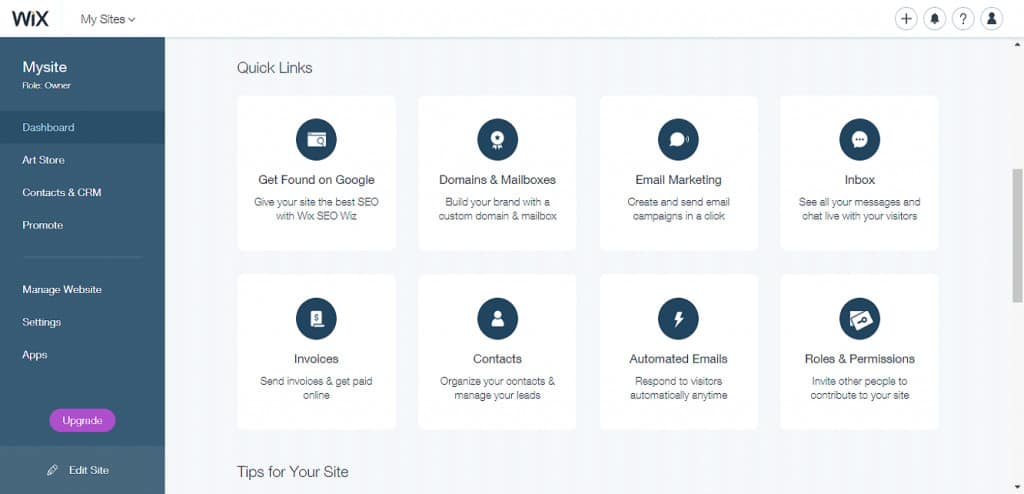 As for the Wix dashboard, we have to say it's quite easy to use as well, but a step behind Shopify. The design is modern, minimalist and there aren't too many options to confuse the user.
Still, we prefer the sidebar-based navigation of the Shopify dashboard. Checkout the Wix documentation to learn more about the dashboard and its features.
Site Editor
The Shopify site editor is where you'll be designing your ecommerce store. It allows you to make tweaks and customizations to the store theme. Changing colors, header images and even managing slideshows can be done here without touching a line of CSS or HTML.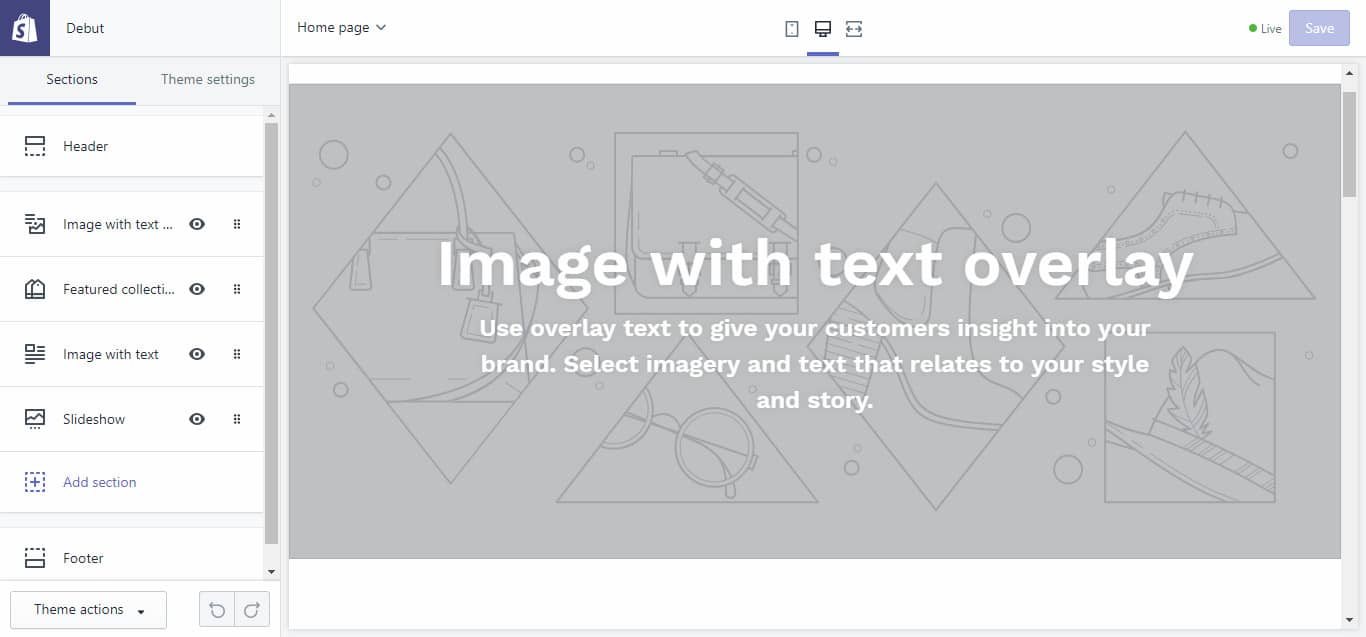 Shopify has also kept in mind the needs of advanced users, as you can tinker with the CSS of your site (if you want). Users can even edit the theme files, but keep in mind that theme updates can often overwrite code-level changes.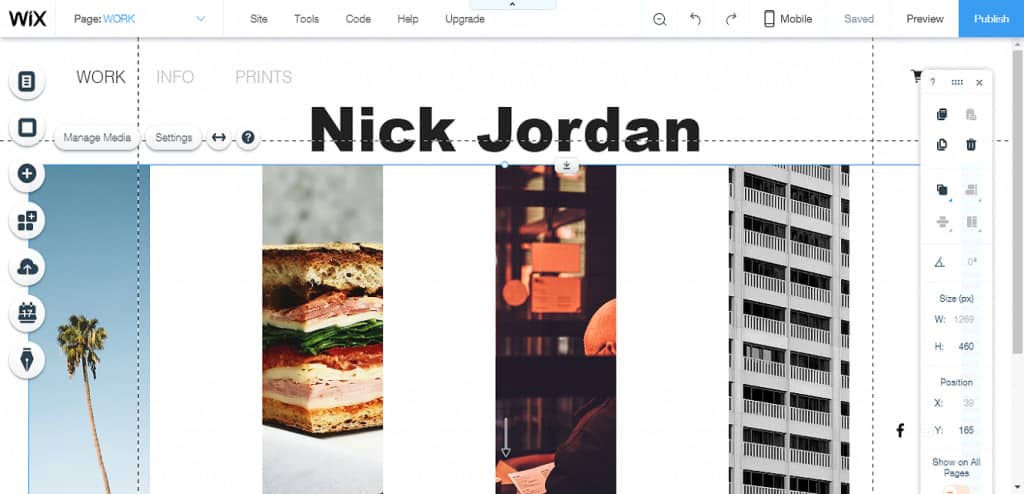 Wix claims to have the most advanced site editor in the industry. Judging by the options it has, we have to agree. It really is a true drag-and-drop editor but then it also requires a certain level of technical skills. Beginners will simply mess up the layout of their website if they use it, so we recommend some training.
Wix is a platform built specifically for users who are not developers, and who have problems wrapping their minds around the responsibilities of coding and the (sometimes frighteningly) messy and complicated interfaces.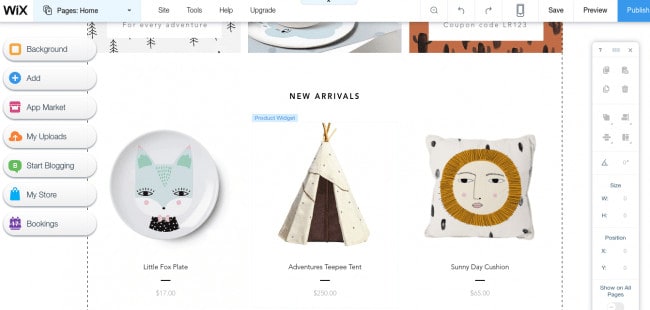 Therefore, Wix tries its best to empower people with little to no experience in web design create a web page that looks professional and appealing. It offers some handy templates and extensions/add-ons, and the whole editor works following a drag and drop pattern.
To an extent, it also takes into considerations developers and other users who would want at least some level of customization freedom for their stores. However, Wix is really very rudimentary.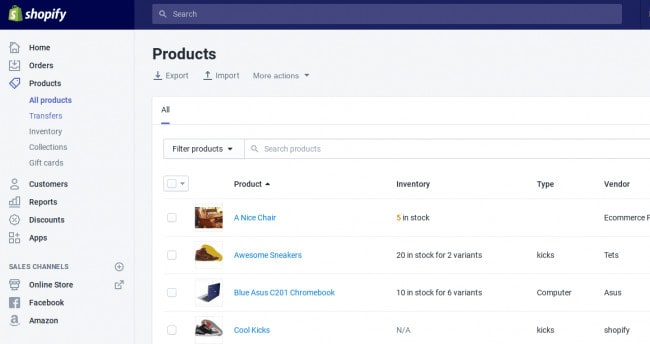 On the other side, we have Shopify, which is our hands down winner in this category. Shopify is built, specifically and primarily, for online stores, and as far as ease of use goes, it gets a much better read on its users – and a much better response.
After you click a link on their official homepage, you're guided on your first steps by a setup wizard, which will even give you design pointers based on your product category. After this, you are directed to a general admin's dashboard, from which you can then set up your store, manage merchandise, keep an eye on your analytics, edit the page and customize your template (you can change the font, color, title and more).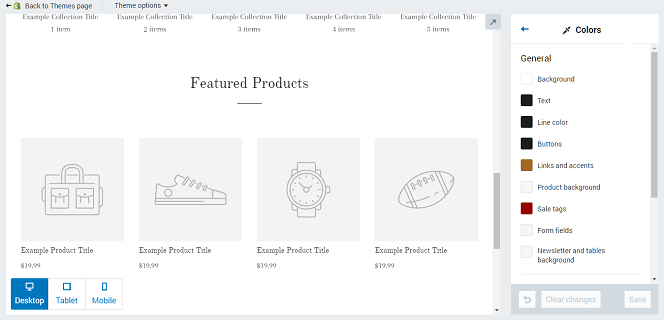 All the options you could need are conveniently located in a sidebar, which is another strike against Wix (you can see in the Wix screenshot further up that the tools on Wix are scattered all around the screen).
Does Shopify or Wix Have Better Themes?
Wix has a fair number of themes and templates built for online stores, although not anywhere near the number that Shopify offers. However, what they do have is quite well designed and beautiful. Their themes seem to be niche-oriented, focusing on categories such as furniture or jewelry. We have an example from the jewelry niche here: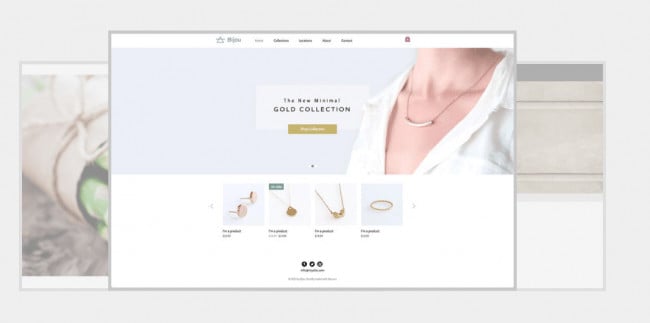 As for Shopify, it is far more diverse. We mentioned already that the setup wizard will give you some ideas and pointers regarding the choice of design for your online store. This is done based on the category (or categories) of products you list when you're setting up your business.
Of course, you don't have an obligation to use the suggested template, or even stick to the recommended category of templates. If you look at the total number of themes available, both free and paid, Shopify's library offers about a hundred of them.
They're all customizable, so you can be as creative as you like. If you come across a theme completely outside your category, but it fits your vision, nothing is stopping you.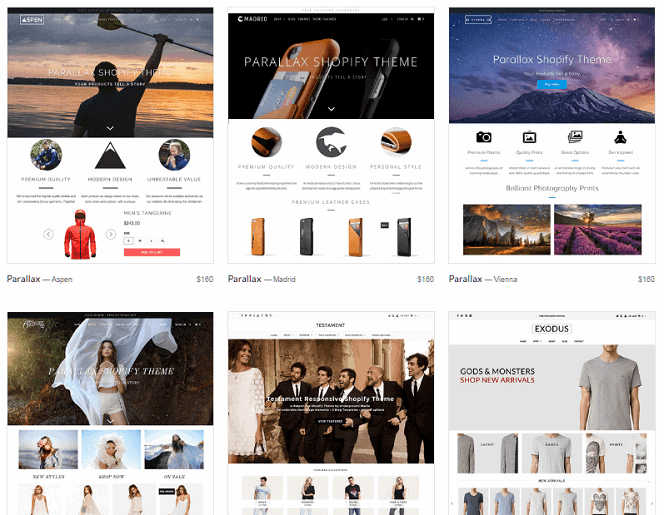 Can I Host a Blog on Shopify or Wix? Which One is Best for SEO?
Yes, you can easily host a blog on both of these platforms! Of course, every successful online business person knows full well just how dreadfully important a good blog can be. If you write it well and do a good job maintaining it, it can be an immensely powerful tool for driving traffic and business.
An outstanding blog is an excellent way to attract new customers and make them want to engage with your store or brand. It can also help you with customer retention because you can use it as a channel of communication outside the formal ones like order and delivery systems or support channels.
Both Shopify and Wix have their own integrated blog platforms. The consensus is that they are roughly equally good, although opinions tend to curve towards Shopify, citing a clearer content management area.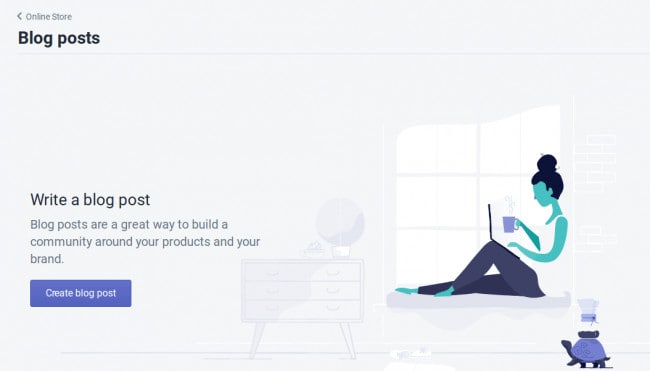 However, no matter how neat or stylish a blog might be, ultimately it's the content that decides how successful it is. And when it comes to online text content, it doesn't really matter if you have enormous literary talent on your team. What matters is making sure that your pages will pop up among the top results when someone searches for something related online.
This means, of course, that excellent SEO might just be your smartest investment when you're developing your online business. Both Shopify and Wix have built-in SEO settings, which makes your life a whole lot easier.
If you are launching a new eCommerce business, and you don't really have a marketing budget, then you should read our guide on what to do if you can't afford SEO.
You can let the platforms do all the work for you and have the systems create metadata on their own, or you can choose to keep it on a stricter leash and write it out yourself. When new content is created (by either you or the platform), both of the systems ping the search engines.
Instead of writing meta data yourself or relying on the built-in systems, you could also check out the various SEO apps, extensions, and add-ons offered at the Wix app store and Shopify app store.
Of course, you can opt for a fourth option as well: hire an agency specializing in SEO for ecommerce businesses to take care of everything for you.
Does Shopify or Wix Have Better Customer Support?
Products like Shopify and Wix are meant to be used by everyone. Which means many technically inexperienced people will be using these platforms. Naturally, confusion is bound to arise because of the technical nature of the products. Responsive and knowledgeable customer support is thus a key component of the overall package.
Shopify Support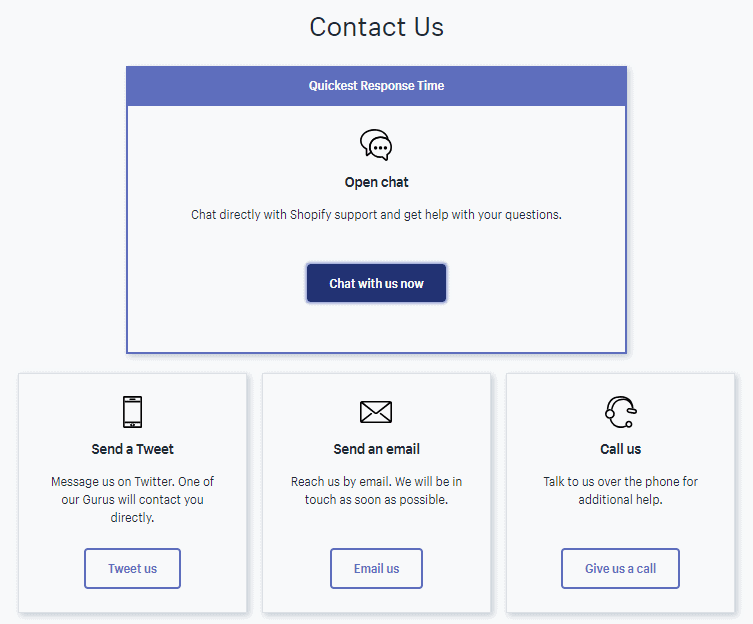 Shopify offers 24/7 customer support for everyone, regardless of the chosen price plan. What's interesting is that you don't have to be a Shopify customer to contact their support 'gurus'.
Support is available via live chat, email and a phone line. Keep in mind that this is 24/7 support, so you'll be able to get help when you need it. This level of support is almost peerless, when compared to Shopify's main rivals. Squarespace does not have phone support while Wix does not have live chat.
Beyond a shadow of a doubt, Shopify does. Make no mistake, both of these platforms make investments towards ensuring a good experience for their users. So what makes the difference? It's the willingness to go that one extra mile.
Wix Support

Wix has excellent product documentation, and expects its users to refer to it before contacting their support personnel. If you'd rather just talk to a real person to resolve an issue, you'll have to be mindful of the timing.
Online support is available Monday through Friday from 5am to 5pm PST. Email support is available, as well as a call-back option. Wix says that customers can be expected to be called back within 5 minutes of submitting a request.
Absence of live chat support should definitely be looked as a negative here. Simply put, live chat is more convenient and mostly more responsive.

Wix's support center is essentially a knowledge base, not unlike an extended FAQ page. In addition, it has all the standard contact channels: support ticket, phone, and live chat, but you still need to pay extra for any kind of "priority" support.
As a huge contrast, Shopify's support center page combines the FAQ or knowledge database and the typical Contact Us page in a simple, seamless way with a friendly tone to it. You can select the category you're struggling with from a drop-down list (eliminating all the hassle of navigating messy chunks of text), or you can choose a contact form below.
Is Shopify or Wix more mobile friendly?
In the 21st century, mobility and innovation are the lifeblood of successful businesses. You'll see more people with laptops and tablets these days than you would've seen people with glasses fifty years ago (it's not like we counted the people, but you know). Being able to manage your projects on the go, and to keep track of them anywhere, anytime, whatever else might be happening, is an invaluable asset.
These days, when most cell phones can be used as pocket personal computers (for email, social media, communicating with clients, researching online, buying, selling, paying bills and taxes, and so much more), a person who runs a business simply must be present on mobile platforms.
The same holds true for online stores. We could even say it's more true for them than many other types of business because people have ideas for something to buy while out on the go or simply browsing their phone all the time. Being the company that can sell to them on-the-spot through their phone is a huge advantage.
When it comes to how adaptable these two platforms are in various mobile environments, they are virtually in a dead heat. In addition to being web-based, they are both optimized for Android, iPhone and iPad, as well as Windows and Mac. There's basically no difference.
Now, we could (and should!) wonder just how good each of these apps is in each situation, but that's enough to build a whole new separate blog post. Suffice it to say, both Shopify and Wix have extended their digital tentacles into every single platform or OS that a modern business person might use.
This is an incredible boost to the both of them because it allows for great flexibility for shops and businesses operated by teams. Not everyone will use the same hardware, and it would be ridiculous to spend money on a new device just to be able to keep track of one platform.
One extra important thing to keep in mind here is web browser support. You really don't want a messed up order or delivery because your browser wouldn't let you view or edit something, either on your PC, tablet, or phone. For detailed information, take a look at the lists of browsers supported by Shopify and Wix.
Shopify vs Wix Wrap-up
If you're looking to build a professional online store with a high level of customization, a rich choice of extensions and apps, while getting the absolute most and best for your money (and still maintaining a decent budget), Shopify is the way to go.
There's a readily available team of experts to rely on, who will support you all through your ecommerce journey on their platform – from setting up your first online store, through designing all the next ones, to fixing any technical mishaps along the way and finally turning a profit.
Wix certainly sports a good offering and is an awesome choice for beginners and those who have little to no experience as developers and designers. However, Shopify made ecommerce its focal point from the start, and it's been around for a fair while. It has already established itself at the top of the ecommerce platforms world, and it'll be very difficult to push them off that throne.
Need to build your ecommerce business? Having trouble with organic search visibility or converting visitors into customers? Logic Inbound is an SEO and web design marketing agency with ecommerce expertise that can help drive real sales with unmatched ROI. Fill out our discovery form and find out what we can do for your business.