There are a variety of options available today that let non-developers build their own online ecommerce websites – options such as Magento and WooCommerce. These are bound to come up in the list of considerations for anyone looking to build an ecommerce website. What's more, Magento and WooCommerce are both open-source tools, hence available to anyone completely free of cost.
WooCommerce is the platform powering the Singer Australia website. The company chose WooCommerce because of the ease with which it integrates with other web services. For example, Singer wanted customers to buy their products through Facebook. WooCommerce for Facebook was chosen and hence the company was able to find more customers by integrating their product catalog with their Facebook page.
Magento also has some high-profile name in its customers list. Marie Claire, a boutique that sells clothing inspired by European trends still didn't have an online presence until 2015. After that the company decided that it wanted to grow from a brick-and-mortar business into a successful ecommerce operation.
Because Marie Claire has more than 300 retail stores, they wanted an ecommerce solution that would scale and could handle complex integrations with custom ERP solutions. Magento was their platform of choice and this decision saw their average order value increase by more than 30% and their conversion rates by more than 40%. Talk about impressive growth!
This creates a bit of a dilemma. Since these are free tools, which one should be chosen to build an online store? Why do ecommerce websites choose one tool over the other?
Magento vs WooCommerce then, which is better?
To understand the similarities and differences between these two platforms and what they have to offer, we've decided to take a deeper look into how these leading platforms work.
Note: For the purposes of this comparison we'll be considering the Community Edition of Magento.
Magento vs WooCommerce Overview
| | | |
| --- | --- | --- |
| | WooCommerce | Magento Community Edition |
| Transaction fees | None | None |
| Number of Products | Unlimited | Unlimited |
| Themes (on official marketplace) | 14 | 14 (1 Free) |
| Apps and Plugins (on official marketplace) | 297 | 3300+ |
| Supported Payment Gateways | Supports most gateways | Supports most gateways |
| Number of Stores | 2,200,000+ | 250,000+ |
| Bandwidth Restrictions | Vary according to hosting plan | Vary according to hosting plan |
| Pricing | Free | Free |
Magento Themes vs WooCommerce Templates
The design of an ecommerce website is important because it can affect the customer's confidence and trust with the business. A badly designed store will make the customer feel uneasy and generally promote a bad image for your business.
Good design on the other hand makes a positive statement about your business. What's more, with the proliferation of smartphones, an increasing amount of ecommerce traffic now comes from mobile users.
Catering to mobile users is now the number one priority for any website. Bad design will make customers leave and that will negatively affect sales and even search rankings. This is definitely not ideal for any ecommerce business.
Magento Templates
The official Magento Marketplace has a dedicated section for templates. A quick visit to this section reveals that there are currently 14 templates on offer, of which only one is free. The paid templates start from $29.99 and go up in price to $499.99. This dramatic variance in cost is there because the templates differ in quality of design and functionality.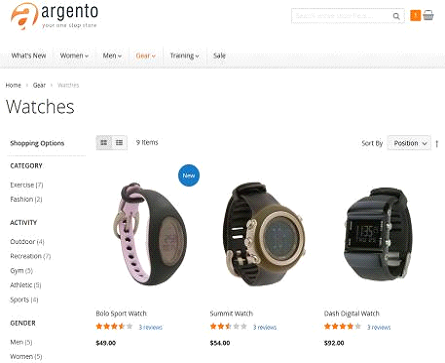 The Argento template is available on the official Magento Marketplace for $499
Still, 14 templates can hardly offer a variety of choice. What's more, most of these templates have a dated look and don't look modern at all.
However, keep in mind that Magento is a hugely popular open-source platform. And that means third-party developers and designers are constantly putting out fresh new templates for it on popular marketplaces such as Template Monster and Theme Forest.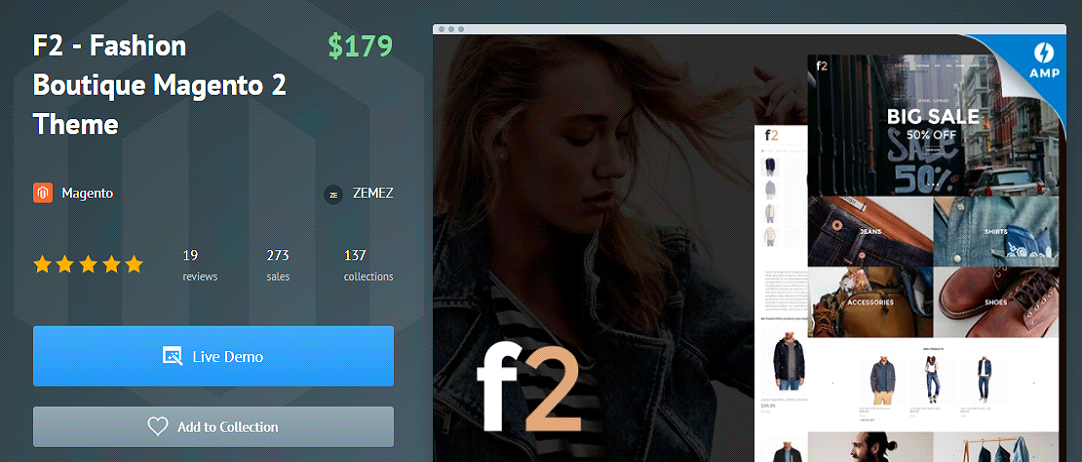 Template Monster offers a variety of high quality Magento templates
Visit any of these marketplaces and you'll be amazed at the number of Magento templates they have to offer. What's more, most of the templates on these marketplaces are quite reasonably priced and generally well-under $200.
WooCommerce Templates
The official WooCommerce Theme Store doesn't fare very well when you consider the number of themes on offer. There are 14 templates available and each one of them carries a $39 price tag.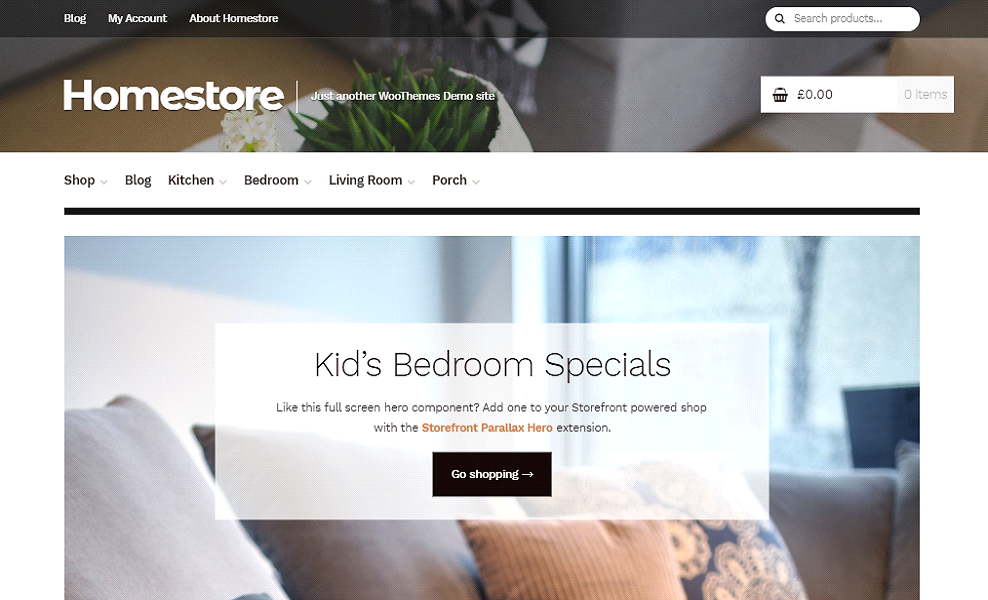 The WooCommerce offers decent themes for $39
WooCommerce also offers its free Storefront template to all users. On the face of it, Storefront is a pretty drab-looking template. But WooCommerce introduced an extension called the Storefront Powerpack, which lets users customize each aspect of the Storefront template without touching a line of code. It's pretty impressive, but most users might be looking for a ready-to-go template rather than one they have to style on their own.
Fortunately, WooCommerce is a popular platform and there's a lot of third-party support for it. Popular template marketplaces such as Theme Forest and Template Monster host thousands of WooCommerce themes and you'll very likely find one to your liking.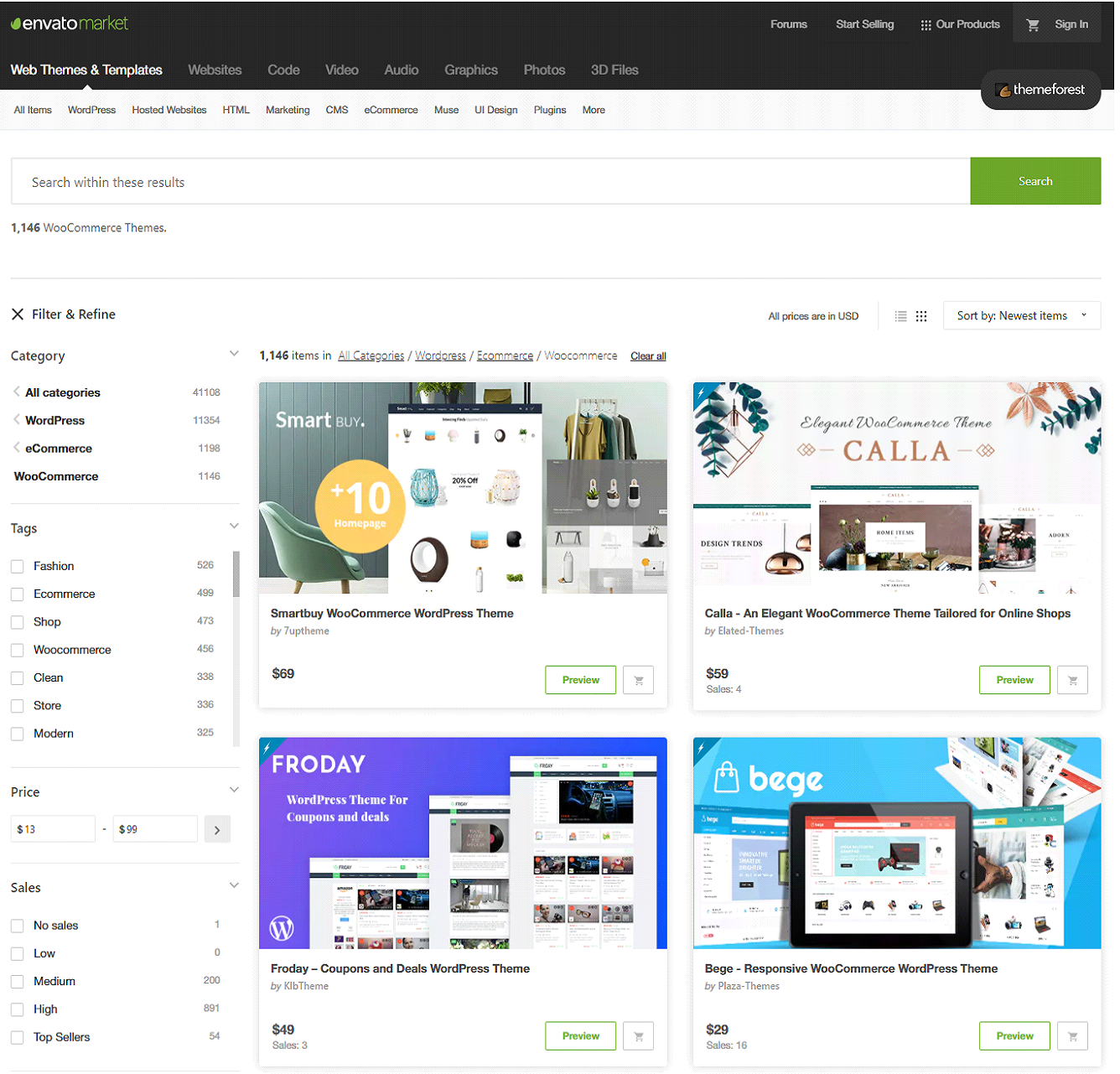 ThemeForest offers a variety of reasonably priced, well-designed WooCommerce templates
The prices of these themes are also very reasonable, with most costing around $69 to $89. Great value, considering that this is most likely going to be a one-time investment.
What's more, WooCommerce is a WordPress plugin, which means you'll find some great WordPress themes that fully support WooCommerce. However, keep in mind that such WordPress themes are not built from the ground up to be used with an ecommerce store. For the best results and reliability, it's better to go with WooCommerce-specific templates.
Magento vs WooCommerce Support
An ecommerce website is bound to come across technical problems at some point. Or the site owner might just need a little help with the backend features to set up the website. Google is there to help of course, but in time-sensitive situations users mostly turn to qualified support personnel for help.
Magento Support
Being an open-source tool, there is no official online or phone support available for Magento. Instead, owners of Magento-powered websites are expected to diagnose and come up with solutions on their own. For this, Magento has a pretty dedicated community and help forums are quite active.
What's more, there are firms that specialize in Magento support services. These firms employ qualified and knowledgeable experts who'll happily help you with most Magento issues.
A highly recommended Magento support company is CoolBlueWeb. They are an official Magento Solutions Partner and have been in the business for almost a decade.
WooCommerce Support
Like Magento, WooCommerce is also an open-source tool, and as such there are a limited amount of support options. But WooCommerce is not as technical challenging as Magento, so users have an easier time in diagnosing and solving most issues.

Non-paying customers can avail limited ticket support options
WooCommerce does offer an official ticket-based support service that usually responds to support requests in 48 hours. That's definitely not prompt service. What's more, if you have lots of customizations on your website, WooCommerce will ask you to disable them before they can provide you with any assistance.  
For better support services, you're going to have to look for a dedicated WooCommerce support partner. There are a few companies that specialize in WooCommerce support and will serve prompt solutions to any issues.
Which is More Expensive Magento or WooCommerce?
Magento (Community Edition) and WooCommerce are both open-source software tools, and can be downloaded and used for free. There are no platform transaction fees to be worried about and neither are there any restrictions on bandwidth or the number of products you can sell.
That doesn't mean that running Magento or WooCommerce websites is free from expenses. And because Magento and WooCommerce are on completely different levels when it comes to technical complexity, there's a lot of difference between the running costs of these platforms.
In our opinion, comparing Magento vs WooCommerce in terms of pricing and costs is the most important part of the overall decision. Both these platforms can cost you serious money, but which one provides better value?
Magento Cost
If you want to build an ecommerce site using Magento, you'll have to start with buying a domain name and deciding on a hosting plan. Domain names are pretty cheap nowadays, and you can get them for $10-per-year on average.
Choosing a suitable hosting plan for your Magento website is an important decision. Magento is quite technically complex, and it requires good amounts of bandwidth and server processing to run without hiccups.
Because of this, you'll have to choose a web host that offers powerful application servers. Bigger businesses might even need the help of dedicated servers to manage their website's requirements. Web hosting plans with dedicated servers typically start at around $100-per-month.
Magento is a very robust platform and requires a high level of technical expertise. If you hire a cut-price developer they might run into a lot of issues doing the required customizations. Thus, outsourcing to cheap developers is not advisable, and you should instead opt for firms such as CoolBlueWeb that are Certified Magento Partners. These firms employ a variety of strict quality control measures so that the money you spend on development is not wasted.
The costs of hiring an agency to handle Magento development will vary depending on your requirements, but will most likely run into the hundreds if not thousands of dollars.
WooCommerce Cost
WooCommerce will cost you in the same areas as Magento. However, there are a few notable differences in costs associated with the platforms which we'll discuss below:
WooCommerce is a powerful ecommerce platform, but it isn't as resource-hungry as Magento. And so you can get away with choosing cheaper, shared hosting plans. You won't be getting the power of a dedicated server but then a typical WooCommerce website doesn't really need it. Shared web hosting plans start at around $4-per-month.
Owing to the popularity of the platform, you can find plenty of WooCommerce experts available at very competitive rates. Hiring a firm for WooCommerce development is also a good option if you want dedicated support. Logic Inbound offers specialized WooCommerce development has executed several highly successful WooCommerce projects and boasts an excellent customer care track-record.
But since WooCommerce isn't as technically complex as Magento, you'll find that development costs are significantly cheaper.
Transaction Fees
One of the major benefits of choosing an open-source ecommerce solution is that you won't be charged with any transaction fees. This is a practice normally seen in paid ecommerce site builders such as Shopify (which charges up to 2% of each sale).
Magento vs WooCommerce Credit Card Rates
Magento and WooCommerce don't offer any form of payment processing of their own. For that, you'll have to turn to third-party services of which there are many. Stripe is one of the most popular credit card processors and is highly recommended for online payments. Stripe integration is available for both platforms and the company charges 2.9% + 30¢ of each sale as the transaction fee.
| | |
| --- | --- |
| Stripe costs | |
| Transaction fees | 2.9% + 30¢ |
| Charge credit cards on website | Free |
| International cards | Normal transaction fees + 1% |
Popularity
The popularity of an ecommerce platform is a signifier of its success. The more successful a platform is, the more revenue it'll generate for the company behind it, which in turn should lead to consistent research and development efforts. The internet landscape is constantly evolving, and without adequate research and development an ecommerce platform will become a risky proposition to be doing business on.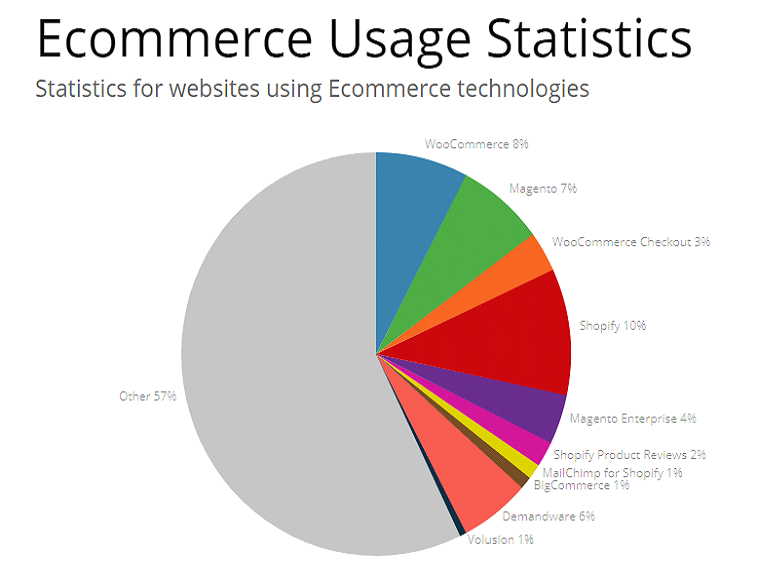 Platform marketshare of total ecommerce websites (Source: builtwith.com)
WooCommerce and Magento are both leaders in the global ecommerce industry and power an impressive 15% of all ecommerce sites in the world. Needless to say, in terms of popularity neither of these platforms disappoints. To put this into perspective, let's have a deeper look at the numbers behind them.
The Important Figures
Websites using Magento and WooCommerce
According to BuiltWith, WooCommerce currently powers a staggering 2 million of total websites on the internet. Even more impressive is the stat showing WooCommerce having a 3.5% marketshare in the world's top million websites.
Meanwhile, Magento is being used by 232,600 websites on the internet. Not a small number by any means, but certainly not as impressive as WooCommerce.
WooCommerce eclipses other ecommerce platforms with a solid 24.3% share in global sales volume. Magento, a popular ecommerce platform itself, lags significantly here with a 6.3% share.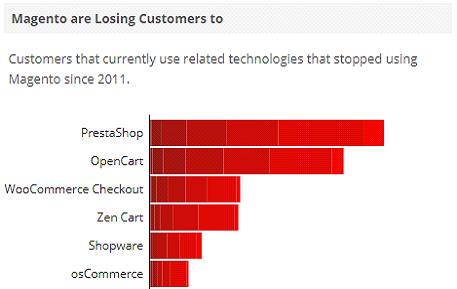 WooCommerce is a popular platform for migration for Magento users (Source: builtwith.com)
WooCommerce's increasing popularity is also proving to be troublesome for Magento. According to BuiltWith, WooCommerce is one of the top platforms that Magento site owners migrate to. In contrast, Magento isn't in the top choices in site migration for WooCommerce users.
Magento Plugins vs WooCommerce Extensions
An ecommerce site's feature requirements increase as time goes by and the customer base expands. Site owners who're planning to upgrade their business processes might look towards extending the functionality of the ecommerce platform beyond what it offers out of the box.
For this, there are a couple of options. WooCommerce and Magento are both open-source platforms and can be customized extensively. But in order to do so, users will almost always have to hire expert help. But there are cases when the functionality that you're looking for is already offered in the form of apps and plugins.
WooCommerce and Magento have solid third-party support and as such there's a huge library of apps, plugins and extensions to choose from.
If you're considering using a plugin on your website, make sure it comes from official sources or established third-party marketplaces.
WooCommerce Extensions Store
The WooCommerce website has a section dedicated to extensions. There are a total of 289 extensions to choose from and they fulfill a variety of purposes.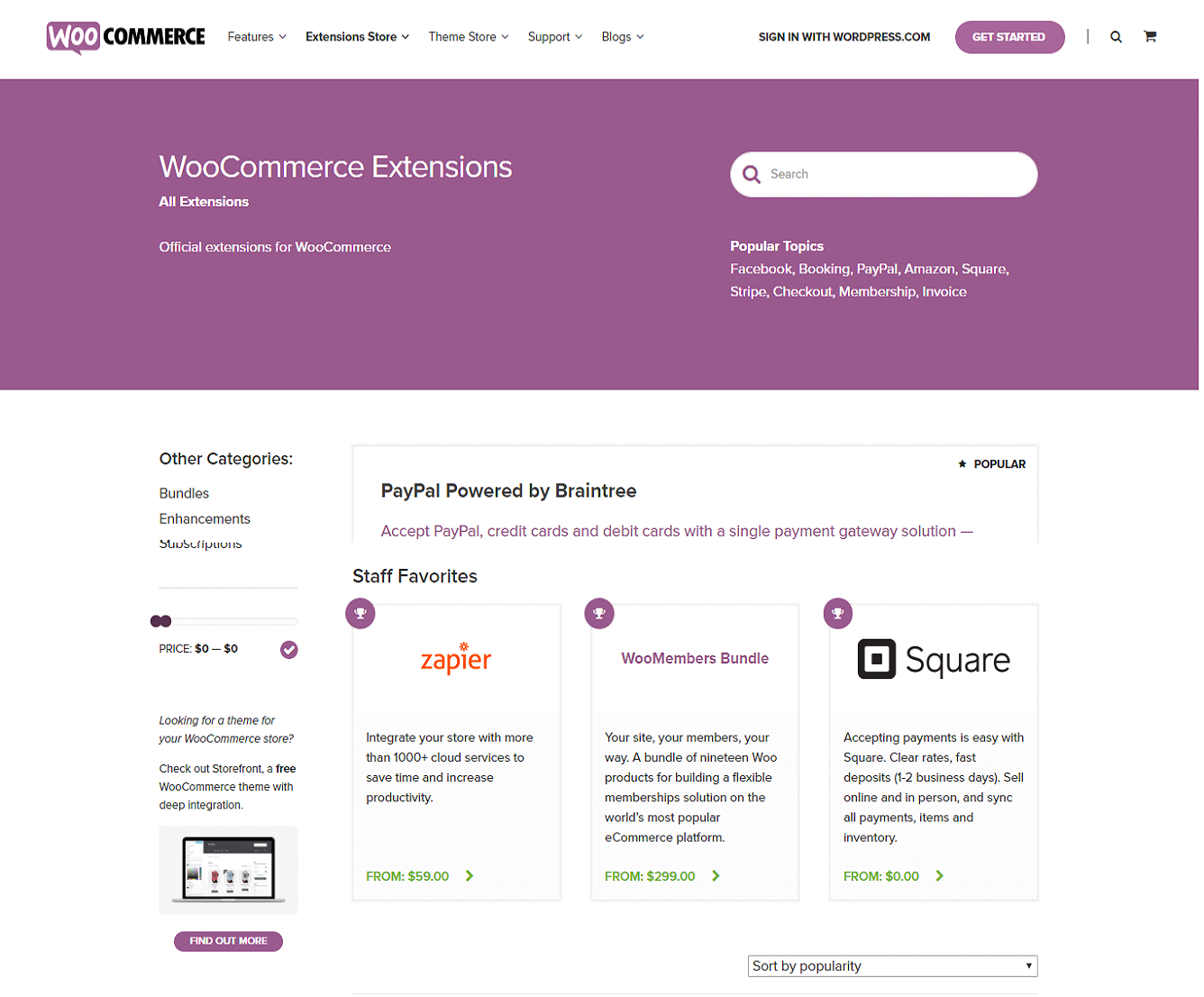 The Extensions Store is nicely laid out and features a well-designed interface and users can explore different categories using the filtering system. Out of the 289 total, 47 extensions are available free for anyone to use. The free extensions cater to popular integrations such as MailChimp, Stripe, PayPal and Amazon Pay.
Another trustworthy source of WooCommerce extensions is CodeCanyon and hosts more than 1000 extensions, more far more than the official Extensions Store. It's a part of the popular Envato marketplace and only features quality and code-checked extensions. Keep in mind, however, that all the extensions here are paid.
Magento Marketplace
There are more than 3300 extensions available on the Magento Marketplace. The interface of the Marketplace isn't as inviting as the WooCommerce Extensions Store but it certainly gets the job done. There's a filtering system in place so you can explore what the various categories have to offer.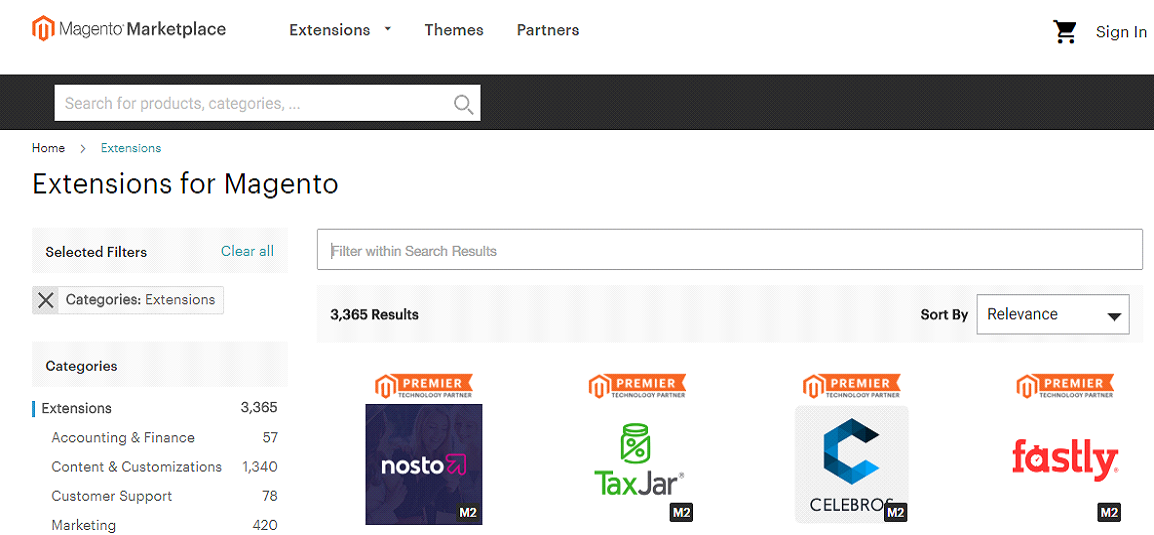 If you don't want to pay for expensive Magento development, you might find an extension on the Marketplace that will add the required functionality to your website.
Ecommerce Features
An ecommerce platform with a lot of useful built-in features will be a better choice for starting businesses. This means that there's a lesser need to install plugins to fulfill store requirements which can cost both time and money.
WooCommerce and Magento are great ecommerce platforms that have everything you need to create a full-fledged online store. But let's see how they stack up when it comes to having essential features
Marketing
Marketing should be an essential part of the business strategy of your ecommerce website. Without the right marketing efforts, your website won't attract much traffic. Traffic is what makes or breaks an ecommerce store, and having features that assist your marketing activities are always useful.
WooCommerce and Magento do not have any notable marketing features out of the box. But that shouldn't pose much of a problem as there are countless marketing-related extensions available for these platforms. Some examples of how these extensions can assist your marketing efforts are:
Mail Chimp integration

Traffic analysis and optimization (Google Analytics)

SEO optimization of site pages (Yoast SEO for WooCommerce)
Dropshipping
Dropshipping is an increasingly-popular choice for people who wish to run an ecommerce business. Dropshipping carries with it a few notable advantages, such as lower capital requirements, diverse selection of products and easy store management (you don't have to store inventory in a warehouse/storage facility).
Dropshipping support is available for both platforms through extensions. WooCommerce Dropshipping is a popular choice amongst store owners as it is simple to integrate and very easy to use. The extension costs $49 and comes with a year's worth of free support and updates.
The Magento Marketplace has several options for users looking for dropshipping extensions. However, it might be worth your while to check out Magento Connect, as it has a lot more dropshipping modules available for Magento.
Point of Sale (POS) Support
Some users might want to expand their online business in the form of physical stores. This is where point of sale support can really help and streamline the processes associated with running this type of business.
There is no official point of sale support for either of these platforms. However, there are some well-designed extensions that offer everything needed to start POS operations for an online store.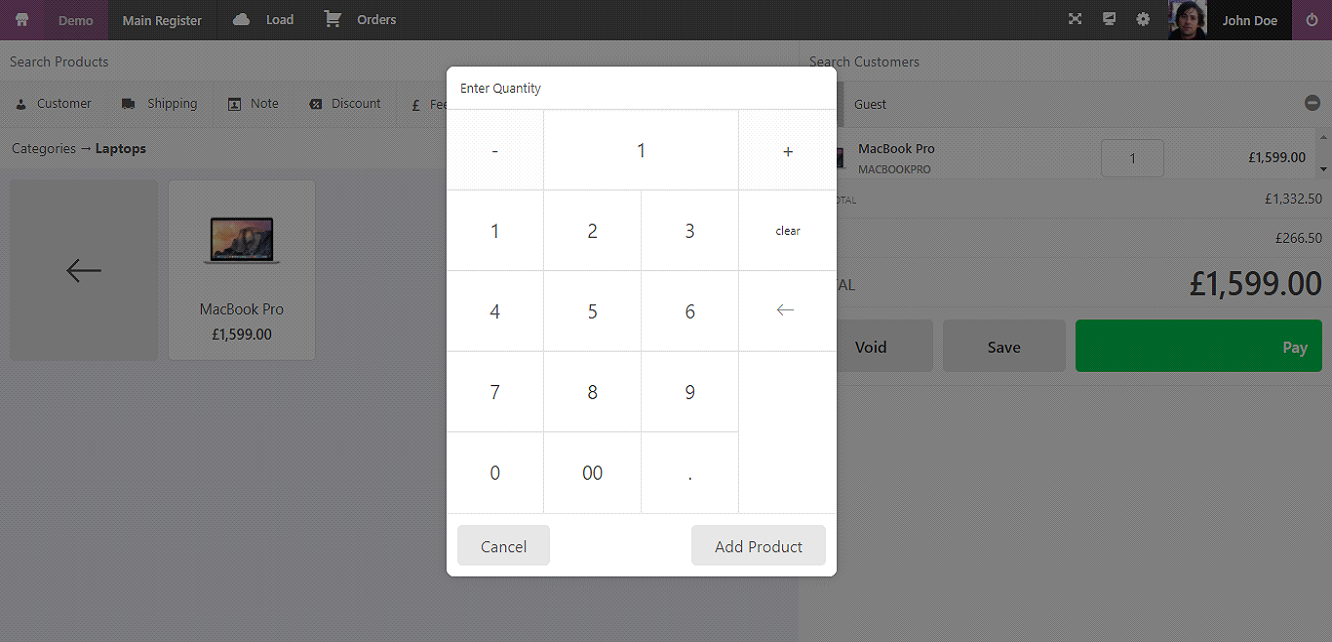 A POS extension for WooCommerce in action
WooCommerce Point of Sale (POS) is a popular dropshipping plugin for, you guessed it, WooCommerce. It is being used by thousands of users and was included in a featured plugins list at CodeCanyon.
Magento users on the other hand should consider the Magestore POS module. It costs $299 but has great support from its developers and is highly recommended by users.
Security
An ecommerce store has to be secure in the interest of its owner and customers. A data breach can result in leaked customer information and lost sales records.
WooCommerce has generally been quite weak in this area, as it relies on WordPress to work. WordPress websites are a popular target for most hackers and that's what makes WooCommerce sites particularly vulnerable. Site owners should take steps to safeguard their online store from malicious attacks. Some tips for this would be:
Using sophisticated WordPress passwords

Secure web hosting

Up-to-date WordPress and WooCommerce installations

Updating plugins to the latest available version

Using security-enhancing plugins such as

Wordfence Security
Magento fares much better in the security aspect as it was built from the ground up to be an ecommerce platform. Because of its robust code and constant updates, hackers have a harder time taking control of Magento websites. Still, care should be taken by installing recommended security patches and only installing plugins from trusted sources
ERP Integration
Large ecommerce operations often turn to ERP solutions to maximize their revenues and minimize losses through mismanaged inventories and resources. Smaller organizations however might not be able to fully benefit from ERP solutions since the initial cost of ERP integrations can be significant.
Magento has a strong footprint in the enterprise market and is highly regarded for its customizability. This customizability is what makes it easier for developers to integrate ERP solutions with Magento sites.
ERP integration with WooCommerce websites is also possible through the use of the WooCommerce API. But because of WooCommerce's inherent security issues, it's normally not the platform of choice for companies looking to integrate with ERPs down the road.
Magento vs WooCommerce Which is Easier To Use?
Ease of use can be an important factor when choosing between Magento and WooCommerce. WooCommerce is a WordPress extension, so by nature it has to follow a set of design and development guidelines. It isn't the most user-friendly ecommerce tool out there, but it's not something that is out of the reach for non-developers.
Magento is in a different league when it comes to ease of use, and not in a good way. It has a steep learning curve and is definitely not the ecommerce platform for novice users.
WooCommerce Ease of Use
Setting up a WooCommerce store once you have a WordPress website up and running can be done within a matter of minutes. Simply search for the WooCommerce plugin, install and activate it and you'll be greeted by a wizard interface that will take you through the basic steps of setting up an online store.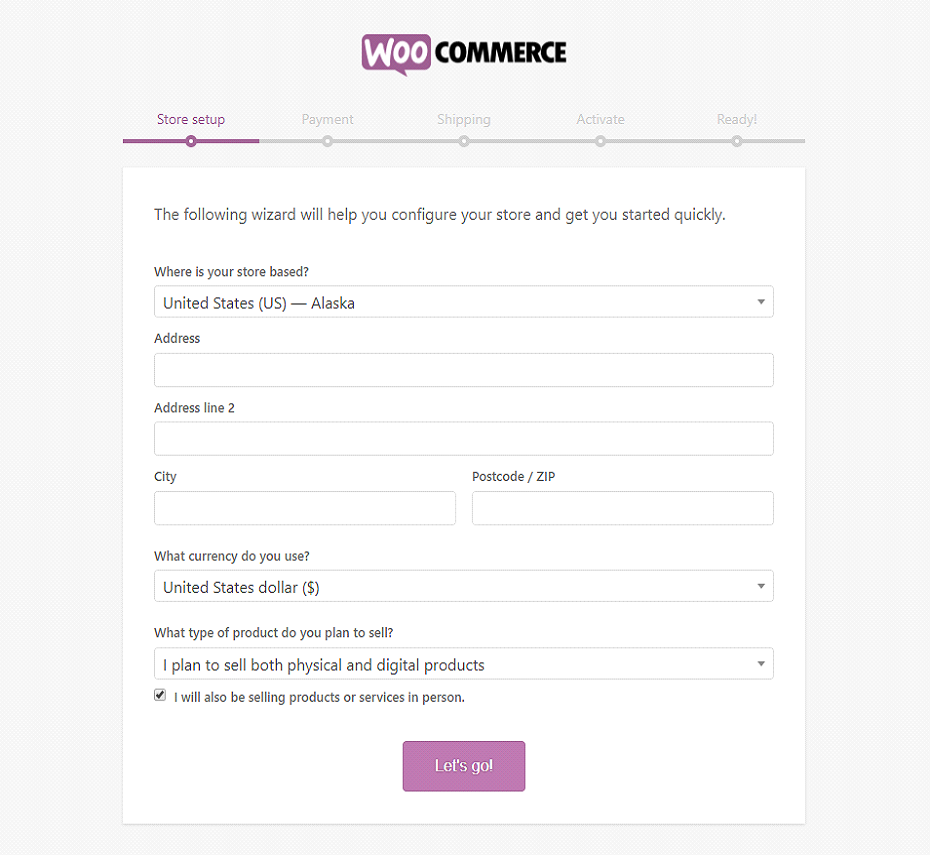 Once you've performed the necessary actions you'll be taken straight to the WordPress dashboard where you can get started with applying a theme to your web store or adding products.
If you've used WordPress before, you'll find it quite easy to do the basics in WooCommerce. Adding products, for example, looks quite similar to adding a blog post in WordPress.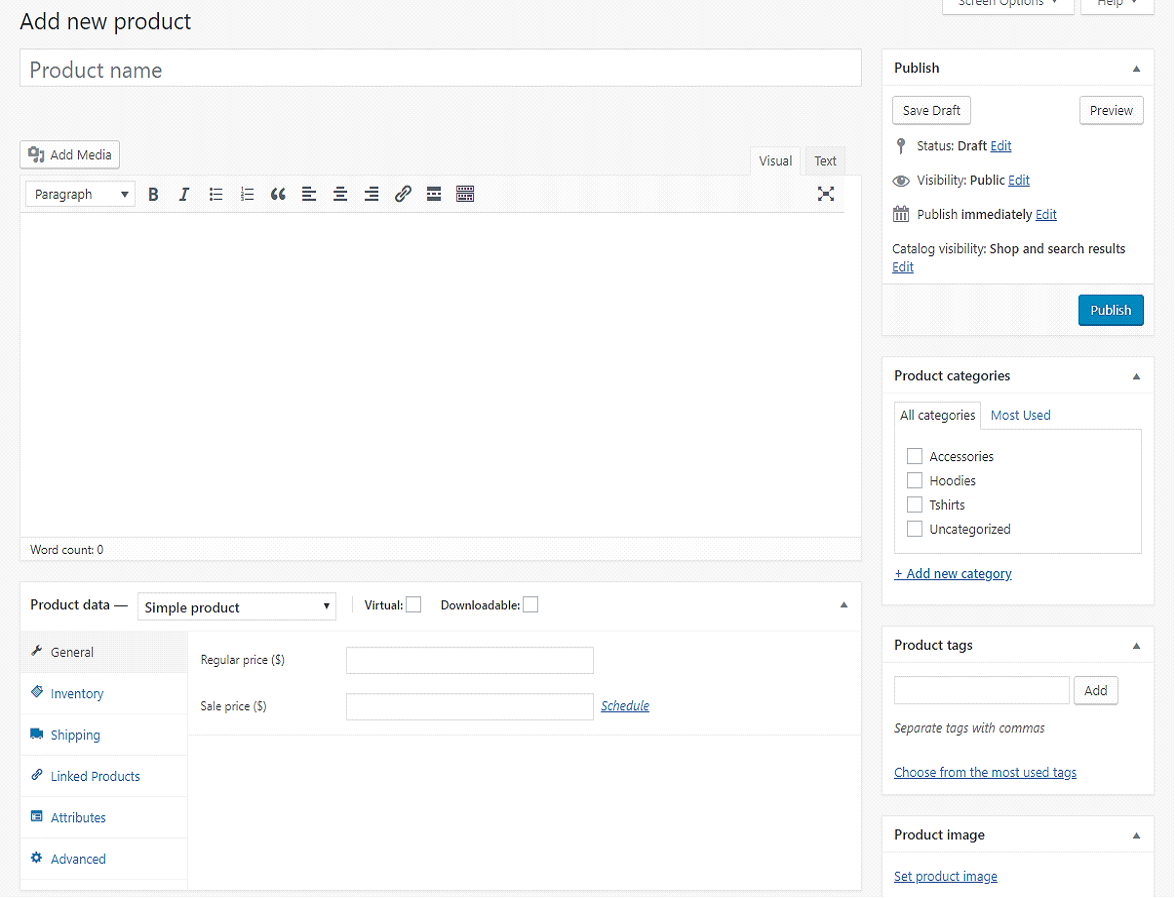 WooCommerce will install the Storefront template by default. It's a great template for people who don't want to spend extra on paid templates and has a lot of customization options. The template editor for the Storefront theme is extremely easy to use and features many customization options. Using the template editor, anyone can customize the look and feel of their website without touching a line of code.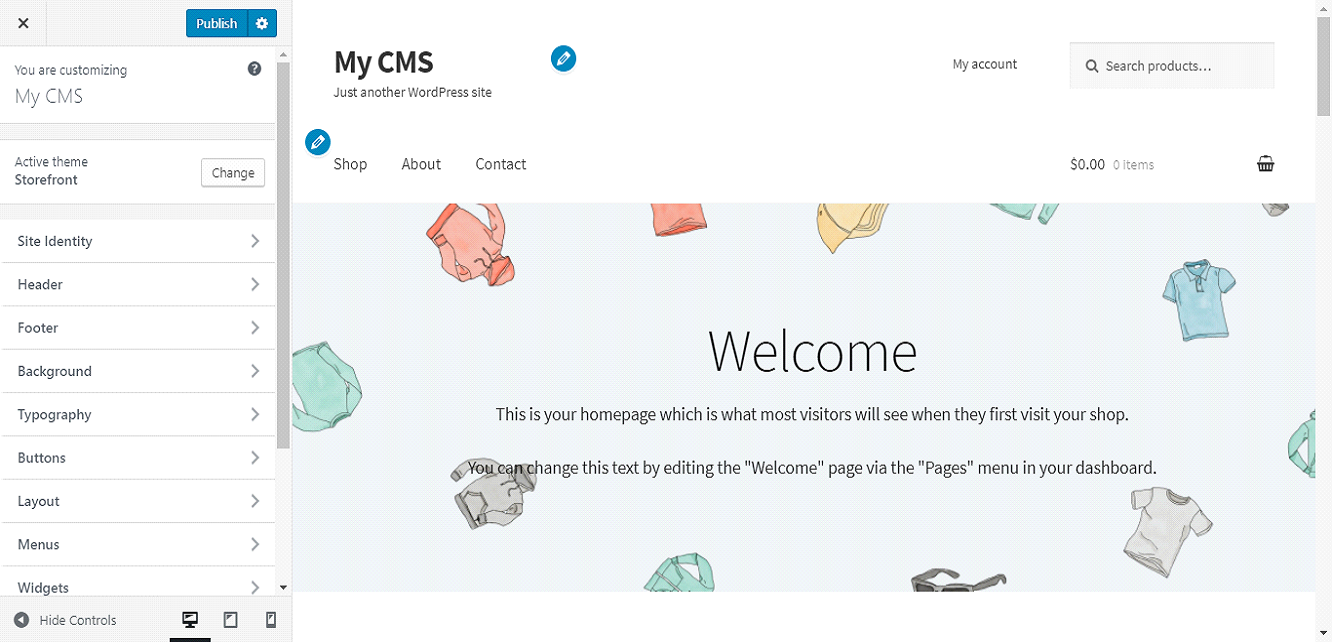 All in all, setting up a basic WooCommerce website is quite easy and not very technically challenging.
Magento Ease of Use
Like WooCommerce, Magento is an open-source product that anyone can download for free. But that doesn't mean that everyone will be able to use it. That's because Magento is a highly complex and technically advanced ecommerce solution. It has a steep learning curve and even seasoned developers will have to take a set of trainings before they're comfortable with it.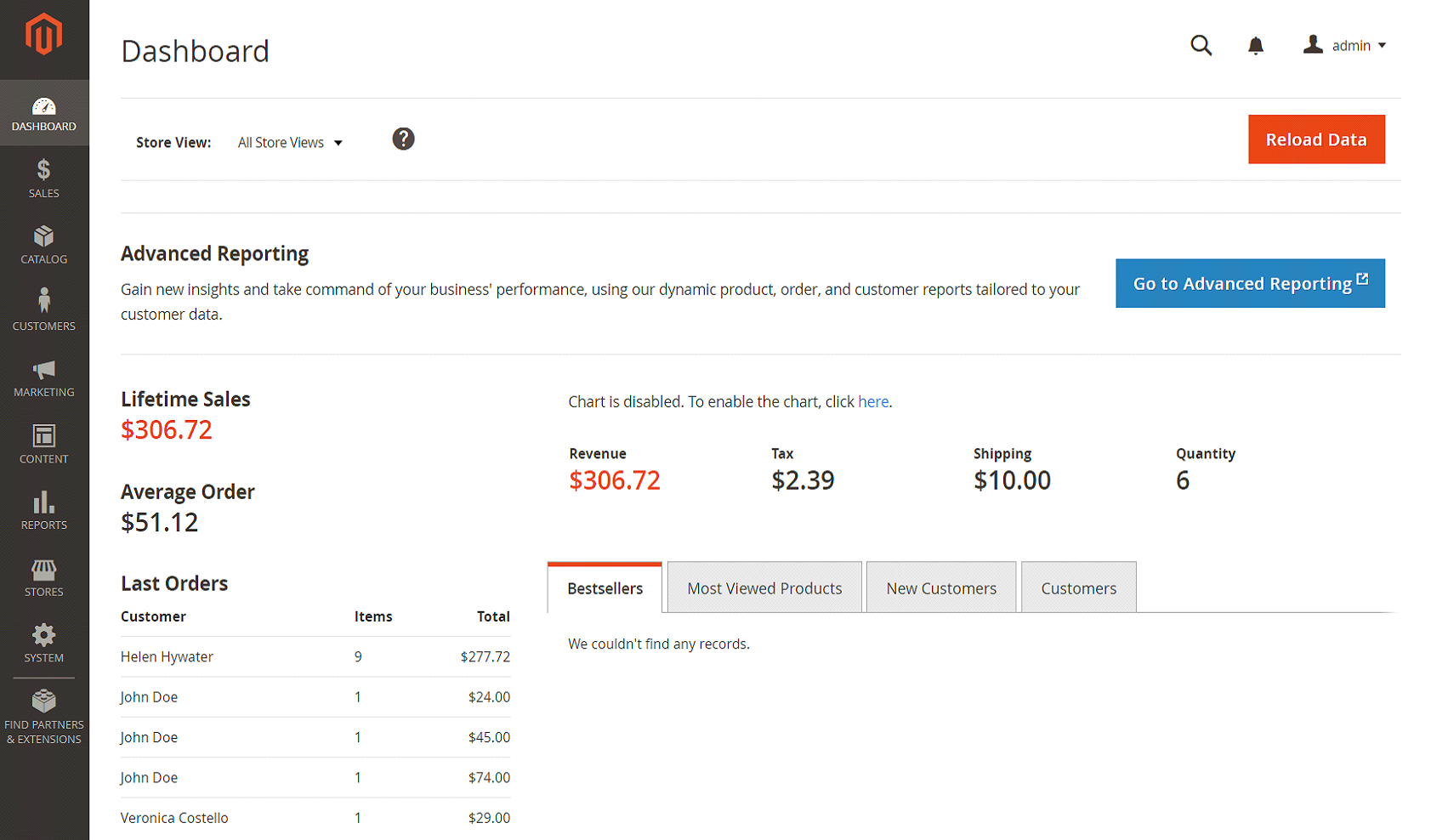 If you're looking for ease of use, Magento probably isn't the ecommerce platform for you. Its customizability and technical capabilities are very enticing to users looking to build a robust ecommerce store. But in order to truly take advantage of that, a Magento expert is almost a necessity.
Magento vs WooCommerce – Choosing the Right Ecommerce Platform
Choosing between WooCommerce and Magento is a relatively straightforward decision for anyone who knows the differences between them. Both are free of course, but they're not meant for the same audiences.
Reasons to Choose WooCommerce over Magento
Popularity: WooCommerce enjoys immense popularity in the ecommerce business as it's a reliable and robust platform that caters to most online businesses' requirements. What's more, it's completely free so it's especially attractive to those on a budget. The popularity also means that it will enjoy development and third-party support far into the future.
Ease of Use: WooCommerce's ease of use comes from its association with WordPress. For anyone who's used WordPress, the interface is instantly familiar and easy to navigate around. Deep store customizations will still require expert help but for setting up a basic ecommerce site, WooCommerce is a fairly easy to use tool.
Flexibility: Each aspect of WooCommerce can be customized thanks to its open-source model. What's more, there are thousands of WooCommerce extensions available which can enhance the functionality and features of the platform even further. Even complex integrations with ERP are possible, as long as you're willing to hire an expert.
Reasons to Choose Magento over WooCommerce
Engineered for Ecommerce: Magento was developed for the purposes of ecommerce. As such, its code has been optimized for use in ecommerce applications. If you're looking for a highly stable and reliable ecommerce solution (that's free), Magento is hard to beat.
Safe and Robust: Magento has been developed using strict coding practices and quality control. The platform receives regular security patches to address any safety threats.
Scalability: Designed for enterprise applications, Magento websites have been very successful in scaling efforts. Store owners who expect to receive high volumes of traffic and sales should have no troubles with a properly set up Magento store.