In 2019, instant gratification is the norm. Consumer attention spans are shorter than ever, so Shopify live chat can play a large role in converting the traffic you worked so hard for into actual revenue.
When consumers have a question, they don't want to email you, and they don't want to call you – they want and expect instant answers. Luckily, there are multiple apps to help you with this.
Besides providing growth consulting to companies ranging from start-ups to multinational organizations, we also run our own ecommerce stores. Throughout our journey, we've tried many different Shopify live chat apps to find out what works best for us.
We're going to share our findings with you so that you can figure out what works for your store and maximize your revenue.
Best Shopify Live Chat Apps
App Name
Price
Facebook Chat by Beeketing
Free
Tidio Chat Shopify App
Free to $15 / month
Chatra Live
14-day trial available.
$15 / month
Tawk.to
Free
Messenger Channel by Shopify
The Messenger channel app has been developed by Shopify themselves and its sole purpose is to provide a great customer experience while also increasing your store sales. It does this by adding your products to a menu that shoppers can purchase from while chatting with your Facebook Page.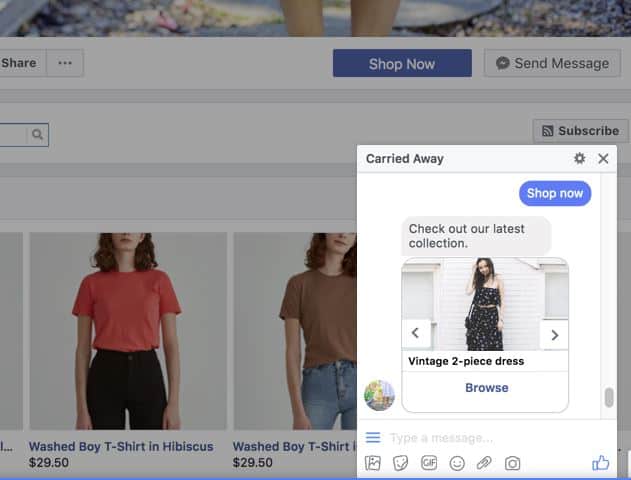 It's basically showing products while a chat is happening so your customers have a greater chance of making a buying decision. But it doesn't just end here. Customers who browse your online store can use opt-in to get updates on the status of their order in Facebook Messenger. Now that's called savvy customer service.
In short, with the Messenger channel app, you turn your Facebook Page into another sales and support channel for your online store. Some other cool features of this app:
Add a 'message us' button to your online store so you customers can chat with you via Messenger. An excellent opportunity to connect with customers directly rather than a third-party live chat app.
Fulfill Messenger orders from Shopify
Track Facebook sales using sales channel overview in your Shopify Analytics
WhatsHelp Chat Button
The WhatsHelp Chat app takes you Shopify store's visitors directly to their messaging app of choice such as Facebook Messenger and WhatsApp and allows them to initiate a conversation with you. This makes it convenient for the customers to reach out to you via the convenience of an app that they're already using.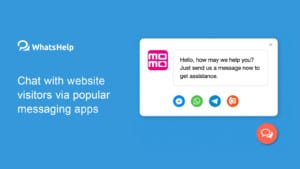 Eliminating third-party apps from the mix allows you to have a direct line of communication with the customer, providing them updates after the initial chat has ended with ease.
What we like about WhatsHelp Chat over website live chat apps like Tidio is that it allows your customers to communicate with you using popular messaging apps. This means they can talk to you anytime they want rather than just from your website. Everyone has smartphones with these messaging apps so this is the most convenient way for customers to reach out to you.
Some other great features of this app:
Easy to install: Shopify store owners can integrate this app in less than a minute
Customizable: Customize the buttons and chat interface to match your website's style
Support for popular messaging platforms: Works with Facebook Messenger, WhatsApp, Viber, Snapchat, Line and Telegram
Device agnostic: Works well across desktops, tablets and smartphones
Multiple messaging channels: Choose as many messaging apps to use (from the supported list) to offer your customers multiple ways of contacting you.
Free!
SMS + FREE Facebook Messenger
Are you tired of losing sales because customers decide at the last second to not go through with the purchase? This phenomenon is known as 'abandoned cart', in which users add items to their cart and then for any number of reasons, choose to not make any transactions.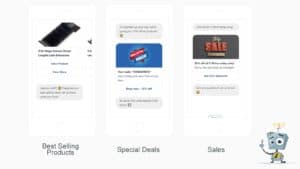 The SMS + Free Facebook Messenger is a live chat app that helps you combat these pesky cart-abandoning users by sending them unobtrusive yet timely reminders. A great aspect of this app is that it works with text messages and Facebook Messenger as well.
According to the developer, thousands of users of this app have increased their sales simply by recovering abandoned cart. The way you tackle abandoned cart is by sending respective customers promotions and discounts. If someone sees that the items they left in the cart have been discounted, they have an incentive to come back and place the order.
But this app goes even beyond abandoned carts, as it seeks to increase your overall sales by increasing average order value. For example, when a customer successfully makes a purchase on your store, they're instantly sent a special offer. The customer feels special for receiving this 'exclusive' offer and will likely return to take advantage of it.
You can use SMS feature of this app to get additional value such as:
Minimize lost sales by recovering abandoned carts
Offer special discounts or promotions
Send timely updates to customers about exciting new additions or sales
Send delivery updates and tracking information
The Facebook Messenger component of this app works really well. It provides yet another way of reminding customers if they abandon carts. Besides that, you can do everything that you can with the SMS feature of this app.
Perhaps the most impressive aspect of this app is that it is completely free. There is no need to pay anything, and you get 24/7 support as well.
ShopMessage Facebook Messenger
Chatbots are going to be the next big thing, as is evident by their surging popularity with savvy businesses. Chatbots present a number of benefits to ecommerce businesses, including excellent customer support and lower costs. Consider using ShopMessage Facebook Messenger app for Shopify if you're looking to go the savvy route.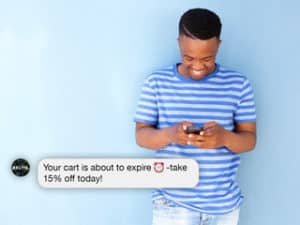 This app basically performs live chat automation for your ecommerce store. Customers ask questions and based on its programming, the chatbot will give them the best answer. This enables merchants who cannot afford to have a full-time sales person to break into conversational marketing.
Some of the tasks performed by this app are:
 Instant order confirmation via Messenger
Send special offers and discounts to customers to incentivize them to make purchases
Broadcast news announcements, offers and so on
This app integrates seamlessly into your Shopify store, allowing visitors to 'Sent to Messenger' whatever product they order. This creates a friction-less experience for your customers as they can opt-in for Messenger updates easily. This app also seeks to lower your cart abandonment by sending timely messages from your Facebook Page to a customer who hasn't completed their order.
Shopify Live Chat App for Facebook by Beeketing
Price: Free
Facebook Chat by Beeketing is the highest reviewed and rated chat app in the Shopify App Store. This app leverages Facebook to allow you to talk to and support your customers directly from Facebook Messenger, the same way as with a Facebook friend.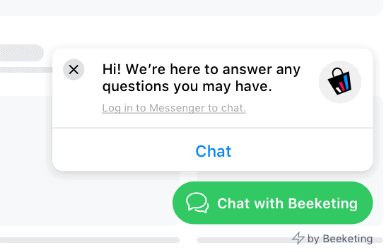 One of the benefits of leveraging Facebook Messenger is the familiarity of the experience for consumers. It feels natural and intuitive to the consumer, it re-affirms to them that they're talking to a real person.
On top of that, it transfers some of the trust that consumers have in Facebook Messenger to your own business.
The only downside is immediately after a consumer submits a chat request, they are directed to check Facebook or Facebook Messenger instead of the app opening a chat window on the store page.
Tidio Chat Shopify App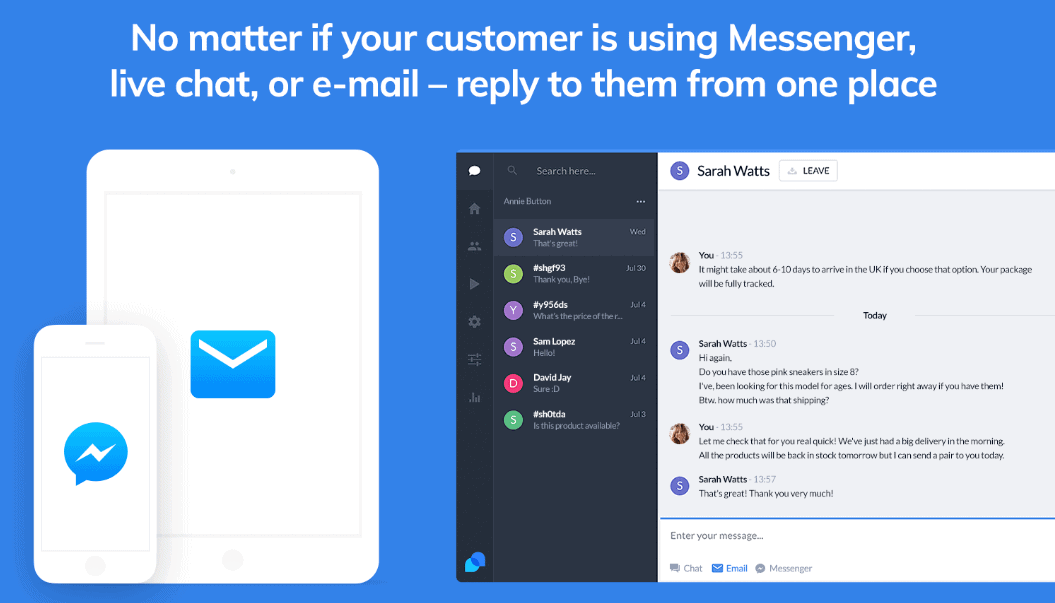 Price: Free to $15/month
Tidio Chat has over 500 reviews on the Shopify App Store and boasts a 5-Stars overall rating. Tidio does not use Facebook Messenger; instead, it leverages its own proprietary mobile apps and desktop web app to facilitate communication.
If you're making enough revenue $15 a month is absolutely worth it – there is a ton of extra functionality you won't find in a completely free app like Beeketing.
Their feature list is quite extensive, so we'll list our favorites (in order):
See messages before they're sent: Tidio shows what the customer is typing before they hit enter, so you know what they're going to say before the customer sends their message. This allows you to get the jump on their issue and impress them with your ability to read their mind.
Automatic messages: This feature allows you to automatically open a chat window with a visitor, displaying a welcome message such as "Are you finding everything alright?"
Offline contact form: Turn your chat box pop-up into a one-way contact form when you and your team are outside of business hours. When you arrive the next day, you'll have an email with the visitor's email address and messages sitting in your inbox.
Mobile app: Having a dedicated mobile app can be nice when Facebook Messenger is experiencing issues.
Multi-language support: Although Americans would have you believe otherwise, English isn't the only language spoken online. Tidio has localized its app into hundreds of languages so you can support your customers in their native language.
Chatra Live Chat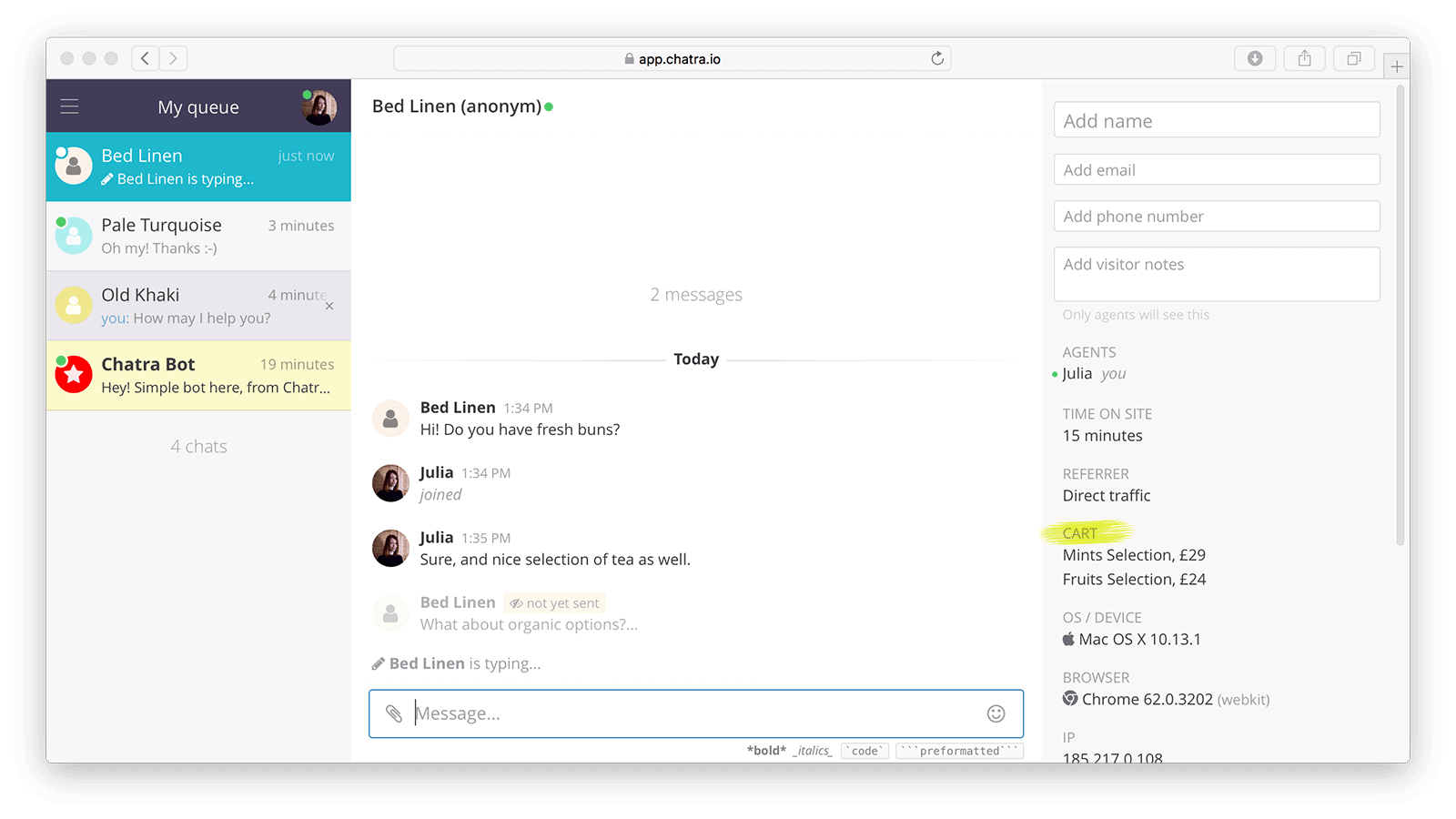 Price: $15/month with a 14-day free trial
Much like Tidio, Chatra uses a proprietary messaging platform with a mobile app and desktop web app to connect you to your customers.
Also much like Tidio, you can message your customers first, see real-time customer typing insights, and collect contact info while you're offline.
However, there are a few other powerful features that make Chatra worth considering:
Cart Recovery – Chatra can proactively contact customers stuck at the shopping cart. This can have a profound impact on conversions by unsticking customers and convincing them to take out their card and pay you.
Fix Typos – Chatra allows you to fix typos

after

sending a message. This is a lifesaver, especially when you're supporting your customer on the go from your mobile phone. If I published this article without being able to edit it first,

everyone would think I'm illiterate

there would be a few errors.

Real Time Visitor Insights – Chatra provides as much information about the person you're talking to as possible – including what page they initiated the chat from, what page they are currently on, and what's in their cart. You can even see what device they are using.
Tawk.To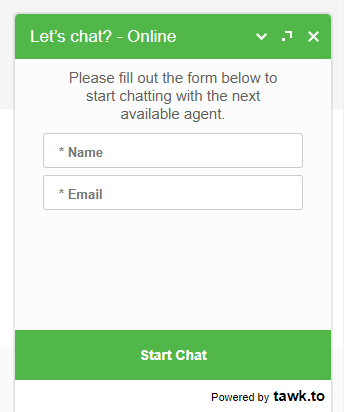 Price: Free
Tawk.To has most of the same functionality as the other apps on our list, from having an app dashboard to cart recovery. The main selling point of Tawk.To is the sense among users and reviewers that 'it just works'.
Deploying and setting up Tawk.To is quick, easy and painless, and we're not the only ones who think so. Almost every review compliments Tawk.To's simplicity:
"

Such a simple chat app…very small, but efficient. You guys have the right idea 🙂

"

"Impossible to fault it. Works really well and looks really great.  We were using Zendesk but tawk.to is easily a match for it (much cheaper too) and much easy to integrate in Shopify."

"

Installed the app now for a week, I must say that it works perfectly! Used a payed app before but now replacing all my shopify stores with this plugin! Works great.

"
Tawk.to is another strong option for a Shopify live chat app. If one of the others doesn't seem right for you, it's worth considering whether Tawk.to is a good fit for your site.
---
The Shopify live chat apps covered in this article are definitely one of the strongest ones available on the Shopify App Store. If you want solid live chat functionality for your Shopify store, using any of these would give you great results.
Which live chat app are you using for your Shopify store? Let us know in the comments below!

Struggling to grow your e-commerce business as fast as you had planned? Logic Inbound is an e-commerce growth marketing agency that has generated millions of dollars for startups to multinational manufacturing organizations. Fill out our discovery form and find out what we can do for your business.