When it comes to our influencer marketing strategy, we have to be constantly looking for ways to refine it so that we're reaching our goals and objectives.
It helps to take a look at data and analyze it, before acting on it. A core piece of data many people miss, however, is cohort analysis. In this article, we take a look at what cohort analysis is and how it can boost your influencer marketing strategy.
What is a Cohort Analysis?
To better define cohort analysis, let's first take a look at what a cohort is:
A cohort is any group of customers who share something in common.
For example, if I have an eCommerce store, I might group together customers who signed up within the last month and who made a purchase.
Another example might be a group of customers who have subscribed to a newsletter or downloaded an ebook or customers who have clicked through three links in their emails. Cohorts can be broken into broad or targeted categories.
Why would I lump people together? It's so that I can analyze the behavior of a specific cohort to detect patterns that might help me to improve the user experience. Perhaps I made a tweak to my store in the last month and want to find out how it's affected users who signed up over that time period. Or, I might be able to identify similarities in the steps customers take before making a purchase. In the end, analyzing a cohort can improve my sales funnel.
In a nutshell, a cohort analysis monitors the behavior of a collection of users over time (and often breaks them into targeted segments) so you can make the right changes to your marketing campaigns.
This is How a Cohort Analysis Can Boost your Influencer Marketing Campaigns
When digging into the data from your cohort analysis, what you're essentially looking for is the campaign's effectiveness. Is your influencer marketing strategy helping you increase your revenue? And, how do you know?
To learn what you need to know, it's crucial that your cohorts are segmented properly.
How to Segment Your Influencer Marketing Campaign Cohorts
When examining your influencers, you've essentially got two types to choose from:
Macro Influencers

Micro Influencers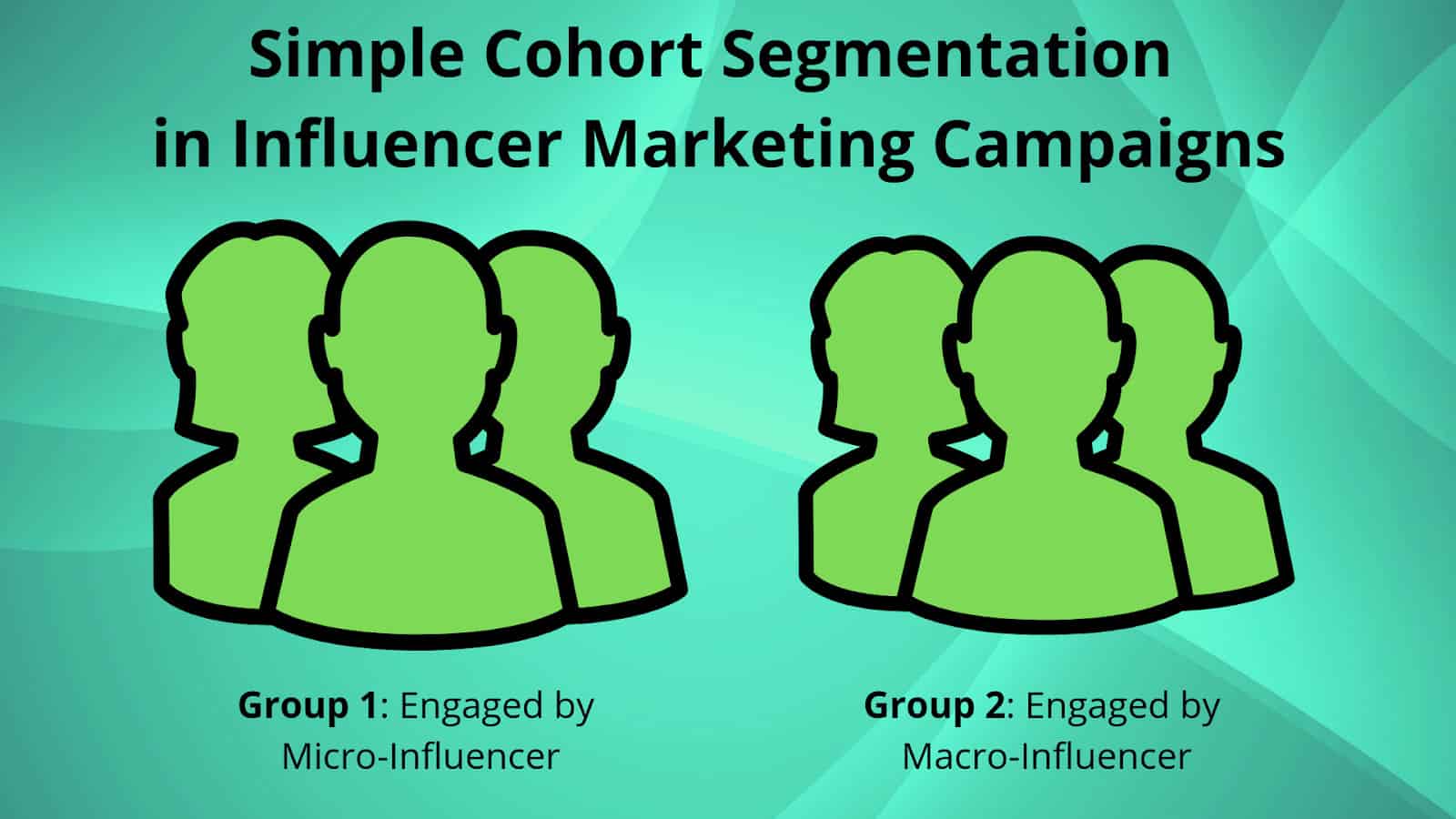 A macro influencer is pretty much a household name – someone who's already famous and has over a million followers.
A micro influencer, on the other hand, has thousands of followers – sometimes as few as 10,000 — but they're massively trusted by their engaged audience in a specific niche, they're easier for you to reach out to, and they can help you to reach more people.
If you're able to land yourself a macro influencer, you can separate those customers who engaged with the macro influencer and who took a specific action (cohort 1) from those who engaged with the micro influencer (cohort 2) and compare the two cohorts. If it transpires that cohort 1 generated more short-term revenue but cohort 2 generated more long-term revenue, you can then work out a way to keep both cohorts happy.
Moreover, this will also demonstrate which type of influencers you need to focus on.
If you're not sure how to split your two cohorts, you can post your macro influencers posts to a specific audience group and post your micro influencers posts to a separate audience group. Then, you can compare how the two fared.
As well as macro and micro influencers, we can further separate influencers like this:
Influencers

Brand advocates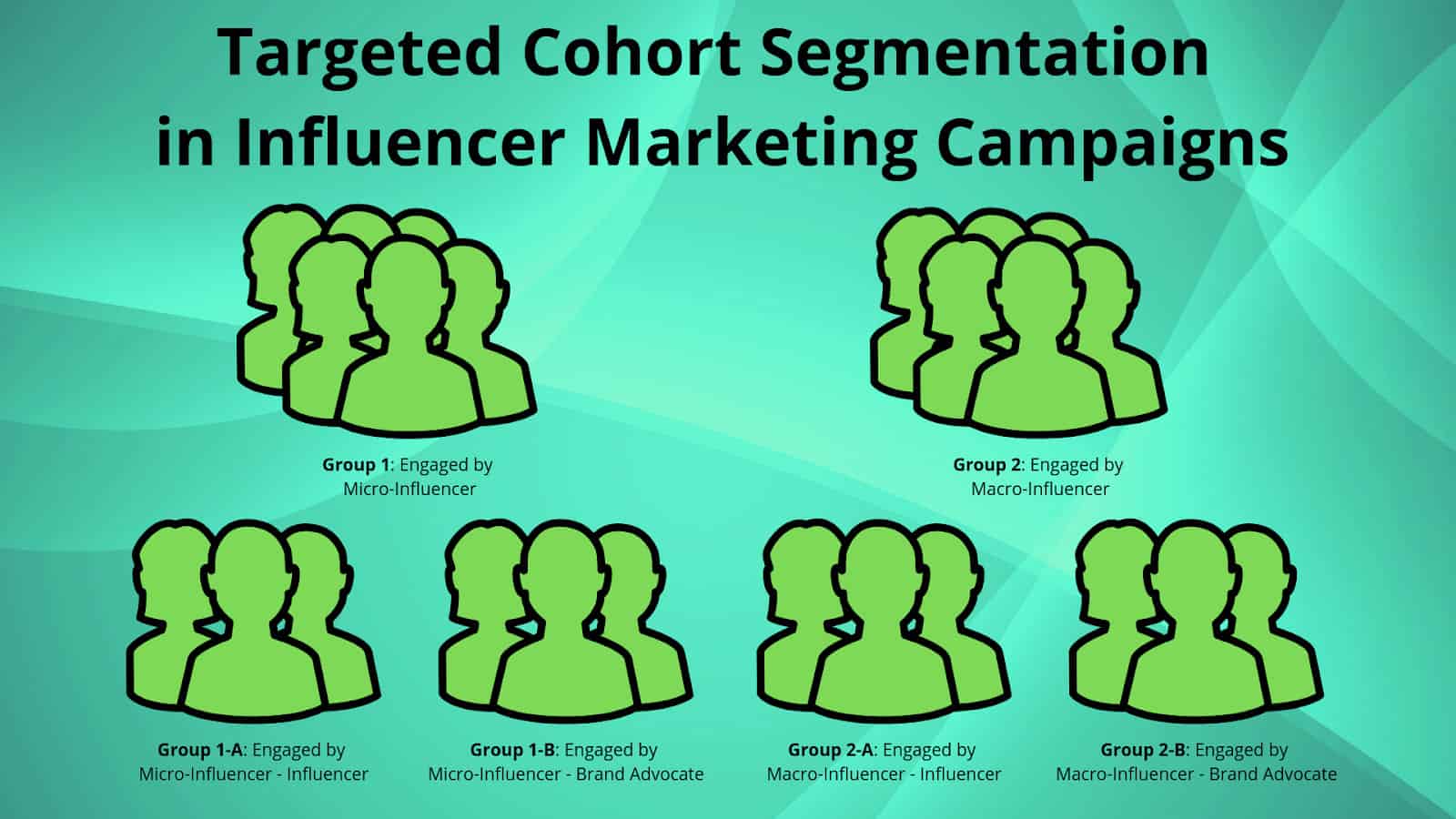 Brand advocates and influencers are different, although some marketers make the mistake of confusing a brand advocate for an influencer. On the contrary, a brand advocate is seen as a short-term solution.
However, you can create two cohorts similar to the ones outlined above to see whether an out-and-out influencer is having a more impactful effect on your revenue.
In addition to focusing on the types of influencers sending customers your way, you can also concentrate on the content itself. Start categorizing your influencer campaign cohorts by platform (Instagram, YouTube, etc.), content topics, and content type (video, text post, image, etc.). The more targeted your segmentation, the deeper your insights become. Deep insights help you create stellar campaigns.
What Can You Learn From Cohorts Who Took Advantage of Your Promotions?
If you run a promotional influencer campaign (and you should always be doing this), the influencer will add an affiliate link to their posts. This link takes a prospect to your website where they can make a purchase.
What you can do is separate those who clicked the link and made a purchase from those who didn't to see what kind of effect – if any – a particular influencer is having on your long-term revenue.
In other words, ask yourself "are the influencers I work with just good for one-time purchases or do they create loyal customers?"
When doing this, it's also a good idea to add a point of sale card reader to your retail operations. Of course, this increases payment options but it also stores customer data that you can then analyze to better understand shopping behavior.
The above is especially important for offline sales generated. It's likely that someone local who shops online will use the same credit or debit card to make purchases across all channels.
What Types of Cohort Metrics Should You Track?
Pretty much anything that might make a difference in getting your customers to convert can be tracked. Look closely at the behavior of your subscribers and customers, and find out what they do.
Here's what you want to watch:
Traffic

Engagement

Conversion

Revenue
Pay attention to what's going on so you know what you need to change.
Analyze the Traffic from Your Influencer Campaigns
Are your influencer campaigns actually boosting traffic, or is the new influx just a result of wise AdWords spending? You'll know the answer for sure if you track the traffic engaged with your influencer marketing campaign cohort(s).
Find out How Much of Your New Traffic is Engaged
Once users land on your site, what are they doing? A high bounce rate may indicate that your content is irrelevant, not helpful, or your landing pages are loading too slowly.
Do your readers stay on your blog post, but never subscribe to your newsletter or shop your products? Maybe you need to check your CTAs.
Determine the Goal Conversion Rate of Your Campaign
The most common goal of an influencer campaign is to sell your products or services. Or, maybe you are just interested in building brand awareness. Track your cohort to watch for signs that they convert to help you meet your goals.
Measure the Revenue Your Influencer Conversions Generate
In the end, the proof is in the pudding. If you are seeing a boost in traffic and engagement, but a decline in sales, it's time to rethink your strategy. You can use the earlier insights gained to make informed decisions about new techniques to try.
Conclusion
These are just some ways that cohort analysis can boost your influencer marketing campaign so you understand consumer behavior better, and can execute a better influencer marketing campaign. If you start now, you may have some excellent, long-term insights in the next 6 months — even more so in the next year. So, head on over to your Google Analytics account and get acquainted with the cohort analysis section right away.
AUTHOR BIO: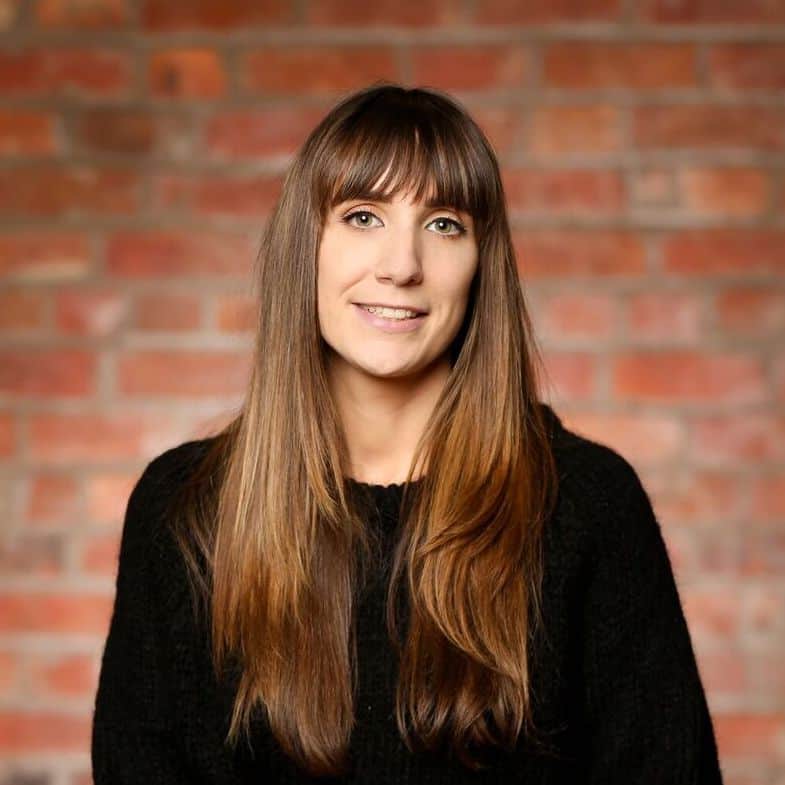 Michelle Deery is a writer and editor for Heroic Search SEO agency in NYC. Her content has been featured in Entrepreneur magazine. When she's not getting you top-notch content on marketing and influencers, you can find her sharing content on Twitter.