Let's face it: invoicing is time-consuming, frustrating and sometimes even cumbersome. Perhaps it's because of laziness on our part that we haven't really researched more convenient solutions than your average Excel spreadsheet or worse, a Word file.
The end of month brings with it the prospects of getting paid for all our hard work but invoicing for all that work can take some of the joy away. It's definitely something that businesses and freelancers have to do, but not something they want to.
But at the end of the month, you will have to create an invoice, so why not look for something that makes the process easier, quicker and less frustrating?
Simply search online for 'invoice templates' and you'll get hundreds of results. It should be noted that most of these are absolutely not worth your time. They'll be just as tiresome to use as a Word document.
However, there are some genuinely great free invoice templates and tools that can allow you to get the job done in a matter of minutes. The best ones offer customization on top, which can make the process dare we say, fun.
To help you save time and effort for invoicing, here are our choices for best free invoice templates. Enjoy!
Invoice Template Generator by Hubspot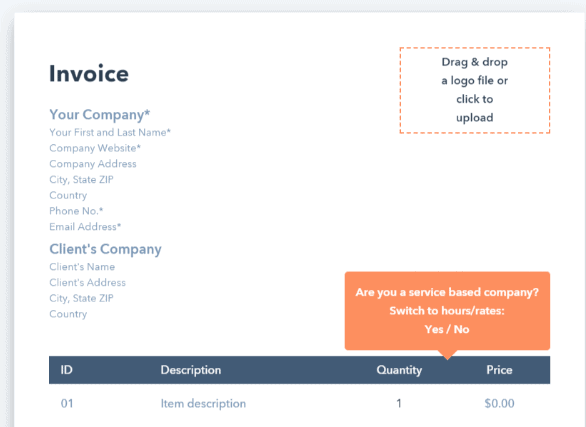 Hubspot offers a great and easy-to-use invoice template generator that allows you to create and download professional invoices. Usability is the highlight of this nifty little tool. You start by simply filling your business details in a form to populate the statement.
You can add further line items if you wish at the press of a button. No more fumbling with spaces and line breaks and no more fear of the formatting going to tatters.
When you're done adding the invoice details in the form you can even customize your invoice's color scheme. It's a neat little touch so you can add some personal branding. After this just click on the 'Download Now' button and your PDF invoice is ready.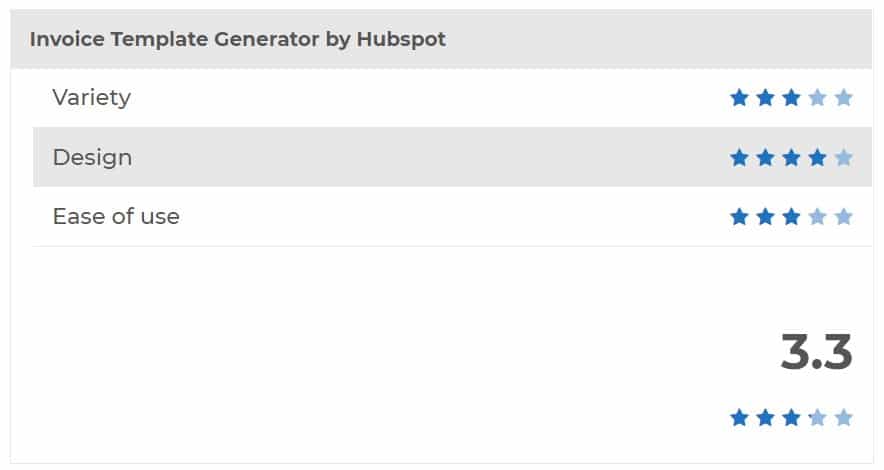 Hubspot offers some nice templates, but you'll need to enter a bunch of information just to get to the templates. Hence the low ease of use score.
Shopify Invoice Generator

Shopify is a juggernaut among ecommerce platforms. Its ecommerce tool allows anyone with minimum technical know-how to create a professional online store within days, if not hours. They also happen to have a free invoicing tool that anyone can use.
Coming from an ecommerce company, we had high hopes for this invoicing tool, and it didn't disappoint. Shopify's ecommerce tool is well known for its ease of use, and the same principles have been used for its free invoicing tool as well.
Simply fill out a form with the required business details to populate the statement. The form is laid out in a a great easy-to-use manner we like that it's not cramped. Everything is big and easy to read. You can even add a personal touch to the invoice by uploading your logo.
Do we prefer it over Hubspot's invoicing tool? That's hard to say. They're both incredibly easy to use and do a great job of simplifying the whole process of creating an invoice.
Some of you might prefer Hubspot's graphical input of invoice information, while some might prefer the simplicity of Shopify's form – it's a matter of personal preference.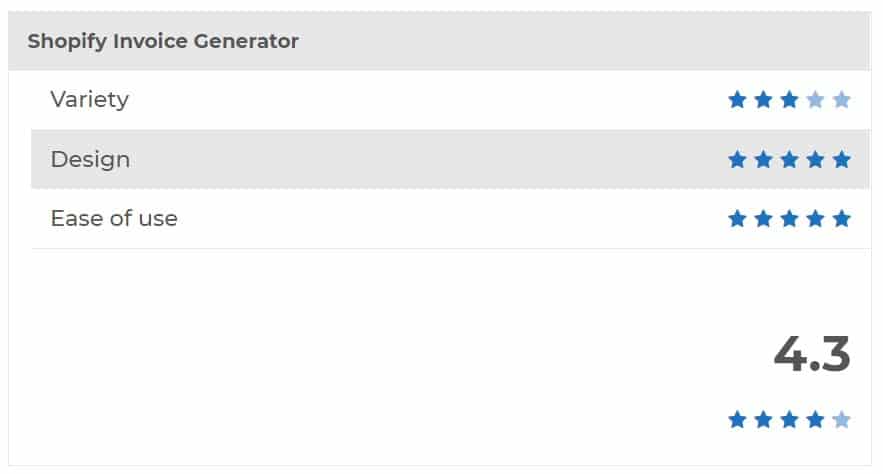 FreshBooks Free Invoice Templates
Creating invoices is now easier than ever, and you don't have to shell out for a paid invoicing solution if your needs are pretty basic. FreshBooks is a popular full-featured accounting software that is used by small and large businesses worldwide. With a great array of features that caters to all types of businesses, FreshBooks offers something for everyone at highly competitive price points.
Of course, not everyone can afford an accounts software, and for that FreshBooks offers free invoice templates. The great thing about FreshBooks' invoice templates is that they come in different digital formats. You can choose from Microsoft Word, Excel, Adobe PDF, Google Sheets and Google Docs. So whichever tool you feel most comfortable working in, you can use these templates to create an invoice that will leave a great impression on clients.
Using any of these templates is quite easy. There are many styles to choose from and once you've downloaded the one you like best, they're ready to be edited. FreshBooks tasked their best designers to create great-looking invoice templates that are free to use for anyone.
If you dig a little deeper on the FreshBooks free invoice templates page, you'll spot that there are even invoices for specific business categories such as self-employed, freelance, sole trader and so on. The've really done some nice personalizations to occupation-specific icons for invoices like their graphic design, contractor, photography, web design invoices and many more.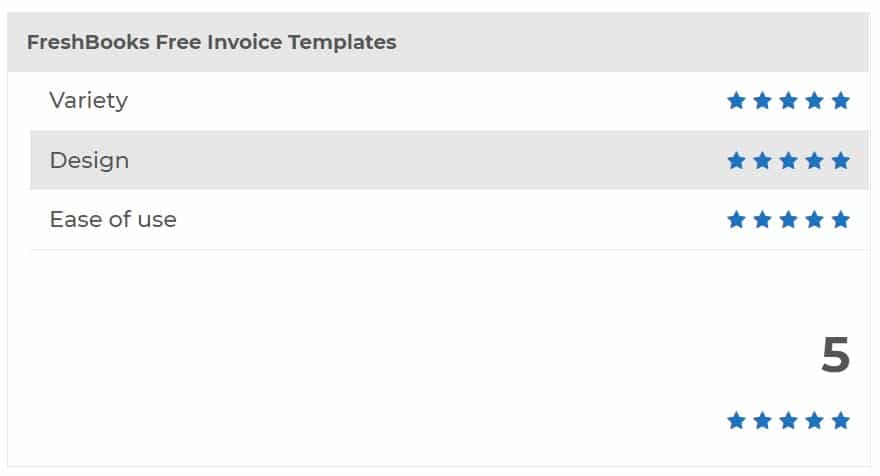 QuickBooks Free Invoice Creator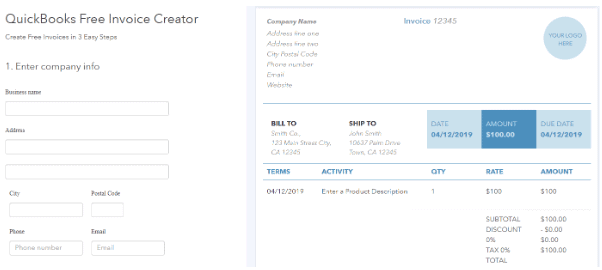 QuickBooks is a popular accounting software that is trusted and used by businesses worldwide. The company has obviously realized that it's not just big businesses that need to create invoices, and offers a conveniently free invoice creator for anyone to use.
Now QuickBooks knows a thing or two about invoices, and it clearly shows when you're using the tool. The input form is simple in its layout and has all the necessary fields to populate an invoice statement. Better yet, as you're filling in your business details you get a real-time look at what the resulting invoice will look like. So if you accidentally put wrong details in there, it's going to show instantly and you'll be able to rectify them.
For customization, QuickBooks' free invoice creator offers four style options: Airy, Fresh, Friendly and Modern. We must say that all of these invoice styles are great in their readability and aesthetics. The focus is on modern design and simplicity, so everything looks great and perfectly readable.
You can even go ahead and customize the color accents of your invoice. There are two accents that you can customize, and we think that's plenty. You don't want to spend too much time 'prettifying' your invoice. It's just an invoice. Other than that you can add your company logo and that's really it.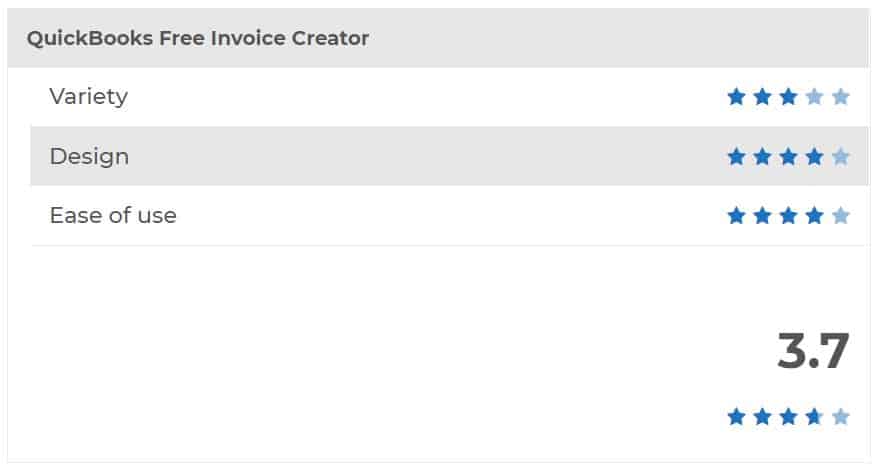 SmartSheet Excel Templates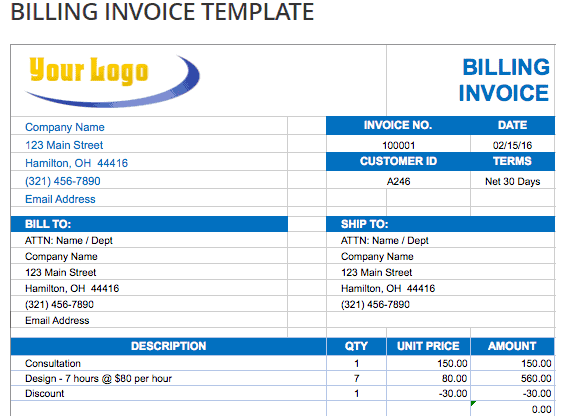 If you're dead set on using Excel for your invoicing needs, you don't have to go through the pain of creating an invoice format. That's because SmartSheet has done all the hard work for you and offers free Excel templates that can simply be filled in and sent to your clients.
We should note that SmartSheet is not an invoicing software, so they know what an invoice should have. The free Excel templates are offered side-by-side with SmartSheet templates that can only be used if you have SmartSheet software. But of course, the focus of this guide is on free templates so we're not going to go into detail of SmartSheet software.
For the free Excel templates, there's quite a few to choose from depending on the kind of design you want. There's also multiple template formats, ranging from a basic blank template that you can customize to your own needs. Then there are predefined formats such as service, purchase order, sales invoice, job invoice and so on. Depending on the kind of business or service that you offer, you'll find something that matches your needs here.
The look and feel of the invoice templates isn't exactly contemporary, but it'll get the job done. The templates generally look quite inoffensive and are good in terms of readability.
So if you want to have an invoice template that you can reuse month after month, SmartSheet's free Excel templates are a good choice.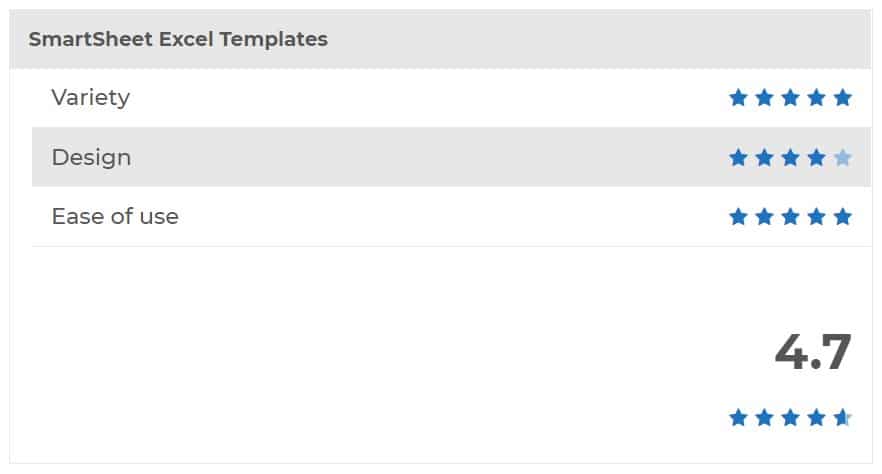 Harvest PDF Invoice Template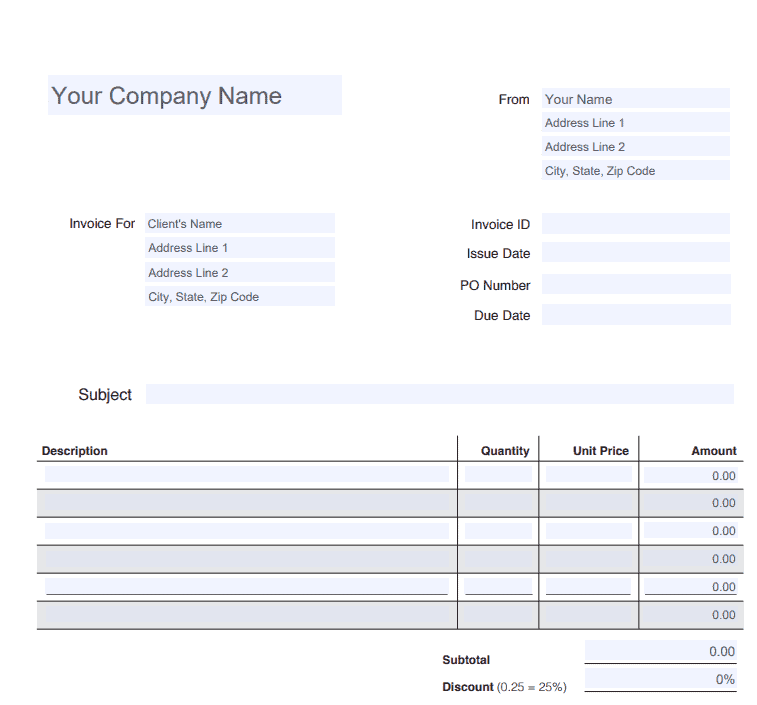 Harvest is an online time tracking tool but they also offer their own invoice template. While they're not exactly an accounts software company, their tool is used by freelancers and small businesses alike.
To facilitate users and really, anyone looking for an easy-to-use invoice template, Harvest offers an editable invoice PDF. The PDF can be edited within a web browser such as Chrome and then downloaded. It really is that simple. The look and feel of the invoice is simply, legible and modern. Simply fill out the PDF in the form feels provided and you're good to go.
Our only gripe with this template is that you cannot add more line items, so you're going to have to make do with the 6 fields they provide for that purpose. For freelancers, we reckon this is a great free option that's pretty hassle-free to use as long as their invoice doesn't require more than 6 billable items.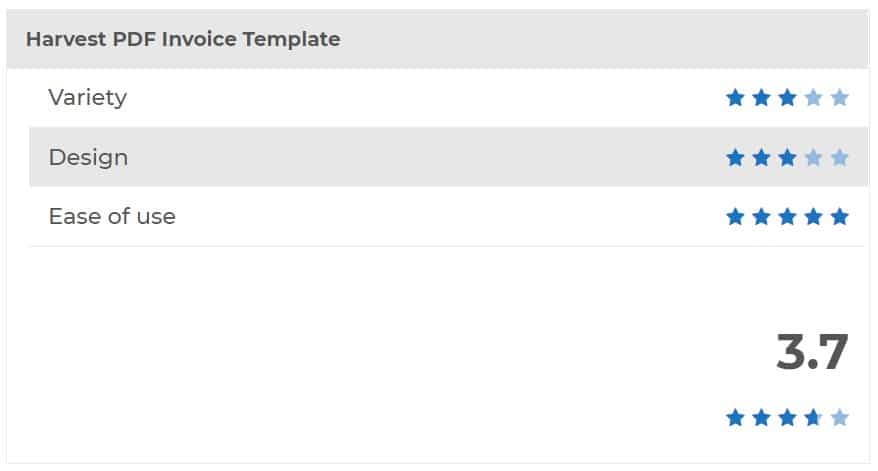 Final Thoughts
Getting quality work done is hard enough, and your prime focus should always be on running and scaling your business. Invoicing, while absolutely necessary, can often get in the way of work and creating one from scratch can be a truly frustrating experience.
That's why these free invoice templates are so handy. There is no need to fumble around with Word documents and Excel sheets when you have professionally designed and easy to use invoice templates at hand that are ready to be used at an instant. So for your next invoice, choose any of these great free invoice templates and you'll see what a difference in experience they make. Happy invoicing!