Shopify is one of the most popular eCommerce platforms available today. It allows anyone to create a fully functional, professional online store without touching a line of code.
If you're considering using this popular ecommerce platform, you'll probably need to scour through several Shopify reviews.
In this Shopify review, we'll be taking an in-depth look at this popular store building tool, revealing its strengths and weaknesses and what sort of businesses it's aimed at.
What is Shopify and How Does It Work?
Shopify is an eCommerce platform that allows anyone to create their very own online store. It's basically a browser application, meaning there's no need to install anything locally on your computer. Rather, it runs on Shopify's application servers, and you get to use it from the convenience of your browser.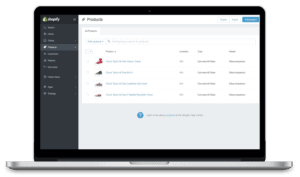 Shopify is billed as an easy-to-use alternative to popular ecommerce platforms such as Magento and WooCommerce. Users with little-to-no technical knowledge can easily use Shopify to create an online store.
However, that does not mean there's nothing in it for advanced users. Quite to the contrary, the platform allows users to make extensive customizations to their online store through HTML and CSS to give it a distinctive look.
Being a SaaS (software as a service) tool, users are required to pay a monthly fee to use it. There is a free 14-day trial available for users who want to test the tool, which we highly recommend.
After the 14-day trial has ended, users will need to 'upgrade' to a paid subscription plan, which leads to our next section.
Shopify Pricing – How Much Does Shopify Cost?
Shopify currently offers 5 pricing plans. There are discounts available on all price plans for users who choose to pay upfront for one or two years, with the exception of the Plus plan.
| | | | |
| --- | --- | --- | --- |
| Shopify Pricing Plans | Monthly Billing ($/month) | Annual Billing ($/month) | Biennial Billing ($/month) |
| Shopify Lite | $9 | $8 | $7 |
| Basic Shopify | $29 | $26 | $23 |
| Shopify | $79 | $71 | $63 |
| Advanced Shopify | $299 | $266 | $239 |
| Shopify Plus | Variable pricing | Variable pricing | Variable Pricing |
The Lite plan represents the cheapest way to get access to the platform's store management tools. But there is a catch for the low $9-per-month price – no store building tools. Yes, with the Lite plan, you won't be able to build an online store from scratch.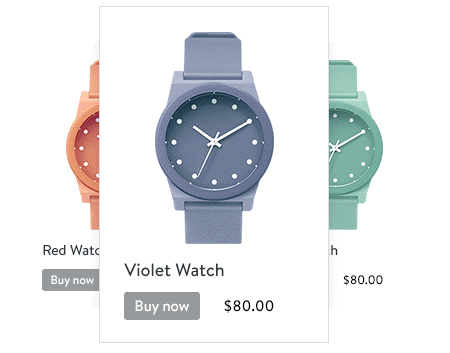 Rather, the Lite plan is meant for users who already have a website but would like to start selling a few items through it. For this, Shopify provides an embeddable widget of sorts. The widget contains a product image, its price and the all-important 'Buy Now' button.
Store-building tools meanwhile, are available from the Basic Shopify plan and up, with features such as advanced reporting tools only available on the $79/mo Shopify plan and up.
Pricing for Shopify Plus isn't mentioned because it really isn't given away by Shopify either. That's because it's an enterprise solution, geared towards high-volume merchants and large companies. Hence, Shopify negotiates a custom price for every Plus customer and sources suggest that $2000 is the minimum monthly charge for this plan.
Shopify Plan Features
The key features that differentiate the plans (Basic, Shopify and Advanced) are:
Reporting:

Deeper insights through professional reports are available from the $79/mo Shopify plan and onwards.
Report builder:

This tool allows full control over data and reporting, but is only available on the $299/mo Advanced plan.

Real-time carrier shipping quotes:

Necessary if you plan to use a third-party shipping service (UPS, FedEx etc). This feature is only available on the $299/mo Advanced plan.
If you're interested in a thorough analysis of the costs involved in Shopify, read our blog post on Shopify pricing and Shopify Plus pricing.
How Much Does Shopify Charge Per Transaction?
Shopify charges its users a percentage amount of each sale as 'transaction fees'. The percentage amount varies for each price plan, with more expensive plans incurring lower fees.
| | | | |
| --- | --- | --- | --- |
| | Basic Shopify | Shopify | Advanced Shopify |
| Shopify Transaction Fees (per sale) | 2.0% | 1.0% | 0.5% |
The gist being, the more sales your store makes; the more Shopify earns as well. For stores that shift large volumes each month, this can become a significant overhead.
Fortunately, Shopify does offer a way to avoid these transaction fees. Merchants who choose to process online payments through Shopify Payments – Shopify's own payment gateway – are charged with zero transaction fees.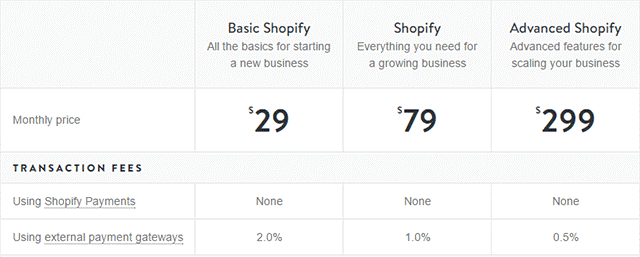 Shopify Payments is a reliable payment gateway, as it's powered by one of the most popular payment processors in the world – Stripe.
However, keep in mind that Shopify Payments has limited availability, and can only be used by merchants in the following countries:
United States

Canada

United Kingdom

Ireland

Australia

New Zealand

Hong Kong

Singapore

Puerto Rico
Credit Card Fees – What is Credit Card Rate on Shopify?
Whether you choose to use Shopify Payments or not, you'll still be charged for every online sale due to credit card processing fees. These cannot be avoided, and stores that do not use Shopify Payments will have to bear the credit card charges and the platform's transaction fees.
Credit card fees will vary according to the payment gateway you choose. Here's a comparison of credit card rates for PayPal (the most popular credit cart processor in the world), and Shopify Payments:
Credit Card Processor
Shopify Payments
PayPal
Monthly Fees

None

$30

Credit Card Rates

2.9% + $0.30 (Shopify Lite and Basic Shopify)

2.6% + $0.30 (Shopify)

2.4% + $0.30 (Advanced Shopify)

$2.9% + $0.30
Shopify Themes – Can You Change Your Shopify Theme?
One of the major draws of Shopify is that, thanks to high-quality themes, anyone can create a beautiful and functional online store. You can find 62 themes on the Shopify Theme Store. Out of the 62 total, just 10 themes are free.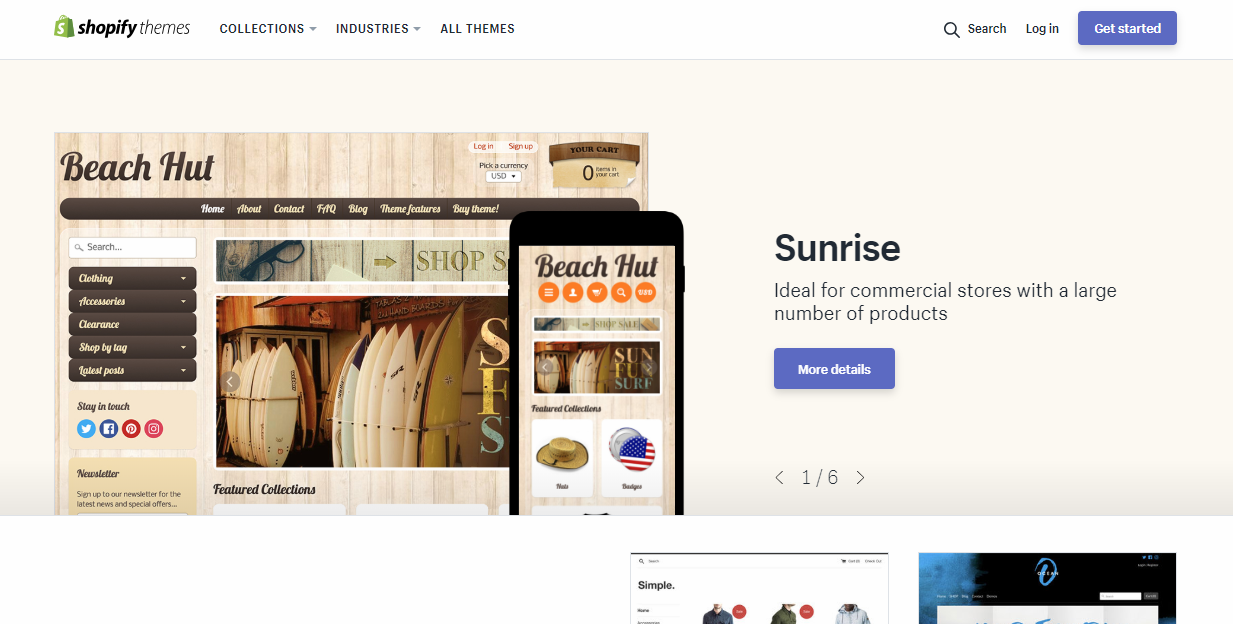 Shopify Theme Store
The official Theme Store should be the first place to look for Shopify Themes. The free themes available here are officially supported, so if you run into any troubles, support staff won't hesitate to help you out.
The paid themes on the other hand, are made by third-party developers, hence the developers are responsible for providing help if you run into any problems.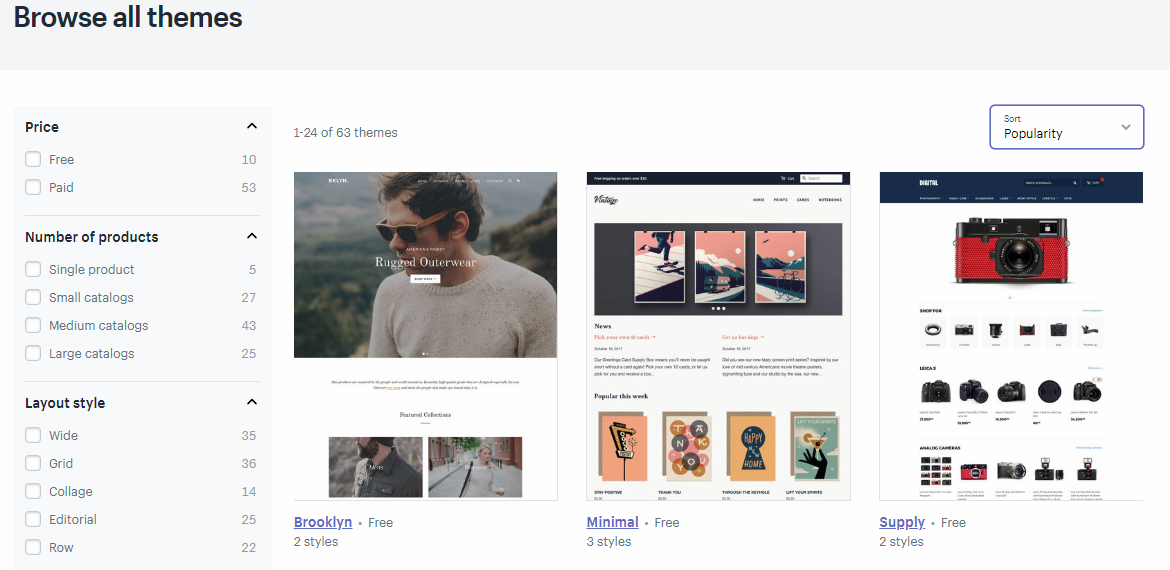 The Theme Store itself is very intuitive to use, and themes can be conveniently filtered according to price, category and type. This helps users in finding exactly the type of design that they're looking for.
Free Shopify Themes
The free themes are definitely lacking in numbers, however, most of these come in 2 or 3 design variants. The design variants differ significantly so there's actually a lot of choice even with the free themes.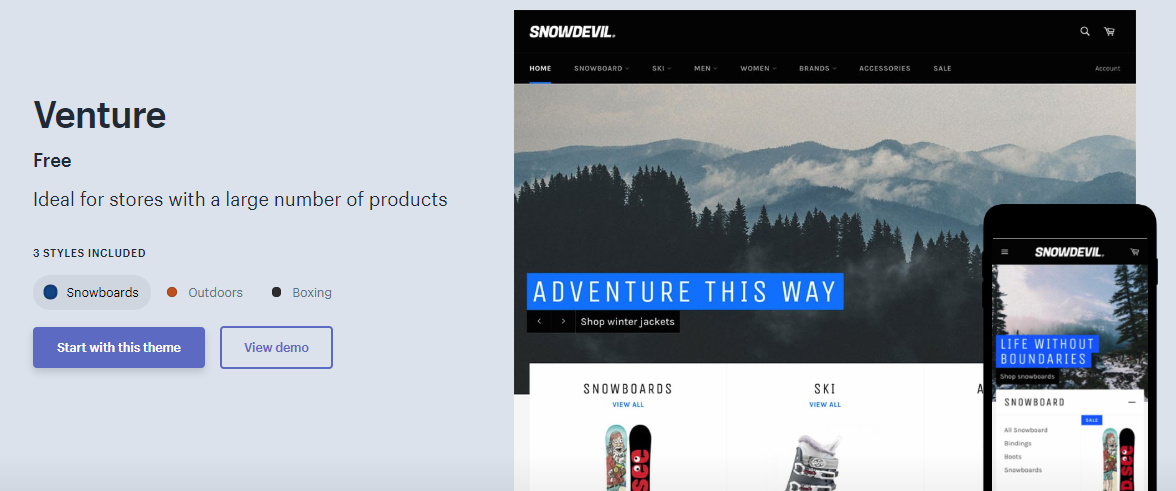 What's more, the free themes are all well-designed, mobile-optimized and cover a broad variety of niches. Users on a budget who don't want to compromise on the design quality will not be disappointed.
Paid Shopify Themes
If you can't quite find a design you like in the free themes, you can have a look at the paid options instead. These themes aren't necessarily better in quality, only that there's a larger variety to choose from.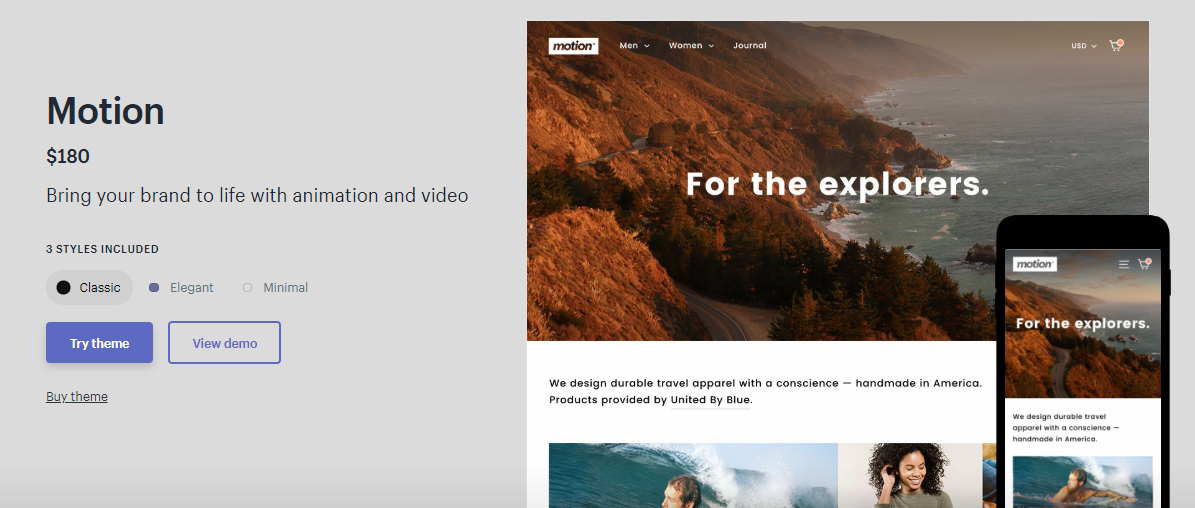 Price-wise, the paid themes are definitely on the expensive side, starting at $140 and going up to $180. Considering that this is a one-time cost, it's not such a bad idea to invest in a premium theme if the design really does appeal to you.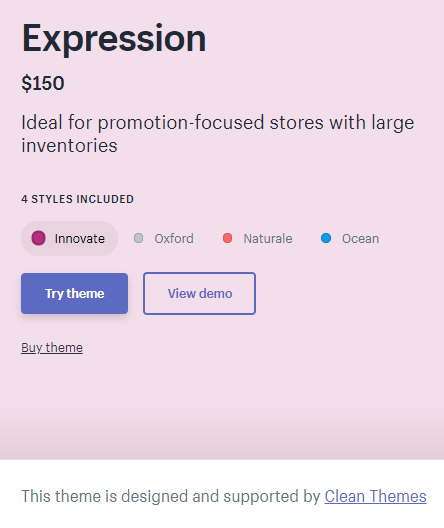 As mentioned earlier, make sure that you take into consideration that Shopify will not provide support for the paid themes.
Custom Shopify Themes
If you cannot find a design to your liking on the Shopify Theme Store, you have two options:
Get a custom theme made by a Shopify expert

Browse themes on third-party marketplaces such as ThemeForest and Template Monster
For those thinking about getting a custom theme made by a Shopify expert, take into account the costs involved in the process. Shopify experts aren't cheap to hire, and your custom theme could end up costing thousands of dollars.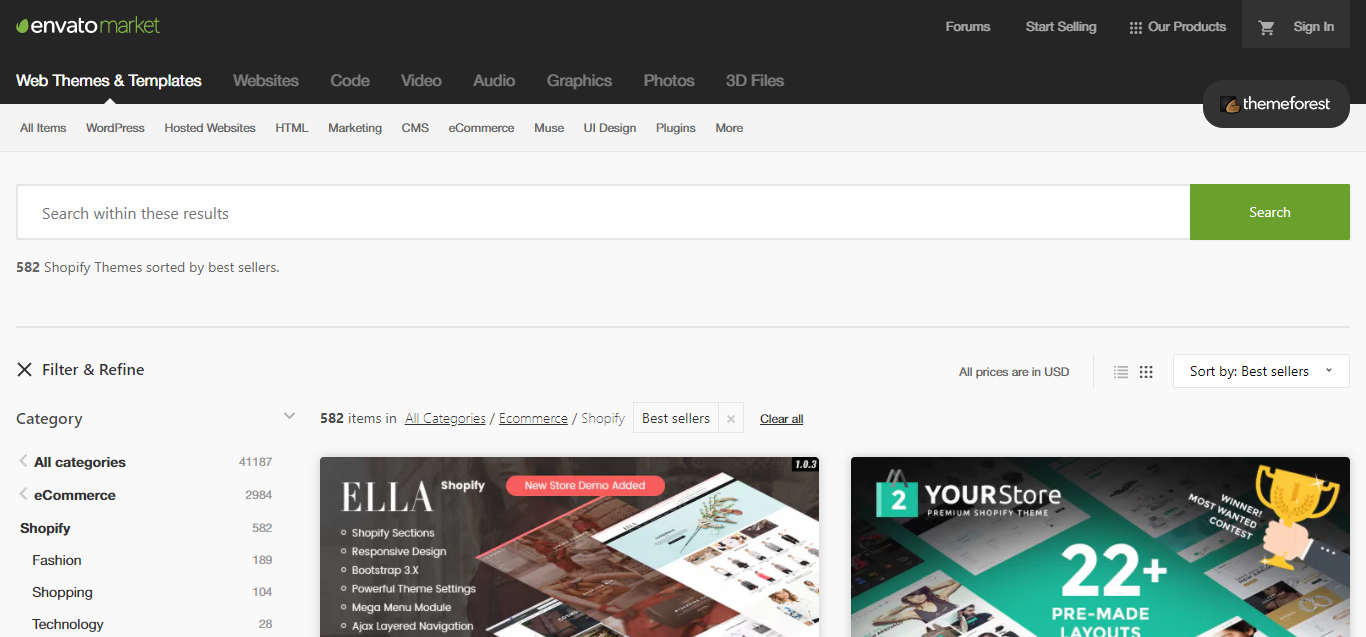 ThemeForest is a trusted marketplace to source Shopify themes from. The theme selection is actually quite extensive, as there are more than 500 to choose from. Generally speaking, quality levels of themes here are quite high as the site employs strict code and design checks. But still, you'll have to ensure that the developer of the theme provides adequate support, which in many cases is a paid option.
For most users, our recommendation would be to go for the themes on official Shopify Theme Store. Better yet, users can save on initial costs by opting for a free theme. The free themes are officially supported, and are just as good in their design quality as the paid counterparts.
Core Features of Shopify
One of the reasons for Shopify's popularity is its impressive eCommerce feature set. So, let's take a look at some core key features of the platform, and how they help the end-user.
Reporting
Successful businesses around the world leverage the power of reports and data to stay ahead of the competition. Shopify too, offers strong reporting capabilities, covering:
Customer reports:

These reports provide details about a store's customers; where they come from, new vs returning customers and so on.

Marketing reports:

These provide information about the method/way your customers were acquired (Social media, search engines etc.).

Store search reports:

What items are being searched for most frequently on your store? This is exactly what you can determine – along with other key information – from store search reports.

Finance reports:

These reports cover sales and taxes.

Abandoned cart reports:

Business lost due to customers abandoning shopping cart without purchasing anything.
The above-mentioned reports provide quite a comprehensive insight into an online store's performance. However, it should be noted that these detailed reports and insights are only available in the $79/mo Shopify plan and up.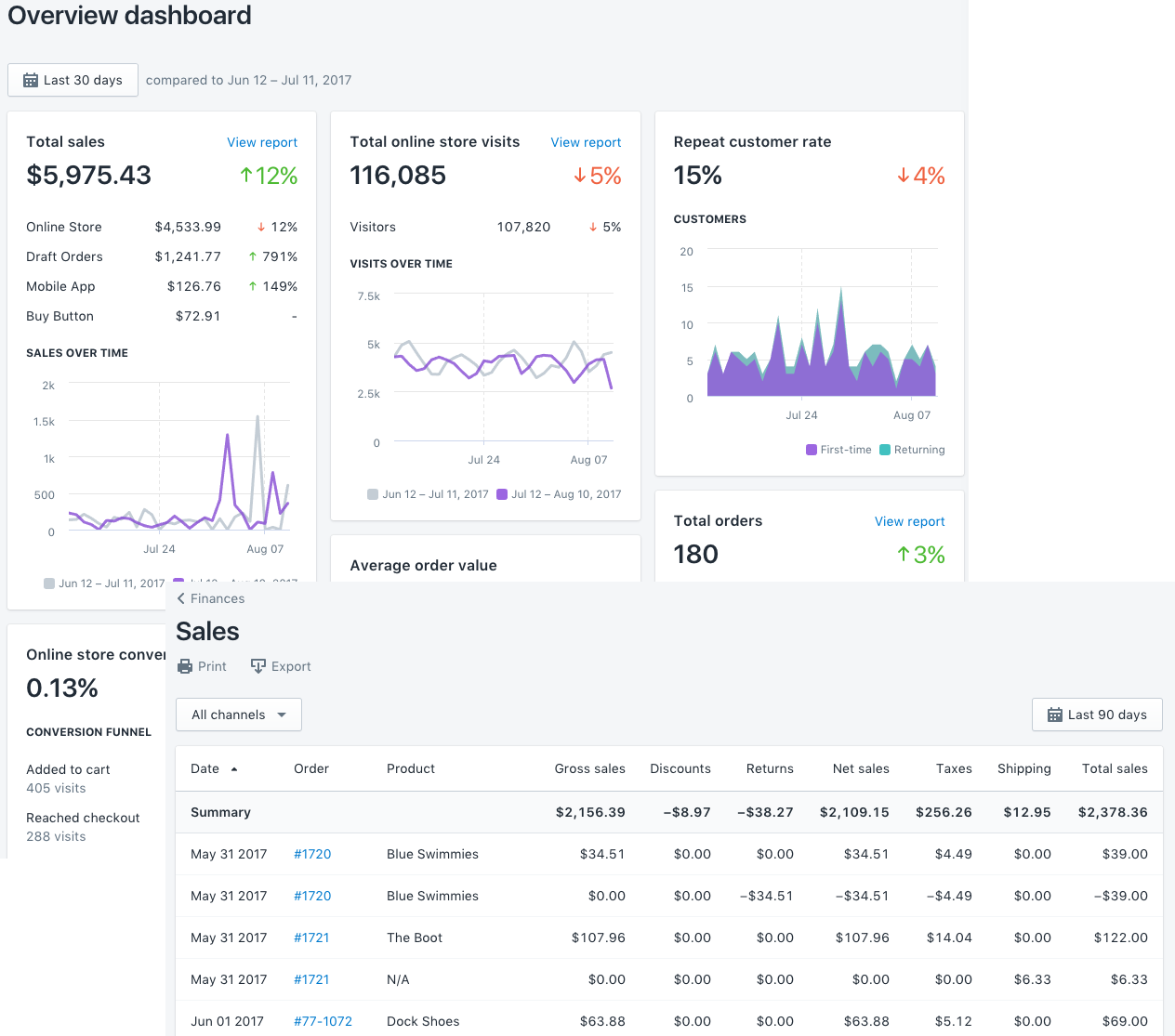 Basic Shopify ($29/mo) users also have a reporting feature, but the insights aren't nearly as comprehensive. If data is important to you, it might be a good idea to start with the $79/mo Shopify plan.
Point of Sale (POS) System
Shopify offers a proprietary point of sale (POS) system, complete with official hardware. Competitors such as BigCommerce also tout POS functionality, but they rely on third-party services such as Square to make it work.
Shopify's POS system meanwhile, is made specifically for the Shopify platform and as such, integrates easily with it. The official POS hardware kit includes a receipt printer, a barcode scanner, a credit card reader and a till.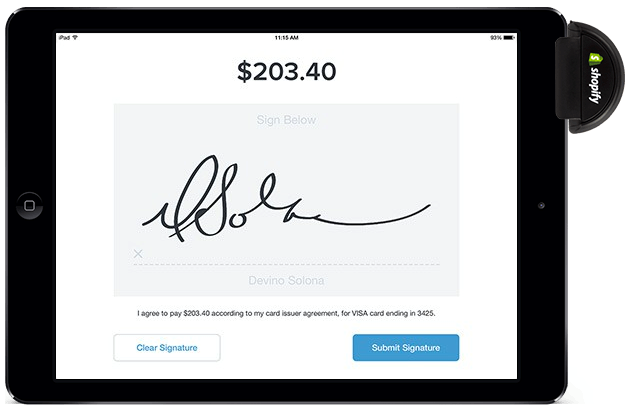 With this equipment, anyone can setup a POS operation at a physical location. Sales made through the POS system are automatically reflected in the backend management system as well, so inventory levels are always up to date.
One of the disadvantages of this proprietary POS system is that there is no other POS option for users. If a user wants to migrate to Shopify from another platform, they'll have to leave whatever POS solution they were using and start anew with Shopify POS.
Abandoned Cart Recovery
Abandoned cart recovery is an eCommerce feature which helps store owners recover sales lost due to visitors abandoning their (filled) shopping carts without making a purchase. Up until recently, Shopify offered this feature with their $79/mo 'Shopify' plan and up, making it expensive. However, now it is offered with all plans that come with an online store builder.

Shopify's settings for abandoned cart notifications
So, how does abandoned cart recovery help recover such 'lost' sales? Well, with this feature, store owners can send a notification email to people who abandon their carts.
The email can possibly contain an offer that discounts the price of the cart by a certain percentage, or something else designed to incentivize that person to complete the purchase. This is all up to the imagination of the seller, of course.
In fact, according to BigCommerce, abandoned cart recovery can boost total revenue by up to 15% – a significant amount.
Shopify's abandoned cart recovery allows you to:
View a list of people who abandoned their carts, so you can email them manually.

Send automated emails to people who abandon their carts. These emails contain a link to the respective persons' abandoned cart.
Obviously, the second of these options is more reliable as it requires no intervention from the store owner's end. The automated emails are sent after a specific amount of time has passed after a person abandons their cart.
How much time should pass is up to you, but Shopify recommends sending emails after either 1 hour or 10 hours, after a visitor abandons their cart. There are a couple of other options – 6 hours and 24 hours – but according to research carried out by Shopify, sending emails after 1 or 10 hours is the best way to get the user to complete the purchase.
Blogging in Shopify
One of the best ways of attracting a new audience to your store is through content marketing / blogging. Here at Logic Inbound, we were successful in propelling an ecommerce store to success through the power of content marketing alone. You can read more about that here.
Anyway, Shopify does come with its very own blogging feature which allows you to add a blog to your store. The blogging functionality is certainly not as sophisticated as you'd find in a fully-featured CMS like WordPress, or even Squarespace.
Some of the more glaring omissions are content versioning, and comprehensive SEO packages such as Yoast. Also, posts can only be categorized using tags, and not categories.
Despite its shortcomings, the blogging feature in Shopify is quite sufficient to drive a content marketing campaign. Logic Inbound was quite successful in creating a successful Shopify store through the power of content marketing.
Hobanco, the Logic Inbound case study / experiment, gained significantly in its Google search rankings with content marketing done primarily through its blog.
Hence, it can be safely concluded that for most users, Shopify's blogging capabilities will not pose any kind of limitation.
Shopify Mobile Apps
Smartphones are everywhere, and people now rely on them more than ever. To facilitate easy management of your online store, Shopify provides two mobile apps: 'Shopify' and 'Shopify Point of Sale'.
The 'Shopify' app is geared towards order and product management. It allows you to view / fulfill orders, add / edit / delete products, and view store reports.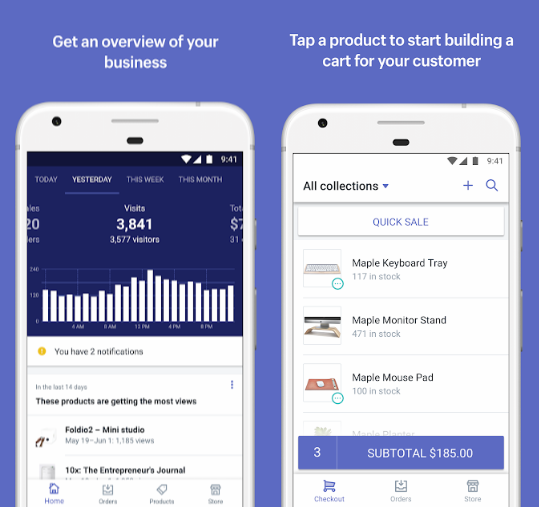 The Shopify app (L) and Shopify POS app (R)
The Shopify Point of Sale app is meant to facilitate users of the platform's retail solution. With the POS app, users can take card payments (by attaching a card reader to their smartphone), track inventory, and share receipts with customers.
Ease of Use and Interface
Dashboard
One of the main draws of eCommerce tools such as Shopify and BigCommerce is their ease of use. In practice, Shopify really delivers as it has a simple, uncluttered, and intuitive user interface.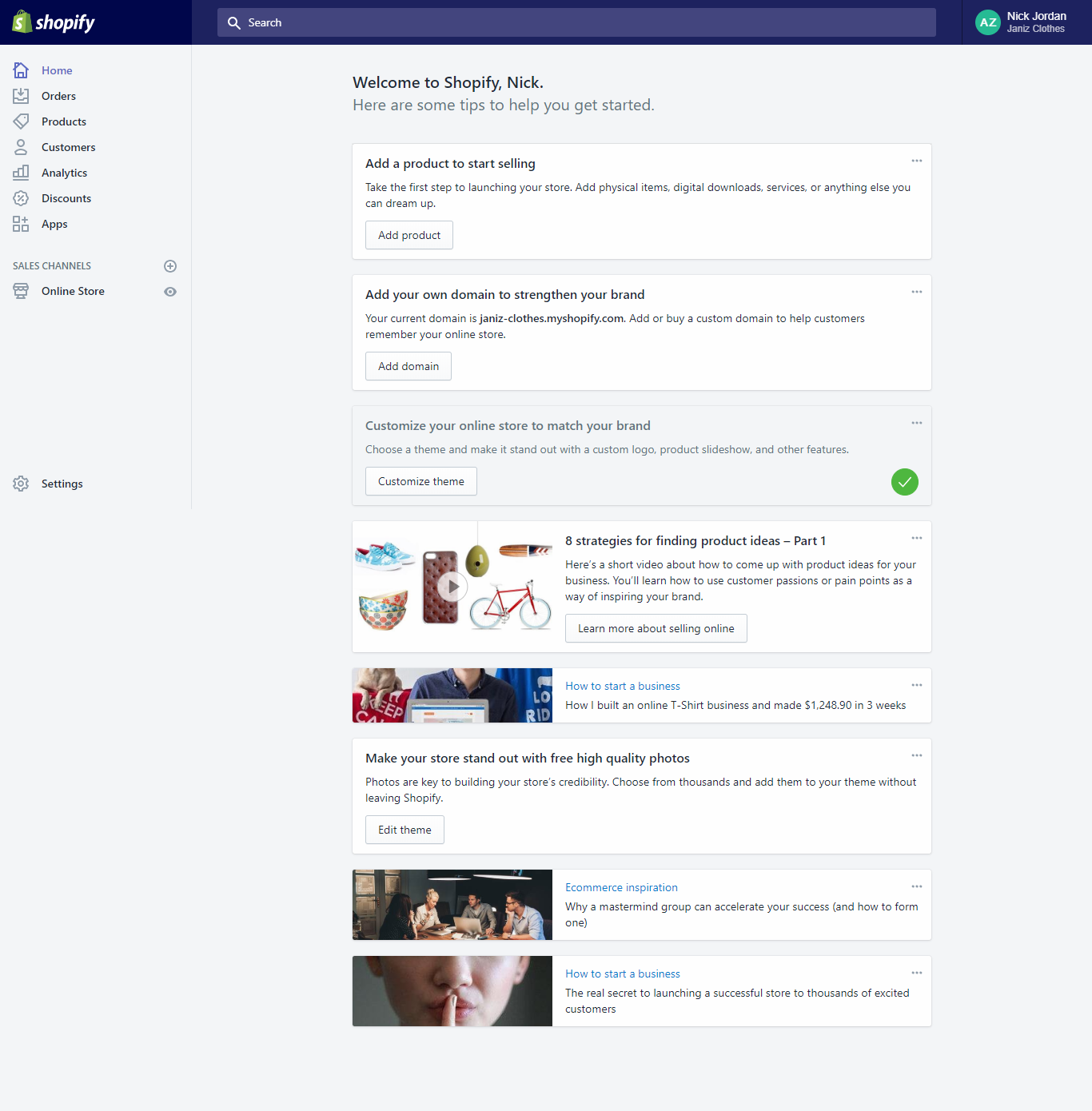 Navigating around the different pages of the dashboard is easy, and there's never a page that requires too many clicks to reach it.
We're also big fans of Shopify's 'intelligent' search feature. It can do searches alright, but it also assists in finding specific pages that you might be looking for. For example, if you want to add a blog, simply type in 'blog' in the search bar.

The search box will return not only the various pages related to the search query, but also actionable links that make using the whole system really intuitive and easy.
We have used competing tools such as BigCommerce, Squarespace and Wix, and none of them has an 'intelligent' search feature. Shopify really has gone to great lengths in ensuring that its platform is absolutely easy to use, even for beginners.
Site Customizer / Editor
The Shopify editor allows for the usual tweaks and customizations to a store's theme. It has an easy-to-use interface and doesn't require the user to fiddle with any CSS or HTML.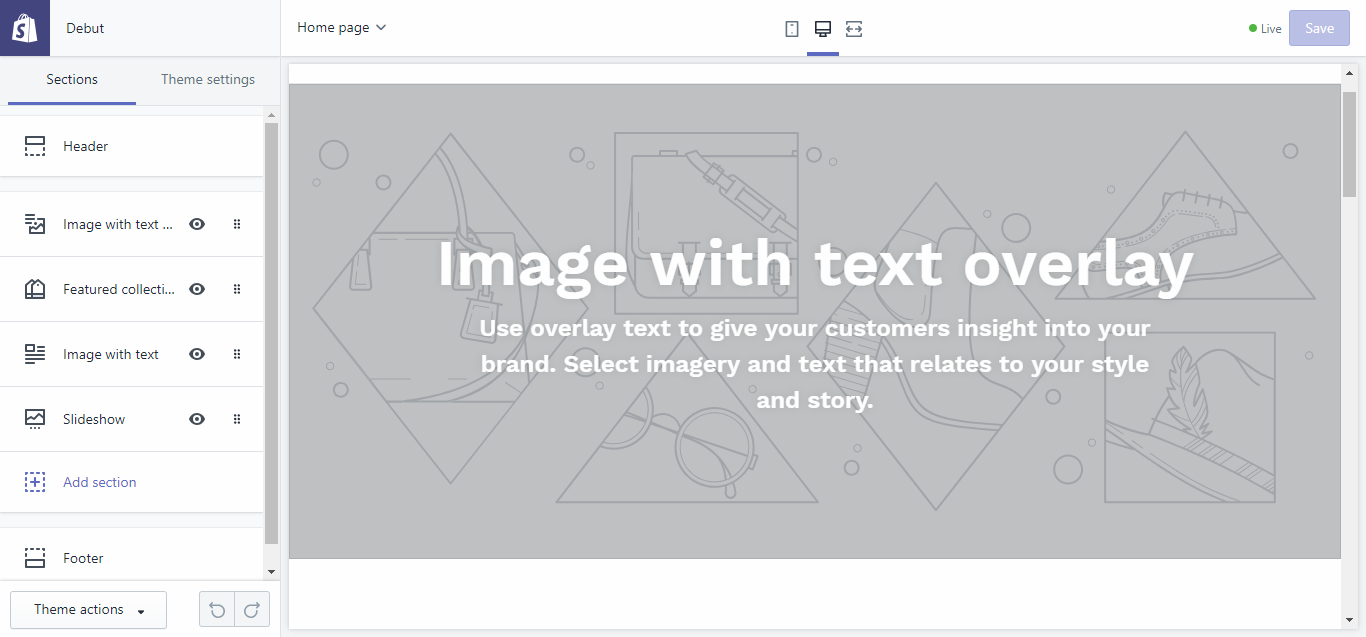 However, Shopify also caters to advanced users, who can leverage their CSS skills for deeper customizations. That's because users can edit the theme files – to their heart's content – if they have a solid grip on HTML and CSS, and a basic understanding of Liquid (Shopify's templating language).
To get access to the theme files, simply navigate to Online Store > Themes from the Shopify admin dashboard. From there, simply click Actions > Edit code and you'll see a directory containing all of the theme's files. To learn more about editing Shopify theme code, visit this link.
Shopify Apps / Add-Ons
You might be surprised to know that by default, Shopify does not have a built-in 'customer reviews' feature. Instead, Shopify has decided to make that feature an optional (and free) add-on. And it's one of 2500 add-ons (or apps, as Shopify calls them) that are available on the official App Store.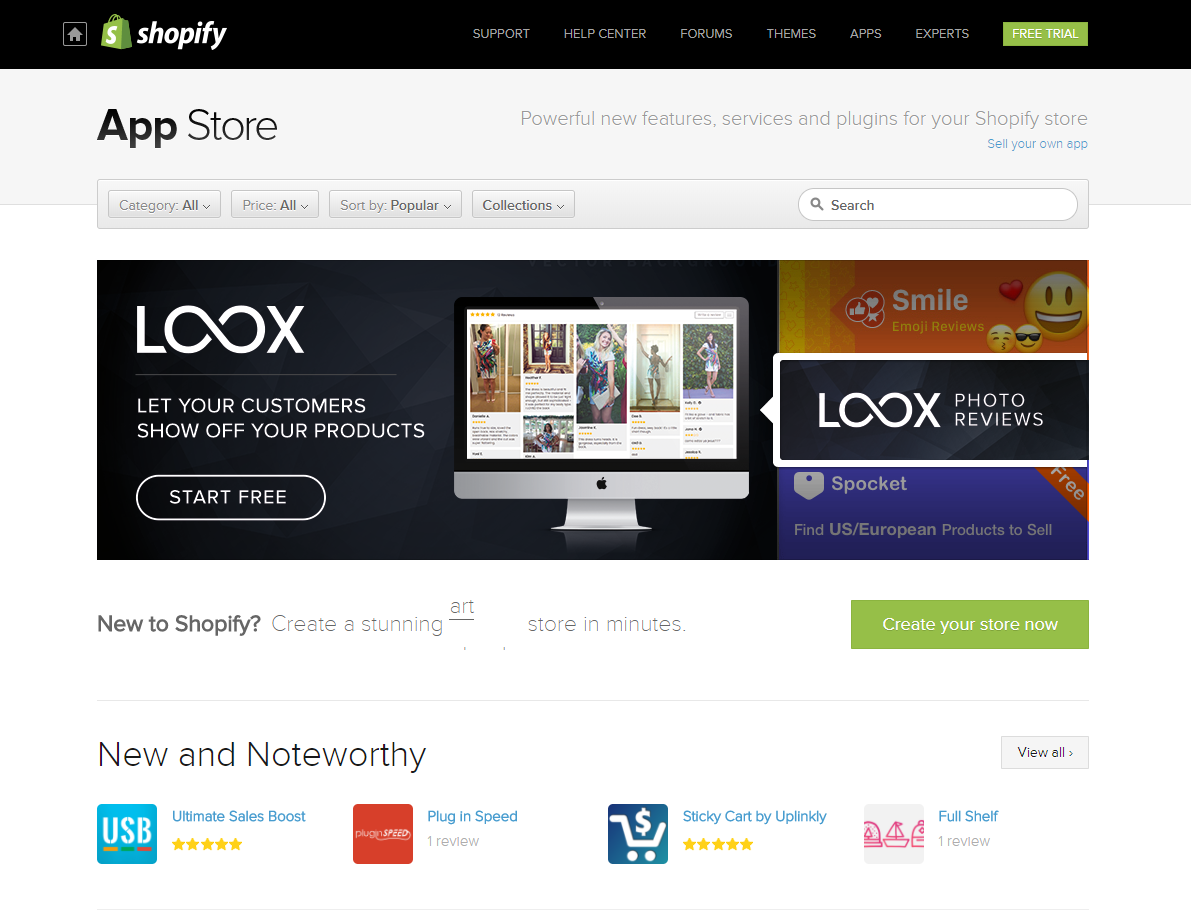 Thanks to the platform's success and popularity, there are more than 1000 developers creating apps for it. The App Store is absolutely brimming with useful apps that can help make your store better and more profitable. While most of the apps are paid, there are plenty of useful free apps as well to keep budget-conscious users happy.
The thriving app ecosystem is what differentiates Shopify when compared against key competitors such as BigCommerce and Squarespace (which has no add-ons). This kind of plugin lineup ensures that a users' requirements – no matter how big – will be taken care of, giving Shopify tremendous flexibility when it comes to its functionality.
Shopify Popularity – And Why It Matters
Shopify's popularity is definitely a benefit for its users. The reason for that is simple – the more popular a product or a service is, the more likely it'll stay in business. You don't want to open an online store with a tool that's in danger of getting shut down because it's not popular (as it's not making revenue for its developers).
Shopify isn't just popular, but it is actually increasing in popularity with every passing year.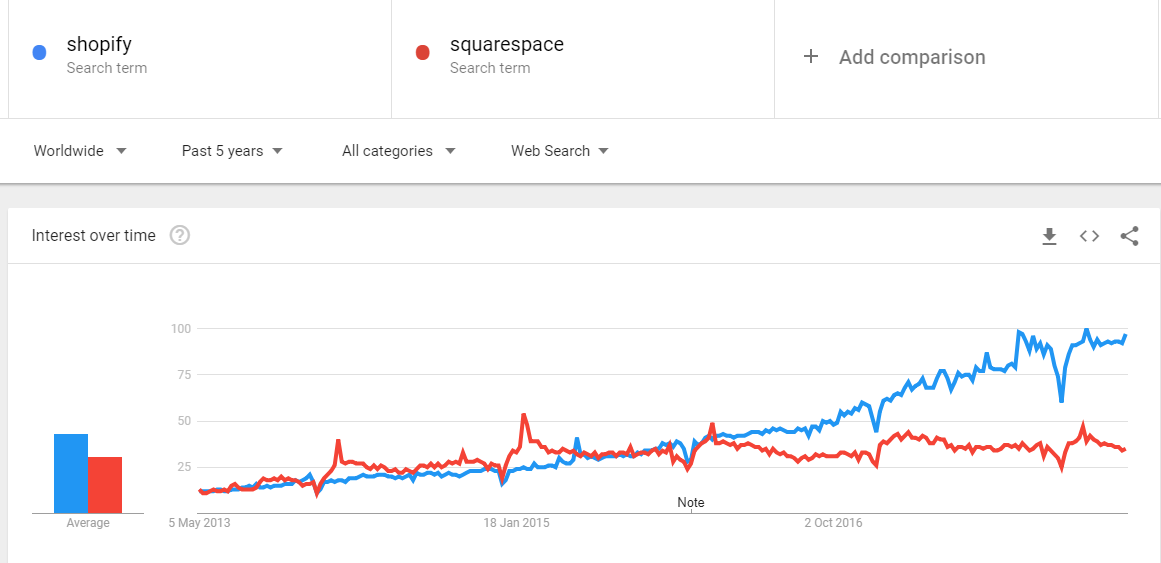 In the above image, we've compared search interest for Shopify against Squarespace (which is a popular service as well). It's quite evident that searches for Shopify have actually increased since 2013, showing increasing interest from users.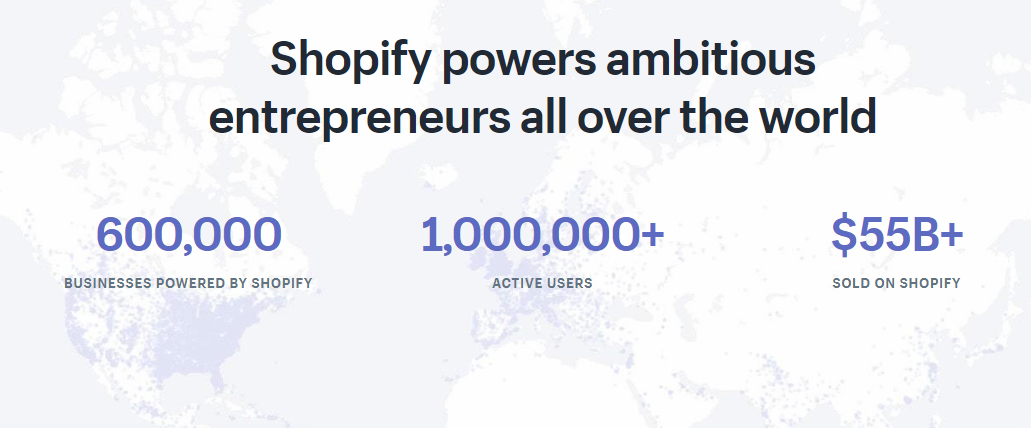 As a result of this, Shopify now powers around 600,000 online stores worldwide. The popularity also makes Shopify an easy and 'safe' recommendation, as it can be relied upon to be in service for a long time to come.
Shopify Support
Shopify offers 24/7 online customer support for all of its users. This includes support through live chat, email and a phone line. This level of support is nearly matchless when compared to key rivals. Squarespace does not have phone support, while Wix has yet to offer live chat support.
That said, reaching Shopify live chat is a tricky affair. That's because when you go the Shopify support page, you're required to type in your issue so that the knowledgebase can offer some documented solutions. Some people are put off by this, as they just want to get in touch with a support rep.

However, instead of typing in a query, just leave the question box empty and click on Get Help. That will take you straight to Shopify's online support options.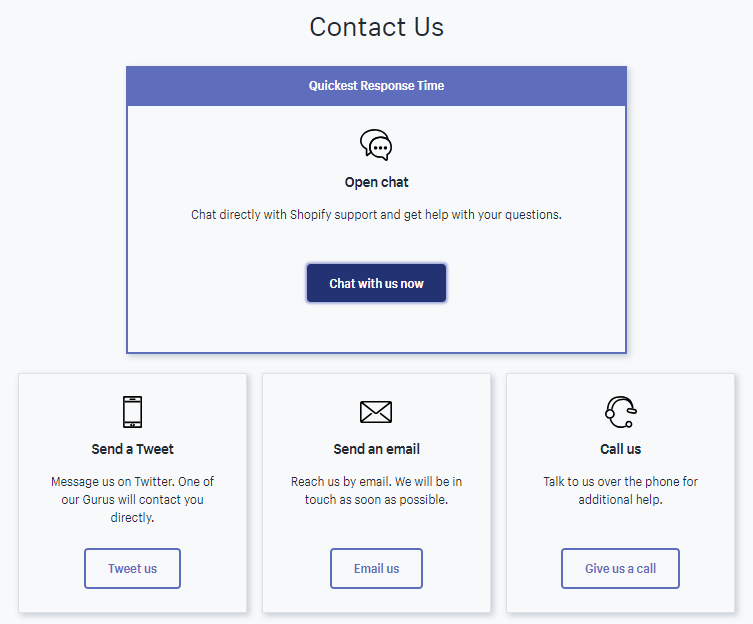 Click on Chat with us now and you'll be directed to Shopify's live chat interface.

The Shopify support phone numbers certainly limit users outside North America, the United Kingdom, Australia and New Zealand. However, using Google Hangouts, anyone can call the North American support phone number for free.
We have covered Shopify's customer support in detail in another post.
Is Shopify the Best Ecommerce Platform?
All things considered, Shopify is one of the best hosted solutions for creating an online store. It's easy to use, affordable, and comes with a rich ecommerce feature set. There really is nothing you can't do (with regards to online selling) using Shopify.
The only real negative aspect of the platform are the transaction fees and its closed POS solution. For users who cannot use Shopify Payments, the prospect of paying 2% of monthly sales might discourage them from using the platform altogether. The POS solution, while impressively well-implemented, does mean that users don't have a choice of using anything else.
Despite these objective drawbacks, we still recommend Shopify because of its reliability and ecommerce capabilities. To try it out for yourself, be sure to avail the 2-week free trial.