WooCommerce is one of the leading ecommerce solutions available today. It is available completely free of charge to download and is open-source as well. Thanks to a combination of these characteristics, WooCommerce enjoys a healthy community of third-party developers who're consistently developing and updating various plugins meant to add functionality to the core feature set of the platform.
By default, WooCommerce allows users to sell products (tangible and intangible) through its platform. These products should have a one-time price, which is set when the product is being added. However, there is no way to offer products that are based on a subscription payment model. Recurring payments simply aren't built into the default features of the platform.
To enable users who want to be able to sell products or services based on a subscription payment model, there are several WooCommerce subscription plugins available. These plugins allow you to setup advanced subscription payment systems on your WooCommerce store.
In this article, we'll be looking at some of the most popular WooCommerce subscription plugins available. We'll tell you how to get these plugins, the features that they offer, and whether they're good value (in case of premium plugins).
The Need for WooCommerce Subscriptions
As mentioned before, WooCommerce does not have a feature for accepting recurring payments. Recurring payments are a necessity if you're going to offer subscription-based products.
And the market is certainly there for such kind of functionality, as the following kinds of products and services can be sold on a subscription payment model:
Online courses or tutorials

Donations for a cause

Memberships

Software products with limited licensing periods
Clearly, by not offering recurring payments in its default feature set, WooCommerce seems to be missing out on crucial functionality. However, as previously mentioned, there are some comprehensive subscription plugins available that do this job very well.
The WooCommerce Subscriptions Extension
The aptly named WooCommerce Subscriptions extension lets you create and manage products with recurring payments. That's really just the tip of the ice berg, as there's a lot more that this plugin can do.
Using this plugin, you can create subscription-based products that deduct payment from the customer at whatever interval you choose. So, for example if you want to offer a 'product of the month' subscription service, the customer will be deducted a set amount each month to be able to receive the product of the month of your store.
Similarly, if you want to offer a software product whose license needs to be renewed each year, you can do exactly that using this plugin. There's a lot that this plugin can do, so let's have a look at its various features.
Features
1.Free Trials and Sign Up Fees

If you want to offer a free trial to your customers to test out your product, you can do so with this plugin. It's up to you whether you want to collect payment information before the start of the free trial.
If you'd like to charge an initial amount (sign up fees) to account for setup costs, you can do that as well.
2. Variable Subscriptions

You might have come across subscription products that have variable pricing depending on the number of features offered with them. Using the variable subscriptions feature of this plugin, you'll be able to create products that are offered with a tiered subscription pricing model.
An example of this would be a software product, where paying more would get the user advanced features. What's more, with this feature the customer can also choose their own billing schedule, and you can choose to offer discounts if the customer chooses to commit to longer payment intervals.
3. Subscription Management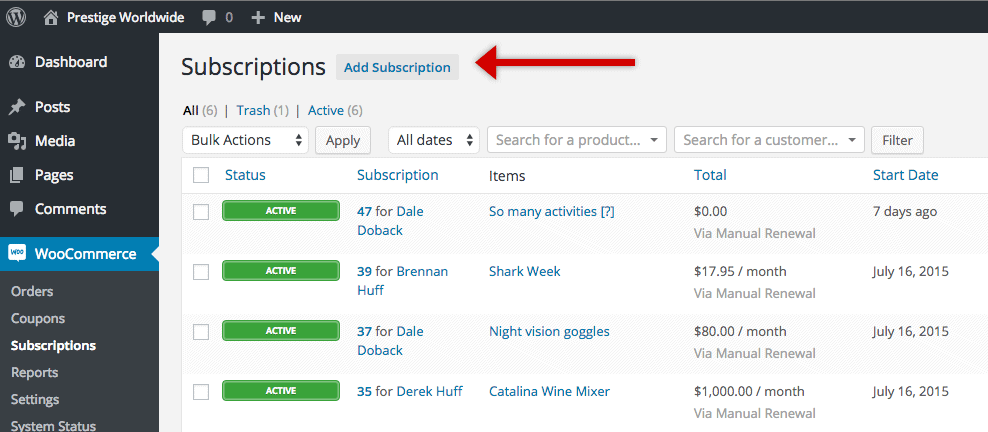 This plugin gives store admins access to full-featured subscription management, allowing them to:
Cancel or suspend a subscription

Change trial expiration (in case customer asks for extension)

Add items (for custom subscription options)

Modify recurring total for future payments
4. Customer Subscription Management

Customers who're subscribed to one of your products / services can manage their subscriptions in the following ways:
Suspend or cancel a subscription

Change shipping address or payment method (for future renewals)

Upgrade or downgrade their subscription
5. Flexible Product Options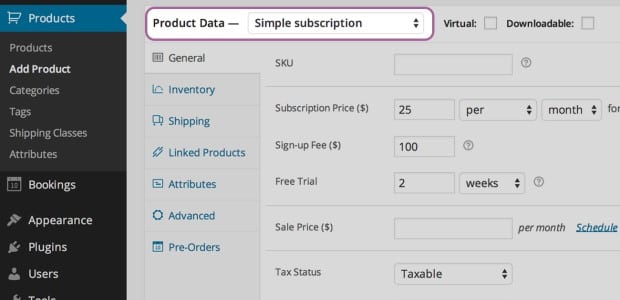 Subscriptions allows you to create downloadable, virtual or physical products. You can charge the renewal payments for your products on a weekly, monthly or annual basis. You can also set a per-person purchase limit for the product. Simply put, WooCommerce Subscription allows you to tailor your subscription plans exactly as you want them to be.
6. Subscription Coupons

You can offer your customers a discount on their recurring payments or just the sign-up fee with the coupons feature of the Subscriptions plugin.
7. Customer Emails

Keep your customers aware about the status of their subscription plan through emails. WooCommerce Subscriptions allows you to send emails when a renewal payment is processed, a subscription is canceled or when a subscription has expired.
WooCommerce Subscriptions Plugin Pricing
WooCommerce Subscription certainly adds a lot of value to your store, and in some cases can be absolutely necessary. The subscription payment model is quite popular as it allows you to calculate exactly how much revenue you store can generate.
WooCommerce Subscription is a premium plugin, and is offered with the following price plans:
| | | | |
| --- | --- | --- | --- |
| Price Plan | Single Site | 5 Sites | 25 Sites |
| Cost | $199 | $249 | $399 |
$199 is certainly a lot of money to pay for a plugin, but then this plugin does come with a lot of built-in features. In case you purchase this plugin and aren't satisfied with this performance and/or features, don't worry – it comes with a 30-day money-back guarantee.
How to Use WooCommerce Subscriptions
Now that you're aware of the various features and capabilities of the WooCommerce Subscriptions plugin, let's look at how you can use it to create subscription-based products.
Creating a Subscription Plan
To create a new subscription plan, navigate to Products > Add Products from your WordPress / WooCommerce admin. On the Add New Product screen, select Simple Subscription or Variable Subscription as the product type. Variable subscriptions will be explained in a later section.

Set the terms for subscription including Sign-up fee, billing interval, billing period, length, price and trial period as per your requirements. After this, simply Publish the product to take it live.
Variable Subscription
The variable subscription product type allows you to have several variations of the same subscription product. Each variation of the subscription product has its own unique settings and values.
Each variation of a Variable Subscription can have its own:
Product attributes

Sign-up fee

Trial period

Recurring price

Billing period

Subscription length
Basically, it's a different product but it's packaged under a common name.
Setting up Payment Schedule
Whatever kind of payment schedule you have in mind for your subscription products, be assured that WooCommerce Subscriptions will be able to handle it.
The most basic setting you'll have to configure when it comes to payment is choosing the intervals at which your customer will be charged for the subscription product. There's a lot of flexibility when it comes to choosing the payment intervals. For example, you can charge customers on a daily, weekly, monthly or annually.

Want to bill customers after every 2nd month? Simply set the Subscription Price to every 2nd month.
Want to bill customers quarterly? Set the price to every 3rd month.
Understanding Trial Periods and Sign Up Fees
WooCommerce Subscriptions allows you to offer a trial period before the beginning of a subscription.
The trial period you set will be added to the length of the subscription. For example, if you create a subscription for 6 months with a 1-month free trial period, the subscription will expire after 7 months (assuming the customer decides to purchase your subscription after the trial period has ended).
Sign up fees are the fees that are charged initially upon beginning of a subscription plan. The total initial payment to be made by the customer will be a sum of the sign-up fees and the monthly price of the subscription plan. So, for example, a $5/month subscription plan with $5 sign-up fee will charge $10 for the first month.
If your subscription plan happens to have a free trial and a sign-up fee, only the sign-up fee will be charged upon the beginning of the trial period.
One Time Shipping
Normally, subscription products come with an initial shipping cost and recurring shipping costs on renewal orders. However, there are some subscription products that only need to charge for shipping once, at the start the of the subscription (mobile phones with a data plan, for example).
To handle such cases, WooCommerce Subscriptions offers store admins the option of one-time shipping, where the customer is charged for shipping only on the initial order.
To enable one-time shipping for a product:
Navigate to

Products > Edit Product

from the WordPress / WooCommerce admin

Select the product you'd like to activate one-time shipping on

Select shipping in the left menu

Tick the

One time shipping

checkbox

Click on

Update

to save changes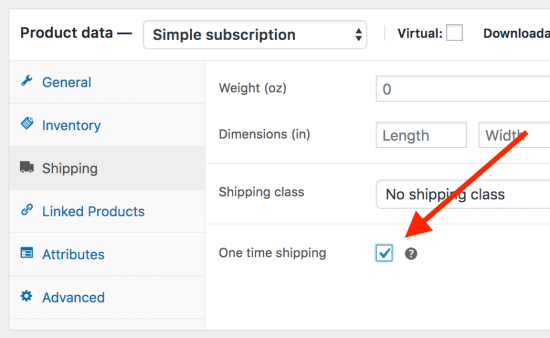 Please note that in order to avail the one-time shipping feature, your product must not have a free trial offer associated with it. The One Time Shipping feature is disabled if your product has a free trial. This is a limitation of the plugin itself.
WooCommerce Subscriptions Coupons
You can provide customers with discounts in the form of coupon codes. You can have discounts for sign-up fees and recurring payments. Please note that the coupon discount is applied to the total cost of the sign-up fee and the first payment. So, for example, a $25/month product with a $15 sign-up fee would cost the customer $40 initially. If a $10 coupon is applied, the upfront payment would come down to $30, and after that the customer would be charged the normal monthly fee i.e. $25/month.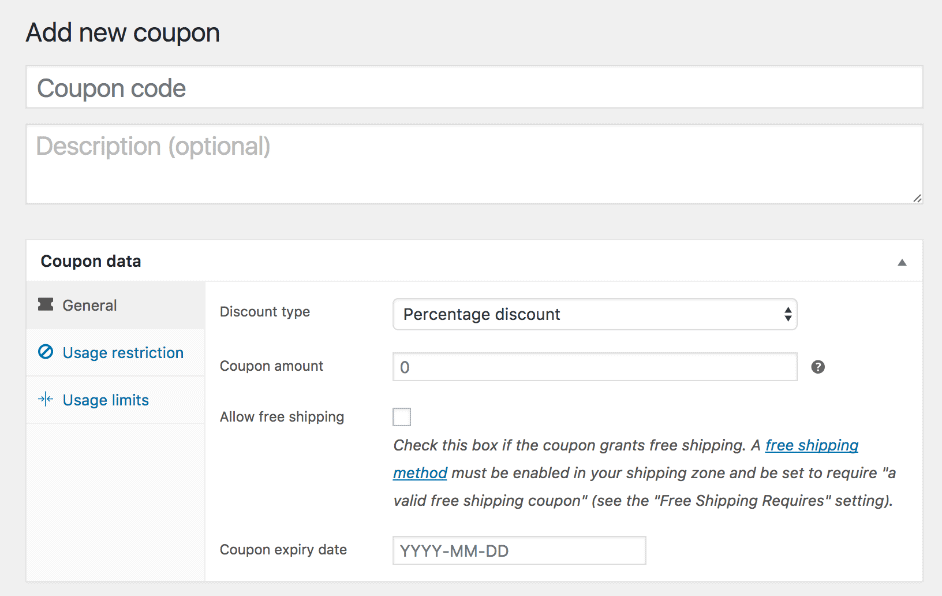 If you want to discount all recurring payments, you can use a subscription-specific coupon to do exactly that.
Worth noting is that if your subscription period has no sign-up fee and a free trial, no discount can be applied since there's no initial payment to be made in the first place.
Another limitation of the Subscriptions plugin is that there no way to create a coupon that discounts a set number of recurring payments.
Subscription Management
The plugin comes with a comprehensive set of subscription management options, allowing you to know the status of each individual subscription in great detail. Simply navigate to Subscriptions from your WooCommerce admin and for each subscription, you'll find information for its current status, payment amount, start date, trial end date, next payment date and so on.
You can also search for a particular customer's subscription by using name, address, email address or product name.
Alternative Plugins for WooCommerce Subscriptions
The WooCommerce Subscriptions plugin is quite comprehensive in its functionality. It offers everything you'd want from a subscriptions plugin, but it isn't the only subscription plugin available for the platform.
| | |
| --- | --- |
| Plugin | Price |
| Subscriptions for WooCommerce by WebToffee | FREE |
| Subscriptio | $49 |
| YITH WooCommerce Subscriptions | FREE |
| SUMO Subscriptions | $39 |
In fact, there are several other plugins that are quite popular with WooCommerce users, and that have proven to be great for creating and managing subscriptions within the platform. Let's have a look at some notable WooCommerce Subscriptions alternatives.
1. Subscriptions for WooCommerce by WebToffee – Free Subscriptions Plugin

The Subscriptions for WooCommerce plugin by WebToffee is a great free alternative that has many of the features as the premium $199 plugin. It allows you to create simple and variable subscription products, and you can create subscriptions out of different kinds of products (physical, downloadable or virtual).
The plugin gives you flexibility to set the billing period of your choice, as well as the interval at which the customer should be billed. The plugin is quite simple and straightforward to use, adding the 'simple subscription' and 'variable subscription' product types to the product dropdown so you can easily create a subscription product.
Some noteworthy features of this plugin are:
Absolutely free to download and use

Flexible billing intervals and periods. You have the choice of setting these in days, weeks, months or years.

Option to renew subscriptions manually or automatically. Automatic renewals are dependent on the payment gateway you are using.

Mixed checkout option

, which allows customers to purchase a subscription product and a normal product in the same order, saving overhead costs such as transaction fees by combining the orders into one.

Comprehensive subscription management.
In fact, this plugin is quite close in functionality to the premium WooCommerce Subscriptions plugin mentioned earlier. If you're on a budget and want to offer subscription products on your WooCommerce-powered website, be sure to try this plugin.
2. Subscriptio – Cheap WooCommerce Subscription Plugin

With more than 4,000 downloads on CodeCanyon.net, Subscriptio is the most popular alternative premium subscriptions plugin for WooCommerce. Looking at its list of features and functions, it's not hard to see why either.
Most of the features you'll find in the $199 WooCommerce Subscriptions plugin can be found in Subscriptio. It allows you to create simple and variable subscriptions products, and of course adds recurring payments functionality to WooCommerce which allows you to sell subscription-based products like magazines, memberships, online courses and so on.
Flexible billing periods and intervals are offered by this plugin, as is the ability to setup manual, automatic or semi-automatic billing. Please note that fully automatic billing (automatic renewals) are only supported out of the box for PayPal and Stripe. You'll need to configure other payment gateways in order for automatic billing to work with them.
Mixed checkouts are also supported, which means that subscription and normal products can be purchased within the same order by a customer.
What makes this plugin so compelling is that it's premium, yet offered at a quarter of the price of WooCommerce Subscriptions. By paying $49, you're entitled to future updates and 6 months of support from plugin developer RightPress. It's worth noting that with the $199 WooCommerce Subscriptions plugin, you only get updates for a year, after which you have to pay again in order to continue receiving updates.
3. YITH WooCommerce Subscription – Basic, Free Subscription Plugin

YITH WooCommerce Subscription is a fairly basic subscription plugin for the platform, whose most prominent feature is perhaps its free price tag. We say basic because it allows you to create subscriptions out of virtual products only, which means shippable products are out.
Also, the billing periods and intervals are fairly limiting, as you only have the option of billing customers daily or monthly using this plugin.
So, with such basic functionality, why are we including it on this list? We understand that not everyone is looking for the most complete subscription plugin out there, and for such users the YITH WooCommerce Subscription plugin presents a basic and lightweight option. Its bare feature set means that it's not going to be too taxing on the performance of your website. And if you're only interested in offering basic subscriptions for virtual products (like online courses), this plugin might just be what you're looking for.
4. SUMO Subscriptions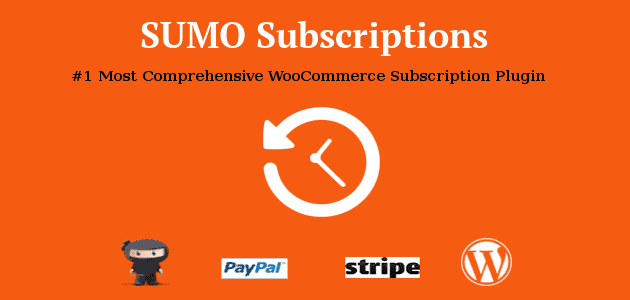 With a nearly 5-star rating on CodeCanyon, SUMO Subscriptions is definitely one of the most well-rated subscription plugins available for WooCommerce. It is advertised as being the "#1 most comprehensive WooCommerce Subscription Plugin", a claim that invites us to look further into its features and functionality.
Starting with the usual features, SUMO Subscription has support for simple subscriptions, variable subscriptions and grouped subscriptions. But what caught our eye was a feature called order subscriptions. So, what exactly does this do?
Say that you order specific products from a store in the same quantity each month. This is a repeating order that is made every month from the same store. Wouldn't it be convenient instead if you could setup a way to generate that order automatically? That's what the order subscriptions feature allows a store's customers to do. During checkout, the customer has the option of ticking the Order Subscription checkbox. If they tick this checkbox, they can then choose the duration and number of intervals for the subscription – just as they would for a normal subscription product. Certainly, an interesting and useful feature, both for the customer and your business.
Other than this novel feature, SUMO has all of the features that you would expect from a good subscription plugin. There's a subscription management module, account management for customers, and automatic renewals (on PayPal).
It's a good subscription plugin, and at $39 it's quite budget-friendly as well. Our reason for placing it so down the list is because it hasn't (yet) racked up many sales on CodeCanyon. Still, if you're looking for a budget-friendly subscription plugin with Order Subscription feature, SUMO Subscriptions might be a good fit.
Why Subscriptions are Good for Your Ecommerce Business
A challenge for any ecommerce business is predicting its monthly revenue. Now, there are several techniques you can use to predict income, but by offering subscription-based products you can almost guarantee a certain amount of income for your business.
Subscription products can provide your business with a cushion, one which protects you against months where your sales fall off dramatically owing to any number of reasons. This is especially true for stores that are focused on selling a certain type of product (for example, it's hard to sell kayaks or water sports equipment during winter).
Closing Thoughts
WooCommerce is a great platform for you to build your online store on. It is feature-rich by default and has a thriving plugin marketplace which ensures that there's a pre-built solution for nearly any functional need that might crop up. What's more, it's free and fully customizable, so if you're handy with the PHP programming language you can mold it into any shape or form.
As far as subscriptions functionality goes, you have quite a few options to choose from. Hopefully from this blog post you'll be able to select a subscription plugin that will suit your budgetary and feature requirements.
Which subscription plugin do you use for your WooCommerce store? Please let us know in the comments below!