Shopify is a great platform to build an online store on. It is easy to use, has a great store management system, comes with professional and well-designed themes, and is supported by a thriving add-on marketplace. Many individual sellers and small businesses choose it for these reasons, but it takes a lot more to make an online store successful.
One of the factors that works in favor of an online store is, undoubtedly, its design. Shopify themes are – fortunately – very well-made and sport a modern aesthetic. In this article we'll be going into detail about Shopify themes and how they form an important facet of the platform.
Why Good Design Matters
Let's be honest, people are influenced by appearances, and the same holds true for websites as well. A badly designed website does not exactly put forward an image of trust or reliability. In fact, many shoppers will simply turn away if the design is really unattractive.
Even if a store has a great product lineup, the bad design will make the visitors uneasy. Customer confidence is everything in business, and bad design affects it significantly.
How many times have you simply closed a website because you didn't find it visually pleasant? It happens, and when it does there's really no chance that you'll be visiting that website again.
Many online businesses spend hundreds of dollars into marketing and advertising their website, but do not take the time to inspect the visual elements of the website. This is quite unfortunate, as the money spent advertising is practically being wasted.
Before you choose a theme for your website, make sure to ask yourself these questions:
Does the theme suit the niche of my website? Will my target audience feel 'familiar' with the interface?

Can this theme handle large inventories? (If your store has a diverse product lineup)

Is the theme within my budget? Can I spend money on high quality stock images? Will a simple free theme be good enough?

Is the theme responsive and mobile-friendly?

Is the theme lightweight and fast?
Shopify Theme Store
The official marketplace for Shopify themes is the Theme Store. The Shopify Theme Store has quite a diverse selection of templates, with a mix of free and paid themes to choose from. In total, the Theme Store has 63 templates, only 10 of which are free.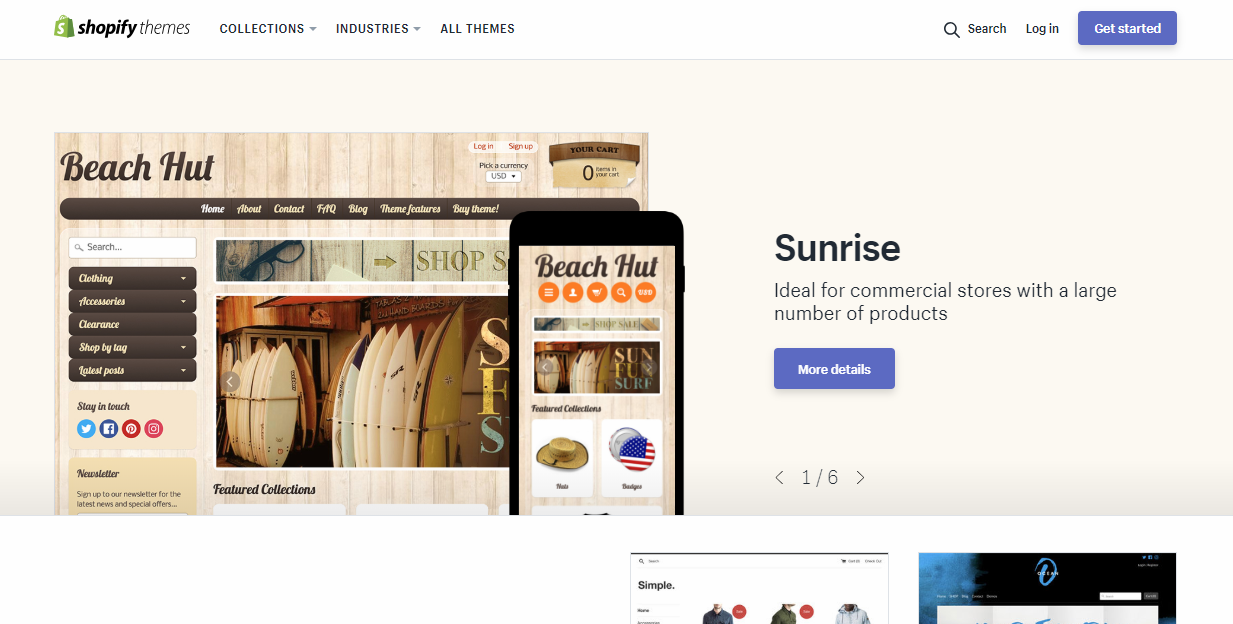 The Theme Store has a great functional design and there's a powerful filtering system in place which lets users find templates based on niche / industry.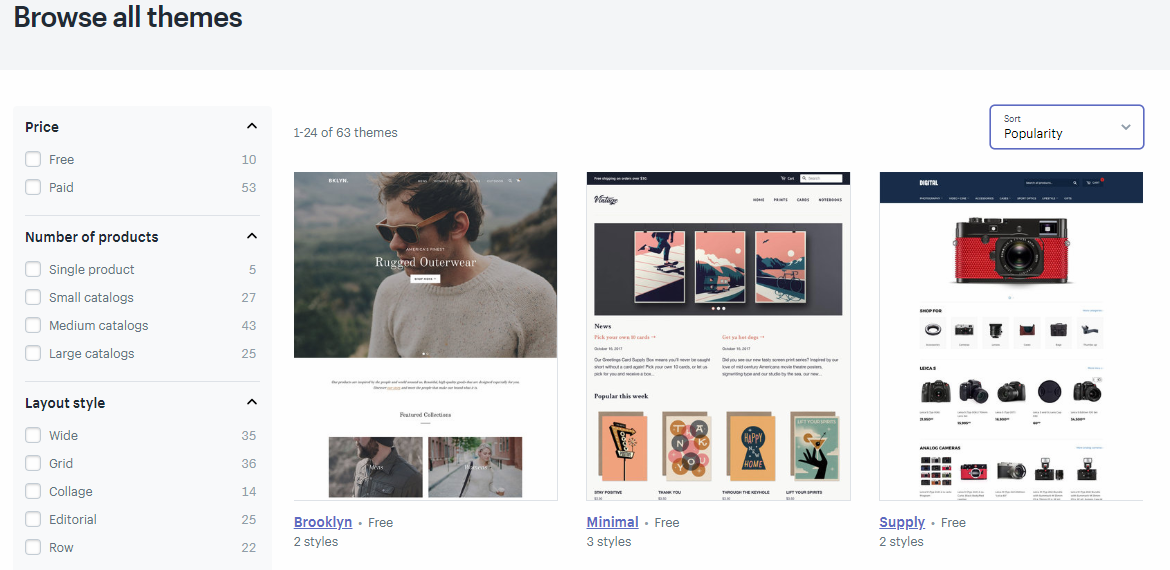 There are quite a lot of niches covered by the themes offered here, but it's definitely hard to find a free theme for every niche.
A good thing about official Shopify themes is that almost every theme is offered in 2 or 3 design variants. And these variants aren't just different in their color schemes either – each sports a unique design and offers something a bit different from the other. Thanks to these design variants, there's actually a lot of choice, even with the 11 free Shopify themes.
Free Shopify Themes
There are just 10 free themes on the Shopify Theme Store. However, as mentioned earlier, most of these themes come in 2 or 3 design variants, so there's a bit more choice than you might've thought.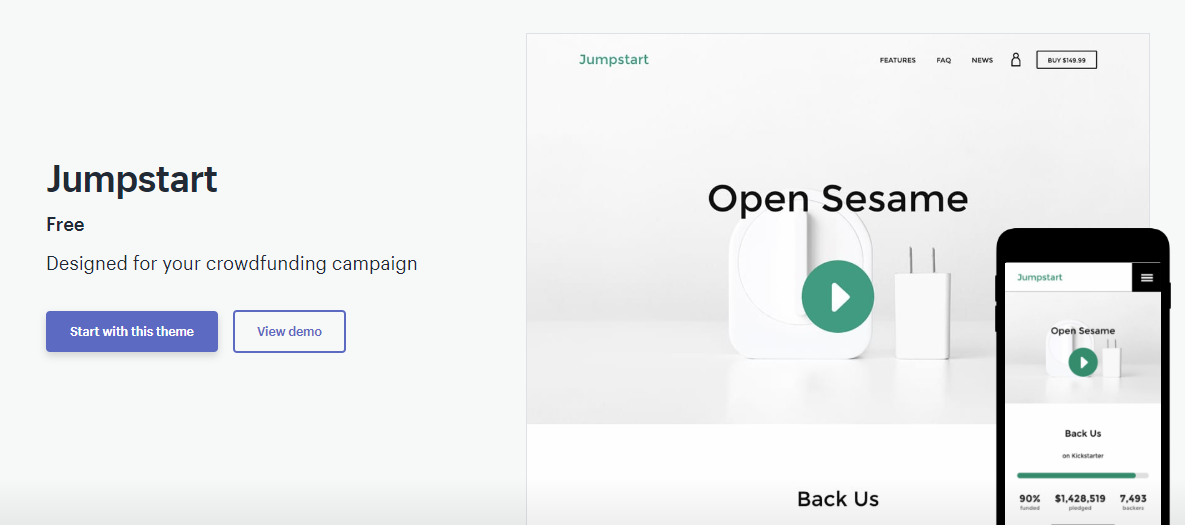 Being free doesn't mean that a theme is low quality. Quite to the contrary, even the free Shopify themes have a visually pleasant, modern aesthetic. We really like the minimalist nature of these themes, as they're clean and crisp without having any sort of visual clutter.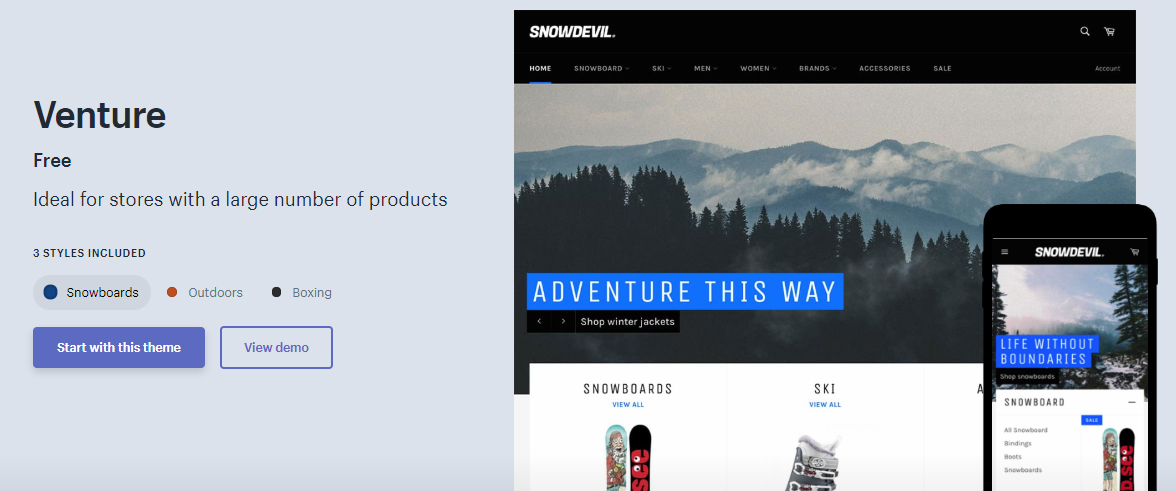 Shopify has made sure that the free themes cover most of business niches out there. However, the limited selection means that there's a high chance you're going to come across another store that is using the same design.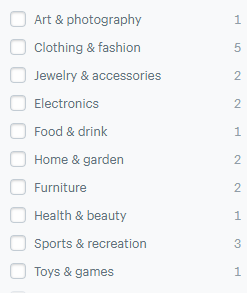 For users who're on a strict budget, Shopify's free themes offer professional and great-looking design that welcomes a site's visitors. What's more, thanks to Shopify's site editor, users who have a bit of design and technical knowledge can customize these themes to quite a deep extent.
Shopify allows CSS customizations as well so there's actually quite a lot of opportunity for design tweaks, even with the free themes. Of course, to take advantage of this a user needs to have good design sense and some coding skills as well.
Premium Shopify Themes
The selection of premium Shopify themes on the official store is significantly larger. Obviously, money is a great incentive for third-party designers, and hence it isn't surprising to see there are more paid themes than there are free ones.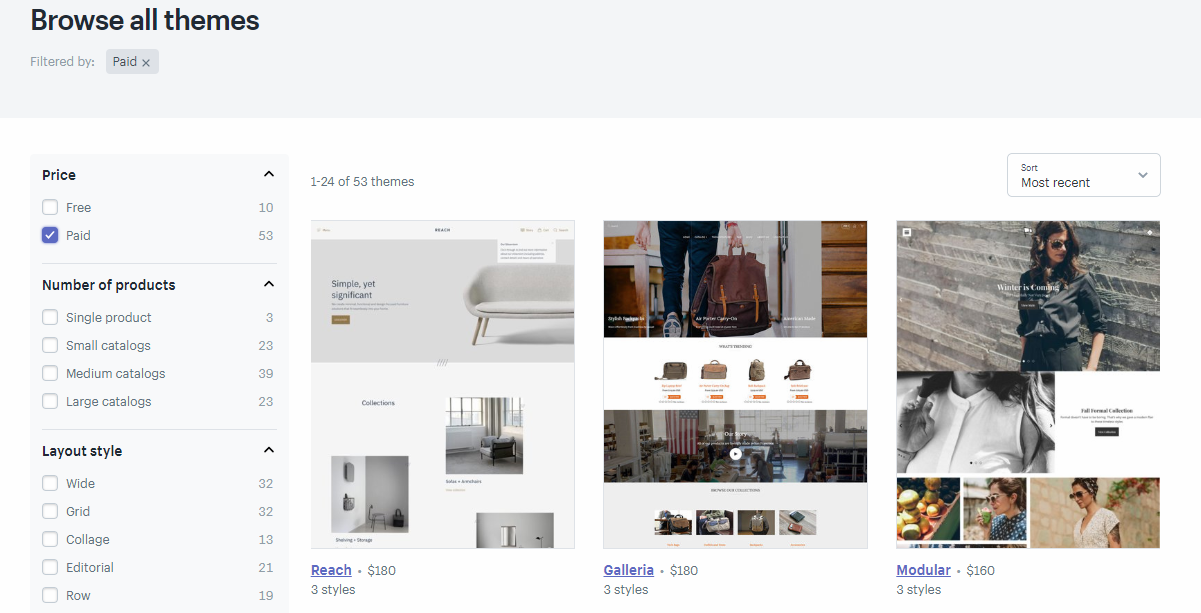 In what we would say is a good move, Shopify hasn't littered its theme marketplace with hundreds of designs. Instead, they've handpicked only the highest quality themes. The paid themes aren't necessarily better than the free ones, but they do offer a lot more variety.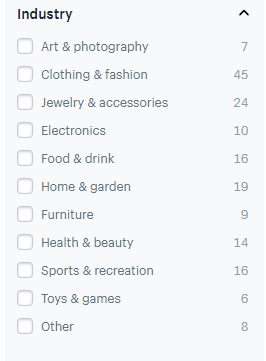 The premium Shopify themes are quite expensive, starting in price from $140 and going up to $180. We're used to premium themes costing not more than $70, so the $140 starting price is certainly quite difficult to digest.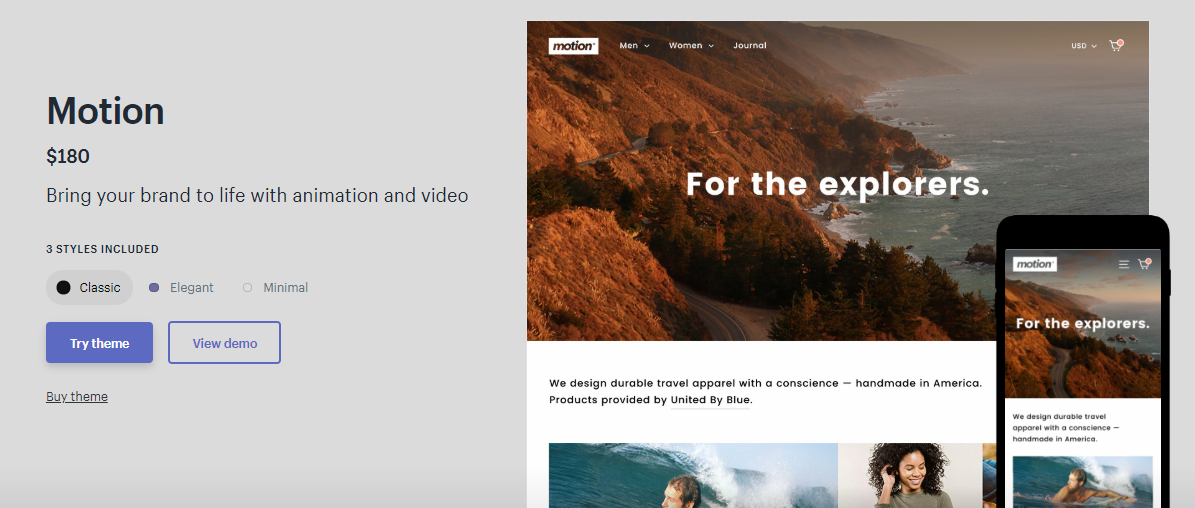 However, once you consider that the theme is most probably going to be a one-time investment, it doesn't sound too bad. If your budget allows for it, we definitely recommend getting a paid premium template.
If you don't want to shell out upwards of $140 on a premium Shopify theme, there are a few alternatives to the official Theme Store as well, which we will be discussing in a later section.
Shopify Theme Store vs Competition
Below is a table displaying the number of themes available on the corresponding platform's official theme marketplace.
| | |
| --- | --- |
| Platform | Number of Themes |
| Shopify | 63 |
| BigCommerce | 127 |
| Wix (eCommerce themes only) | 65 |
| Squarespace (eCommerce themes only) | 14 |
| Volusion | 47 |
| WooCommerce | 14 |
| Magento | 14 |
Where to Buy Shopify Themes
If you feel that the official Shopify Theme Store doesn't offer quite the design that you're looking for, you can try checking out third-party marketplaces. ThemeForest and Template Monster are trustworthy and reliable in this regard, and host more than 1000 Shopify themes in total.
The great thing about these marketplaces is that all of the themes you'll find here have been checked for quality – both from code and design perspectives. What's more, prices for premium themes here are much cheaper than the official Shopify Theme Store.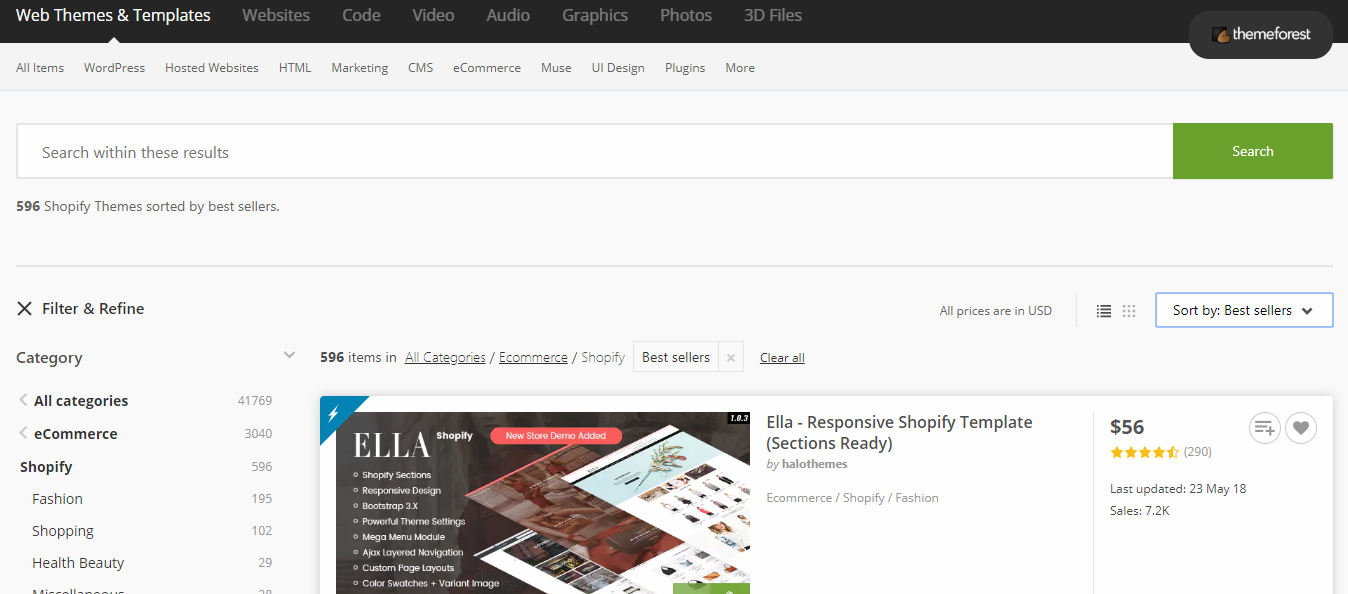 We've come across paid themes on these marketplaces that cost less than $40 – a lot less than the $140 starting price for themes on the official Shopify Store.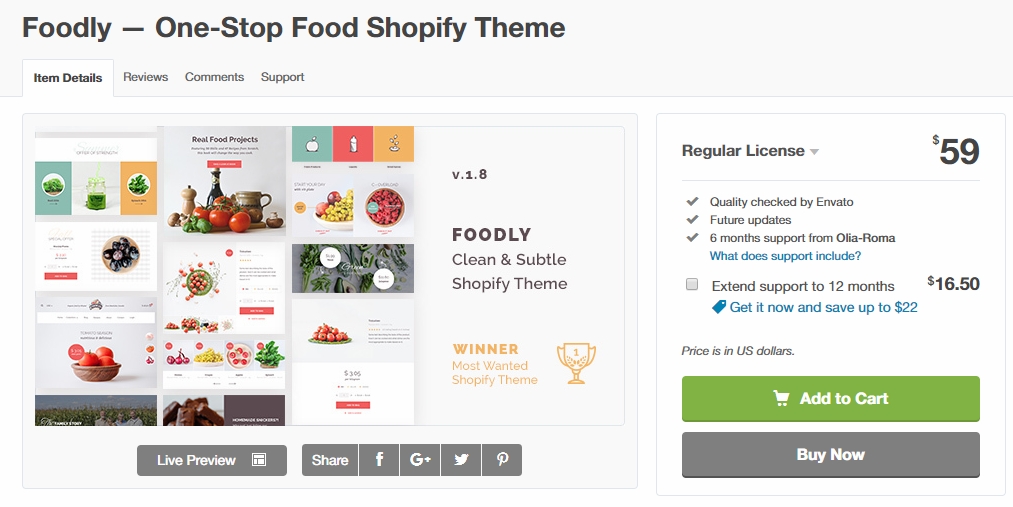 To be on the safe side, we recommend that you only consider themes that have a rating above 4 stars and have a reasonable amount of user reviews as well. Support from the theme's developers is also something to bear in mind, as Shopify's customer support will be reluctant to help you with themes that have not been bought from the official Shopify Store.
And finally, thanks to the popularity of the Shopify platform, there are independent design agencies that specialize in Shopify themes as well. Here's a list of some of the best Shopify theme developers:
Best Free Shopify Themes
Many individuals choose Shopify because it's an affordable and feature-packed eCommerce platform. Hence, it's very likely that they're going to opt for a free theme to keep the initial costs to a minimum.
Fortunately, Shopify's free themes are very well made and do not skip on quality of design. They're as good as any $180 paid theme, only there's less of them to choose from.
To aid budget-conscious sellers who want a free theme but don't want to compromise on quality, we've selected the best free themes. These themes can be used for a variety of business niches, and are fully customizable so the user can have a distinctive store.
Supply – Best Free Shopify Theme for Large Inventories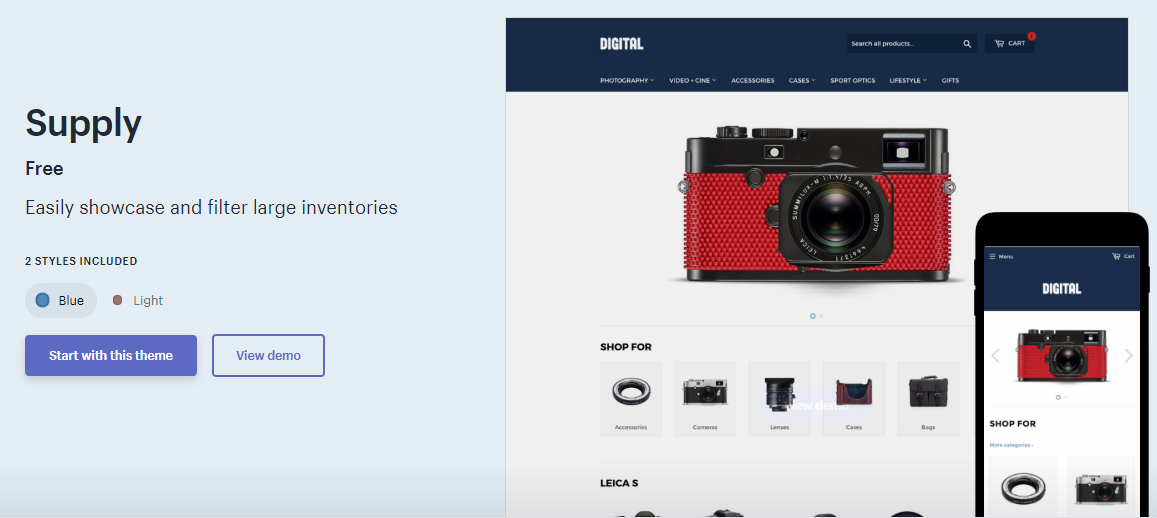 As we mentioned earlier, Shopify has tried to cater to a variety of businesses with their free themes. For sellers who want to sell lots of different products, the Supply theme is definitely the best free option available. Curiously, the theme's name – Supply – is perfectly chosen as it's meant to host a large product selection.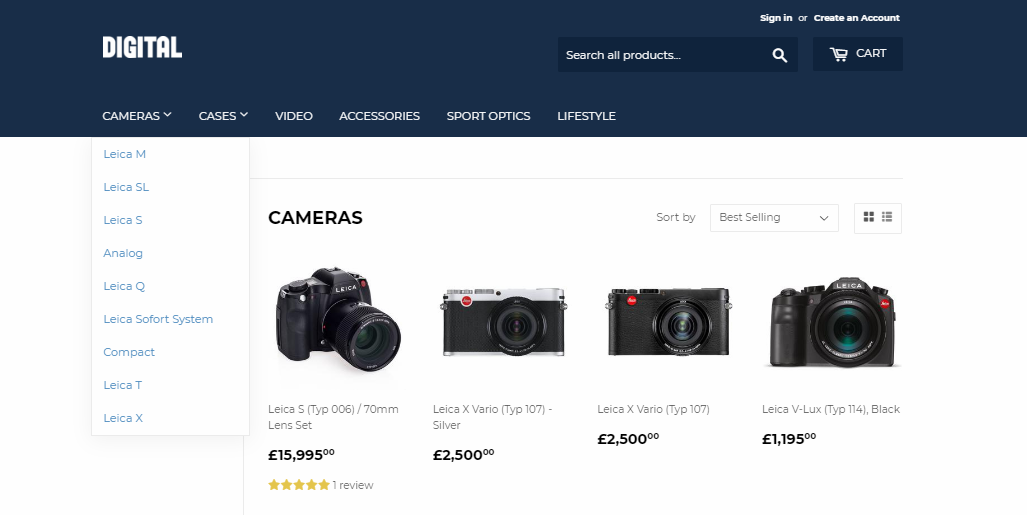 Stores with large product lineups usually have multiple categories of products. The Supply theme has been designed to make navigating between different categories a breeze.
Design-wise, we really like the minimalist aesthetic as there's absolutely no visual clutter. This also aids in performance as the lack of complex page elements means there's nothing to slow down the load times.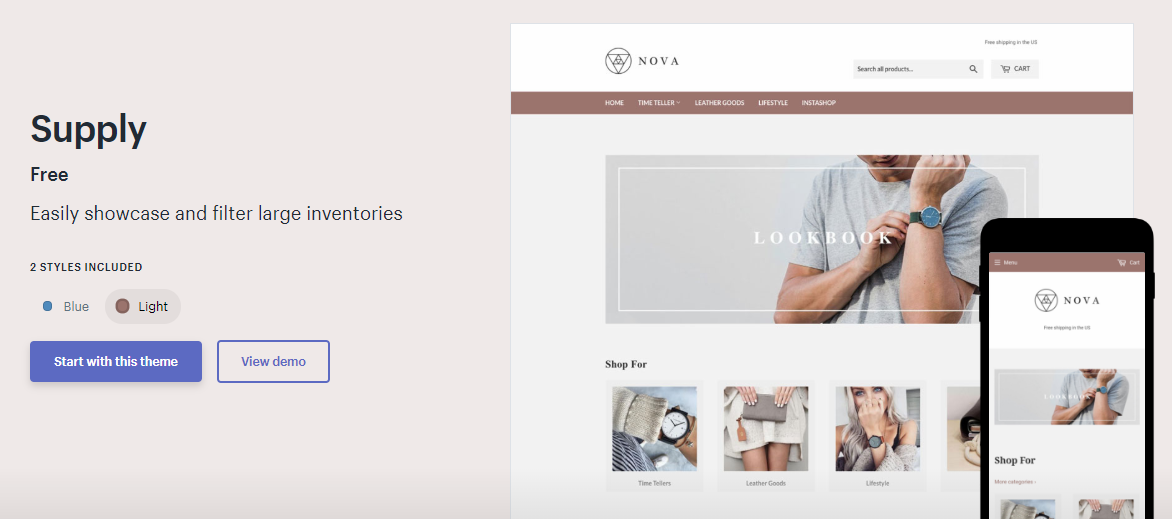 The demo Shopify site for this theme is an electronics store, but don't let that lead you to think this is meant only for that specific niche. It can very well be used for any kind of eCommerce store that has a diverse product lineup. In fact, the alternative 'Light' style for this theme is clearly meant for a luxury clothing brand.
Brooklyn – Free Responsive Shopify Theme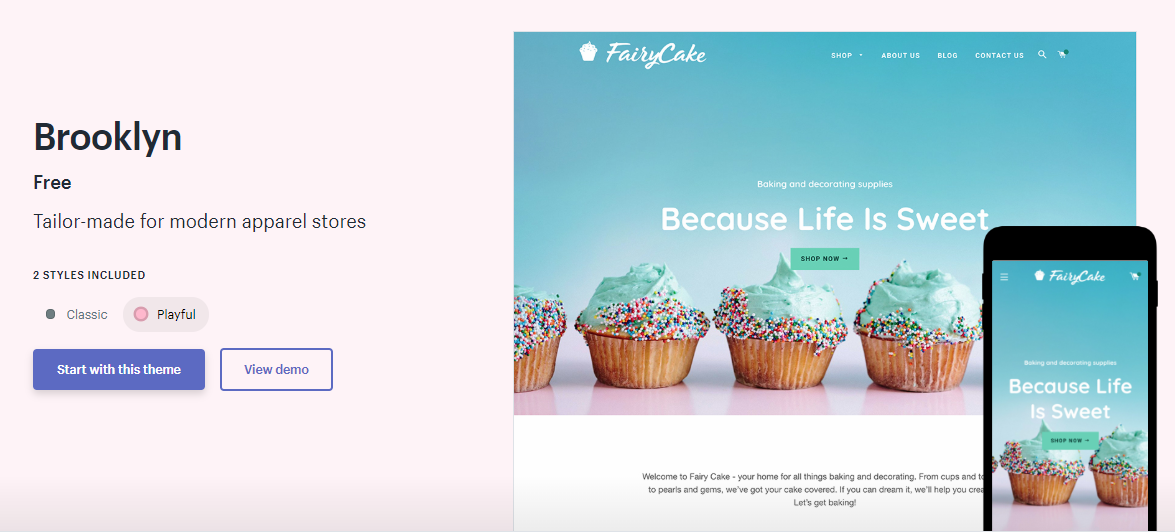 Individuals or startup brands that focus on a few products will find the free Brooklyn theme to be a perfect fit. With a minimalist aesthetic and generous spacing between elements, it has a modern feel to it. The theme is available in two styles: 'Classic' and 'Playful'.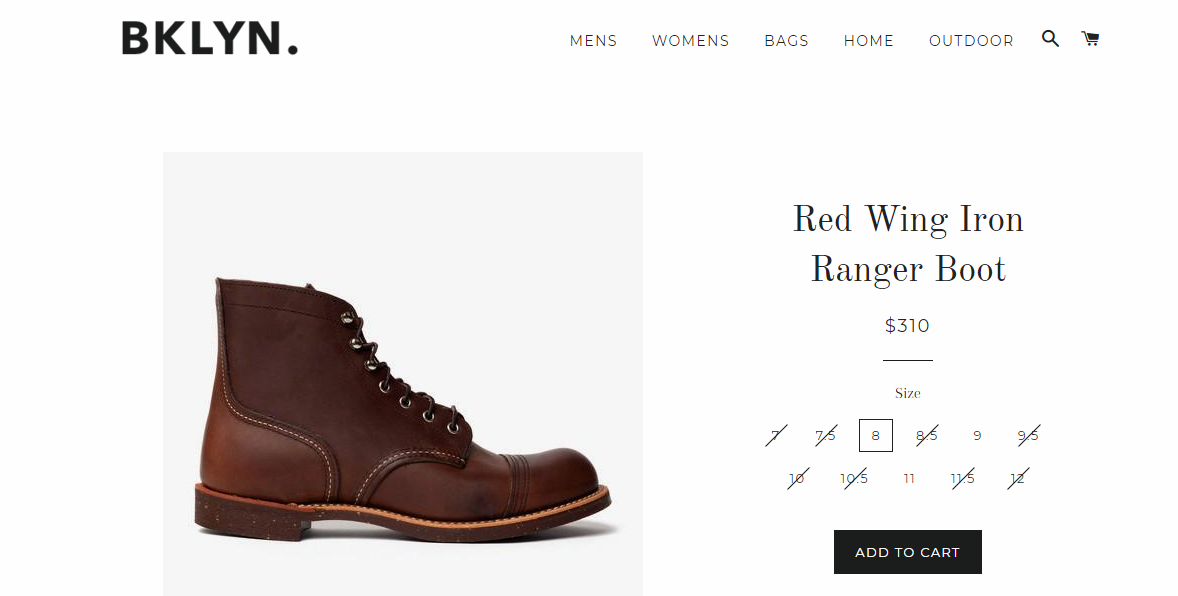 The 'Classic' variant, is aimed squarely at modern apparel stores. However, its focus is definitely on stores that sell a few items. Its product display focuses more on form rather than function, giving sellers a great opportunity to group similar or 'packaged' products together.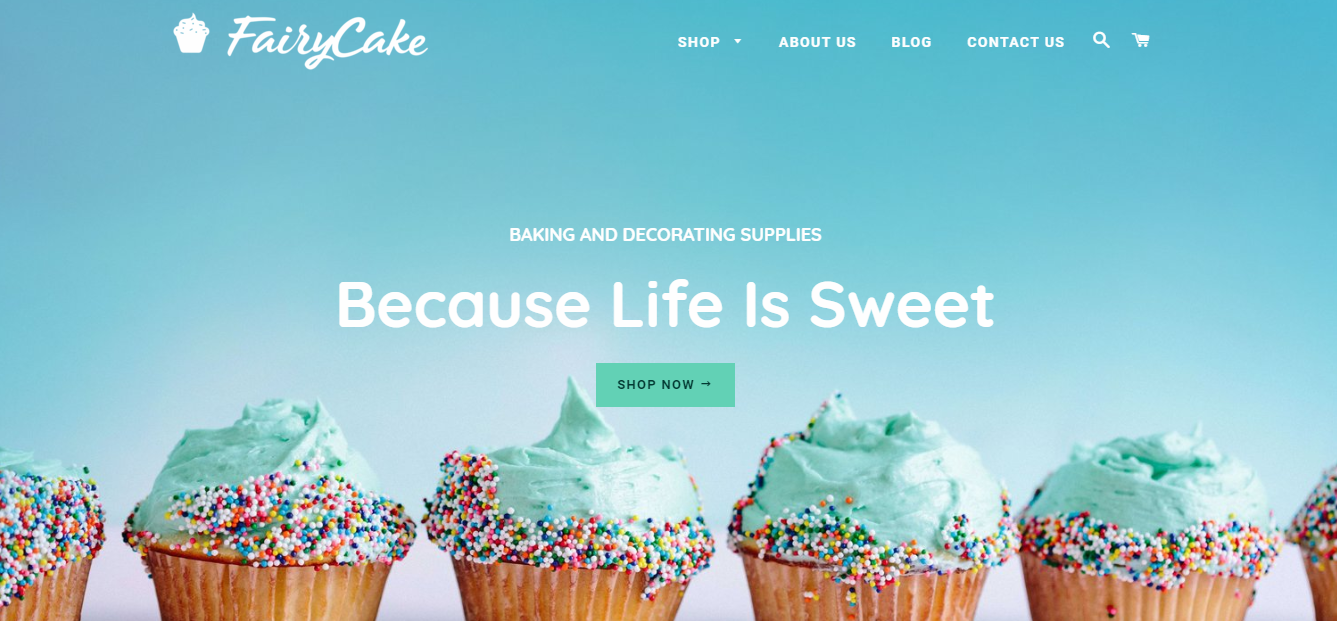 The 'Playful' variant is a lot more vibrant and colorful, making it perfect for home-based businesses. The variant also stands out because it showcases a blog on the homepage, making this a great theme that draws attention to content as well.
Venture – Best Converting Shopify Theme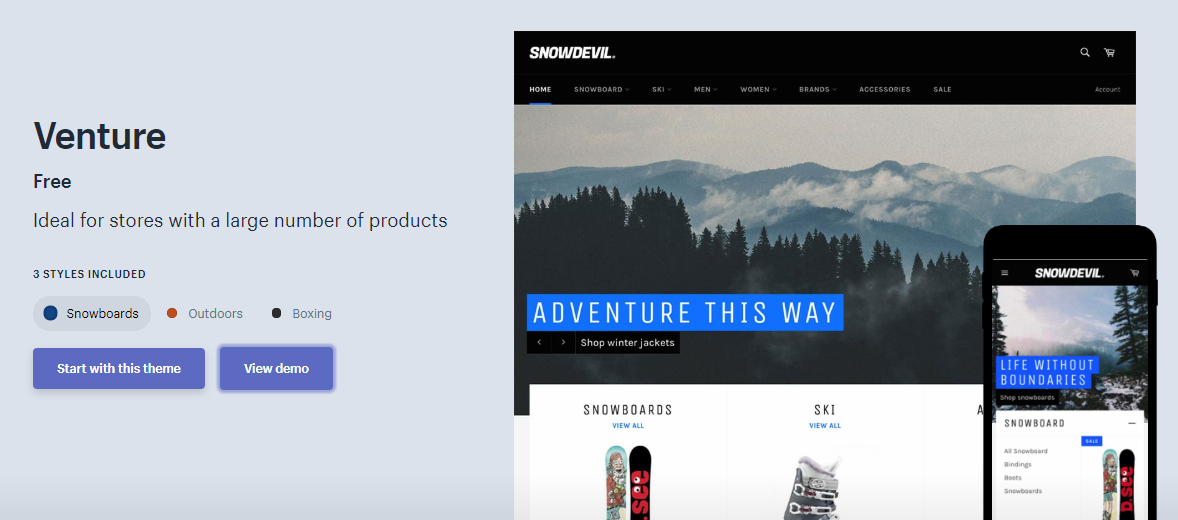 Venture is another theme which is perfect for stores with a large number of products. In this way, it is similar to the Supply theme we mentioned earlier. However, its aesthetic is geared more towards retail businesses than warehouses.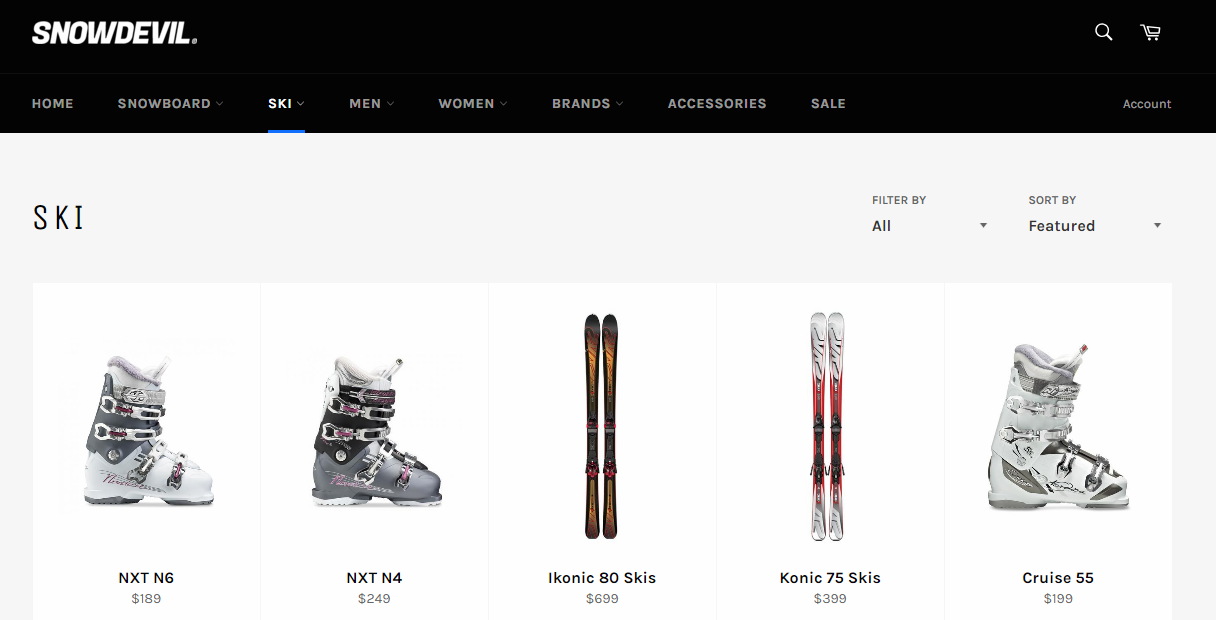 The theme comes in three styles: 'Snowboards', 'Outdoors' and 'Boxing'. The styles might lead you to believe that this theme is only good for sports and recreational products, but that's really not the case. Sure, this theme will be an excellent choice for a sports store, but it can definitely be used for any type of business that sells a large number of products.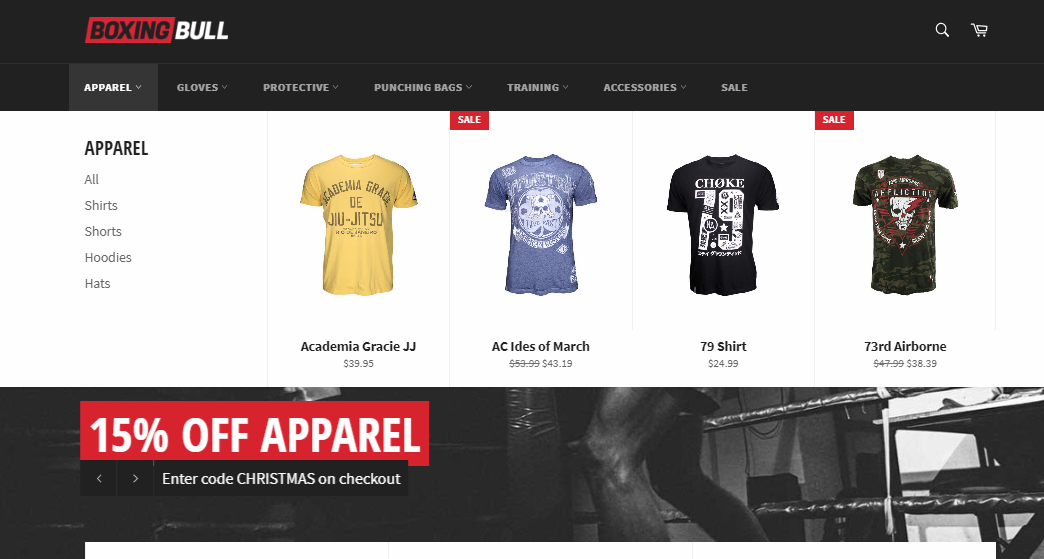 The navigation menu is clean and simple, and is great for displaying the different categories of products that a store offers. It also presents a great opportunity to place featured products of a particular category.
Overall, the Venture theme is a great free option for businesses that sell a lot of products. Highly recommended.
Sports Store by Zemez – Free Premium Shopify Theme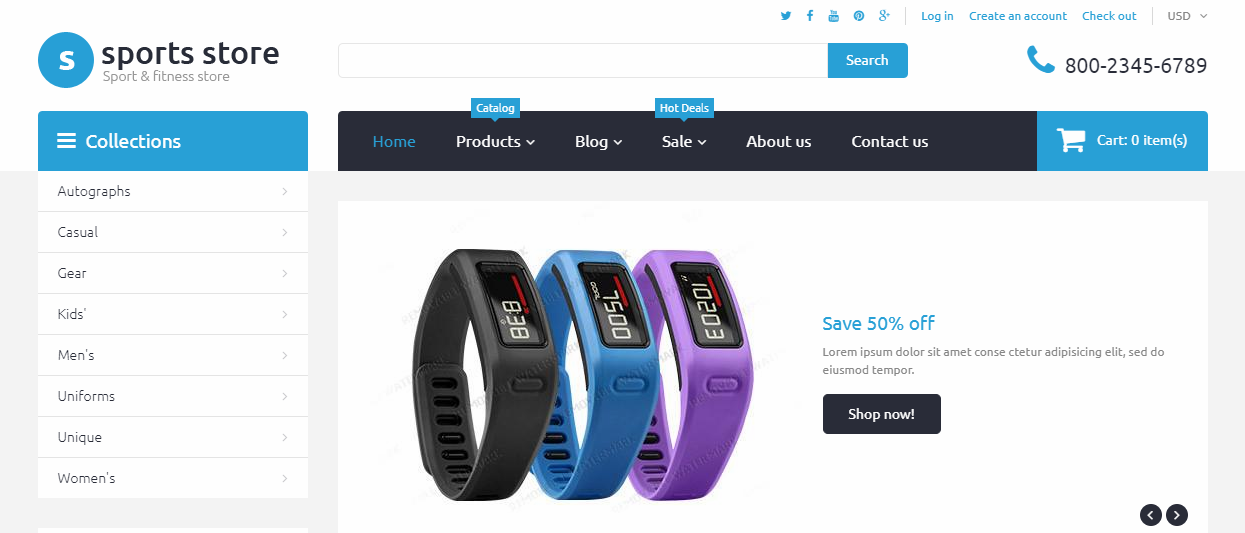 Sports Store by third-party developer Zemez is a free theme that is designed to be used for stores with large product lineups and lots of product categories. The design of the theme is on the restrained side, but it's a great look that will appeal to many store owners who're looking for something that 'works'.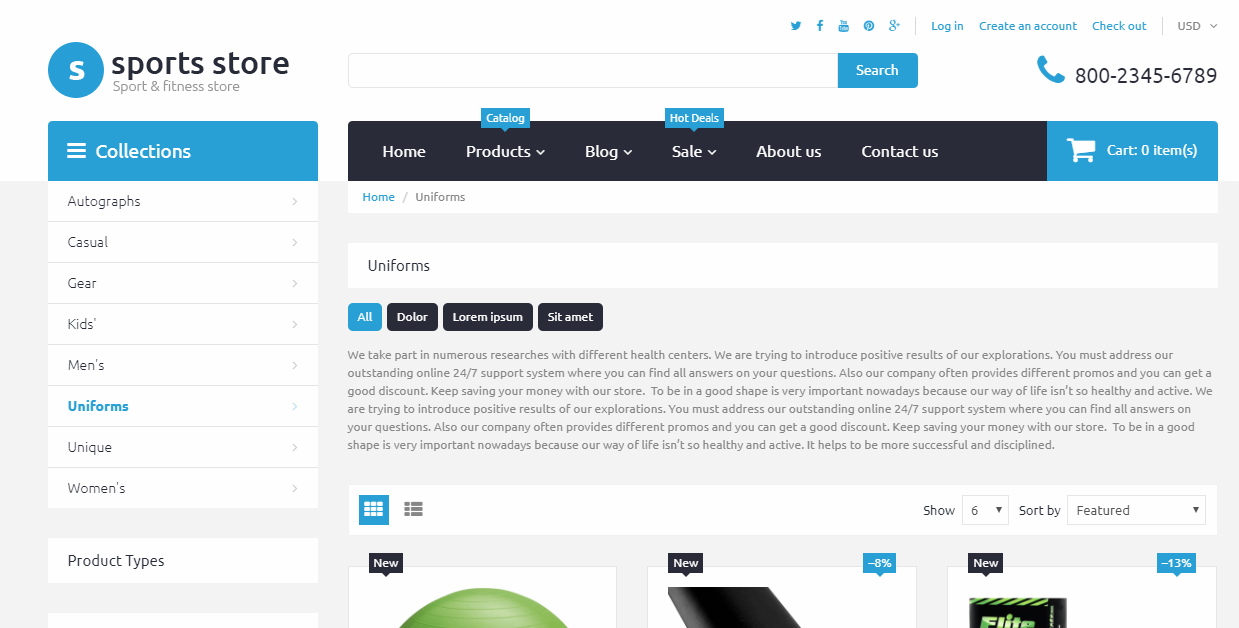 The stand out feature of this theme has to be its products page. Navigating to any category page displays a grid of products, along with a small content box at the top. This is a great opportunity to place some keyword-optimized content that will enhance the SEO of the website as a whole.
Fashe by Colorlib – Best Shopify Theme for Clothing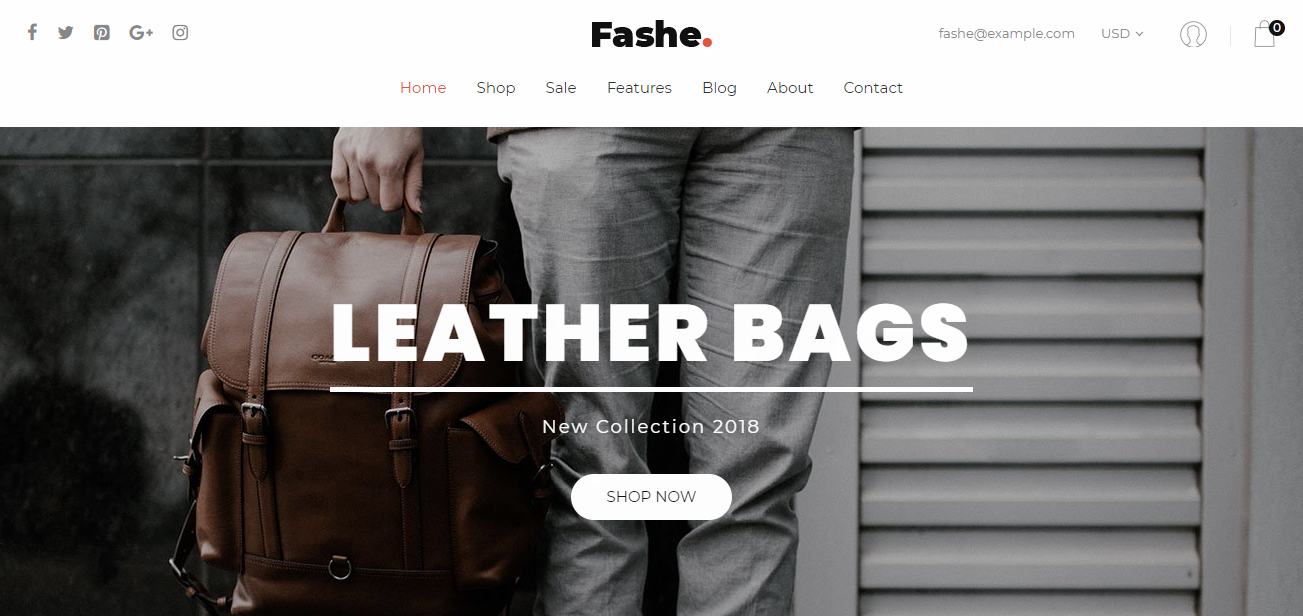 Fashe is a free Shopify theme made by Colorlib. It's a general-purpose theme which can be used for a variety of niches. The design is modern and minimalist, and the theme makes great use of light colors.
The name might imply that this theme is only meant for clothing stores, but really, it can be used for any small online store. The product display is simple, and the product listings are large with an emphasis on the products' images.
Colorlib says that Fashe started out as a premium theme, but the agency decided to give it away for free as an experiment.
Note: One of the advantages of using a free theme from the Shopify store is that you'll still get official support for it, but the same cannot be said for third-party themes. There are great third-party free themes available, but support for them can often-times be questionable. That is why we have placed official free themes at the top of the list.
The Importance of Shopify Themes
Shopify is a great eCommerce platform, but it's not the only eCommerce platform around. In fact, it is experiencing some stiff competition from popular site builders such as Wix and Squarespace, as they have come out with eCommerce tools of their own.

Of course, none of them really compare favorably against Shopify when it comes to eCommerce functionality. But Wix and Squarespace match Shopify in ease of use and affordability as well.
However, one area where Shopify maintains its lead is in its themes. Because of its popularity, it has thousands of professionally-designed themes available. Wix and Squarespace cannot really compete in this regard, and it's one of the main differentiating factors of Shopify against these platforms.
Merchants want their online store to be easy to build, but they also want it to have a distinctive design. With other platforms, it's simply not possible because of the scarcity of available themes. With Shopify however, users have thousands of premade themes to choose from.  
Shopify Themes Conclusion
Shopify has a great selection of themes – both on its official Theme Store and third-party marketplaces. Thanks to this, owners of all kinds of businesses will find something that fits their store niche.
What really impressed us is that anyone with a limited budget can start a professional store using Shopify using the affordable $29 Basic Shopify price plan and any of our suggested free themes.
Shopify might be scoring brands like MVMT and GymShark with its Plus plan but at its core, it remains a platform that takes care of budget-constrained but quality-conscious online sellers.