Are you planning to sell using Shopify? One of the most popular ecommerce tools available today, Shopify can actually be used without any charges for 14 days. That's because anyone can avail a free 14-day trial to test out the basic features offered by the platform. You don't even have to enter your credit card information for this.
After the 14-day trial is over, you will be asked to upgrade to a paid subscription plan. However, choosing a Shopify plan can be a difficult but important decision. Getting on the right plan means you'll get the features that you need in order to become a successful online seller. Choosing a plan that has features that you're not using means you're giving free money to Shopify.

In this article, we'll be examining the Shopify Plans in detail, exploring the features they offer and the kind of online sellers they're aimed at.
Shopify Plans Pricing
Shopify charges users a recurring subscription fee for using its tools and services. The cost of the subscription fee depends on the Shopify plan you choose. If you choose for an annual or biennial billing cycle (as opposed to monthly billing), you can receive a discount of up to 20% on your subscription fees.
| | | | |
| --- | --- | --- | --- |
| Shopify Plans | Monthly Billing ($/month) | Annual Billing ($/month) | Biennial Billing ($/month) |
| Shopify Lite | $9 | $8 | $7 |
| Basic Shopify | $29 | $26 | $23 |
| Shopify | $79 | $71 | $63 |
| Advanced Shopify | $299 | $266 | $239 |
| Shopify Plus | Variable pricing | Variable pricing | Variable Pricing |
One thing to note is that Shopify plans will bill you in US dollars even if your store is located outside of the US.
The price of a Shopify plan is representative of the features it offers. The more expensive a plan is, the more features it has to make an online store better and more profitable. However, more features are not a guarantee of success. Sellers should opt for the plan that offers the best value for their money – one which has most of the features they need but doesn't stray outside of their budget allowance.
Features on All Shopify Plans
Before we jump into the differentiating factors between the different Shopify plans, let's talk about the features that come by default with all of them. It's a great way to gauge the base functionality of the platform and can help you come to a better decision once you compare your required features to the base features.
Unlimited products
Shopify users are not restricted when it comes to the number of products they can upload. Certain hosted eCommerce platforms (Wix, for example), limit the number of products users can upload on cheaper price plans.
Unlimited bandwidth and online storage
Shopify allows its users to have unlimited bandwidth, which means any Shopify store can process an unlimited number of visitors. There's also unlimited online storage thrown in with every Shopify plan as well, which means unlimited pictures and media.
Shopify POS (point of sale)
For users who want to sell from a physical location, Shopify offers its fully integrated point of sale solution. This system is recommended for ecommerce sites and physical stores as well. In fact, it's ideal for sellers who would like to use Shopify's backend management system but don't really want an online store.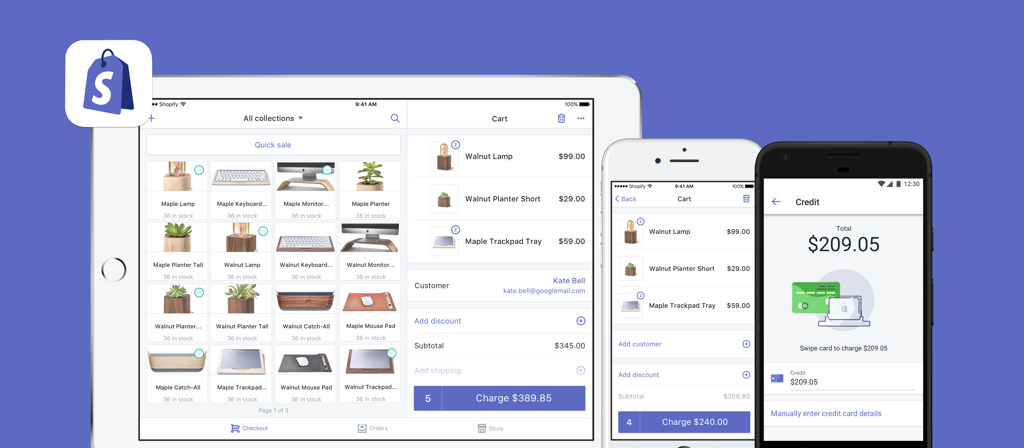 The POS comes with an app (available on iOS and Android) that allows sellers to process orders and take online payments in person through a card reader. All sales made through the POS can be viewed from the Shopify admin, which can be access using any browser.
One of the unique aspects of Shopify's point of sale system is that it comes with official hardware as well, so there's no need to worry about third-party integrations either. The complete hardware kit includes a receipt printer, credit card reader, cash register and bar code scanner.
Online sales channels
All Shopify users get access to multiple sales channels for selling goods. Selling channels include social media such as Facebook and Pinterest. These sales channels connect to Shopify, so you can keep track of inventory, orders and customers across all channels.
Manual order creation
It still isn't uncommon for sellers to receive orders on the phone. For situations like these, manual order creation is a necessary feature, and fortunately, all Shopify plans have it. The products noted in the order details are automatically deducted from the inventory, so everything is in perfect sync. A receipt is also created which can be emailed to the customer with confirmation of the order.
Discount codes
Sellers can incentivize new customers or promote a sense of loyalty with older customers by offering them discount codes. Discount codes are incredibly easy to use which adds to their appeal. Sellers can partner with market influencers, who can have their own personalized discount codes that they advertise to their audiences.
Shopify abandoned cart recovery
This feature allows store owners to send emails to customers who leave their website without completing a purchase. Until recently, abandoned cart recovery was a feature that was reserved for the more expensive Shopify plans. Now however, it is available from the Basic Shopify plan onwards.
Cart abandonment is one of the biggest ways an online store loses sales. Reasons as to why a customer might abandon their cart can be various:
Concerns about checkout security

Simply adding their favorite items to the cart for later consideration

Credit card declined

Deciding to check the product somewhere else
Shopify's abandoned cart recovery feature can send an email automatically or at the store owner's discretion. Users can fully customize the emails that are sent to customers who leave their cart. A great strategy is to include discount codes/coupons within these mails to further encourage customers to come back and complete the purchase.
Staff accounts
Similar to how WordPress admins can create accounts based on user roles for their websites, Shopify allows admins to create 'staff accounts' that allow staff or team members to complete basic tasks but restrict access to sensitive information (reports, sales data etc.). Staff accounts are necessary for operations where the Shopify backend is being handled by multiple people.
When a user signs up for a Shopify plan, they're automatically assigned an account with a username and password. This is the admin account, which can create a certain number of staff accounts. The number of staff accounts a user is able to create depends on the chosen plan.
| | | | | |
| --- | --- | --- | --- | --- |
| | Shopify Lite | Basic Shopify | Shopify | Advanced Shopify |
| Number of staff accounts | 1 | 2 | 5 | 15 |
Admins can also track the changes made by staff accounts in the store's timeline.
Overview dashboard / reports
All Shopify plans get access to an overview dashboard which provides some basic reports regarding the store's traffic and sales. The reports provided in the overview dashboard are meant to provide key information at a glance to give the admin an idea about the store's performance.
Some of the activities the user can do in the Overview dashboard:
Check value of recent sales and compare them to a previous time period

Check performance of sales channels

Track average order value

Check origin of visitors – by region or social media source
These reports can be quite useful in gauging the performance of an online store. For example, if the average order value is found to be too low, special offers can be introduced to increase it. Reports play a crucial part in diagnosing poor sales performance.
Shopify sustomer support
Shopify offers 24/7 online customer support for users of all its price plans. This includes support via phone, email and live chat. It should be noted that users of the Lite plan (the cheapest plan), miss out on phone support.
| | | | | |
| --- | --- | --- | --- | --- |
| | Shopify Lite | Basic Shopify | Shopify | Advanced Shopify |
| Support offered | 24/7 email and chat | 24/7 email, phone and chat | 24/7 email, phone and chat | 24/7 email, phone and chat |
Shopify Lite plan
To cater to users who want to sell goods without maintaining an online store, Shopify offers the Lite plan. At just $9 per month, it represents the cheapest way into the Shopify ecosystem, albeit without the ability to create an online store.
Still, the Lite plan's affordability is meant to attract a different type of user. Using the Lite plan, users can sell via:
An existing website

Social media (Facebook and Pinterest)

Physical location
The Shopify Lite plan comes with the basic features that are offered on all plans, including point of sale, Facebook and Buy Button sales channels, and the Overview dashboard.
Using Shopify Lite to sell on an existing website
Lite users can embed a widget that contains product details along with a 'Buy Now' button, on an existing website that they own. The widget is simply a piece of code that can be embedded on a web page.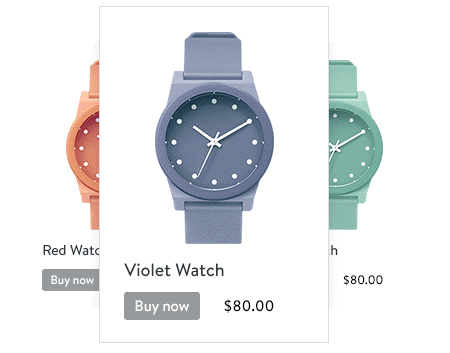 The 'Buy Now' button is what matters here – it facilitates online payments and records your sale which is also reflected in the backend admin dashboard.
Using Shopify Lite to sell on social media
Lite users can extend their customer reach by offering products through social media channels. Pinterest and Facebook are currently supported in this regard.
For Pinterest, Shopify allows users to create special 'Buyable Pins' for their products, which are displayed on the social media site. Users browsing the user's Pinterest can purchase goods they find interesting using these 'Buyable Pins'.
Users can also sell products on Facebook, by integrating their Shopify store with a Facebook Page's 'Shop' section.
Using Shopify Lite to sell at a physical location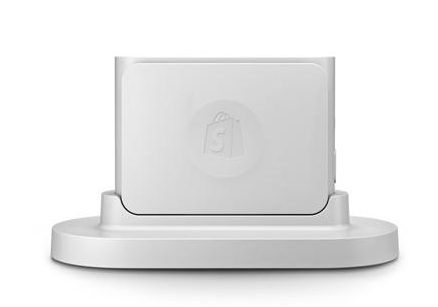 With the help of the Shopify POS app and a card reader, users can sell products at a physical location. The card reader facilitates payments whereas the POS app helps keep track of sales. The sales recorded in the POS app are automatically reflected in the admin dashboard as well.
Basic Shopify plan
The Basic Shopify plan is the cheapest plan you can get that offers store-building tools. With the Basic plan, users can create professional and modern online stores without touching a line of code.
Some of the features that the Basic Shopify plan offers over the Lite plan are:
Online store
From the Basic plan onwards, users are able to create and customize an online store to showcase and sell products. Like the Lite plan, users also get access to the admin dashboard to keep track of orders, products, and customer information.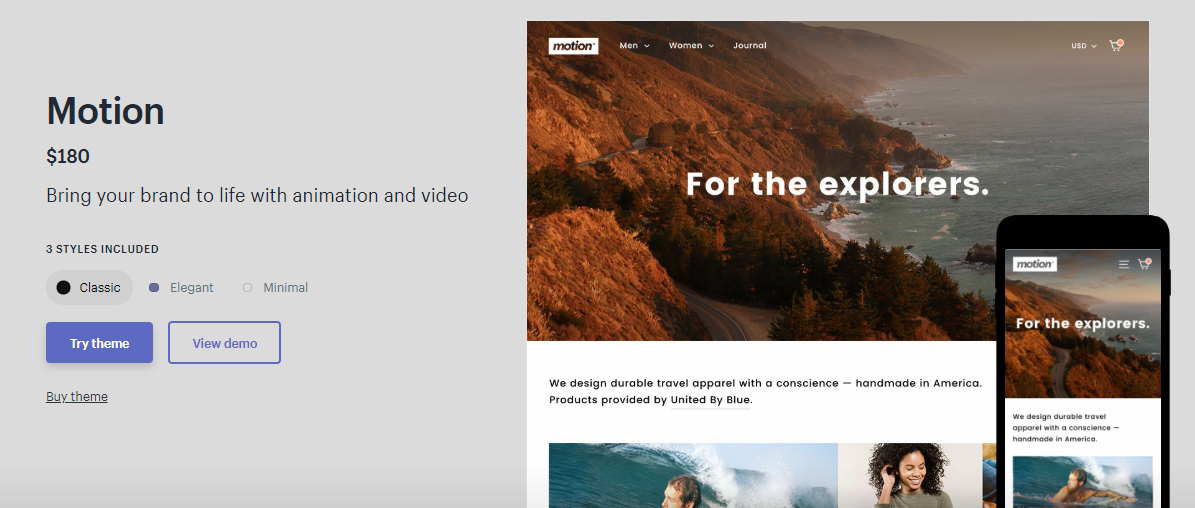 The user is also able to perform some basic customizations to the store's appearance such as changing the site's color accents, fonts and page layouts without working with code. For advanced users, Shopify offers access to theme files for editing.
Blogging
A Shopify online store also comes with built-in blogging capabilities, which make creating and publishing content a breeze. Blogging can also be used for content marketing efforts to drive traffic from social media and search engines.
SSL certificate
SSL is a security protocol that creates a secure connection between a server and a browser to keep the information that flows between them secure. For example, if your customers are putting their personal information in a form on your website, you want that information to be relayed securely to your servers without anyone snooping on it.
With an SSL certification your site also gets published with HTTPS instead of HTTP, which causes a browser to consider it a secure site. This also encourages a sense of reliability and trust with customers.
More reports
Basic Shopify users also get access to additional reports such as:
Acquisition reports

Behavior reports

Marketing report
These reports are primarily designed to help you analyze your online store traffic to devise new strategies for expanding and growing your customer audience.
Shopify plan
The Shopify plan doesn't have any descriptors attached to its name, so in a sense it's the 'standard' plan. Speculations aside, this plan gives users access to advanced reports that built to help store owners spot sales trends. Analyzing trends is a great way to maximize profits and minimize losses.
Users of this plan also benefit from slightly lower credit card rates and lower transaction fees (if they're not using Shopify Payments).
Shopify plan includes all features of lower plans, with some additional features:
Gift cards
Gift cards allow your customers to essentially, gift credits to your online store. A gift card is often worth a certain amount of money and can be used to buy items on an online store. This is a great way of expanding current customer base or attracting new customers.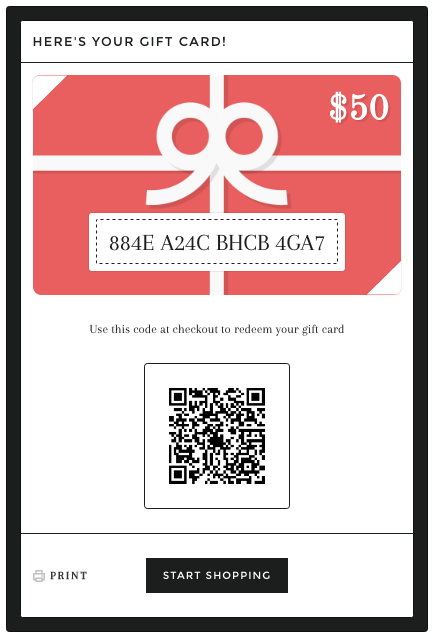 Some might liken gift cards to discount codes; however, these are completely different features. Gift cards can be used during multiple visits to your store. A discount code is also never likely to offer a 100% discount on items, whereas with gift cards this is certainly possible.
Professional reports
The Shopify plan provides access to even deeper reports. These reports give insight into important sales information, such as:
Sales of a specific item

Product sales based on time of year
These professional reports also provide valuable information on the customers who use your store:
Customers over time

First-time vs returning customer sales

Customers by country

Returning customers

One-time customers
This level of granular information is not available in the reporting features of cheaper plans. It's quite apparent that Shopify wants profit-oriented features to be on the more expensive plans.
Advanced Shopify plan
The Advanced Shopify plan is geared towards growing businesses that are looking for ways to accommodate that growth.
The Advanced Shopify plan includes features of the lower priced plans, and adds a few exclusive features of its own:
Custom report builder
For businesses that rely on data to stay ahead and profitable, a custom report builder is almost a necessity. Cheaper plans have promising reporting features, but for creating custom reports users have to purchase the Advanced Shopify plan.
Shopify's custom report builder
Using the custom report builder, you can either:
Customize default reports

Create unique reports from scratch
This is an advanced feature, which is recommended for users who have experience in building effective and meaningful reports.
Calculated carrier shipping
This feature allows merchants to integrate with a third-party shipping service (USPS, for example) to provide customers with updated shipping rates, every time they place an order. This also lets your customers choose from various shipping options: standard, express and one-day.
For merchants that are growing and would like assistance from a third-party shipper, this feature is required. Customers don't like to be 'surprised' with high shipping rates, and this feature gives them accurate shipping rates as soon as they place an order.
For merchants in the US, this feature can be combined with Shopify Shipping to get discounted rates with USPS.
Shopify Plans FAQs.
Transaction fees (What percentage does Shopify take from a sale?)
Shopify deducts a set percentage from each sale in the name of 'transaction fees'. According to the service, these fees are deducted to pay for Shopify's integration with a third-party payment provider (such as PayPal).
| | | | |
| --- | --- | --- | --- |
| | Basic Shopify | Shopify | Advanced Shopify |
| Shopify Transaction Fees (per sale) | 2.0% | 1.0% | 0.5% |
These fees can be completely avoided if you choose Shopify Payments (Shopify's own payment processor) as a payment method.
Is there a Shopify plan discount available?
Firstly, we encourage everyone to try out the free 14-day Shopify trial. On choosing a subscription plan after the trial expires, if you choose to be billed on an annual or biennial basis, you can get discounts of 10% and 20% respectively.
How much does Shopify Plus cost?
Shopify Plus is an enterprise solution, and as such its pricing is kept hidden from the public. However, we have managed to a fair idea of Shopify Plus pricing in this blog post.
What is Shopify Payments?
Shopify Payments is Shopify's own payment processor. It is used to offer online payments through credit cards to a store's customers. Using Shopify Payments provides some inherent benefits to a store owner:
No transaction fees

Lower credit card rates

Enter checkout payment information on Shopify store rather than third-party page
Shopify plans comparison – Which plan should I pick?
Now that you're aware of all the features and differences between the various Shopify plans, it would be (hopefully) easier to come to a decision as to which plan best fits your needs. Remember, there's no 'best' Shopify plan out there. The only plan that matters is the one that suits your budget and requirements.
Still, here are a few key takeaways from our Shopify plan analysis:
Shopify Lite is for people who:
Want the most affordable way into Shopify

Want to sell primarily using social media or on an existing website

Don't have the need for an online store, but want to use Shopify's admin dashboard to manage physical sales
Basic Shopify is for people who:
Want a simple and affordable way of creating a professional online store

Don't have a need for advanced reporting features
Shopify plan is for people who:
Want access to detailed customer and sales reports to maximize profits

Want to offer gift cards for their online store
Advanced Shopify plan is for people who
Want complete control over reporting

Want to integrate with a third-party shipping service
---