Shopify allows you to create a beautiful, professional, and feature-packed online store in a highly convenient matter. But it's not just online stores where Shopify is making its mark – owners of physical stores can also make use of the platform's brilliant store management system through the Shopify POS system.
In a nutshell, Shopify POS (point of sale) allows anyone to sell products from a physical location. The inner workings of the POS solution are quite intricate, but ultimately create a lot of convenience for businesses.
What is Shopify POS and How Does It Work?
At its core, Shopify POS is a mobile app (available on Android and iOS) that allows users to sell products anywhere, including markets, fairs, and pop-up shops. Basically, all you have to do is create a cart for each customer, add some items to it and then accept payment with a variety of payment methods.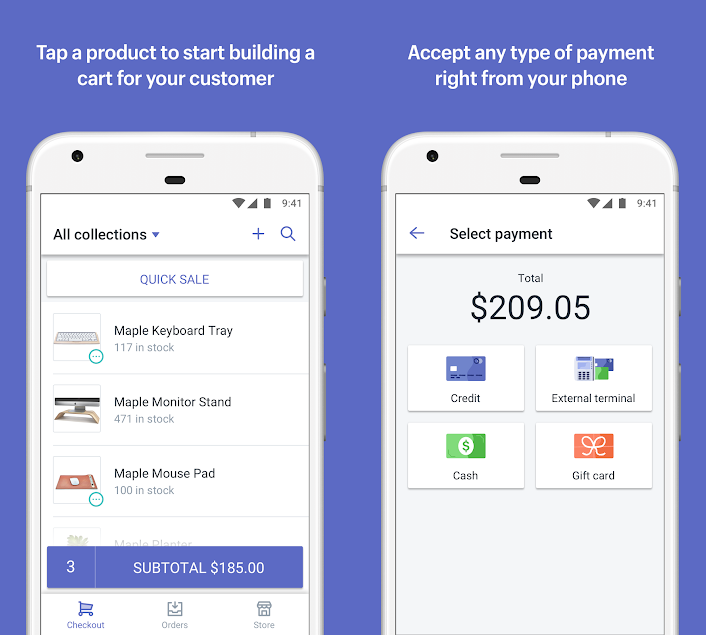 The Shopify POS app automatically syncs with your Shopify account and updates the inventory and orders accordingly. Whatever products you have sold on location are automatically deducted from the Shopify inventory. Please note that you will have to make sales through the POS app in order for Shopify to recognize changes in inventory levels.
Accepting payments with Shopify POS System
You can also pair the Shopify POS app with a supported card reader to collect card payments in person. The card reader will automatically connect with your Shopify POS and it is recommended to use officially supported card readers as Shopify is able to capture transaction details from these devices.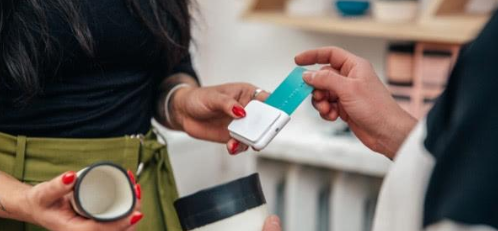 You can use an unsupported card reader as well, but in that case only the payment status will be displayed, without any transaction details.
This is a basic overview of how Shopify POS works, but it can be enhanced quite a bit by including the retail package.
Shopify POS retail package
Up till now, we have seen how Shopify users can sell products at physical locations using the POS app. But what if you want to take it a step further, and pair the POS app with a complete retail store setup?
For that, Shopify offers the retail package, which lets you take advantage of extra POS features.
The retail package enables hardware integration with your Shopify POS app to create a full retail store experience. A typical retail store has a bar code scanner, credit card reader, receipt printer and a cash register. All of this hardware can be integrated with your Shopify POS through the retail package.
When you scan the barcode of a product, it will automatically be added to a customer's cart. After that, the receipt printer can be used print receipts, gift receipts, and paper gift cards as well.
Shopify POS retail package features
The retail package is designed to give you and your customers a full retail store experience. With the retail package, users can integrate commonly used retail hardware with their Shopify store. It should be noted that most features of the retail package only run with the iPad version of the Shopify POS app.
With iPhone or Android, you're still able to use basic POS functionality but retail package features are available on the Shopify POS app for iPad only, including the following:
| | |
| --- | --- |
| Shopify POS Hardware | Retail package allows you to connect retail hardware such as receipt printer, barcode scanner and cash drawer. Users have a choice of using official Shopify retail hardware, or third-party hardware if it's supported by Shopify. |
| Moneris card reader | The Moneris card reader is available for merchants based out of Canada. |
| Print receipts | Customized receipts can be printed at checkout. |
| Gift receipts | Customized gift receipts can be printed at checkout for your customers. |
| Physical gift cards | Sell and redeem physical gift cards. This feature is available for the $79/mo. Shopify plan. |
Shopify POS Pricing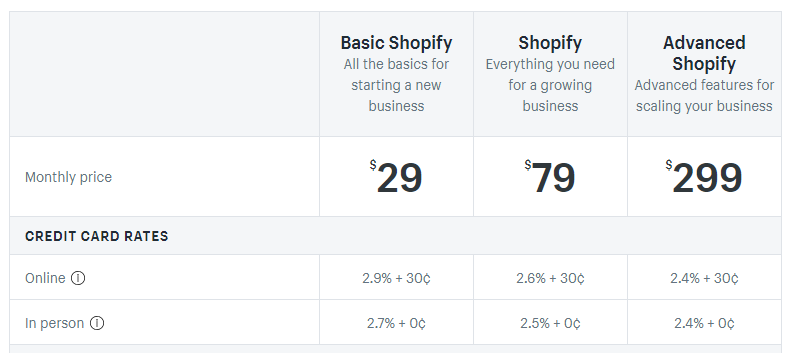 Shopify price plans
The Shopify POS app is free and can be used in conjunction with any of Shopify's price plans. As such, there is no additional cost of using the service's POS functionality.
| | | | |
| --- | --- | --- | --- |
|   | Monthly Billing ($/month) | Annual Billing ($/month) | Biennial Billing ($/month) |
| Basic Shopify | $29 | $26 | $23 |
| Shopify | $79 | $71 | $63 |
| Advanced Shopify | $299 | $266 | $239 |
All these Shopify plans allow for the creation of an online store and integration with the POS app. However, the POS features supported by these price plans vary, as discussed below.
Basic Shopify ($29 per month)
This plan is recommended for businesses that will be doing the majority of their selling online, with only occasional sales made in-person. Here are some feature highlights for this plan:
Free card reader
2 staff accounts
Shipping label printer support
Basic reports
Shopify ($79 per month)
This plan is recommended for businesses that have 1 retail store, and several staff members. This plan includes all of the features of the Basic Shopify plan, plus:
Hardware support for card reader, printer and cash drawer
5 staff accounts
Store credit and gift cards
Professional reports
Advanced Shopify ($299 per month)
This plan is recommended for businesses that are operating more than 2 retail stores. This plan gets all of the features of the Basic and Shopify plans, plus:
Support for shipping label printer and retail cameras
15 staff accounts
Custom report builder
Shopify POS Retail Package
For integrating retail hardware (except card reader), you'll need to subscribe to the Retail Package, which is an extra $49 per month on top of your Shopify fees. The following table demonstrates the total fees you'll incur if you opt for the Retail Package:
| | | | |
| --- | --- | --- | --- |
| | Basic Shopify | Shopify | Advanced Shopify |
| Regular fees (per month) | $29 | $79 | $299 |
| Retail Package | + $49 | + $49 | + $49 |
| Monthly fee with retail package | $78 | $128 | $348 |
Shopify Transaction Fees and Credit Card Rates
Shopify deducts a percentage of each sale as 'transaction fees' if you're using a third-party payment gateway. The percentage it deducts will vary depend on the price plan you choose:
| | | | |
| --- | --- | --- | --- |
| | Basic Shopify | Shopify | Advanced Shopify |
| Shopify Transaction Fees (per sale) | 2.0% | 1.0% | 0.5% |
If you choose Shopify Payments as your payment gateway, you can avoid the above-mentioned transaction fees, and get lower credit card rates as well:
| | | | |
| --- | --- | --- | --- |
| | Basic Shopify | Shopify | Advanced Shopify |
| Shopify Payments credit card rates (in-person) | 2.7% + 0¢ | 2.5% + 0¢ | 2.4% + 0¢ |
Official Shopify POS Hardware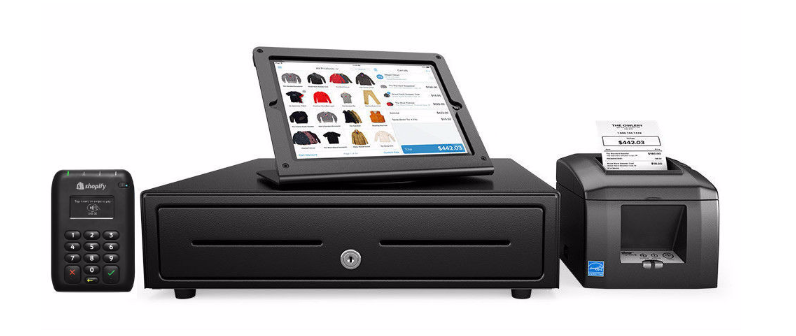 Shopify's Complete Kit
For the complete retail store experience, it is recommended to purchase a card reader, a receipt printer and a cash drawer. Shopify offers this hardware in a package called the 'Complete Kit'. Below are prices for the individual items, and the Complete Kit.
| | |
| --- | --- |
| Product                      | Price |
| Complete Kit (includes iPad stand, card reader, cash drawer and receipt printer) | $749 |
| Tap, Chip, and Swipe Reader | $89 |
| 16" cash drawer | $139 |
| Receipt printer | $399 |
Shopify POS Ease of Use
As a platform, Shopify was built for ease of use. It does away with the complicated install procedures of other popular tools such as WooCommerce and Magento, and instead allows the user to just focus on the job of creating and managing the best possible online store.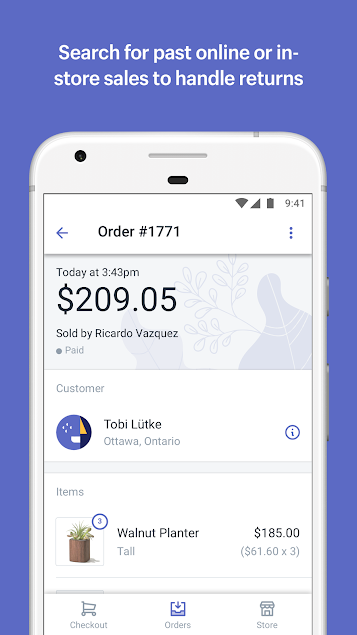 This theme of ease of use certainly carries over to the service's POS system as well. The Shopify POS app is user-friendly and intuitive to use, with most POS functions only a few taps away. It's been designed just like any other app out there, which is to say it's made for everyone to use.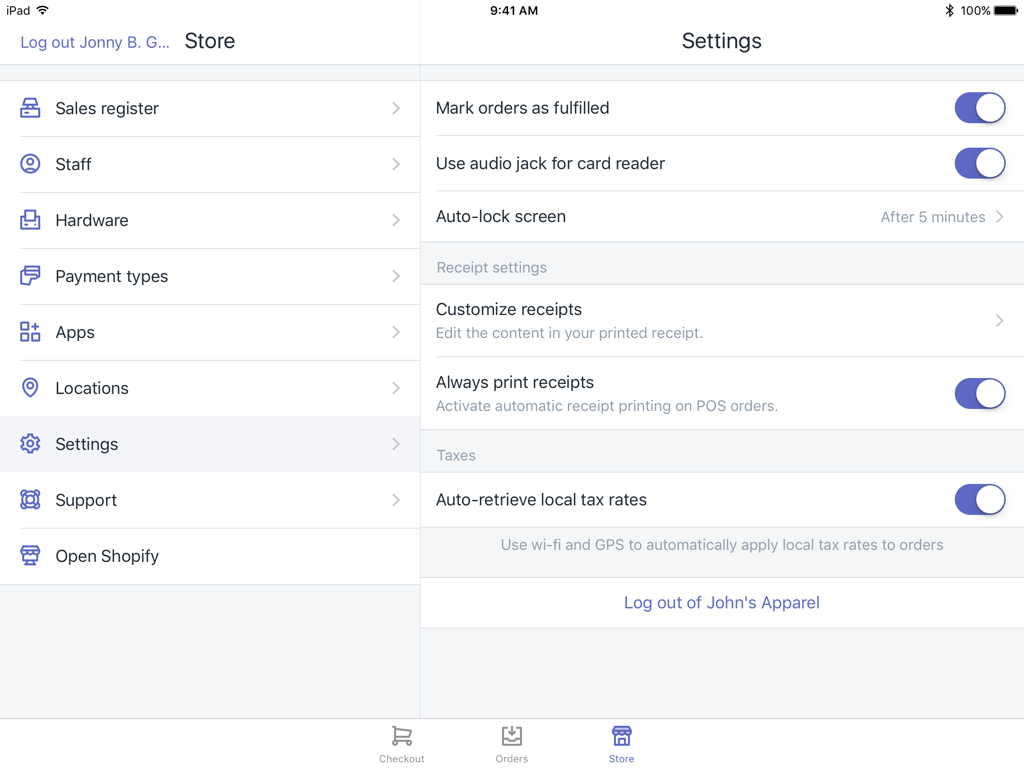 Shopify POS automatically synchronizes with your online store, so there's no need to take any additional steps in order to integrate the POS system. When you swipe a card to accept a payment from a customer, that customer's details are automatically added into the management system for later reference.
Adding products is a breeze, and there's an option for bulk uploads as well (through CSV files). If you do not have an online store, you can still add products through the backend. Remember, Shopify POS is a standalone system, and doesn't require an online store to work.
Talking of ease of use, we also have to mention the normal Shopify mobile app. This app provides a lot of convenience for the management of your online store. You can easily add items, upload photos, edit item details and manage your customers through the simple and easy-to-use interface of this app.
Shopify POS Features
Let's take a deeper look into the features Shopify offers with its POS system.
Payment features
Accept credit cards: Couple the POS app with a Shopify card reader and you'll be able to accept Visa, Mastercard, American Express, and Discover.
Accept a payment using multiple payment methods: You can easily accept multiple payment methods in a single transaction. For example, your customer might want to pay some of the total amount in cash, while the rest with their credit card. This is a common scenario in most retail stores and this feature will inevitably come in handy.
Store credit: If refunds are not possible, you can offer customers store credit instead.
Gift cards: Create gift cards and sell them at your store or online. A gift card can be printed in-store using a receipt printer or emailed to the customer.
Checkout features
Order notes: Keep track of special requests made by the customer by attaching text notes to orders.
Discounts: Offer special discounts on checkout to a customer, by percentage or dollar amount. The discount can be applied to a single item or the entire order.
Mobile register: Your smartphone or tablet is your register, giving you the flexibility to take customer orders anywhere.
Automatic tax calculation: Taxes are automatically calculated and added to total amount based on your store's location. Users have the option of disabling automatic tax calculation, or to set a custom tax for a specific product or order.
Store management features
Order refunds: Refund past orders to the original payment methods. You can also offer customers store credit as an alternative.
Order history: All order details are saved and can be searched for in store and online. Orders can be searched and filtered by customer, product or date.
Staff accounts: Store admins can create staff accounts and assign unique PINs to those accounts. The PINs are also used to identify register changes and order activity. Retail operations usually involve multiple people, and staff accounts provide a great way to monitor individual staff activity.
Integration with accounting software: Quick and easy integration with leading accounting software such as QuickBooks, Xero and more.
Customer management features
Customer profile: Each time a customer places an order, their profile is created automatically. Customer profiles are updated with subsequent orders, so you can quickly view their contact info and order history at a glance to learn more about them and offer them a better shopping experience.
Synchronization of online and retail customers: Your customer information is automatically synced with Shopify, no matter its source.
Product management features
Product organization: Shopify users can sell an unlimited number of products. There are no sales limits, neither are there any limits on the number of products you can have on your store. On the management side, Shopify allows you to group products based on type, category, sale, season and so on. Each product can be offered with options for example color, size, material etc.
Barcode support: Assign a barcode to each product for quick order creation in-person. This requires a hardware scanner.
Customer Support
Shopify has it pretty much covered when it comes to customer support. That's because the service offers 24/7 online support via live chat, email and phone. In practice, we have found live chat to be the most convenient option of these, as response times are almost always instant and the live chat personnel are knowledgeable and helpful.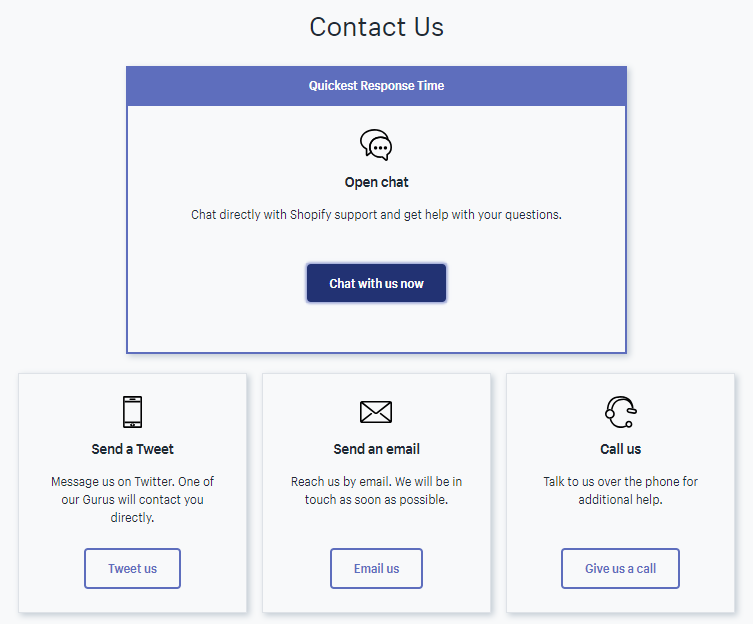 Reaching Shopify phone support can be somewhat tricky, as the listed phone numbers only cover specific parts of the world:
| | |
| --- | --- |
| Region | Shopify Support Phone Number |
| North America | 1-888-746-7439 |
| United Kingdom | 0800-808-5233 |
| Australia | 03-8400-4750 |
| New Zealand | 07-788-6026 |
| India | 000-800-100-5786 |
| Malaysia | 1800-80-6678 |
| Singapore | 800-181-1121 |
| Indonesia | 007-803-651-0008 |
Shopify POS Review Conclusion
Our expectations for Shopify POS were quite high, seeing as how good their online platform is. And fortunately, it delivers in many areas and exceeds our expectations in others. For one, we're really impressed by just how easy it is to get started with Shopify POS. You simply have to sign up for a Shopify account, download the POS app, order a card reader and that's pretty much it.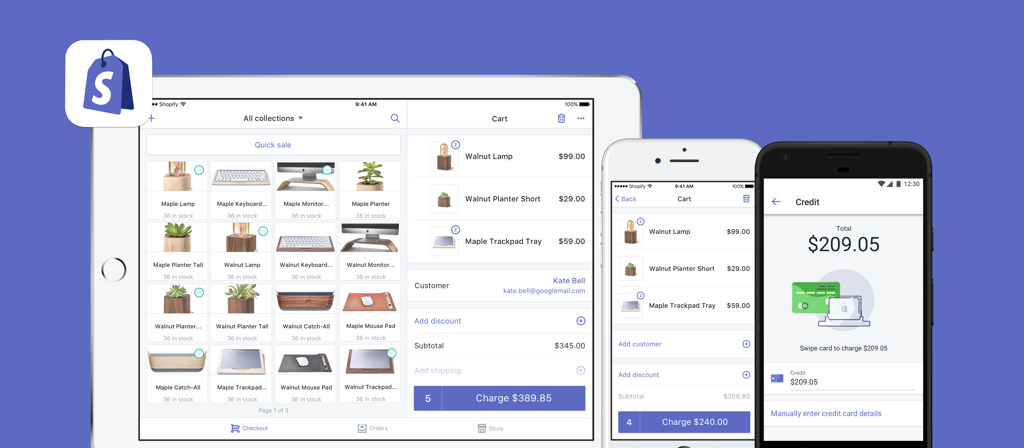 Shopify POS does for point of sale systems what Shopify did for online store builders – it has simplified POS systems and made them accessible to anyone. Small retailers might not be able to take full advantage of the system because of the significant monthly charges (platform + retail package fees) but growing businesses will find great value in this POS system. The system's customer, store, payment and order management features make it a great choice for tech-savvy retailers who're keen to offer their customers a great experience while simultaneously gaining an edge over competitors.
Even better, for larger businesses a Shopify Partner can setup a complete POS operation in a small amount of time at a very reasonable cost. What's more, thanks to the official retail hardware, there's no need to worry about complex hardware integrations as well.
All in all, Shopify has hit the mark with its POS offering. It's thoroughly modern, simple, easy to use and has all the right features that retailers of today expect.
Shopify POS Pros
Simplicity: Forget about complex system deployments and configurations. Simply sign up for a Shopify account, download the POS app and you can start selling.
Apps: Shopify is backed by an ecosystem of 2400+ apps, giving it great flexibility in catering to feature requirements for SEO, accounting, dropshipping and so on.
Management: Shopify makes it easy for anyone to get to grips with its various management systems. Product, inventory, customer and order management interfaces are all beautifully designed and intuitive to use. And for the times when you stumble with any feature, helpful customer support is just a few minutes away.
Officially supported hardware: Shopify has made things simple by offering its own retail hardware kit that integrates without hassle with the POS system.
Shopify POS Cons
No low stock alerts: It's quite surprising that Shopify doesn't feature low stock alerts by default. This isn't a deal breaker by any means, as there are third-party apps that fix this shortcoming.
Hidden costs: At its most basic level, Shopify is extremely affordable. But if you want advanced functionality like hardware integration, add-ons and premium themes, you can quickly see your monthly bill climb above a thousand dollars.
Try Shopify free for 14 days. No credit card required.