Shopify has made a name for itself in hosted eCommerce solutions. Small businesses prefer it for its ease of use, affordability, low maintenance and flexibility. Its popularity and success are quite evident in the numbers as well – there are around 600,000 Shopify-powered sites around the world and the platform is responsible for over $55 billion in sales.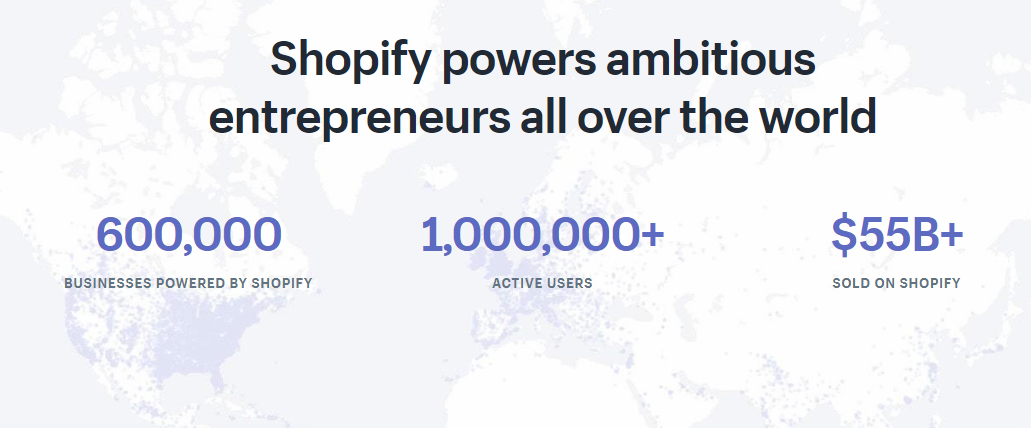 Up till 2014, Shopify was content with catering to individuals and small-to-medium businesses. However, realizing that major players like Magento and WooCommerce had the enterprise market all to themselves, it introduced the Plus price plan. Shopify Plus then, is the company's 'enterprise-grade' eCommerce solution, geared towards high volume merchants and large companies.
Shopify Plus offers the same inherent benefits as the regular plans, saving organizations hassles relating to complex system deployments, maintenance and security fixes. Shopify handles all of the 'boring' stuff, so you can concentrate on making your online business as profitable as possible.
What is Shopify Plus
Shopify doesn't try to hide the fact that the Plus plan is only meant for big companies. In fact, the company reports that the average Plus merchant ships over $1 million worth of merchandise every month. That should give you a fair idea about the kind of customers Shopify is targeting with the Plus plan.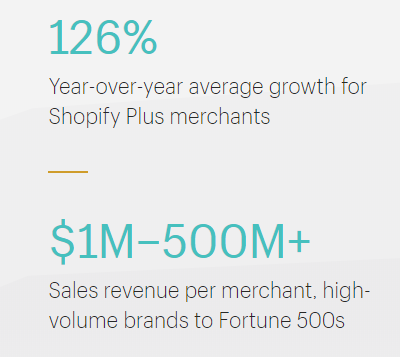 Stats for merchants using Shopify Plus (Source: Shopify.com)
If you make less than $800,000 per month for example, you should consider Shopify's basic offerings instead. To learn more, check out our comprehensive review of Shopify.
Still, if you're a merchant shifting more than $800,000 in goods each month, or you're just curious to know more about the Shopify Plus plan, keep reading to learn more.
Shopify Plus Price – How Much is Shopify Plus?
Pricing details of the Plus plan are a bit murky, with no pricing information on the official Shopify Plus web page. That's mostly because Shopify wants to keep pricing for the Plus plan flexible and negotiable, dependent on the sales of each customer.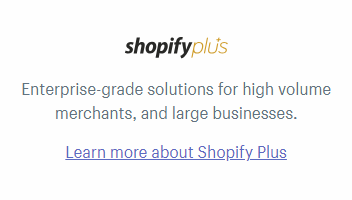 Since Shopify takes care of all the bandwidth and web hosting (it's unlimited and free for its customers), negotiable pricing for high-volume customers seems fair – the more active a store is, the more resources and bandwidth it's going to use.
| | | | |
| --- | --- | --- | --- |
| Shopify Pricing Plans | Monthly Billing ($/month) | Annual Billing ($/month) | Biennial Billing ($/month) |
| Shopify Lite | $9 | $8 | $7 |
| Basic Shopify | $29 | $26 | $23 |
| Shopify | $79 | $71 | $63 |
| Advanced Shopify | $299 | $266 | $239 |
| Shopify Plus | Variable pricing | Variable pricing | Variable Pricing |
Reportedly, Shopify did offer the Plus plan for a fixed monthly price in the past, but that has changed now. For now, Shopify charges either 0.25% of monthly sales or $2000 per month, whichever of these is higher.
That means, the lowest possible monthly cost for Shopify Plus is $2000. There is an upper limit to the amount Shopify charges for the Plus plan as well, and that's $40,000. Shopify will not charge any customer – no matter how much their store makes – more than $40,000 per month.
Shopify Plus Transaction Fees
Shopify Plus charges a transaction fee of 0.15% on each sale that your store makes if you choose a third-party payment gateway (such as PayPal). According to Shopify, this transaction fee is used to cover the costs of integrating a third-party payment provider.
This transaction fee can be avoided if you choose Shopify Payments as your payment gateway. It's a fairly reliable payment provider and in some cases can provide you with lower credit card rates as well.
Shopify Plus Themes and Design
You can find Shopify themes on the Official Store, which hosts 62 themes in total. Out of these 62, just 10 themes are free. However, that's not an issue for Plus users, who will most likely be opting for the paid-for premium themes or a theme built from scratch (more on that later).
Paid Themes
There are around 52 premium paid-for themes on the official Shopify store. Price-wise, they're quite expensive for premium themes, starting from $140 and going up to $180.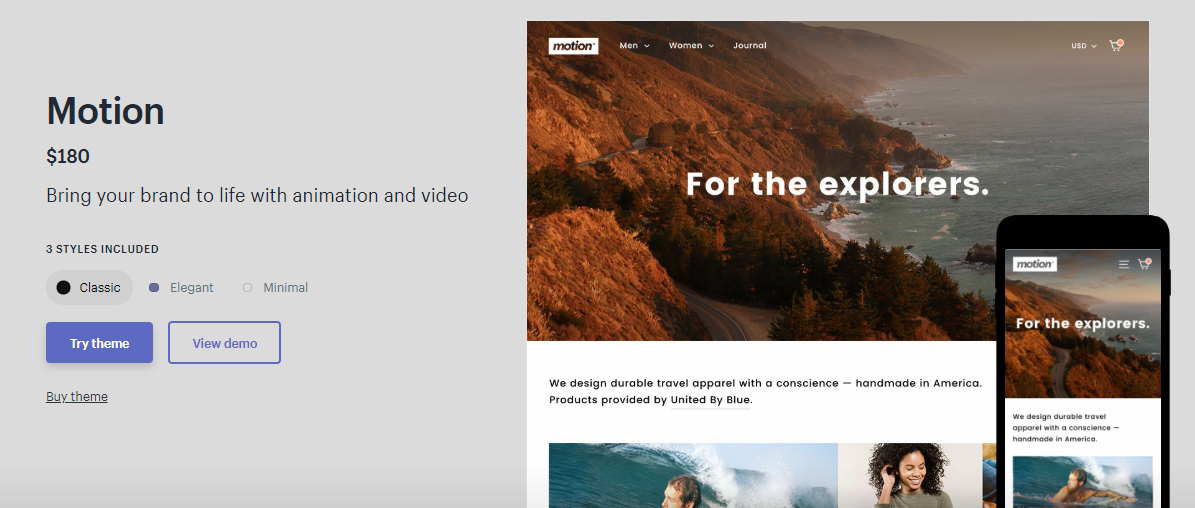 From a design perspective, all of the paid themes have a fresh, modern look that will attract a store's visitors. Most of the premium themes come in 2 to 4 design variations, so there's actually a lot of choice to be had, even with 'just' 52 themes available.
Custom Theme Development
For stores that want a thoroughly distinctive look, Shopify offers the Liquid templating language which can be used to create a store template from scratch. It's good to know that a custom theme is possible, but then this also requires the help of a Shopify Expert. Shopify Experts are not cheap and will likely set you back around $70 an hour.
As a result, custom theme development can easily go into the tens of hours, potentially driving the cost of a theme to more than a thousand dollars. However, for stores that want a truly bespoke look, it's likely not going to be an issue.
Shopify Plus Features
All of Shopify's features are present in the Plus plan. For those of you who're unfamiliar with these, we recommend you to check out our full review of Shopify. Below, we're listing some of the noteworthy features that Shopify Plus users will enjoy:
Unlimited bandwidth and fast servers
Shopify's highly scalable SaaS platform comes with an assurance of 99.97% uptime, ensuring a consistent experience for your website's visitors. What's more, all Shopify Plus users get unlimited bandwidth and disk space, thus allowing you to focus on growing rather than worrying about scaling your ecommerce store (your website will be able to handle 6,000 checkouts per minute) and its associated costs.
Swift store setup
It's no secret that a big ecommerce store can easily take months to be developed and deployed, but that's if you're considering technologies of yore. With Shopify, store development proceeds at an accelerated pace, because the platform already has the building blocks needed to create a world-class ecommerce site.
Development and maintenance costs
Operating an enterprise-grade ecommerce store can be a pricey endeavor. Unforeseen bugs, security issues and maintenance hiccups can cost you a lot of time and money. Even the work force required for keeping up with these issues can contribute significantly to the overall costs. However, with Shopify Plus, a lot of these costs are simply mitigated.
Shopify Plus takes care of servers, bugs, security issues, database maintenance, bandwidth and file storage so you can invest more of your time and resources into marketing and product development.
For example, Black Friday is always an opportunity for stores to make lots of extra sales. However, with the opportunity comes a challenge: how will the store handle the excess traffic?
While traditional stores would need additional bandwidth and / or application servers to handle the extra load, Shopify Plus will automatically take care of this so you can focus on sales strategy and marketing rather than worrying about the technical overheads.
Flexible payment processing
Shopify Plus works with over 100 payment gateways, including renowned names such as:
PayPal

2Checkout

Amazon Payments

First Data

Authorize.Net
Transparent pricing, predictable costs
Traditional self-hosted ecommerce solutions like WooCommerce and Magento might be open-source and free, but they're not exactly cheap to run. There are always unforeseen costs associated with these platforms, because the store owner and their development team are responsible for all of the technical decisions.
Starting at $2000 per month, Shopify Plus is definitely not a low-cost ecommerce service, but it offers a predictable pricing model. The service takes care of platform updates, security patches, hosting and scaling, but bills you according to a simple formula.
Security
Shopify is fully PCI compliant, and is considered 'safe and secure' to deal with sensitive information such as customer' personal information and credit card details.
Multi-channel ecommerce
Big companies are usually selling products across a variety of different channels. Shopify Plus makes it convenient to sell on different channels, by acting as the hub where all everything is presented in a neat, and integrated manner.
Shopify vs Shopify Plus
So now that we've established that pricing for Plus is actually variable (but no less than $2000/month), you might be wondering: "Why is Shopify Plus so expensive?". That question deserves an answer, since the most expensive consumer Shopify plan – Advanced Shopify – is just $299 per month.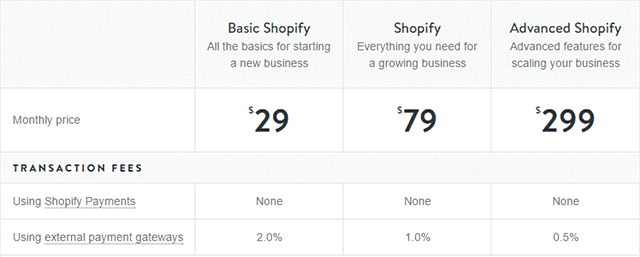 Shopify's regular price plans
Merchants thinking of migrating from competing platforms (Magento, for example), might be confused by the various pricing options within Shopify as well. However, enterprise-level merchants should realize that Plus pricing is inclusive of web hosting and bandwidth charges, which can actually run into the hundreds of dollars if you're self-hosting your enterprise ecommerce site.
What's more, Shopify Plus users get access to exclusive features, which we will be talking about below.
Exclusive Shopify Plus Features
Shopify is not exactly ripping off customers with the Plus plan, and perhaps one of the features that makes it so expensive is the personalized account management.
Basically, as part of the monthly fee, each Shopify Plus customer is assigned an Account Manager, who is responsible for providing advanced support services:
General Shopify support

Front-end development work (approx. 3 hours of tweaks)

App suggestions and installs

Guidance regarding best practices, growth strategies

Onboarding support
Shopify Plus also gives access to exclusive features – features that are not available on the regular plans:
Cart scripting:

Implement custom logic or rules to checkout based on certain factors / criteria. A powerful way to incentivize customers to complete their purchase.
Restful API:

Access to the Shopify API for custom integrations with other enterprise software (CRMs, ERPs etc.).
Access to latest features:

Shopify regularly updates its platform with great new features. As a Plus customer, you never have to worry about being left out – all Shopify features are automatically made available to Plus users.

Customized checkouts:

If you feel the standard Shopify checkout page is too boring, you can spice things up with your own customizations (using the Liquid templating language), but only if you're a Plus plan user.
In our opinion, the most noteworthy feature of the Plus plan has to be the Shopify API access. Large businesses rely on internal systems such as CRMs and ERPs in order to run at optimum levels, and the Shopify API enables integrations with these.
In fact, according to the Shopify Plus blog, nearly any ERP can be integrated with Shopify through the API.
Hosted Ecommerce Competitors
When it comes to hosted ecommerce platforms, only a few are noteworthy enough to be compared to an accomplished platform such as Shopify. BigCommerce Enterprise and Magento Enterprise are well regarded as SaaS ecommerce solutions, but how do they stack up against Shopify Plus?
Shopify Plus vs Magento Enterprise
Magento is an established name in enterprise ecommerce platforms. The Magento Community Edition, an open-source and free ecommerce platform, is particularly popular with online store who want a fully customizable yet cost-effective online store. To compete with the likes of Shopify, Magento also offers Magento Enterprise, which is basically Magento bundled with hosting and customer support.
Pricing for Magento Enterprise starts at $18,000 per year, significantly undercutting Shopify Plus pricing (~$24,000 per year minimum).
Shopify Plus vs BigCommerce Enterprise
BigCommerce, while having a significantly smaller userbase, is growing rapidly and is Shopify's main competitor. It's a promising ecommerce solution, and its consumer plans compare quite favorably against Shopify.
The draw with BigCommerce is that unlike Shopify, the platform has a much more robust built-in feature set. While Shopify relies on apps, BigCommerce relies more on built-in features. And while Shopify is also devoted to its offline initiatives (Shopify POS), BigCommerce's core focus is on online stores.
Pricing for BigCommerce Enterprise starts at around $1000 per month, which is significantly lower than Shopify Plus ($2000 per month minimum).
Shopify Plus's Limitations
Shopify Plus is a very compelling enterprise ecommerce solution, but it isn't perfect by any means. There is no perfect product out there, and if Shopify built every feature imaginable into the platform it could actually negatively affect its performance. Let's look at some of the limitations of Shopify Plus.
Content Management
Shopify Plus comes with a built-in blogging module, but don't expect it to rival dedicated content management systems such as WordPress.
The blog is actually quite easy to set up, but it lacks some features you'd normally find in CMSs such as WordPress and Squarespace. Businesses that have content marketing as a core component in their overall strategy can definitely use Shopify's blogging features, but they'll be missing out on popular add-ons like Yoast SEO to take their content strategy to the next level.
Because of this, it's not uncommon for Shopify websites to host a WordPress blog on a subdomain. That seems like a straight-forward solution, but it can have SEO and traffic implications – the best practice is to have your entire website on a single subdomain.
If your ecommerce business relies on publishing to generate traffic, you should definitely take note of Shopify Plus's CMS limitations.
Platform Dependency
Shopify is impressively popular, and powers more than 600,000 ecommerce sites globally. That is to say, it's not going to go out of business anytime soon. However, such an occurrence must be taken into consideration if you're thinking of investing in the platform for the long run.
If at any point you find that Shopify Plus is not able to meet the requirements of your business, migration can also be problematic. Sure, Shopify does make all of your data available for export, but it's not quite the same as having direct FTP and database access.
Development Expertise
Shopify Plus allows users to gain full access to the platform's backend features, which can be enhanced / modified through an API. However, that does require having an in-house team of Shopify experts. And just like any other API, there is a learning curve involved in getting to grips with it.
Even though Shopify is the most popular ecommerce platform, it's still not as well-known as WooCommerce or Magento (depending on the area of the world you're in). This means either investing in and training in-house developers or hiring a Shopify-vetted agency.
Shopify Plus Review – Conclusion
If you find that your business can benefit from a hosted ecommerce platform, then Shopify Plus is definitely the platform to go for. Competitors such as BigCommerce Enterprise and Magento Enterprise are quite accomplished in their own right, but they cannot quite match the overall polish and app ecosystem that you get with Shopify Plus.
Sure, Shopify Plus isn't the cheapest hosted ecommerce solution, but you get what you pay for. Also, consider the fact that companies such as GymShark and MVMT Watches have chosen Shopify Plus to handle their complex ecommerce operations.
If Shopify Plus seems like a good fit for your requirements, simply go to the Shopify Plus page and request a free demo.
We also have a full review of the Shopify platform, and its comparisons against key competitors such as BigCommerce, WooCommerce and Magento.