For a long time my agency never really had a clear answer to this question. If you do research online you'll see multiple different answers. Some of the sources even contradict each other. Other sources represent outdated information which still happens to rank on Google. After years of SEO work, we found a way to use an SEO tool called ahrefs in order to consistently predict how long our blog posts need to be. To save even more time, I created this simple tool that will automatically check your competitors and suggest the ideal word count. Simply enter your keyword in this form to find out how long your blog post or landing page should be.
The most interesting thing we found is that the target word was different depending on which keyword we were targeting. With more competitive keywords I usually write more content. For example, our article on
"volusion vs shopify"
is over 2300 words, but it's going to need about 5000 words total to really compete for page 1 on that keyword. With "easier" keywords you still need a "baseline" of content to help Google interpret your web page, but you might rank well with as little as 300 words. The "baseline" at my agency is 2000 words. We have a blog post which just broke into page 1 of Google for
"wix vs shopify"
which is about 2100 words long. [toc]
How many words should a blog post be?
2. Type the keyword you would like to rank for into the tool and press "go"
Make sure you're looking at data for the same country you wish to rank on Google. This example is focused on the USA, Google.com.
3. Scroll down to the serp overview section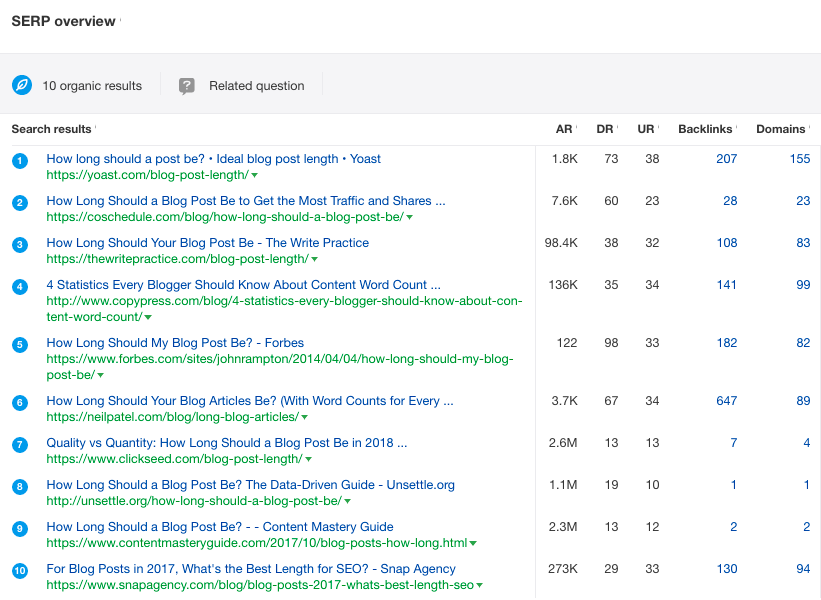 4. Identify the results on these pages with the lowest DR, (Domain Rating)
In this example, we see "clickseed.com" Why do we look at result with the LOWEST DR? The lowest DR website is ranking very well (on page 1) despite having LOW authority. This means that if we can beat the relevance (content quality and length) of this result, then we should be able to rank as long as our DR is at least as good as this competitor. Aside: Relevance and Authority Google ranks pages for two factors mainly: Relevance and Authority. I'm not going to go into detail here but here's a quick overview in context: Relevance explains how closely a search result answers the users search query. A page about "how to write a blog" is less relevant than a page about "how long should your blog post be" in the context of someone searching "how long should a blog post be" Authority correlates closely to Ahrefs Domain Rating (DR), which measure how "powerful" a page or website is based on the quality and quantity of links to the entire domain. In general, content published on more powerful websites ranks faster and better. If you wrote an article about "how long should a blog post be" and published it on CNN or The New York Times, it would rank on the first page much faster than if you published it on YourBrandNewWebsiite.com That's because CNN has a lot of authority, and your new brand new website has very low authority.
5. Determine the word count of the lowest DR page
Copy the "body" content from the low DR competitor.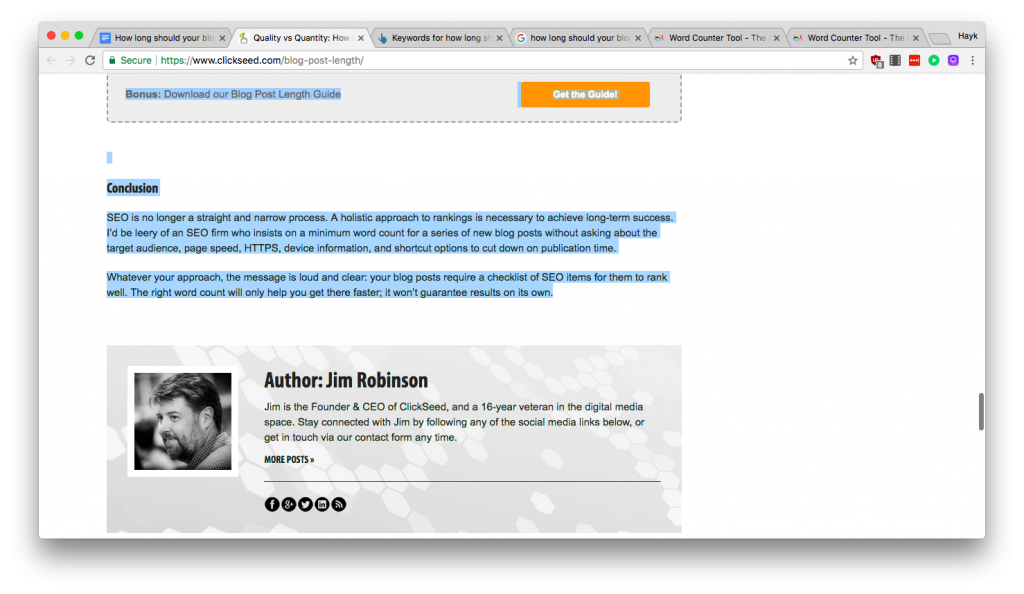 Paste the "body" content into this website https://wordcounttools.com/
This article is 1243 words long. Lastly, calculate the result
6. How long should your blog post should be?
Your blog post should be 500 words longer than the most relevant, and least authoritative competitor who ranks on the first page of Google. For longer competitors of 4000 words or more, you should target 1000 more words to make your article longer than the next competitor. For our example, in order to rank on the first page for "how long should a blog post be" this blog post should be about 1800 words long.
How do you add more information to a blog post in to make it useful without wasting your readers time?
At this point, the blog post is only about 677 words long, and this is a problem when you want to rank for something competitive. Naturally, you need a way to add useful information to the blog post without diluting the usefulness or SEO relevance of your blog post. The best strategy that I've found is to look at the additional keyword variations for your "main" keyword and then address all those other "subtopics" in addition to your main topic.
Step 2: Enter your main keyword into the tool and press enter
Step 3: Look at the "all ideas" section to show every possible keyword suggestion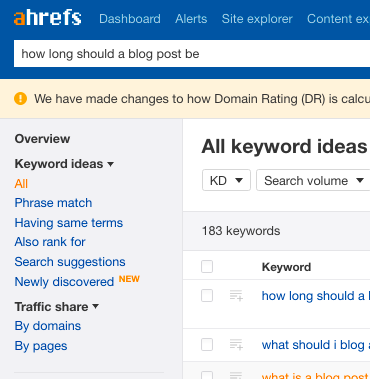 Step 4: Use the "include" filter to narrow down the results to keywords that actually relate to your topic and main keyword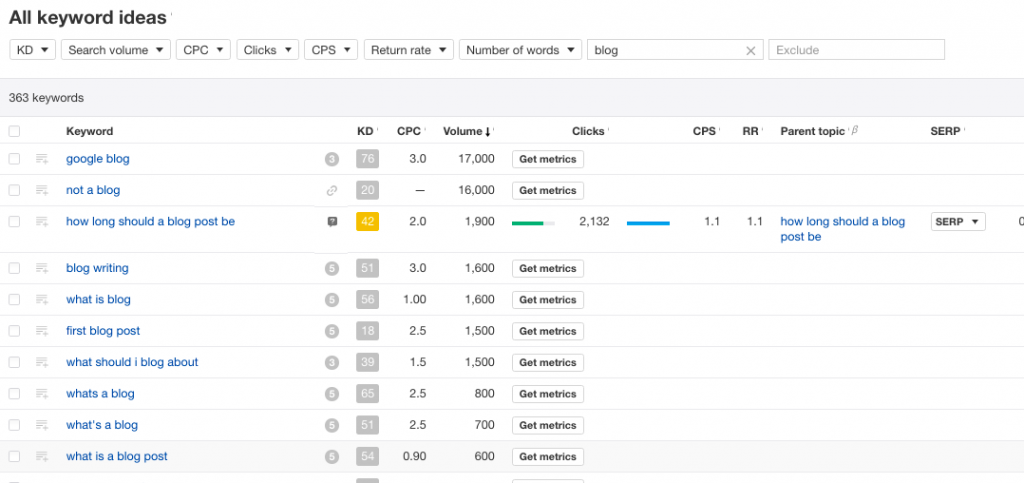 Step 5: (optional) Use the "number of words" filter to narrow down to more relevant keywords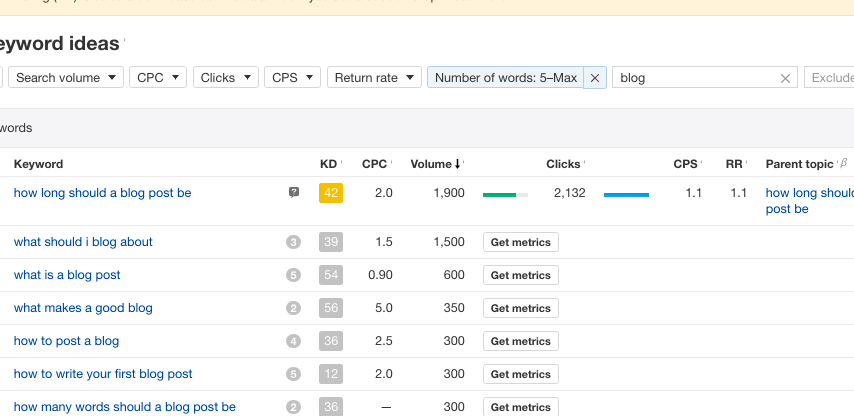 Step 6: Copy down a list of the relevant keywords with the most search volume
In this example, here are some alright keywords for additional sections. Log as many as seem relevant for your blog post. If they're "too similar" to justify a new section, then you can use them as keyword variations inside a meta description or other areas.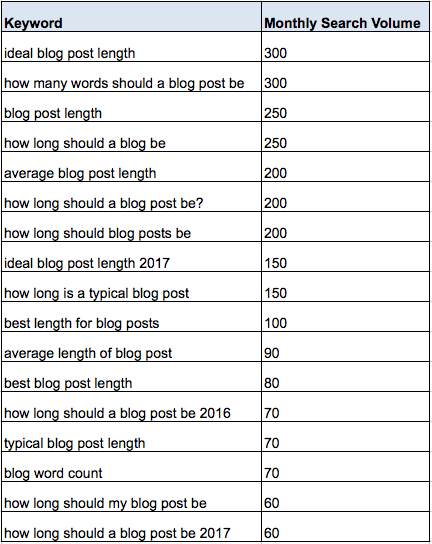 Personally I like to choose variations which are "conceptually" distinct but still related. For example:
Ideal blog post length
This could talk about how long a blog post should be if your goal was to be concise and clearly communicate information. The longer your content is, the more time it will take for your readers to understand. In our fast paced world people have less patience than ever. Often times we want to write very concise communications to make sure we get our ideas across. This is a double edged sword because "short" content tends to rank worse in Google.
How many words should a blog post be
A blog post should be 500 to 1000 words longer than the closest competitor blog post found in a Google search for the primary keyword. 1000 words is a good word count target for blog posts on local websites. 2000 words is a good word count for blogs with a national or global audience. This section is a summary or conclusion section. The KEY here is that the content is written conversationally because the search term is almost something you would get from a voice search. This means the answer needs to sounds like what Alexa or Google Voice would tell you if you asked.
Average blog post length
Research shows that the average blog post is at 2300 words long. This is specifically concerning blog posts on the first page of Google for a 5000 word data set measured in a Moz study. https://moz.com/blog/blog-post-length-frequency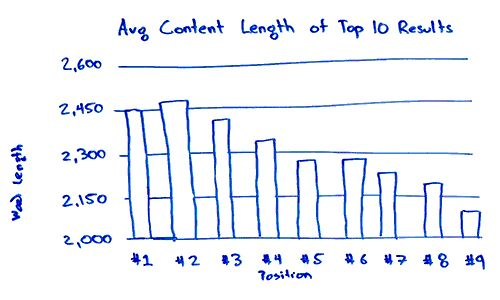 This section would talk about the "average" blog post based on worldwide statistics and online research. Not necessarily what you should strive for, but gives you a good example of the competition.
How long should a blog post be 2018
This could be about how lengths have changed over time. Compare 2016 to 2017 and 2018 As more and more long form content is published on the internet, the target content length for blog posts increases every year. Orbit Media runs a yearly survey to ask bloggers how long the content they publish is. https://www.orbitmedia.com/blog/blogging-statistics/#Q5 You can see in the chart how the typical blog post word count increases every year.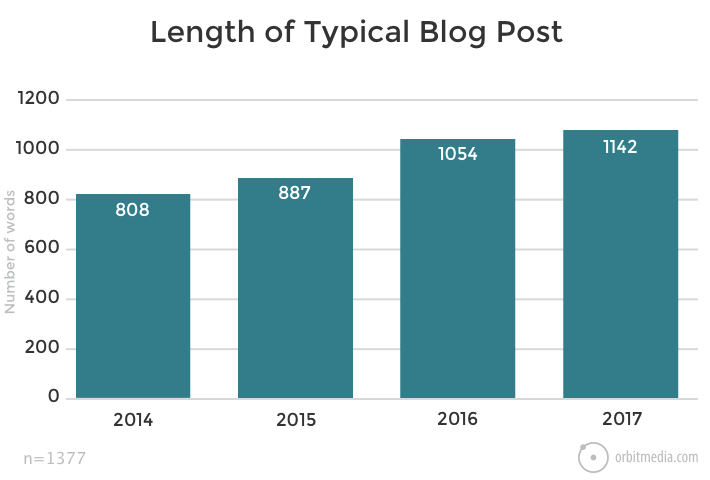 Image credit Orbit Media
Blog post length
This is a pretty generic keyword, so it's a little more open ended as far as the searcher's intent. You could write about "how to measure the length of your blog post" explain how to use tools or other things to measure the word counts. You should be warned that "length" can be measured in multiple different ways. Some SEO tools like Screaming Frog will count all of the words on a given URL. Other tools will only count the "body" content, meaning just the words in the blog post itself, and not anything in the navigation, footer or other content. For example if you're writing a blog post into the wordpress editor the "word count" shown there excludes headers, sidebars and other elements like that.
So how long does your blog post need to be?
3000 words is the easy "no research" answer. It's safe to say that 99% of the time, there will be a competitor on the first page of Google with low DR who has a blog post with less than 3000 words. If you type quickly, and you don't have ahrefs or any keyword tools available to you, then just write 3000 words all the time and keep it simple. —— If you have more questions about content marketing or blogging, feel free to contact me via email using hayk@logicinbound.com . Currently I am the COO of Logic Inbound. Our digital marketing agency specializes in search engine optimization and content marketing. We are actively looking to work on SEO for eCommerce websites.   Click Here to Book a Marketing Strategy Session