In basic terms, an EMR/EHR is a computer system that helps healthcare providers manage patient records and automate some clinical processes. EMR (electronic medical records) and EHR (electronic health records) might mean the same and are often used interchangeably, there are a few key differences.
Electronic medical records are just that – a digital version of paper medical records. EHR systems on the other hand represent an advancement in clinical systems that bring additional features to enhance the patient experience. These include other features such as e-prescriptions, patient portals, telehealth modules and so on.
The US healthcare market is ripe for EHR systems, so there's a lot of them. You can find EHRs for hospital organizations as well as small independently run clinics. Choosing the one that's best for your practice will depend on a variety of factors: price, ease of use, support and so on.
In this article we'll take a look at different EHR systems and their pros and cons. We reached out to real doctors as well to share what EHR system they use and the reasons behind that. Keep in mind that EHR systems usually do not provide marketing services to attract more patients to healthcare practices. Check out our guide to SEO for Doctors to learn about how to grow your practice.
1. ChARM EHR
ChARM EHR is a cloud-based EHR system designed for small to medium practices with affordable pricing. Its key features include document management, revenue cycle management (RCM), practice management, medical billing and e-prescribing.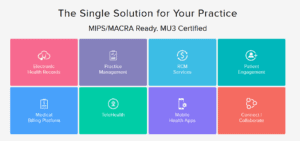 ChARM is a great option for medical practices that don't have deep technical knowledge, but still want a feature-packed EHR. It is easy to get started with, comes with a user-friendly interface and can be understood without much hassle.
The EHR is also built on responsive HTML5 technologies so it's completely device agnostic – meaning – it will run on any device. So patients accessing it through their smartphones will have no problems.
Dr. Jameelah Nelson from Atlanta, GA runs Healthy Lifestyle Wellness Center, a practice that's involved in telehealth as well. She chose ChARM because it handles both telehealth and in-person practice workflows.
"I like the telehealth feature. When you're having online visits it's built into the system so you can have a video chat through the system while you're charting. The customer service is also great. When I signed up I got a 1-on-1 and they checked in frequently to make sure the system was working." – Dr. Jameelah Nelson
ChARM EHR Cons
Doctors who're looking for round-the-clock support might want to think before going with ChARM. The support is very helpful, but it's not available all week as it's based off-shore.
Still, this shouldn't be a deal breaker for most doctors as the support is reported to be very helpful during available hours.
ChARM EHR Pricing
ChARM EHR has 3 pricing plans – Free, Encounter Plan Flexi and Provider Plan Fixed Pricing.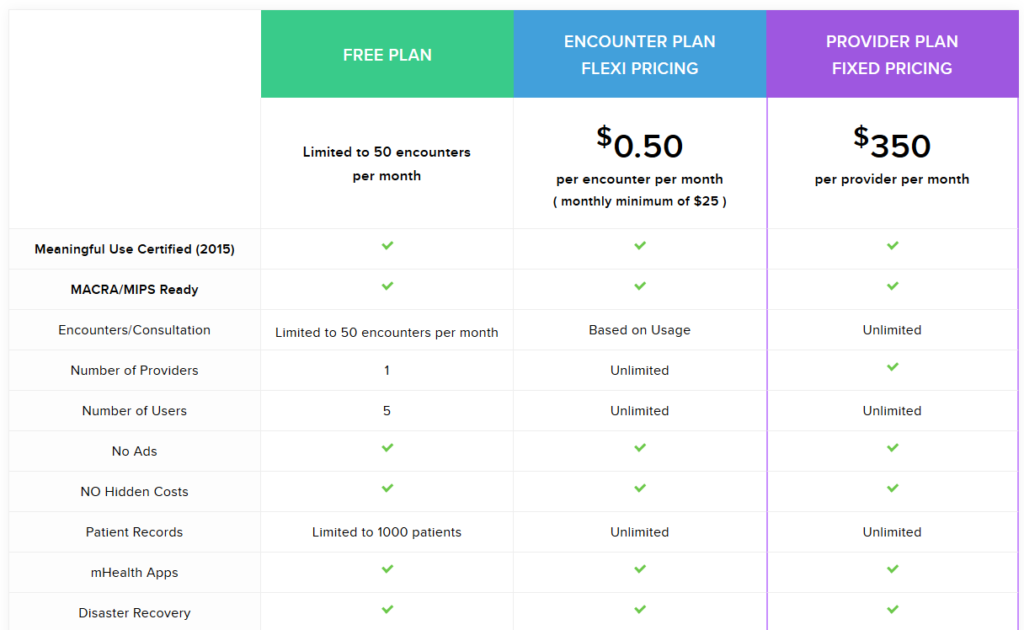 The Telehealth module is reserved for the Provider Plan which costs $350 per provider per month. It can be purchased as an add-on for other plans at $20/provider.
2. Chirotouch – Best EHR for Chiropractors
Chirotouch is an EHR that's been designed for small to medium chiropractic practices. Along with the usual EHR features like medical billing, patient record management and scheduling, it has custom templates for chiropractors.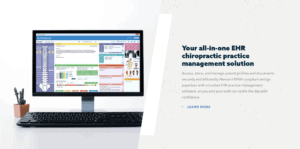 This includes image management, dynamic SOAP notes and real-time patient flow with room management. This EHR's primary audience is chiropractors with smal to medium volume of customers.
The user interface is easily navigable by novice computer users, and chiropractors can easily teach themselves how to use it. The customer service is also top notch and will help customers in a timely manner, no matter the magnitude of the problem.
We talked to Dr. Brooke Preston, a chiropractor in Iowa, who has been using Chirotouch for the past 5 years.
Dr. Preston cited a number of reasons for choosing Chirotouch, highlighting its affordable price and prevalence of use in the chiropractic community. "It's what your colleagues use", says Dr. Preston.
"You get really good technical support service. Every time we've needed them (Chirotouch) they've come through and in less than an hour everything's back up and running."
Chirotouch Cons
Dr. Preston says that the billing side of Chirotouch can be improved, specifically making it easier to setup and integrate with other systems.
"We had to hire a billing company to hook that (Chirotouch) up with the insurance companies we're in network with. It can get complicated to make sure things are submitted properly."
Chirotouch Pricing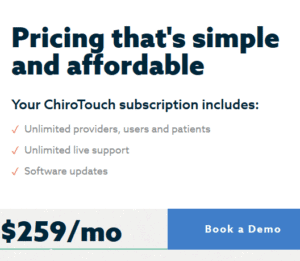 Chirotouch pricing is hailed by the company as being "simple and affordable". It's $259 per month and allows unlimited providers, users, patients, along with live support.
3. Jane App
Jane App is a cloud-based practice management platform which helps clinics with workflow management, practitioner management, scheduling, billing, patient record keeping and documentation.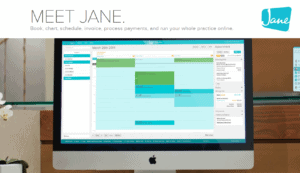 Jane offers a modern user interface, along with the usual feature set mentioned above. One of the main selling points of this software is its low starting price of just $74 per month. The company is also receptive to support and improvement suggestions by its customers.
We talked about Jane App with Dr. Kate Kelly, a chiropractic physician and owner of Active Recovery Boston in Massachusetts with 2 clinics and 4 associates. Dr. Kelly had previously been using an EHR that was designed by chiropractors but didn't have much support behind it. Plus, it was unreliable.
After trying 20 different EHRs in 10 years, Dr. Kelly switched to Jane App.
"It's owned by a Canadian company, they're having a few glitches with US insurance billing but they're fine tuning it", she says.
We asked what she likes most about the EHR, to which she answers, "You can request Google Reviews via text or emails to people after their first patient visiit".
"It has great online scheduling, and it's very easy and user friendly", she adds.
Jane App Cons
Dr. Kelly says that getting Jane App up to speed on the US insurance system was challenging. Jane is built by a Canadian company, and Canada has a different medical billing system.
Jane App Pricing

Jane App has 3 price plans:
Insurance Plan: $99 per month
Corporate Plan: $369 per month
4. Simplepractice
Simplepractice is a practice management tool for health and wellness providers and small groups, geared towards therapists, psychologists, social workers, speech therapists, nutritionists and so on.

Simplepractice aims to simplify practice workflows, allowing practice owners to focus on clients instead of getting bogged down by administrative work. Salient features include fully paperless intakes, patient/client communication module, billing, appointment reminders and a mobile app.
There's no e-prescription feature so this might not be the ideal choice for medical doctors.
Dr. LeTa Jussila, a doctor of acupuncture and oriental medicine, uses Simplepractice and says it fits her 'intuition'. She doesn't have to look for things, as the software is straightforward to use.
Simplepractice Cons
This isn't much of a con, but worth mentioning. Simplepractice is made for healthcare providers, and not necessarily medical doctors.
Simplepractice Pricing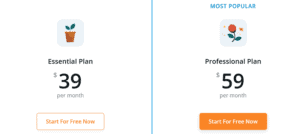 Simplepractice has straightforward pricing plans:
Essential Plan ($39/month)
Professional Plan ($59/month): Includes the telehealth feature
5. EpicCare
Epic is nothing like the other EHRs mentioned above – it's an enterprise-grade EHR that's meant for hospitals and large healthcare organizations. It's said to have an 'unlimited' amount of features – provided you can find them.
Epic requires extensive enterprise training to get up and running, so you can't expect your run of the mill tech support guy to set it up. Its interface is also dated, but many hospitals don't see this as a problem given all the features Epic has.
Dr. Nicole Lombordo, a physical therapist and CrossFit Level 1 Coach at BackIntelligence has been using Epic for a year.
She likes Epic as it allows her to access a patient's entire medical history, aiding her to understand the patient's pre-existing conditions. This helps before meeting a new patient as it allows her to do preparation in advance.
Epic also allows her to effortlessly communicate with other healthcare providers.
EpicCare Cons
Many users of Epic EHR cite the dated UI as a con. Dr. Nicole says a major problem with Epic is that some patients aren't active on Epic, so it becomes hard to communicate with them since they don't have this online system.
She feels a training or intro class to educate them on how to use it would be helpful.
EpicCare Pricing
EpicCare is an enterprise software, so expectedly its pricing is only available as a custom quote from the company.