Shopify is one of the best tools to create an online store with. If you're looking to start an eCommerce business using Shopify, you'll have to opt for a paid subscription plan. But there are several Shopify pricing plans to choose from, and you might be wondering which one will suit the needs of your online business the best.
To help you make an informed decision, we'll be looking at Shopify pricing plans in depth; delving into their associated costs and the features they offer. Before we start however, let's take a brief overview of the Shopify platform.
What is Shopify and How Much Does it Cost?
Simply put, Shopify is a web tool that helps you create a professional eCommerce store from scratch. It runs from a web browser so there's no need to download and install any software. It's a paid software-as-a-service (SaaS) product, meaning it runs on Shopify's own application servers and you simply pay a monthly fee to use it.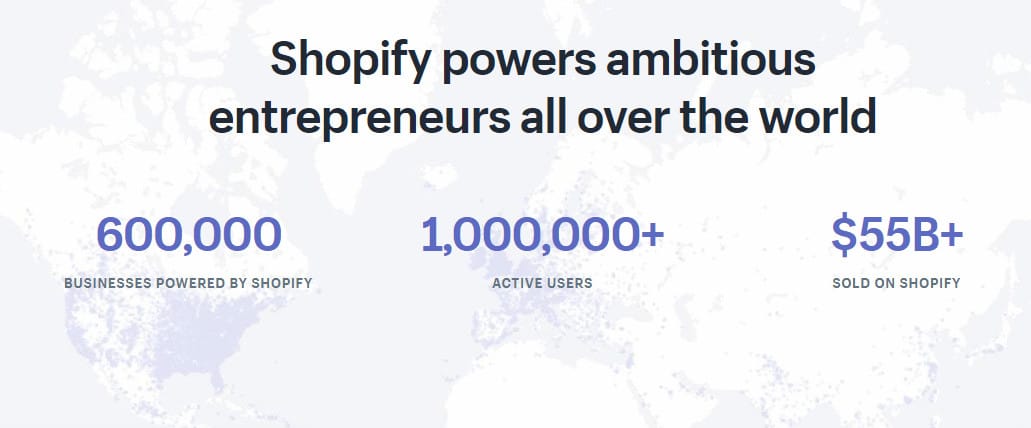 Shopify simplifies a lot of the technical aspects of creating an online store. You don't have to buy hosting for a start, and there's no need to fiddle around with software installations either. Users just have to go to the Shopify website, sign up for a free 14-day trial and get cracking with creating their web store.
Once the 14-day trial is over however, Shopify will ask you to choose one of its pricing plans.
Shopify Pricing Plans

There are currently 5 Shopify pricing plans. If you've already decided on using Shopify and are ready to invest in it for the long-term, you can actually save up to 10 – 20% by opting for annual or biennial billing on 4 of these price plans.
Shopify Prices – How Much Does Shopify Cost?
| | | | |
| --- | --- | --- | --- |
| Shopify Pricing Plans | Monthly Billing ($/month) | Annual Billing ($/month) | Biennial Billing ($/month) |
| Shopify Lite | $9 | $8 | $7 |
| Basic Shopify | $29 | $26 | $23 |
| Shopify | $79 | $71 | $63 |
| Advanced Shopify | $299 | $266 | $239 |
| Shopify Plus | Variable pricing | Variable pricing | Variable Pricing |
The above Shopify pricing fees are the charges users have to pay for access to the ecommerce platform and its various tools and features. Let us dig deeper into each of these price plans and what they have to offer to online sellers.
The Shopify Lite Plan – Affordable Shopify Pricing Plan
What is Shopify Lite?
At just $9 per month, Shopify Lite is the cheapest way of gaining access to the platform's popular features. But you might be wondering about the wide price gap there is between this and the higher-up 'Basic' Shopify plan.
That's because the Lite plan doesn't give you access to the platform's store creation tools. Rather, it allows users to sell through existing websites, Facebook Pages, or a physical location.
How to Use Shopify Lite: Sell on an Existing Website
Shopify allows its users to embed a widget on an existing website that contains the picture and price of a product along with a buy button. This can be done quite easily by adding a snippet of code to any page of a website.
This makes Shopify Lite a great option for users who already own a website, but would like to sell a few products on it. Users still get access to Shopify's feature-rich store management system so they can stay on top of the sales that are generated through these widgets.
How to Use Shopify Lite: Sell on Facebook
If you don't want to go through the hassle of creating an online store, selling on Facebook using Shopify Lite might be a good option. Setting up a Facebook store is quite straight-forward, and anyone can do it with the help of Shopify's documentation.
How to Use Shopify Lite: Manage a Physical Store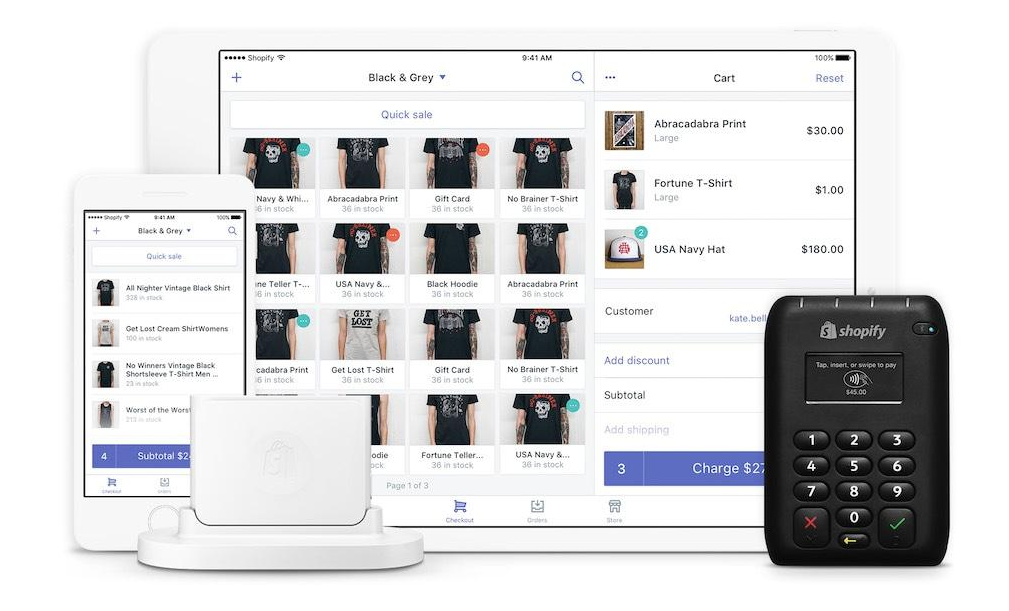 If you're running a physical store and would like to introduce some management through software, Shopify Lite can be a great cost-effective option. Lite users even can avail official point of sale (POS) hardware directly from Shopify and integrate it into their physical store's operations.
The hardware includes a card reader, receipt printer, barcode scanner and a cash drawer. Sales that are made using the Shopify POS system are automatically recorded in the backend system as well.
Staff Accounts
The Shopify Lite plan also allows the user to create 2 staff accounts if there are several people responsible for running the eCommerce operations. This is certainly useful, as the user (admin) can restrict the staff accounts to not get access to sensitive information (sales data, for example).
Who is the Shopify Lite Plan For?
Shopify Lite is a great option for users who:
Want to sell products on an existing website

Want to sell products through Facebook

Want a digital store management system for their physical store
Like all Shopify plans, users of the Lite plan get 24/7 access to live chat, email and phone support.
Basic Shopify Plan
Costing $29 per month, the Basic Shopify plan is a solid $20 more than the entry-level Lite plan. The significant jump in pricing is due to the fact that this plan gives users access to the platform's store building tools. Basically, users who want to create an online store from scratch using Shopify will have to opt for at least the Basic Shopify plan.
Basic Shopify provides all of the features of the Lite plan, with some additional key features such as:
Fraud analysis (Shopify will help you spot fraudulent transactions)

Manual order creation

Discount / promo codes

Store building tools

Free SSL certificate for your web store

Blog creation tools
Judging by the features listed above, it's easy to see that the $20 premium over the Lite plan affords the user with many benefits and important eCommerce features.
Staff Accounts
Like the Lite plan, users of the Basic Shopify plan can create 2 staff accounts.
Who is the Basic Shopify Plan For?
Basic Shopify is a great option for users who:
Want a simple and

affordable way

of creating a professional online store

Want basic features such as sales reports and access to Shopify's fairly extensive app library
Shopify Plan
Shopify's $79-per-month plan is simply called the 'Shopify Plan', perhaps hinting that it is the 'standard' plan amongst the various paid subscription options. The cost per month is more than double the amount users pay for the Basic Shopify ($29 per month).
This plan is for people who're looking to invest a not-insignificant amount of money for better eCommerce features as compared to the affordable Lite and Basic Shopify plans.
As such, the Shopify plan gives users access to all the features found in lower price plans, with some additional features such as:
5 staff accounts

Gift cards

More detailed reports

Abandoned cart recovery
The features listed above are absolutely essential for online sellers who want to maximize their profits. Let's take a deeper look into the value these features provide to users.
Staff Accounts
The Shopify plan allows store admins to create 5 staff accounts, as opposed to lower priced plans which only allow 2 staff accounts. This is necessary for eCommerce businesses with a larger workforce.
Gift Cards
Gift cards allow customers to purchase – you guessed it – gifts for people. The gift cards have a value associated with them so it's up to the recipient to select a product that will cost as much or below the value of that gift card.
This feature can come in handy for creating increased brand awareness of an online business as well as potentially winning the store new customers by introducing them to the product line.
Advanced Reporting
The cheaper Basic Shopify plan does come with a reporting feature, but it's fairly rudimentary in its nature. The Shopify plan however, brings with it much more detailed reports that are meant to provide deeper insights into an online store's performance.
Reports regarding the following are available for users of the Shopify plan:
Finances

Sales

Payments

Taxes

Traffic
It's also a good idea to pair up Shopify's reporting system with Google Analytics, as it provides a lot of additional insights regarding the incoming traffic of a website.
Shopify Abandoned Cart Recovery
There are instances where an online shopper will add items to their cart, but will not go through with the purchase (due to any number of reasons). But since they added items to the cart, it shows a strong intent of purchasing those items as well.
The abandoned cart recovery feature aims to maximize an online store's sales by notifying customers – through email – who abandon their shopping cart without completing the purchase. This is a great way of generating sales that would have simply been lost. Since this feature can prove to be fairly beneficial regarding sales, it's quite natural to see it not included in the cheaper price plans.
Who is the Shopify Plan For?
The Shopify plan is a great option for users who:
Want to maximize their sales profits by using advanced features such as gift cards and abandoned cart notifications

Want to optimize their sales through detailed reports
Shopify Advanced Plan
The Shopify Advanced plan costs $299 per month, more than ten times the amount users pay for the Basic Shopify plan. Does that mean it comes with ten times more features?
Not quite, but the features it does include – in addition to those offered by the lower price plans – make it a sound investment for merchants with high volumes of traffic and sales.
Advanced Shopify comes with all of the features offered by the lower priced plans, with additional features such as:
15 staff accounts

An advanced report builder

Third-party calculated shipping rates
Below we'll be talking about why these features are important and how they aid in justifying the Advanced plan's $299-per-month bill.
Staff Accounts
The Advanced Shopify plan allows store admins to create up to 15 staff accounts. This gives us an idea that the Advanced plan is geared towards eCommerce operations with a significant workforce.
Shopify Advanced Report Builder
The advanced report building feature allows users to manipulate reporting-related data, and even create custom reports.
The advanced reporting features are impressive, and anyone who's used data analytics software will certainly appreciate this. Users can create custom reports that provide them with a better understanding of the store's performance than the standard reports built into Shopify.
It should also be noted that this feature is best used by users who're familiar with advanced report building techniques.
Calculated Carrier Shipping
Calculated shipping allows users who integrate with a third-party shipping service (such as USPS or FedEx) to provide real-time and updated shipping rates to customers. The shipping rates are calculated in real-time when the customer places an order so they get an accurate final price.
This helps stores build trust by not 'surprising' their customers with unexpected shipping rates which may dissuade them from making future purchases.
In fact, if you are planning on using a third-party shipping service, you pretty much have to avail this feature in order to give your customers the best possible buying experience.
Who is the Advanced Shopify Plan For?
The Advanced Shopify plan is best suited for users who:
Are prepared to invest heavily into their eCommerce business

Want complete control over reports

Want to integrate with a third-party shipping service
Shopify Plus Plan
This is Shopify's answer to enterprise-grade eCommerce solutions such as Magento 2. Shopify Plus allows its customers to integrate with internal systems (such as ERPs and CRMs) through an API along with priority account management by one of Shopify's customer solutions engineers.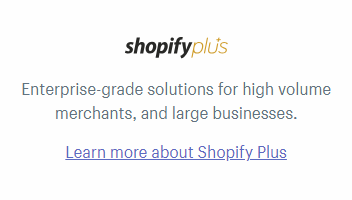 This plan is not aimed at individuals or small-to-medium enterprises (SMEs), but at big businesses who are preferably making a million dollars in sales each month. Also, these big businesses are likely to hire help from an Shopify development agency to aid in the development of their online store.
Pricing figures for this plan are a bit of a mystery, since Shopify customizes each Plus plan according to the customer's requirements. However, monthly pricing for this plan usually starts at around $2000.
If you're interested in knowing more about the pricing of the Shopify Plus plan, we've done a full analysis of the costs involved in it.
Who is the Shopify Plus Plan For?
Shopify Plus is aimed at large eCommerce businesses that require:
Full integration with internal systems such as ERPs and CRMs

Full control over reporting and analytics

Priority support
Shopify Transaction Fees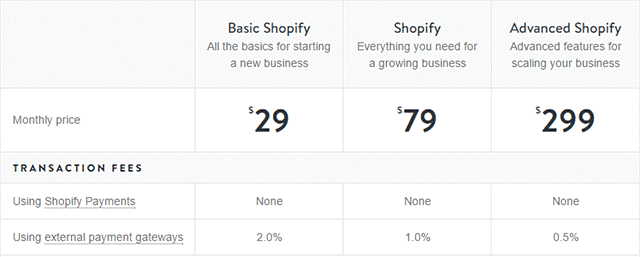 There are additional costs to consider when choosing a Shopify price plan. Above, we discussed the base price that users will have to pay for using the Shopify platform. However, there are additional fees that are incurred once a Shopify-powered store starts making sales.
Shopify charges users with what it calls 'transaction fees' on each sale their store makes. Transaction fees vary according to the various price plans:
| | | | |
| --- | --- | --- | --- |
| | Basic Shopify | Shopify | Advanced Shopify |
| Shopify Transaction Fees (per sale) | 2.0% | 1.0% | 0.5% |
As you can see from the table above, Shopify charges a set percentage of each sale as transaction fees. Basically, the more sales your store makes, the more Shopify earns as well.
These transaction fees can be avoided if you choose Shopify Payments as your payment gateway. In addition to completely waiving off the transaction charges, Shopify Payments also offers lower credit card rates as well.
Cash on Delivery / Offline Payments and Shopify Transaction Fees
If you're going to use Shopify but won't be using an online payment method, the service will not charge you with any transaction fees.
This means that for merchants who're using Shopify to display and sell goods online but are collecting payments offline, there are no transaction fees.
Shopify Credit Card Fees – What is Credit Card Rate on Shopify?
If you're going to collect online payments from your customers, you'll need to use a payment gateway in order to do so. Shopify integrates with more than 100 payment gateways, so there's certainly no shortage of choice.
However, bear in mind that the payment gateways all charge a specific amount from each sale as credit card fees. It's just a cost for the convenience online payments afford you and your customers.
Using Shopify Payments as the Credit Card Processor / Payment Gateway
As discussed above, Shopify comes with its own payment processor as well – Shopify Payments. If you choose not to use Shopify Payments, you'll have to pay the Shopify transaction fees (discussed above) and the credit card fees to your chosen credit card processor (PayPal, for example).
As well as waiving off transaction fees, Shopify Payments can also – in many cases – offer cheaper credit card rates. Let's compare it with PayPal, the most popular payment processor in the world.
Shopify Payments vs PayPal Credit Card Rates
Credit Card Processor
Shopify Payments
PayPal
Monthly Fees

None

$30

Credit Card Rates

2.9% + $0.30 (Shopify Lite and Basic Shopify)

2.6% + $0.30 (Shopify)

2.4% + $0.30 (Advanced Shopify)

$2.9% + $0.30
Shopify Pricing – Our Thoughts
We hope this breakdown of Shopify pricing plans has helped you better understand the costs involved in using the platform. Many users will often search for "Which Shopify plan is best?", but the simple answer to that is that no Shopify plan is best. Each plan has its own target audience and is created to fulfill a certain set of requirements.
Shopify pricing will play a huge role in your decision making process when choosing the best ecommerce platform for your business. Carefully analyze your requirements and pick the Shopify plan which suits your needs in the least budget.
Shopify is a great platform to sell online but users may find themselves confused with the various price plans on offer. To come to an informed decision, analyze your requirements and see what each plan has to offer. Also, don't forget to take advantage of the 14-day free trial that Shopify offers to get first-hand experience with the platform.