Helping NPPN Generate Over 10,000 Organic Visitors in 6 Months
SUMMARY
The National Phlebotomy Provider Network is a professional association of organizations and individuals responsible for the collection, delivery, analysis, and diagnosis of blood specimens. NPPN is a 501c6 nonprofit organization whose members include phlebotomists, collection and delivery companies, laboratories, hospitals and other allied healthcare agencies.
Logic Inbound helped the National Phlebotomy Provider Network grow its organic traffic in 2021 from 413 in the first half of the year to 10,467 in the second half, which resulted in an increase of conversions, from 18 to 1,091 in the respective timespan.
The National Phlebotomy Provider Network recognized the value of organic traffic but had little bandwidth to devote to the effort themselves. They wanted to leverage both ads and SEO to maximize their website performance.
Logic Inbound's project managers and experts needed to learn more about NPPN and their previous efforts in order to setup a successful SEO campaign, by doing:
Business model & website review
Previous experience / campaign analysis
Keyword research and competitors analysis
Campaign setup and launch (Q4 2020)
Logic Inbound and NPPN recognized the value of developing a seperate site for SEO purposes to specifically target a different vertical. Working together, a brand new website was launched in late Q4 of 2020.
Implementation – Q4 2020/Q1 2021 –
Findings
The new NPPN website needed servie page optimization
Backlinks were necessary to increase authority
New content pages would be needed to target certain niches
Implementation – Q2 & Q3 2021 –
Findings
Continual publishing of landing pages and blog posts is necessary to build more authority and target more keywords
Regular QA checks should be utilized to ensure site performance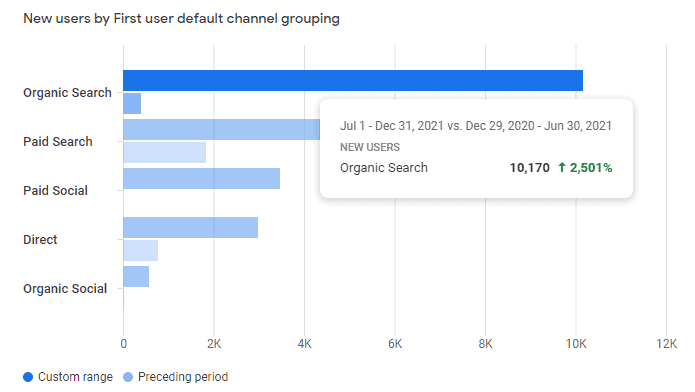 Percentage Change in Organic Search

Percentage Change in Organic Conversions