What is SEO?
Have you been hearing more and more about SEO but are still confused about what exactly it is? Don't worry. Search engine optimization, while important, isn't mysterious or hard to understand. Simply put, it's the art of getting your website ranking higher in Google searches. SEO is how new customers find you when they're searching in Google for products or services similar to your own.
But it's more than just keywords. You have to motivate Google to place your website at the top of the heap. We have many strategies for doing so that you can read more about below. From producing relevant content to improving site structure, we can make your Miami business rise in the rankings with our SEO approaches.
A core piece of our strategy is targeting the largest possible volume of search traffic. Many people start their buying process with vague searches only tangentially related to your products and services. We know how to reach them and guide them to your website, where they will hopefully complete the buying process.
For example, imagine you sold kitchen utensils. Your potential customers might be looking for things like "best blade for a kitchen knife" or "which spatula to buy" long before they ultimately make a purchase. However, even during these early, unfocused searches, they have a significant amount of intent to buy. That's why we try to reach customers at this point, when they're searching for information in order to make their purchase. This is also where you'll find the highest search volume and therefore the most traffic up for grabs. Directing this high volume of valuable traffic toward your site is a key component of our SEO strategy.
Our approach as a Miami SEO agency
We have five key metrics we examine in depth when devising a Miami SEO strategy:
Research

Site Structure

Authority

Relevance

Content
Does this list seem short? Compared to some of the advice you may hear about SEO, it is. But that is actually part of our plan.

Searching for information on SEO will produce recommendations that you try to optimize across literally hundreds of different site metrics. That simply isn't possible for busy people trying to run a business. Plus, it isn't efficient.
We seek a more efficient approach to SEO that targets the five most important SEO metrics. These metrics actually vastly outweigh all the other factors you'll hear about. They are by far the most important metrics you can target for improving SEO. There is no reason to waste effort on metrics that don't produce results; instead, we focus intensely on what actually works.
Research
Research is critical to a successful SEO strategy. People don't use Google purely in straightforward ways that make sense. They're human, after all, and they often search in ways that aren't perfectly intuitive. For example, the difference between "Miami SEO" and "Miami SEO company" can be thousands of searches, queries and clicks. Such a slight difference can drastically impact how much traffic actually reaches your website.
That's why we are focused on research as one of our five key pillars. We know before we implement any other strategies which keywords get the most traffic and which will work for you. There's no point in targeting keywords that don't generate traffic and aren't related to your business. Research narrows and refines our focus for superior results.
Site Structure
You can have all the links and keywords and research in the world, but without good site structure they'll all go to waste. Site structure involves things like page layout and how links are displayed. The difference between a site with good structure and without is dramatic. Don't lose out on traffic and sales just because your site isn't structured properly. We can go through and optimize your site structure to ensure you aren't losing out on customers.
Authority
Authority building is the act of sending high quality backlinks from sites that Google considers to be highly authoritative. This ties into the research aspect of our SEO strategy, as well as site structure. The right links in the right structure can really boost your search ranking in Google.
Relevance
Google investigates individual pages when determining how websites rank. This makes the pages on your website extremely important. They should be relevant and full of well-structured content. They should also target the right keywords in order to boost their relevance. Relevant and well-structured content will rank highly for many valuable keywords. We've managed to apply this mindset to our pages and website and therefore rank on the first page of Google results for more than 300 keywords. We can help improve your website's relevance as well.
Content
Even if you have all four of the above factors optimized, content will always be the most important piece of improving your SEO. Content is the number one factor we target when working on an SEO strategy because it is the single best way to improve your website's ranking in search results. We have content experts on our team at Logic Inbound who can create the sort of content that will send your website to the front page. Amid the many tasks involved in running your business, content production might be one thing too many. We understand that and are therefore happy to offer our SEO content production services to get your website in front of your customers.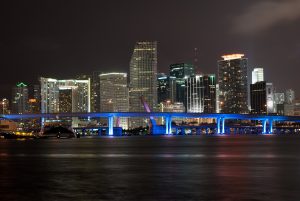 Why we are the best Miami SEO company
Here are just a few reasons why we are the best Miami SEO company:
Our clients

include innovative businesses like ATLAS Workbase, a workshare company

Our content is so strong and our research so extensive that we have placed our own Logic Inbound website on the front page of Google for more than 300 targeted keywords

We work with companies like PAC.com, the people who produce bubble mailers for Amazon

Our website attracts more than 5,000 visits every week via Google



As you can see, we practice what we preach. We apply the same strategies to our website that we'd apply to yours. The results we see for our site prove the impact of our approach. Let us apply the same strategies for your business.
SEO Agency vs. SEO Consultant
You may not have even considered that there is a difference between an SEO agency and an SEO consultant, but the distinction is stark and important.
A consultant is just one person. They only have the time, resources and knowledge that a single person has. Often, their ultimate goal is to become an agency, but they don't yet have the skills or client list to support that.
We are not a single consultant but a full-service SEO agency. We have a team of experts in various fields and dimensions of SEO. We work together to produce stellar results for all our clients. As an agency, we can pool our resources and knowledge to work efficiently for all our clients, no matter what their particular needs are.
SEO Consulting vs. SEO Implementation
As an SEO agency, we do both consulting and implementation for our clients. Some clients only want one service or the other. We are happy to tailor our approach to our clients' wishes.
SEO Consulting
Are you just looking for a push in the right direction? We can provide SEO consulting services that will reveal the right strategy for you and your business. We will do all the work involved in the five key areas of research, authority building, site structure, content production and relevance. As experts in SEO and in this approach, we can build a strategy that will work for you. We will share our knowledge with you.
SEO consulting can be either a starting point or the sum of the services we provide. Some clients have the ability to create content and implement the strategies we recommend for them. However, many of our clients in the startup and business world are simply too busy to mess around with SEO. That is a situation in which a consultation would simply be the starting point of our approach.
SEO Implementation
SEO implementation includes:
Research on keywords

Content production

Tweaking site structure

Building authority

Figuring out how people are searching your website

Improving individual pages of your site

And more!
After investigating what will work for your site, we put that research into practice. Many clients appreciate when we do SEO implementation for them because it takes the time, burden and hassle of SEO entirely off their plate. We understand how busy our clients are and want to make the process of improving SEO as easy and quick as possible for them. That is why we hope people will choose to have us implement their SEO strategy. There's no reason to spend your own time and resources on all the nitty gritty details of SEO when we have a team of experts on hand to swiftly put in place strategies that will boost website traffic, increase clicks on your site and drive new business to your products and services. Create new fans of your brand effortlessly by allowing Logic Inbound to implement a solid SEO strategy.