We do a significant amount of outreach everyday here at Logic Inbound, so I'm always on the lookout for tools that will make that a little easier. Being a digital marketing agency focused on healthcare clients, we reach out to hundreds of doctors every month, and with that a good email tool becomes not only a requirement, but a necessity. 
I came across Hunter.io through a search for tools that would help me find emails associated with any domain address. And yes, looking up emails by simply knowing a website address is completely possible, thanks to tools like Hunter.io. 
Hunter.io then, what is it? To put it simply, it's a tool that allows you to fetch email addresses attached to any domain name. 
And while it won't always be successful in finding emails for a domain, it works most of the time, which is good enough for me. 
What is Hunter.io?
Hunter.io is a tool that's been designed for outreach executives and marketers to help them find contact information associated with any domain. If you or your company rely on cold emailing to get new clients, then this tool is a must-have. 
Another feature highlight of Hunter.io is its easy to use email verification feature. This feature allows you to verify any email by simply typing it in a box and pressing a button.
While I primarily use Hunter.io to fetch email addresses for domains, it also comes with its own built-in email campaign management system. And even though we don't use that feature, it's nice to have if you want the convenience of managing all your outreach through one tool. 
Hunter.io Features
Hunter.io is a very polished tool and you can see that with its user interface. I really like the focus on simplicity and ease of use with this interface.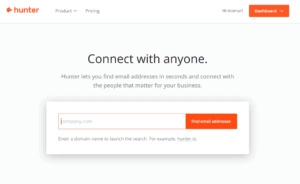 There are no confusing dropdowns or limitless lists of features, just a simple text field that asks you to enter a domain so it can find email addresses. 
You can access Hunter's other features by clicking on the 'Product' tab in the top navigation.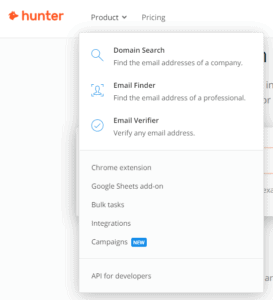 Hunter's designers have done an excellent job of using clever white space to make everything look extra clean. There are short descriptions of what each feature does and that's it. New users will quickly learn how to use this tool. 
Here are all the features you get with any paid Hunter.io subscription:
Hunter.io Domain Search 
This is the feature I mainly use Hunter.io for, and the main reason why I got the premium subscription. 
The easy to use Search feature is remarkable because it lets you find all the email addresses associated with a domain address. This lets you find key decision makers within a company website without going through all the tedious About or Meet the Team pages. 
So for example, you want to find the marketing director in a healthcare organization, simply type in the domain and the search tool will do the rest. It will give you names of all the individuals (if it has them in its database), their position, email, phone number and even social media profiles. 
The function also backs up its information by providing a list of sources where the email addresses have appeared elsewhere on the web. 
Once you're satisfied with the emails you have, simply click Export in CSV and Hunter will conveniently prepare a spreadsheet for you to use with your CRM or campaign management tool. 
Hunter.io Email Finder
This is a feature that I use less often, since for outreach I'm only concerned with finding all the email addresses associated with a domain, rather than for specific personnel. 
Still, this feature is very useful if you want to know the email address of a specific individual associated with a website.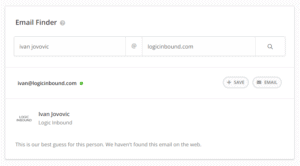 Hunter.io Email Verifier
This is a very handy tool for verifying email addresses you aren't so sure of. So instead of sending an email only to find the address doesn't exist, you can simply use this tool to verify it beforehand.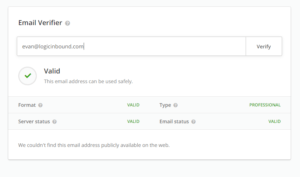 This should save you a lot of time if you send out emails to random people (not in a spammy way).
Hunter.io Bulks
Any email tool wouldn't be complete without some sort of automation or bulk tast support. And fortunately, all the features you've seen above can be automated to be run for bulk lists.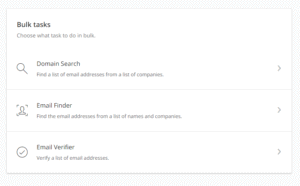 My favorite of these, and the one I use often, is the bulk email verifier. Since cold outreach is such a big part of our business development process, we routinely ask our VAs to create prospecting lists for specific criteria.
Without a tool like Hunter.io, it's hard to ascertain the validity of the emails. I simply upload any prospecting list I have to the email verifier tool and it will tell me which emails are valid and which aren't. Automation is great!
Hunter.io Leads
Hunter.io has a built-in CRM tool that allows you to create lead lists, although I haven't really used it personally.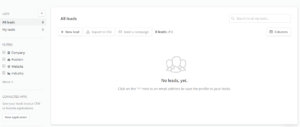 It has been implemented very well, and you're getting a lot of value from your premium subscription if you use this feature to manage your email leads. 
Here's how this tool helps you automate your outreach:
Add leads manually or bulk import them

Filter them by company, position, website and industry

Export them
Hunter.io Campaigns
Hunter has a built-in email outreach tool which you can connect with your Gmail account to automate your outreach process. I currently use Snov.io for email automation, but I'm pleasantly surprised by the value a basic Hunter premium subscription provides. 

The campaigns tool has a built-in templates feature that allows you to create templates which can automatically fill in details such as name, company name and other variables into an email template.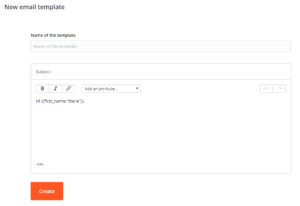 The campaign tool allows you to create separate campaigns to serve different categories of leads, as you can expect from any decent email campaign management tool. 
Hunter.io Pricing
I started out with Hunter.io on the Free plan, which provides 50 email lookups per month. I quickly used up that limit but had need for more, so I opted for one of Hunter's paid plans, which are as follows:
Starter

| 1000 searches per month | $49 per month
Growth

| 5000 searches per month | $99 per month
Pro

| 20,000 searches per month | $199 per month
Enterprise

| 50,000 searches per month | $399 per month
You can also opt for a yearly billing cycle to save 30% off the above pricing. 
My thoughts on Hunter.io Pricing
The email campaign tool I'm currently using, Snov.io, costs $29 per month for the basic premium plan. For that you get 1000 'credits', which basically means email lookups. 
Hunter costs $50 for the Starter plan, so it's more expensive. But for me the value for Hunter lies in its simplicity and no-frills approach to getting emails from websites and the very good email verification feature. 
Hunter.io Alternatives
Hunter isn't the only email finder tool available today, and there are some very good alternatives to it. Like I've said before, I use Hunter for its ease of use with getting emails and verifying them. I haven't used it for email outreach and campaign management. 
Snov.io
I consider Snov.io to be a very good email outreach campaign management tool. Its Drip Campaigns feature is very intuitive to use and allows you to design email campaigns with great details. 
It has an email finder feature as well, but I often find it returning emails that don't work. That is why I was obligated to get Hunter for that job. It also has an email verifier but it's cumbersome to use as it requires to jump through a couple of hoops before you can do this very basic task. 
The great thing about Snov.io is that it is cheaper than Hunter, and has a much better campaign management feature. Here's how it's priced: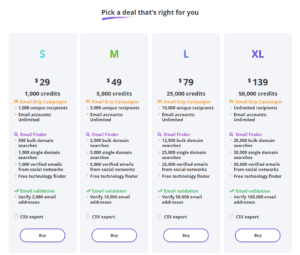 Anymail Finder
Anymail Finder scrapes billions of web pages to find email addresses associated with any domain you want to look up. Anymail backs up this service by only charging you credits for verified emails. 
Which means if it returns an email addresses that cannot be used, you won't spend any credits for it. It's priced similarly to Hunter, as you can see:

Final Thoughts about Hunter
After using Hunter to verify hundreds of emails, I'm pretty sure it's going to stay in my outreach toolkit. No longer do I have to type a time-consuming outreach email only to find that the email address it's meant for isn't valid. 
I use Snov.io for email campaigns and used it previously for email lookup, but often found it returning unusable results. It does have an email verification feature, but's too cumbersome to be of practical use for me. 
With Hunter you get what you pay for – an email fetching tool that just works very well.